Being likeable and charming are qualities that do not act as barriers to bolstering Hyundai's march up the sales/registrations charts and Iain Robertson declares that the company's important midfielder is earning its stripes honourably.
To be the Number One, the market leader, the name at which everyone looks and aspires to be, is fraught with danger. We all know what happens to pinnacle achievers; they reach their goals, have to maintain their status but, at some point, will either fall of their own volition, or be knocked off their lofty perch, by jealous rivals, and that fall can be life-changing.
Consider the case of top US golfer, Tiger Woods. He is still a marvel but you might not necessarily believe it after his fall from grace. Without delving into too much detail, consider performance veteran, Rolf Harris. From being regarded as a national treasure, he is likely to endure a slow and painful death. In the car business, just look at Toyota, or Volkswagen for that matter. It is sad enough when humans fail but in the clinical field of product manufacturing, toppling the top performers is a matter of course.
Success is a very tenuous aspect at best. In a world driven by commercial viability, it is sometimes better to top the charts in several lesser but no less vital areas, such as material quality, performance figures, eco-friendliness, or simple tactility. Yet, all top performers must still maintain that watchful eye, avoid scandal and deliver to expectations, preferably without attracting adverse criticism.
I used to admire Ford Motor Company but it has lost all of my respect these days, a factor not helped by its hapless management team, notably in the UK, which, through various measures, has stopped it being a British-based manufacturer, has introduced ridiculously steep retail prices and forgotten about  its perceived value as the 'Backbone of Britain'. It is the company that introduced 'Vignale' recently, as a top specification, which has plainly not worked. Ford is an 'everyman' product and trying to be premium has removed its eye from the ball.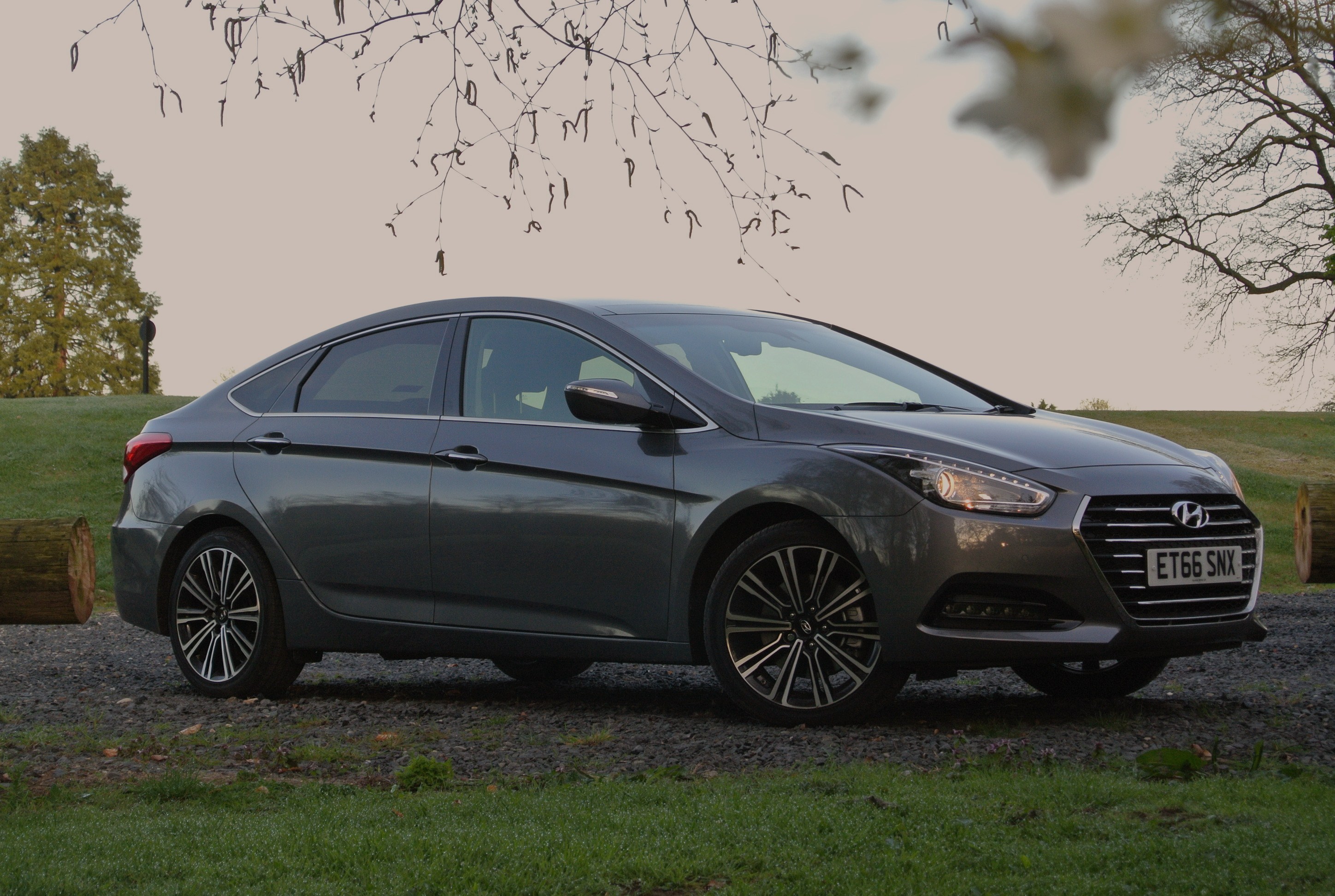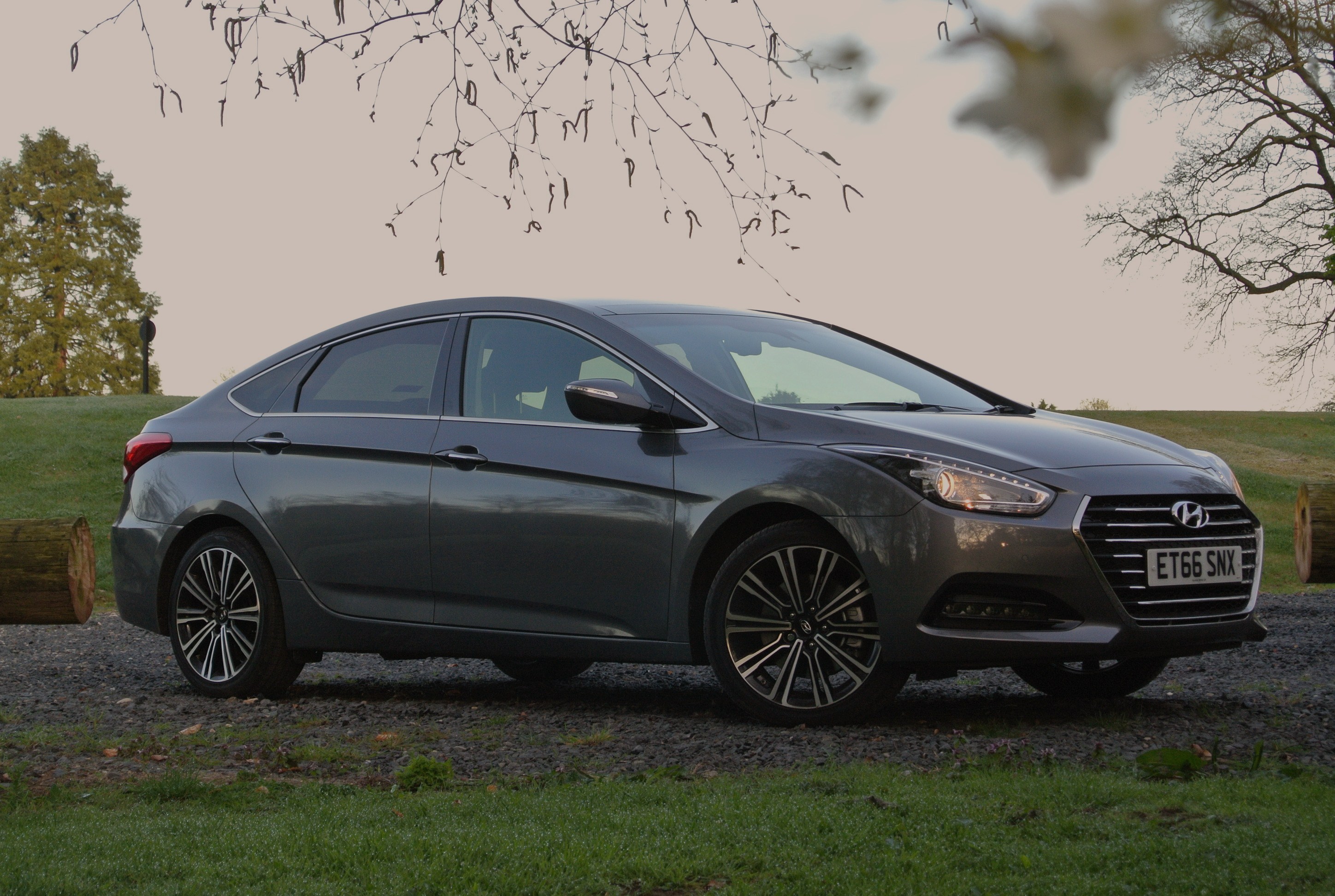 On the other hand, South Korean Hyundai is a brand that has grown in a linear manner. There are no knee-jerk reactions to market shifts. Its insistence on operating to the guidelines of continuous improvement are inherent to the brand, because they are inherent to the South Koreans. Its closest rival in Europe is Skoda but, now that the Czech brand is mired in the corporate mentality of the VW Group, its developmental prowess has been subsumed to the master brand. Hyundai, on that basis, has a sole rival within its own corporation; that of Kia. Yet, its repositioning, from 'budget' to 'mainstream', has occurred without blips, or upset, at any stage, accompanied by a deep bow from the waist and a stance that borders on subservience, which marks it out as worthy and better than the arrogance of the Japanese and the ignorance of the Chinese (in carmaking terms, of course).
In many ways, the latest i40 model is a pinnacle achievement. From its powerful and shield-like radiator grille, to its stylish LED tail-lamps, it is a very handsome contender in the still important medium sector. Enter the passenger compartment and the subtle use of matt black, chrome highlights and tactile trim surfaces promote a delightful sense of purpose. Superficial though this might be, as first impressions do count, those for the i40 are important and bear tremendous integrity with on-going interaction.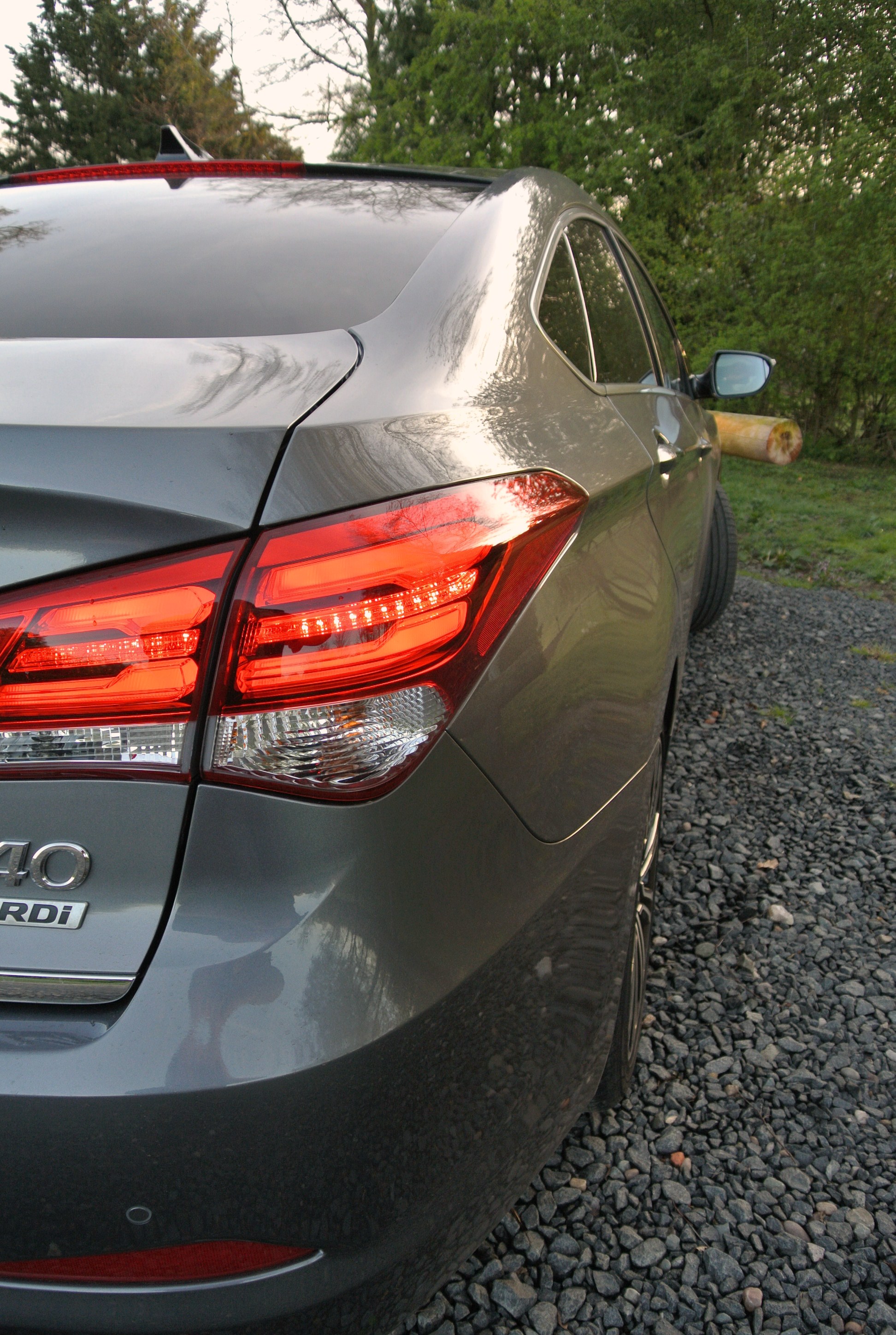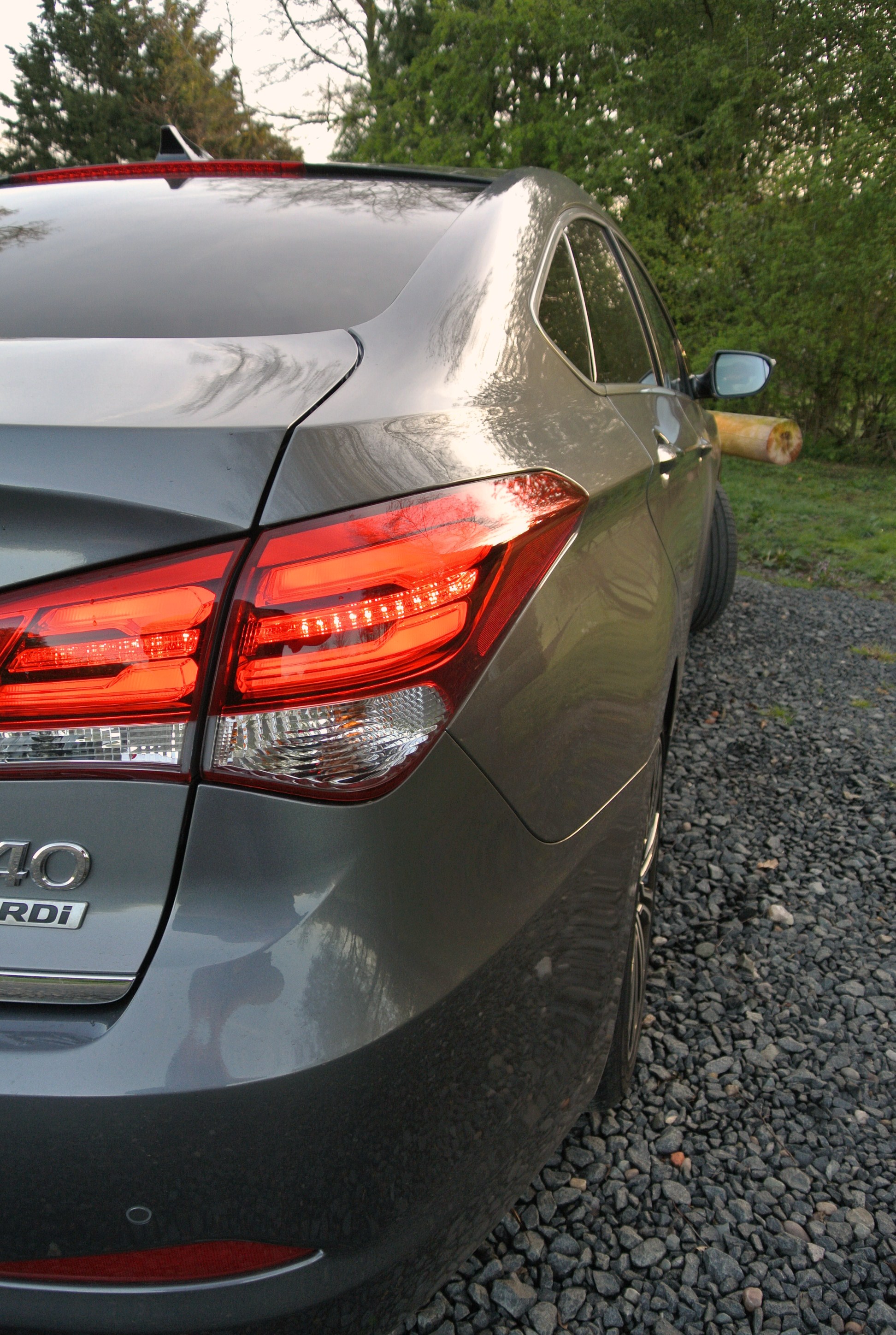 Beneath the car's bonnet is a typical transverse turbo-diesel engine installation, driving the front wheels through a six-speed manual gearbox. It is a super-efficient unit, delivering a healthy 138bhp from its 1.7-litres displacement, accompanied by a modest slug of torque (251lbs ft @ 1,700-2,500rpm) that is enough to create fluid, unruffled progress. It even makes a pleasant, if muted, noise.
While not the speediest diesel on the block, it does provide a relaxed driving experience, logging the 0-60mph acceleration time at a modest 10.0 seconds, with a top speed nudging 126mph. A 70mph motorway cruise demands only a refined 2,000rpm. However, its frugality is excellent, the Official Combined figure being given as an achievable 60.1mpg. Even after a week of mixed driving, the test car attained a perfectly respectable 54.3mpg, which is highly acceptable for a spacious family saloon car that weighs a tonne-and-a-half.
The i40's McPherson strut front and multi-link rear suspension is helped by a 2.77m wheelbase for a car that is 4.7m in length and which provides a fairly smooth and stable ride quality, that is only fractionally upset by transverse ridges in the road surface, mainly due to the moderately firm damping. Were it any 'softer', the car might bounce a touch, which would be far more disconcerting. As it happens, the control is excellently judged and can be measured by the lack of body roll, or front-end dive under braking. To be honest, without its European engineering base and thus access to roads that meet the dynamic requirements of British and European motorists, I am not so sure that the i40 would feel as gifted as it is.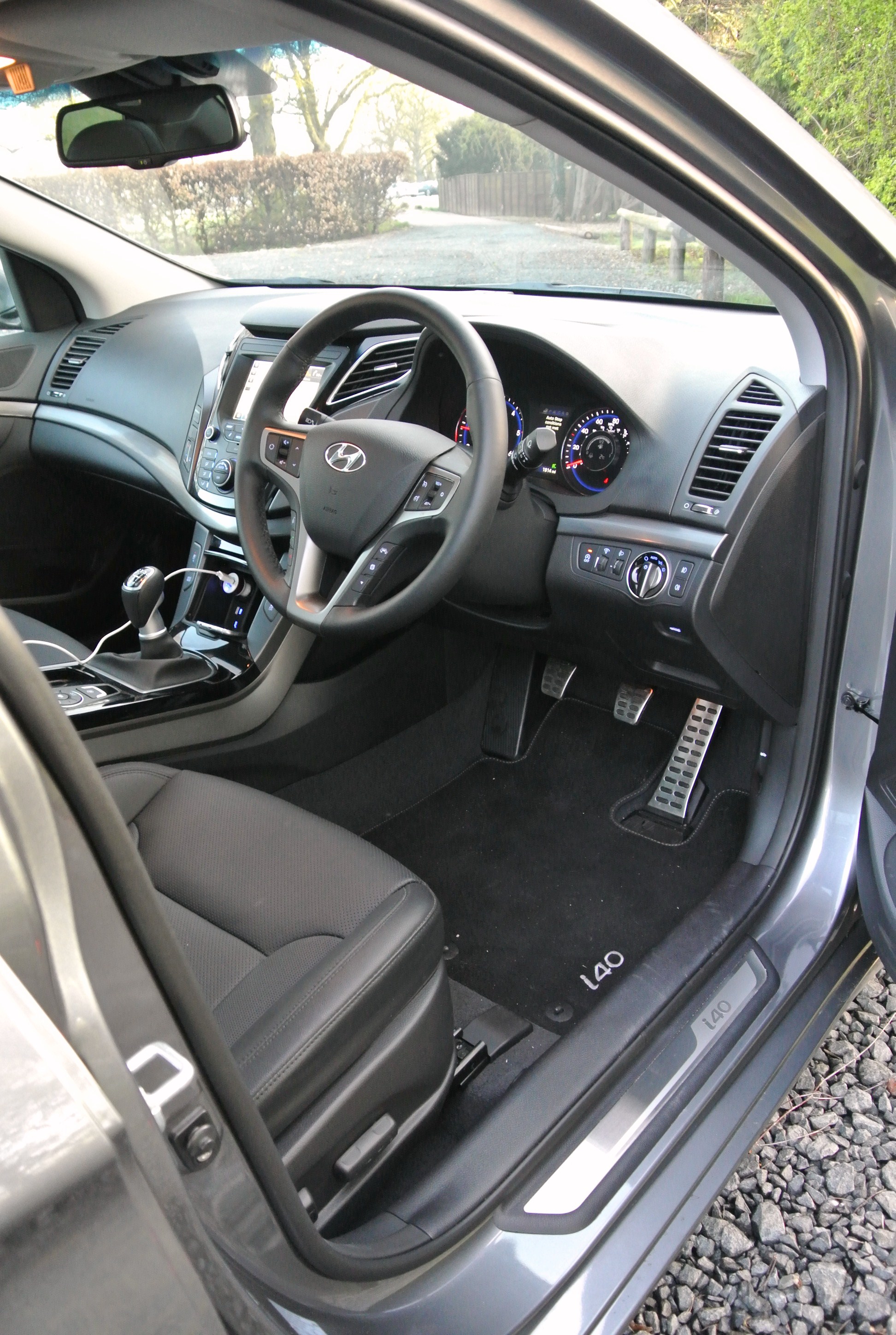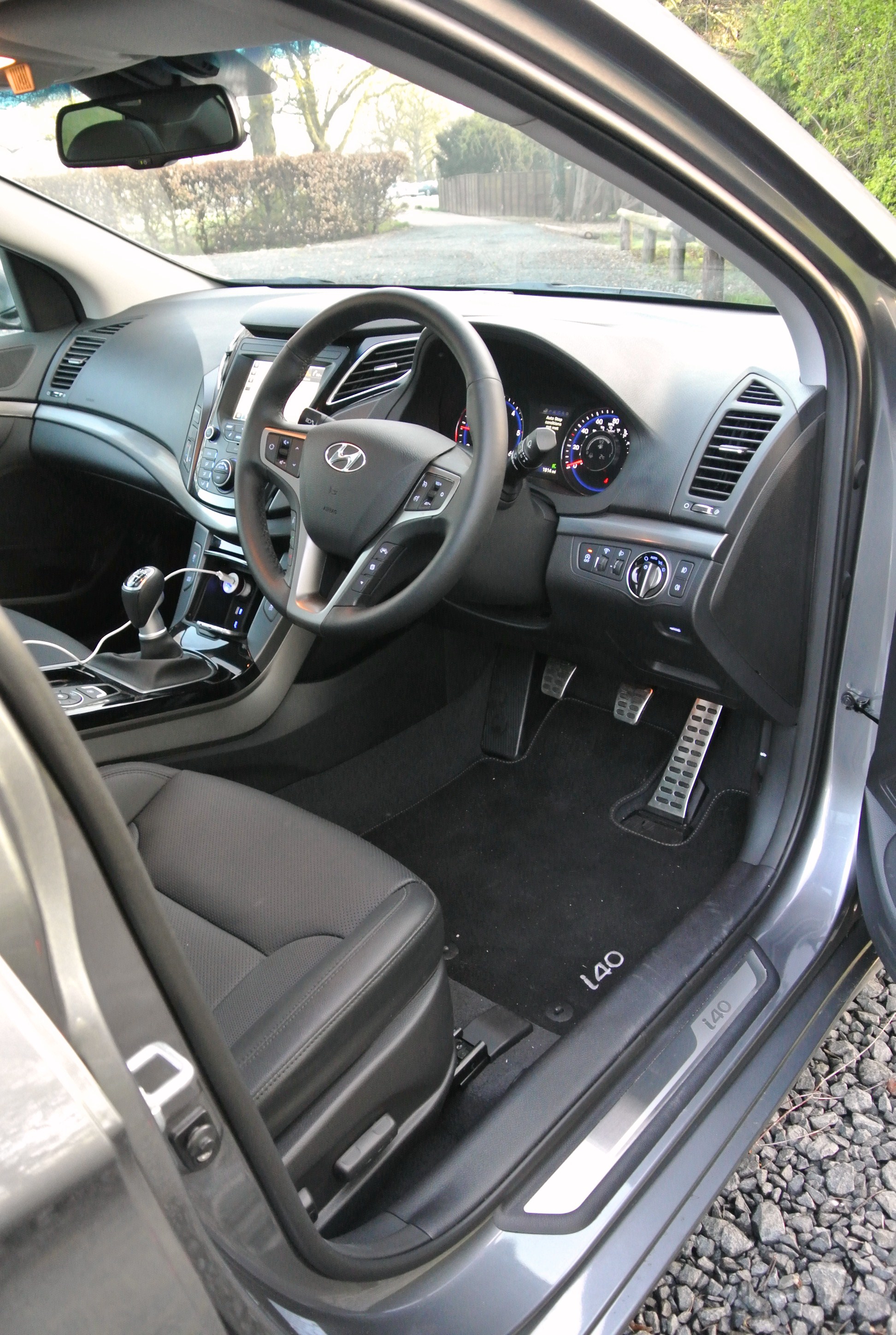 Of course, occupant pleasing equipment levels and trim detailing are what win consumer hearts and the i40 is not lacking on either front. However, I do have a slight niggle with the Hyundai in that its largely, identically underpinned Kia Optima stablemate offers a crucial extra inch, or so, in rearward driver's seat adjustment. While I feel that I am sitting lower and more comfortably further away from the steering wheel in the Kia, the Hyundai makes me feel as though I am perched on the driver's seat and not within it. The lack of even a small amount of extra legroom enforces a more compromised driving position. It is not that it is uncomfortable as such but that my knees are more bent, which might lead to increased fatigue on longer trips. Why this anomaly should exist is beyond my comprehension, as both cars are designed by Peter Schreyer, the former Audi stylist, who understands the art of ergonomics and car interiors better than many of his contemporaries.
There is space in abundance in the rear seat, if not quite as roomy as the current Skoda Superb, or the soon-to-be-launched Vauxhall Insignia Grand Sport. Head and shoulder room are also well considered. The boot is a great space that is fully carpeted and both deep and long. The leather upholstery is to Audi standards and, as mentioned earlier, the combination of matt and piano black touch surfaces, with metallic highlights, and an expanse of soft-touch dashboard moulding, affords the interior a well-defined premium quality. The instrument panel is crystal clear, with minor graphic gauges located in the centres of the speedometer and rev-counter analogue dials. Between them is a configurable information panel, while a full-colour touch-screen manages most other aspects from the top of the centre console stack. The layout is logical and easy to become familiar with.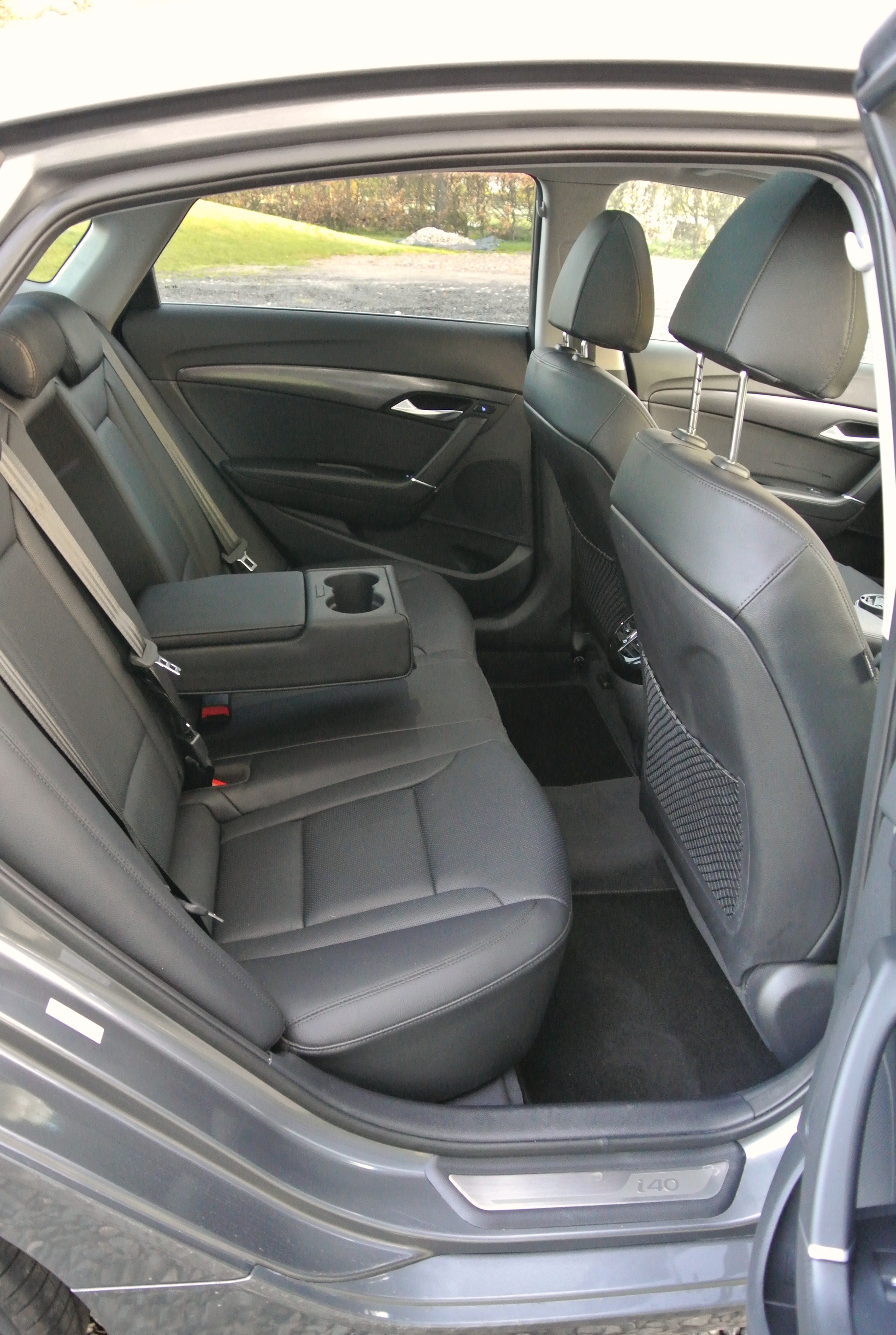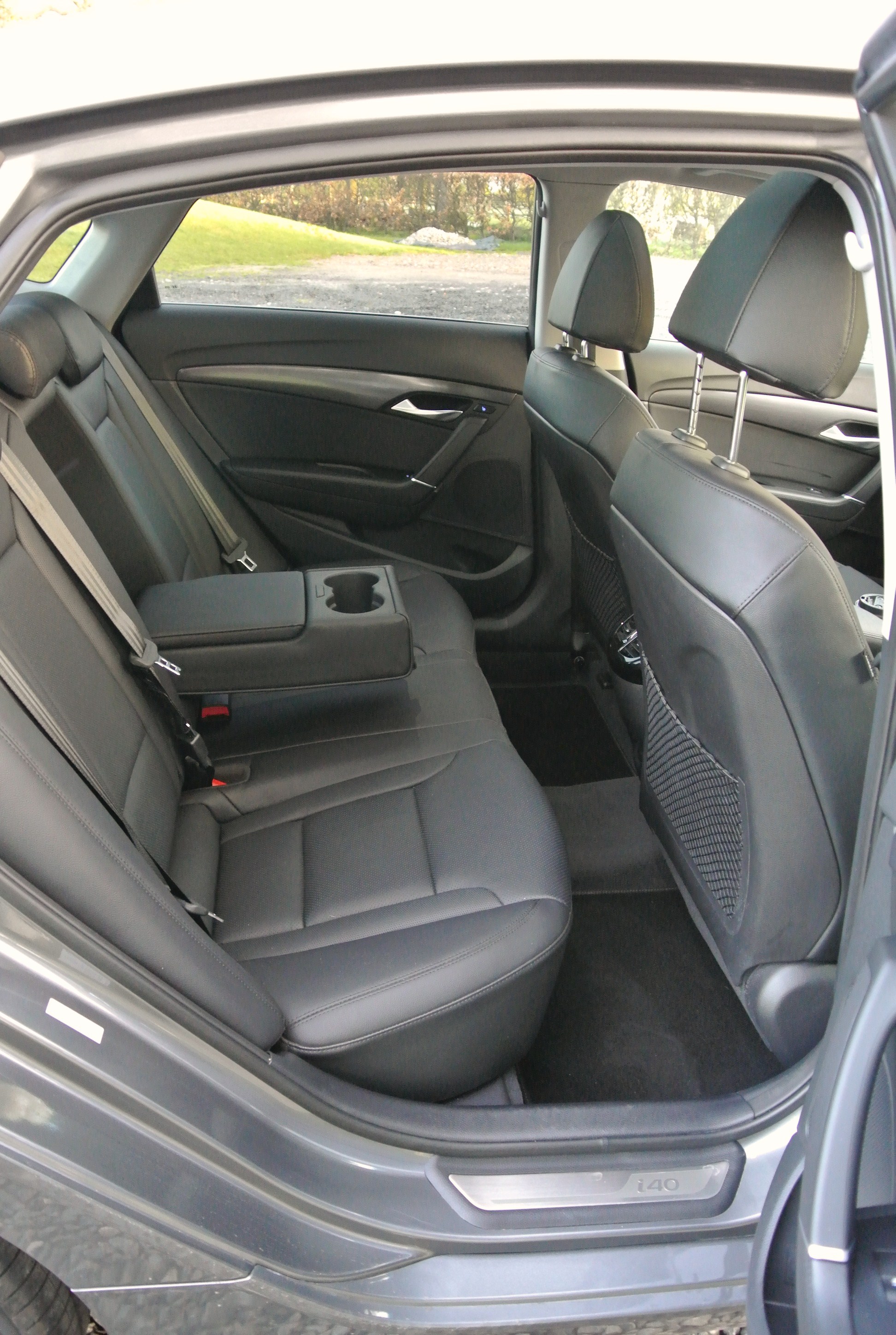 Among the i40's array of comfort features is an electrically operated rear window-blind, a heated steering wheel rim and front ventilated seats that are not only equipped with heating elements but also allow chilled air to circulate. The outer pair of rear seats is also heated for added passenger comfort. Above occupants' heads is a full-length glass sunroof, with an electrically operated tilt and sliding panel above the front seats. A roller blind mechanism seals it against prying eyes.
Naturally sat-nav, Bluetooth (which links up very easily to one's mobile-phone) and a decent stereo system supplement the dual-zone climate control and the driver benefits from a full-colour rearview camera for additional safety. The extra fillip of 'Intelligent Stop and Go' technology removes engine grumble (however minor) at traffic lights and snarl-ups.
Overall, Hyundai has created the consummate middle-ground car that is capable of serving in a classless manner both business and private vehicle users. The overall efficiency of the i40 is of great appeal to company car fleet managers, while motorists with families will revel in the available space and genuinely low running costs. There is a moderate list of superlatives that can be applied to the Hyundai i40, which is to its significant benefit and underscores its place in a competitive market. Yet, as stated earlier, it has made the transition to a solid midfielder without upsetting anyone, which is a sure-fire means to ensuring that its longevity can be maintained, without ever being a total world-beater. It is a fascinating balancing act that Hyundai carries off to perfection.
Well equipped, frugal, punchy, comfortable and capable, the stylish Hyundai i40 is a competent and eminently likeable motorcar. Its dual functionality as either business, or private transport is abundantly clear. It does not pander to badge snobbery, even though its quality is very much at premium levels and prices (prior to options) start at £20,140, rising to £26,120 for the Premium spec model as tested (add £1,900 for the option of a 7-speed twin-clutch automated transmission). Perhaps i40's most important attribute is its sheer likeability, which instils a sense of calmness within occupants. It is little wonder that the combined sales of Kia and Hyundai motorcars are whisking the brands to the top of the charts worldwide.