Professing to loathe anything possessing even a whiff of SUV about it, Iain Robertson admits to being immensely surprised by Hyundai's latest junior-league offering, for which he declares tremendous affection. 
At present, the motoring scene is awash with SUVs. Practically every week, another new, or revised, vehicle in the category, often from wholly unexpected brands, such as Maserati and Bentley, is introduced to sate the perceived desires of go-anywhere generations. As a measure of their import, courtesy of a hefty slice of force majeure, even I, an avowed loather of this seemingly endless litany of multi-surface machinery, most of which will not actually deliver what is inferred on the packaging, can find some of them moderately attractive and even, yes, desirable.
The question I insist upon asking myself is, am I that readily impressed, or is it that the constant drip-drip, which has turned into one almighty splish-splash, is now unstoppable? To be frank, I keep wondering about when the bubble will burst?
Already, I have been through the issues related to height above sea-level and their (SUVs') inescapably increasing toppliness, because, as long as ride height is perceived as a first clue, a demand even, of off-road potential, however questionable its competence might be, the physical facts cannot be avoided; raise the centre of gravity and stability will be upset. However, electronic developments, which are now part and parcel of the modern motorcar proposition, drag all dynamic expectations back to a new and higher base camp.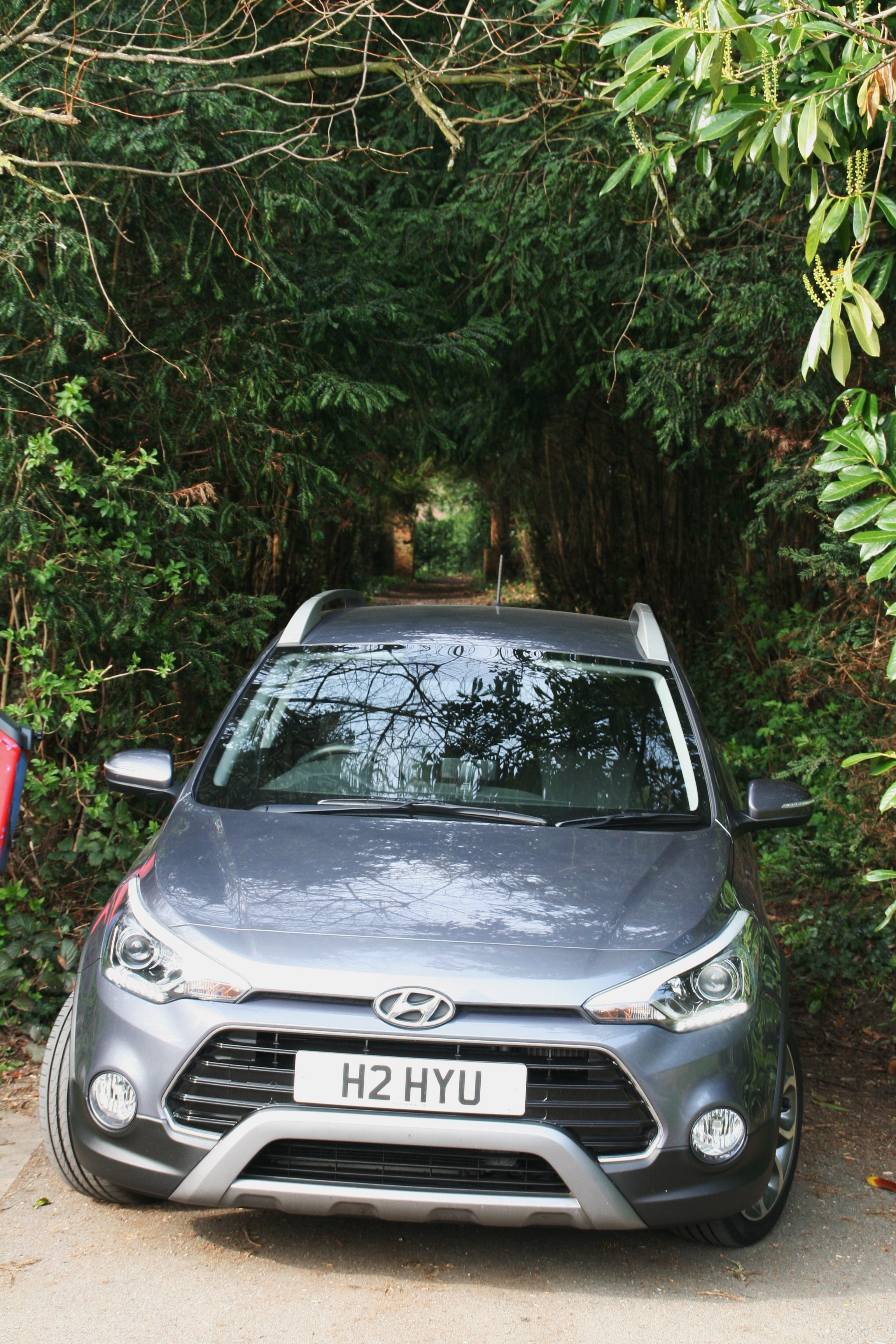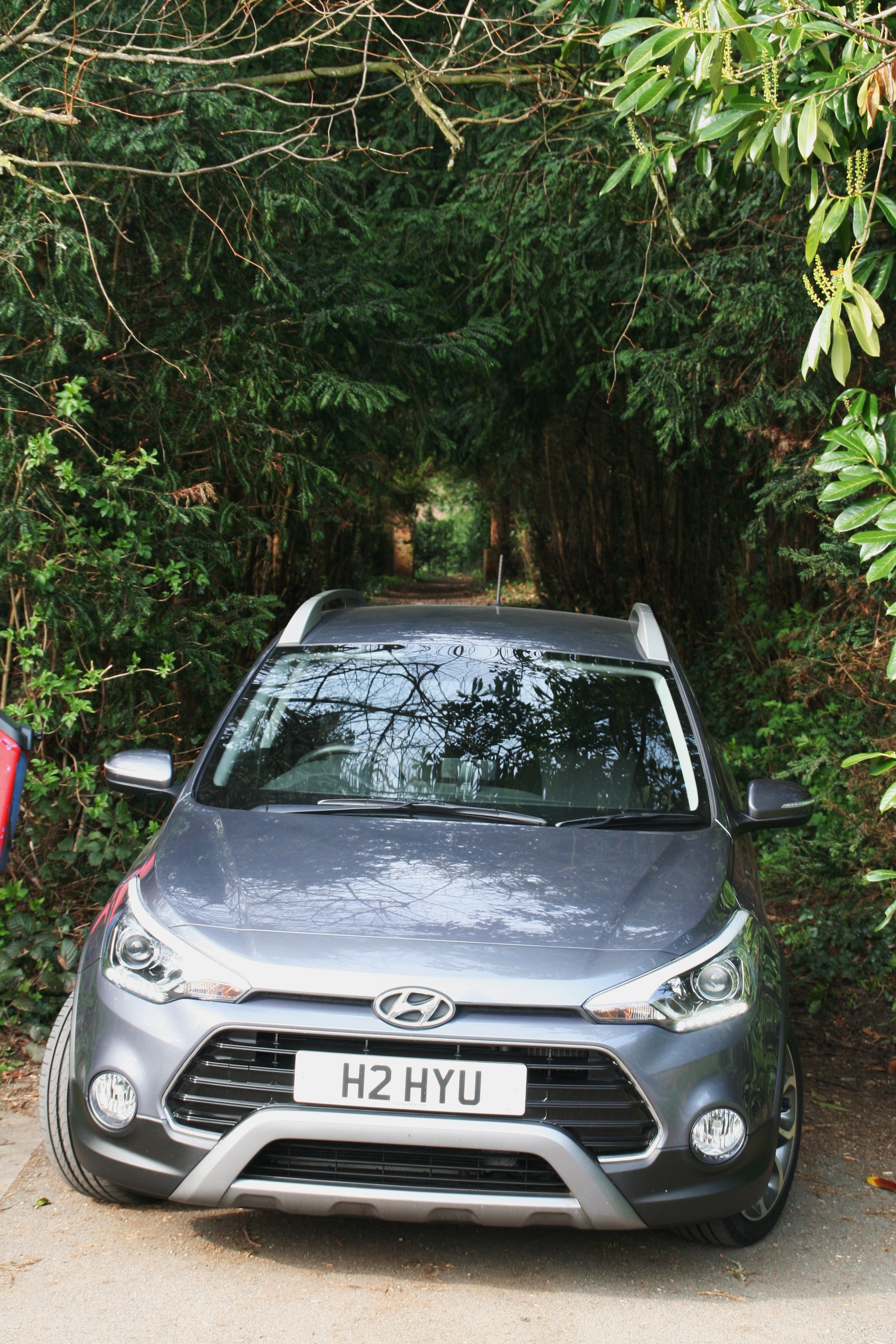 Superficiality would appear to be the determining factor, as so few of the latest crop, unless they are so expensive that it almost does not matter in our car-snob world, possess the necessary 4×4 hardware to make the traversing of rocky outcroppings, or ploughed fields, possible. The melding of capabilities between MPV and SUV are now so conjoined that the former descript has become almost redundant. As far as on-costs are concerned, car manufacturers seem to be able to dip into their bags of magic dust and amortise them, with an endless array of enticing photography and videography that is designed to make SUV operation appear as painless and normal as running an ubiquitous Ford Fiesta, regardless of dimensions.
For the past few days, I have been driving a Hyundai, a factor about which I am quite delighted, as I harbour a growing respect of the South Korean brands, which seem to innovate somewhat more than their near neighbours' products from Japan. In fact, the model I requested, an i20, falls into a class, with which I feel most comfortable…it is not so compact that I struggle to fit in but it is still compact enough to park easily and live with…a niche occupied by cars like the Skoda Fabia and Suzuki Baleno, with both of which I have gained immense knowledge. The issue is that I was expecting the direct rival to those models mentioned but, due to either accidental, or logistical, reasons, Hyundai was unable to service my request, so sent me a replacement alternative model.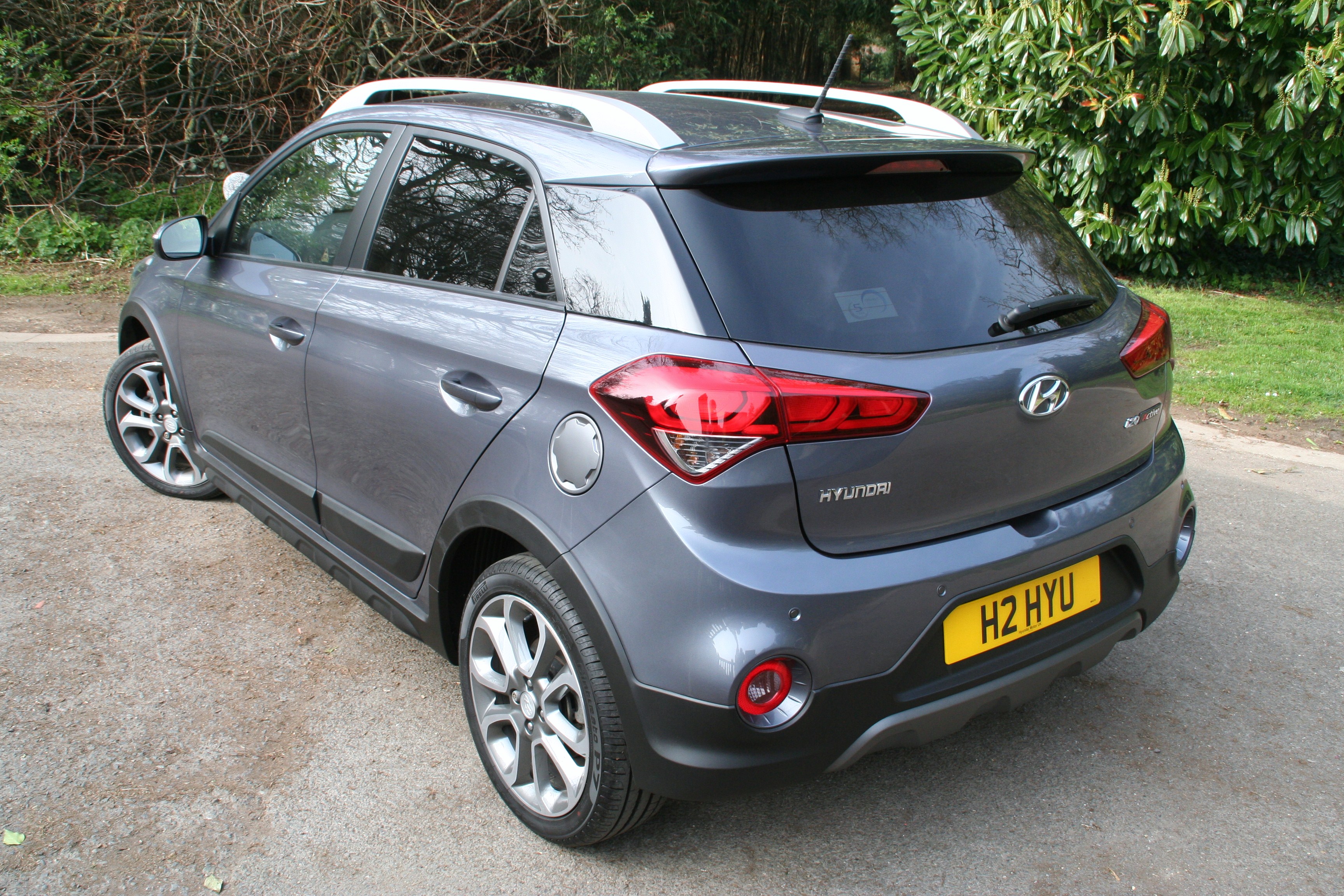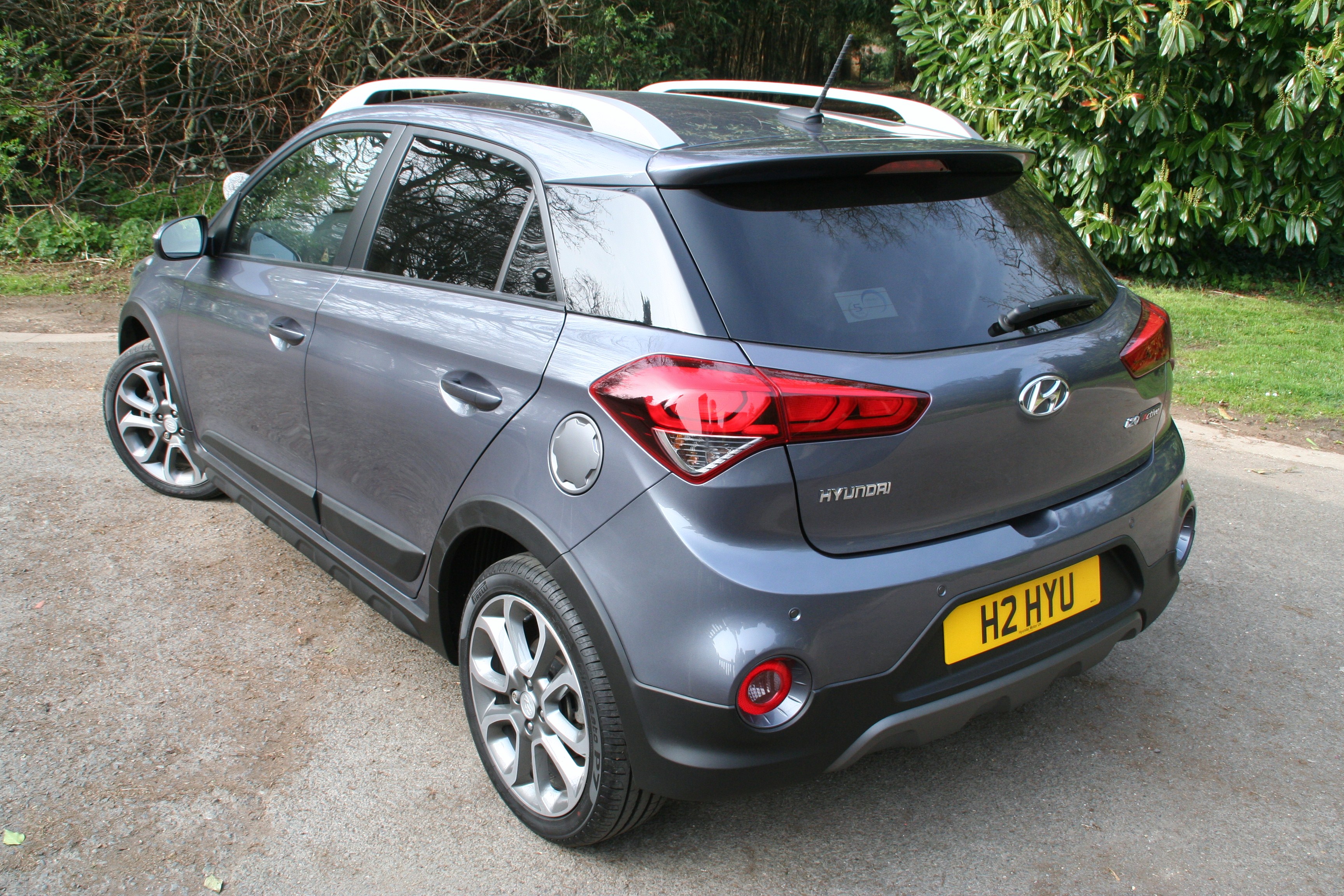 The i20 Active is a mini-SUV, of a type epitomised by the VW Polo Dune, or the Rover Streetwise (remember that?). In other words, it is a regular hatchback, hiked-up by 20mm and clad in wheelarch-lips, chunky sills and convoluted lower bumpers. Yet, surprising to me, probably most of all, I actually like it. The 17-inch alloys and tyres fill the arches. The roof rails supplement the outdoorsy, mile-munching appeal and the overall design is pleasingly balanced, mildly fussy but eminently attractive, while not being totally anodyne.
Powered by one of the latest crop of 998cc, three-cylinder, turbocharged petrol engines that develops a modest 97bhp, accompanied by 127lbs ft of guttural punch, this cheery little motorcar cracks the 0-60mph benchmark in a respectable 10.4 seconds, topping out at an equally impressive 116mph. Typical of the class, it emits 104g/km of CO2, which is no longer the road tax critical figure it once used to be, while its Official Combined fuel return is given as 62.8mpg, although most owners will be more than satisfied with the 54.5mpg that I attained in a typical weekly mix of local and cross-country motoring. I could not achieve higher than 61.8mpg on my usual 50-mile frugality route.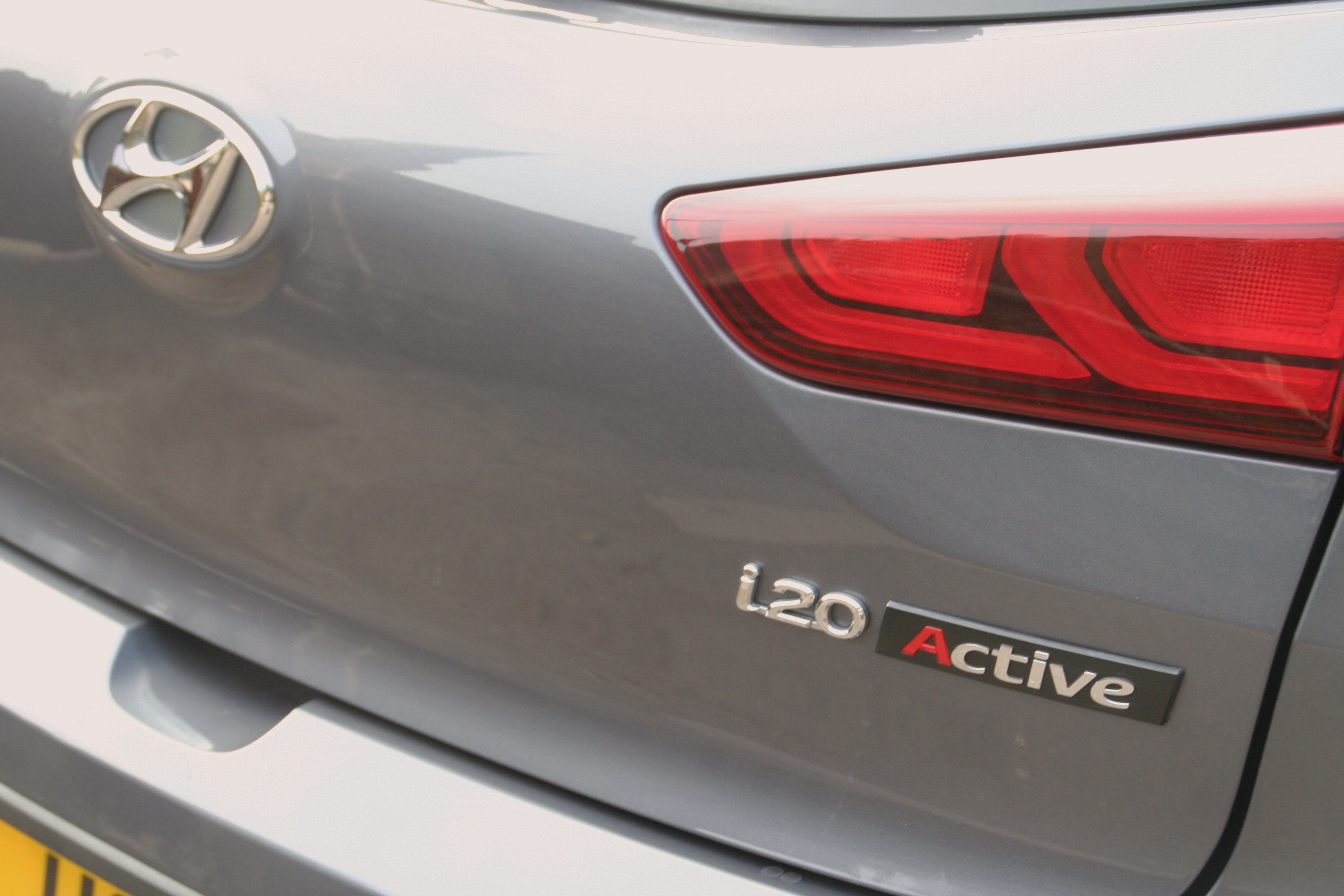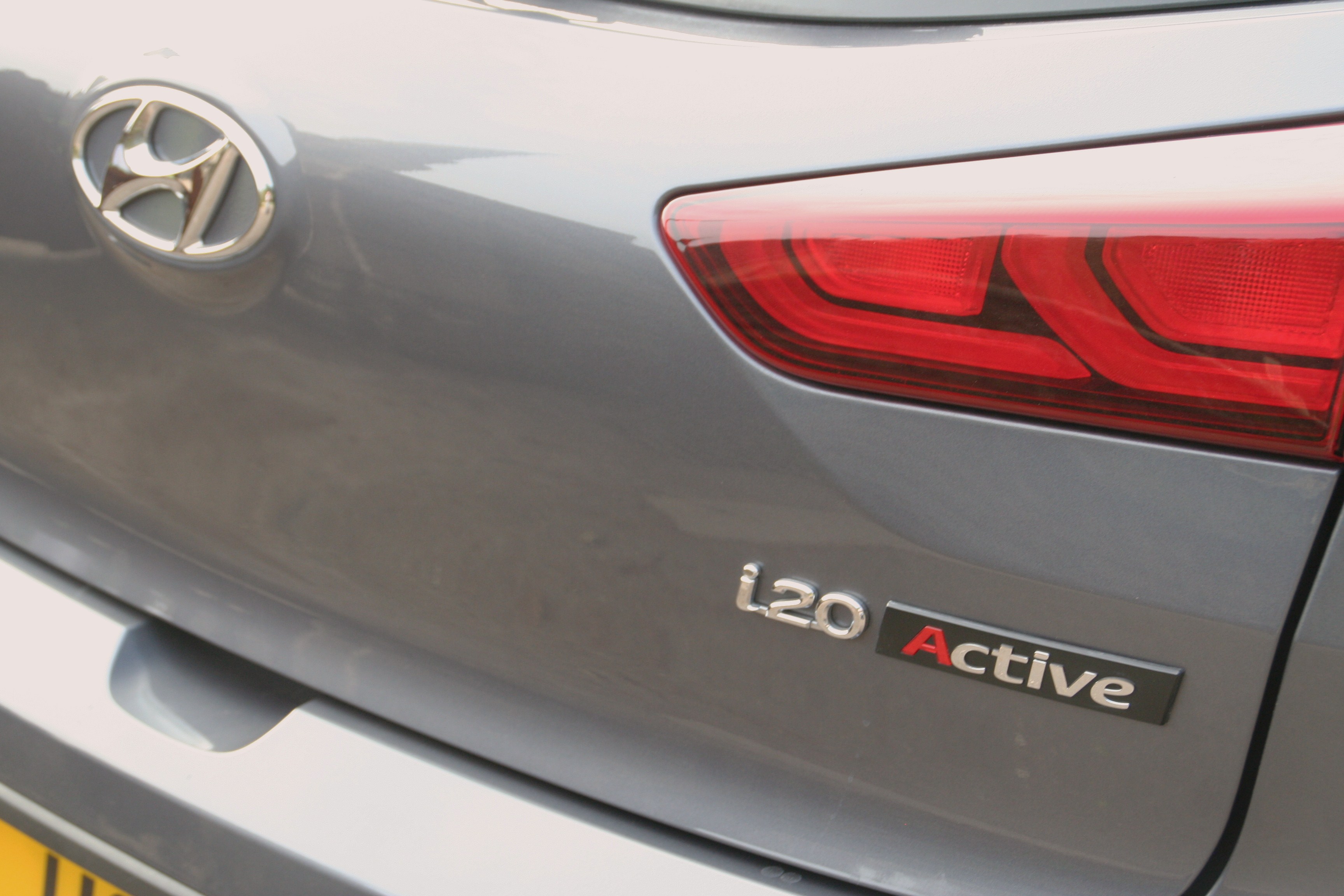 As an individual that appreciates good light design, I am drawn to the circular lamps in the lower front bumper that are mirrored by similar units on the tail of the i20 Active that denote it as an unique model in the i20 range. Round lights provide a more focussed source than some of the odd shapes fitted to far too many cars and the LED daylight running lamp signature of the i20 affords it a classier, higher-end image.
Despite my misgivings about high-riders falling over, or at least having a greater potential to do so, 20mm is hardly a mountain and most of it is occupied by the off-road-type plastic addenda. As a result, the front-driven i20, which is fairly firm in its ride quality, actually handles quite sweetly and quietly and looks more hunkered down to the road surface than it ought to. Knobbly road surfaces are transmitted into the cabin through the equally firm, cloth covered seat-bases but never to the point of annoyance. The steering is pleasantly geared and provides decent feedback, while also proving to be faithful to driver input.
Cornering forces are contained by moderately compliant electronics, which means that the involved driver can enjoy an energetic experience, without being accosted by amber traction-loss warning lamps, and the mechanical grip levels are high. As a result, the i20 Active can be pedalled along at decent average speeds most engagingly, which I shall admit came as another surprise to me. Both body roll and dive under braking are also well contained, which adds to the fun aspect of the car.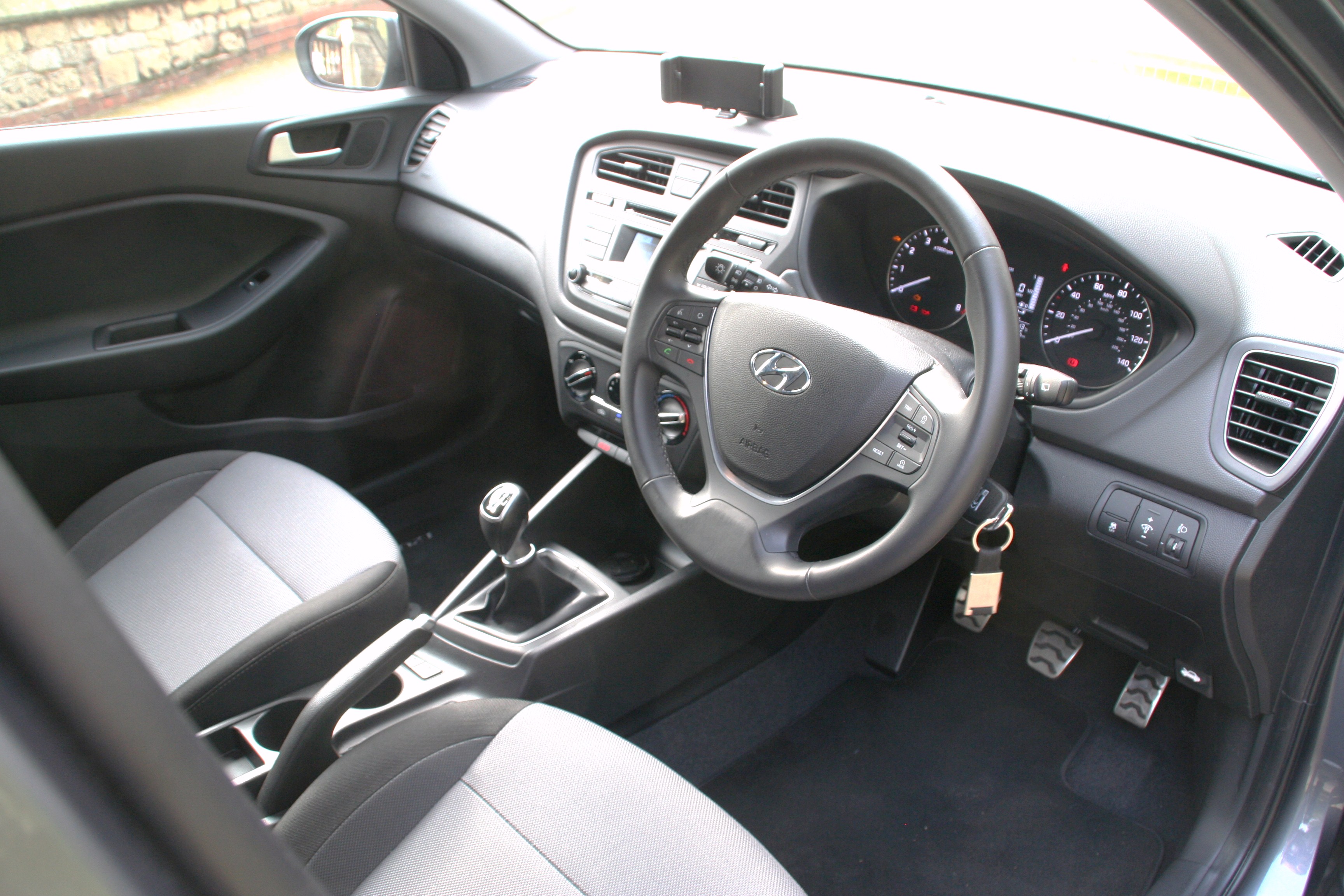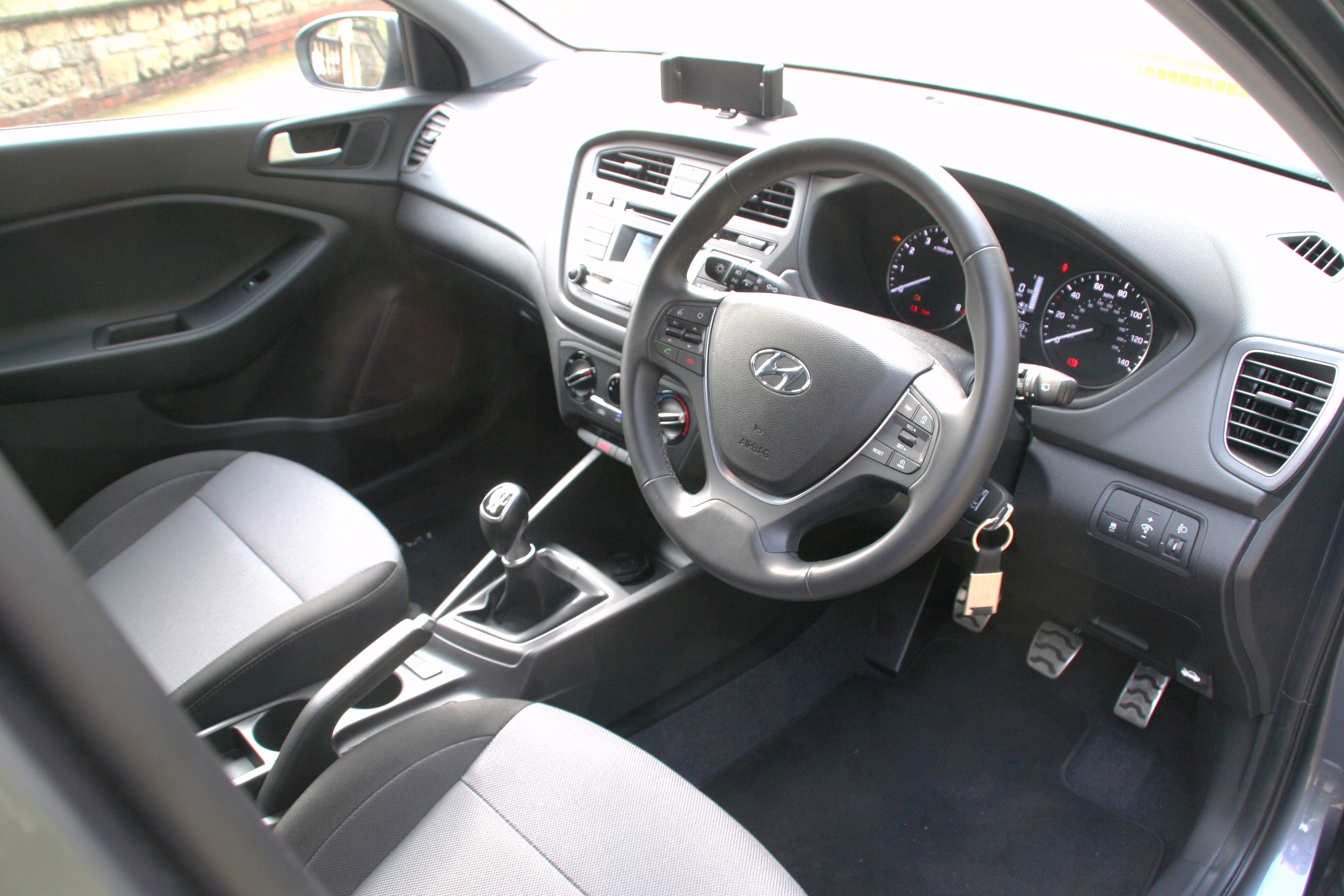 While the interior is a mass of two-tone greyness, it is lifted by the soft-touch dashboard moulding that a few of its rivals cannot boast about, within which is set a concise instrument display and conventional car stereo and heating and ventilation controls. The top-centre of the dash features a multi-pin connection and holder for either iPhone, or android mobile, which should provide the sat-nav connection not fitted as factory standard, which I think is a tad penny-pinching on Hyundai's part, especially as these devices are not so expensive these days, as VW proves on both its Up! and Polo models similarly equipped. The removeable holder also looks quite ugly, although that is a minor niggle.
It is worth noting that this car features just a 5-speed manual gearbox, which seems to be typical of the smaller engined breed. Fortunately, thanks to a decent torque output from the engine and fairly leggy gearing, a 70mph cruise demands only around 2,500rpm and there is enough mid-range punch not to force the driver into downshifting at every opportunity. All of the car's minor controls work easily and the major ones work proficiently. The now customary plethora of steering wheel switches also operates quickly and positively, with a good high-class tactility to them.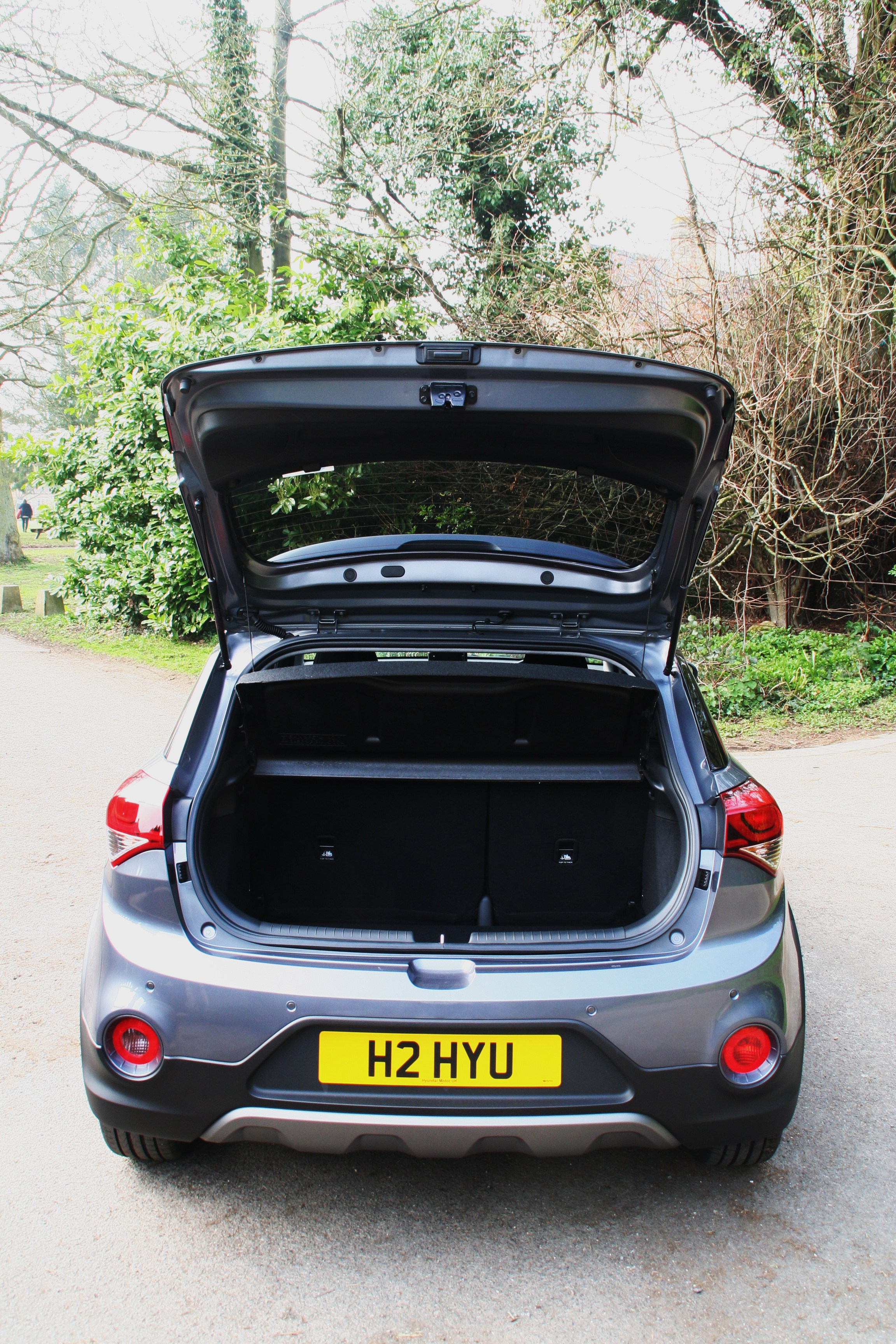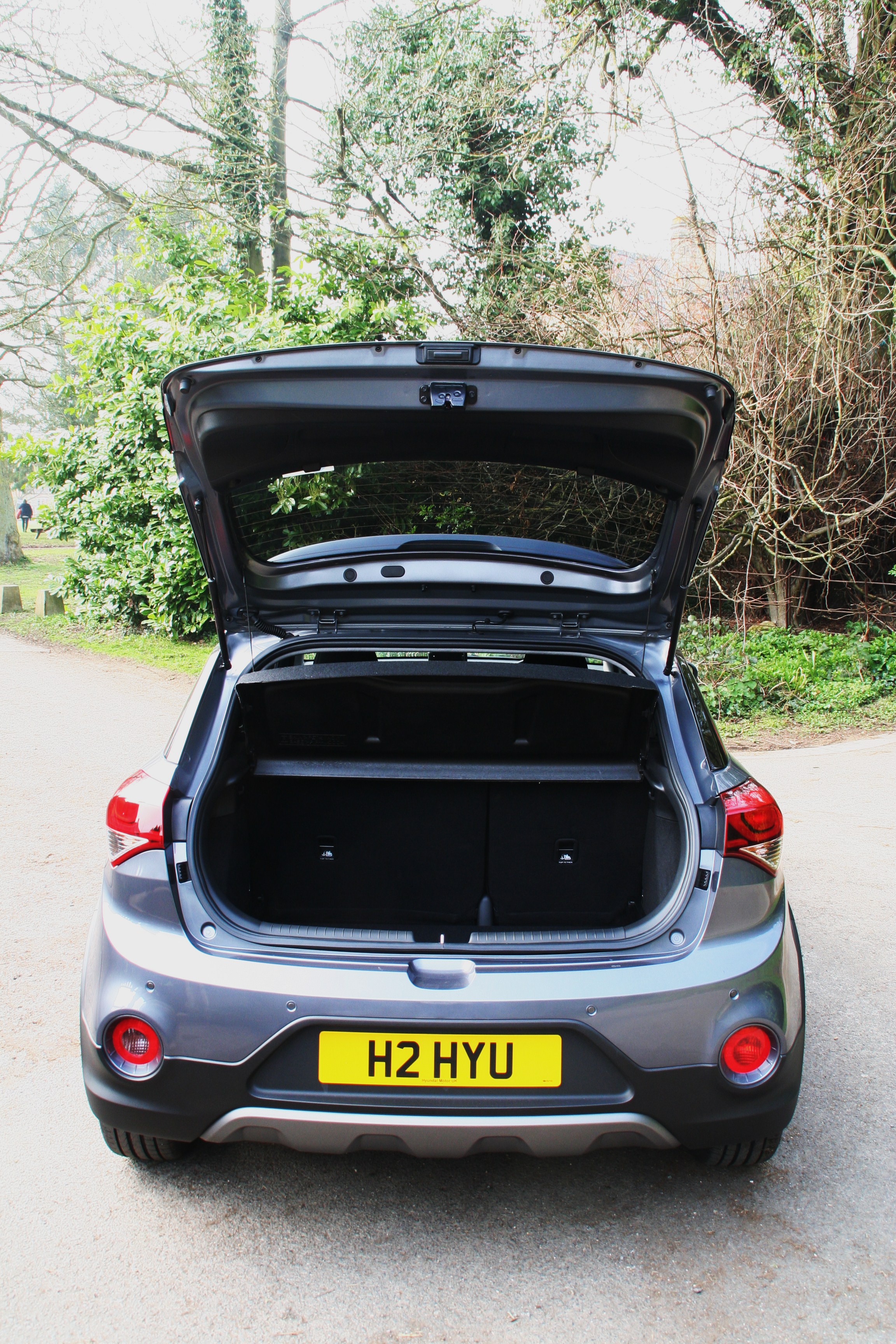 Interior space is well-considered, with an extensive range of driver's seat and steering column adjustment, which means that most statures of occupant, from dainty lady to apeman, can be accommodated. While space is at a premium in the rear seat, which does not feature a drop-down centre armrest, the unit can be split-folded 60:40 to more than double the available boot space, which is both wide and deep. In-car storage is catered for by the usual door pockets, a couple of drinks-holders between the front seats, a slim, chilled and illuminated glove-box and a useful bin ahead of the gearlever. None of these spaces (apart from the felt in the cupholders) features any sound-deadening materials, so you can expect keys, cans, loose change and untethered mobile-phones to rattle annoyingly within them.
Equipment levels are good, with cruise, air-con, electric mirrors and windows and privacy glass for the rear of the cabin. By the same token, the usual combination of safety and security items (six airbags, deadlocks, ESP, Hillstart, TPMS, alarm, front passenger airbag deactivation and ISOFIX mountings in the rear seats) also form part of the standard specification.
As tested, the car costs £15,775 but it is available using the company's new on-line booking system from £13,995, which makes it something of a bargain, even though the SUV-lookalike gear adds around £1,125 to the regular i20 hatchback list offering with this engine and gearbox combination.
Contrary to expectations, I found a lot to enjoy with the Hyundai i20 Active. Considering that I was unaware of this model's existence and it was not the car I requested initially, I am delighted that Hyundai sent it to me, as it proved to be a charming and cost-efficient joy machine, which I would be happy to live with personally. It is well-built, adequately equipped and drives very well and I could see it working equally as efficiently in a business role, as it would as a family runabout. Great value for money and a good looker too.