The Kia Sportage has a lot to live up to, states Iain Robertson, but, with a new version on the horizon, the current model retains moderate desirability to both private and business users, which will make replacement an arduous task to fulfil.
From 1993, the South Korean Sportage always presented a cutesy, fun appeal that put it into direct competition with cars like the Suzuki Vitara. Yet, eight years ago, when the larger, first generation of the current model made its debut, it cornered a number of readily justifiable awards and even topped the JD Power Survey a couple of years later.
Much of the reason for its success lay in the model adopting former Audi design boss, Peter Schreyer's neater and recognisably European styling language. The resultant and very clean design created a waiting list hiatus for Kia, new territory that it embraced readily, as it also marked a major upturn in fortunes for the brand. Timing was also crucial, as the Sportage was entering a market sector that was set to grow at a near untenable rate over the next few years. Sportage played its part to perfection and opened up the market for Kia, not least in the company car sector.
If anything, the single most important user benefit to arise from the unrelenting march of the SUV has been the height of the driver's seat. It is little wonder that the majority of lady drivers prefer the advantages bestowed by this class of car over the conventions of mainstream hatchbackery. Do not take my comment as remotely sexist, as size-ist is somewhat closer to the mark and can be applied in equal measure to gentlemen below the national average height of 5 feet 9.5 inches.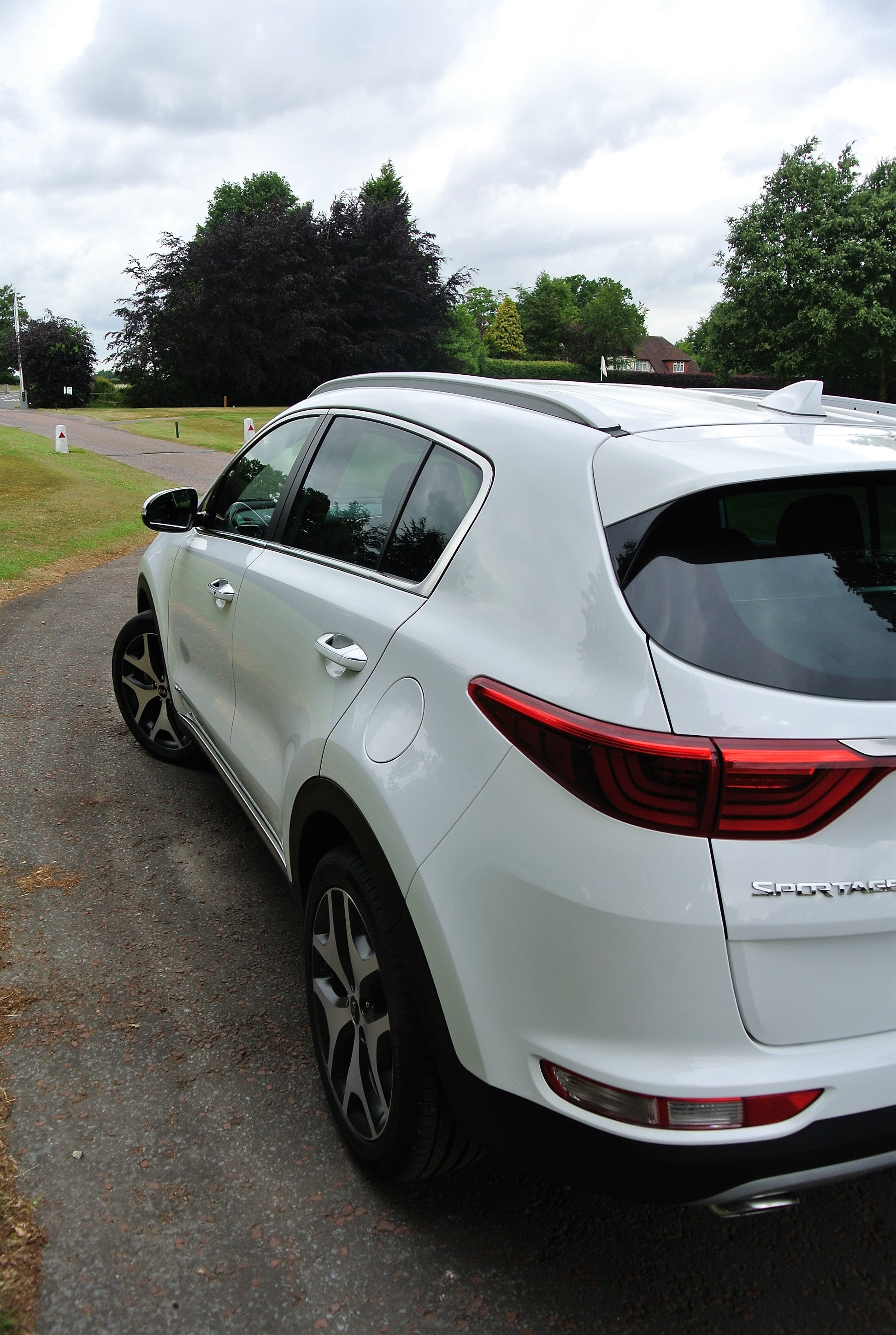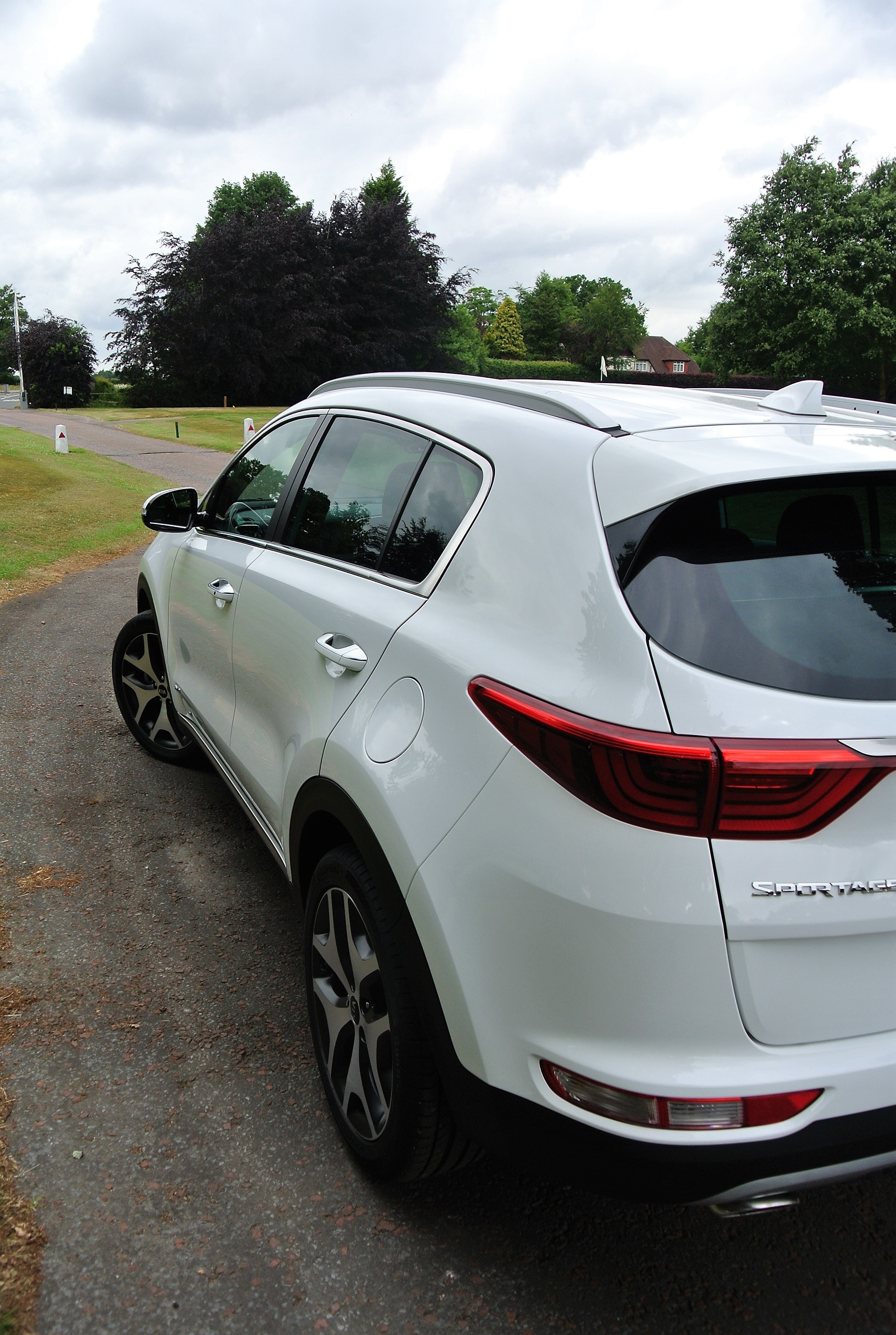 The fact that I personally stand two metres tall (6 feet 6 inches) can be actually a major disadvantage. Fortunately, I also gain from today's taller category of motorcars, as while my height might lead to cramp in some models, my legs are provided with significantly more space in many of them. Regardless, there is always a trade-off somewhere and, if truth be known, there are very few strictly average stature lads or lasses anywhere. Yet, there is a more pressing issue. With increasing numbers of taller vehicles on our roads, perhaps the very advantage offered initially, is not much of one, when every other driver is sitting at the same height above sea-level! It is a measure worth contemplating.
Although the original concept of SUV also incorporated four-wheel-drive, Kia recognised from quite early in its transition to the sector that drive-trains of that type did and still do lead to increased operational costs, not least in tyre wear. It has been a very sound reason for most rival manufacturers to also resort to front-wheel-drive as being suitable for the vast majority of crossover buyers. For people more familiar with lugging around in a Landy, complete with unassisted steering and manual locking of wheel-hubs, when the going gets tough, a car like the Sportage might feel positively wimpy.
While it is available in all-wheel-drive form, most Sportage buyers/users are happier at a fast-reacting, power-assisted tiller, allowing the gearbox to self-select ratios, while luxuriating in air-conditioned comfort, with the stereo working pleasantly in the background. Height almost does not enter the equation.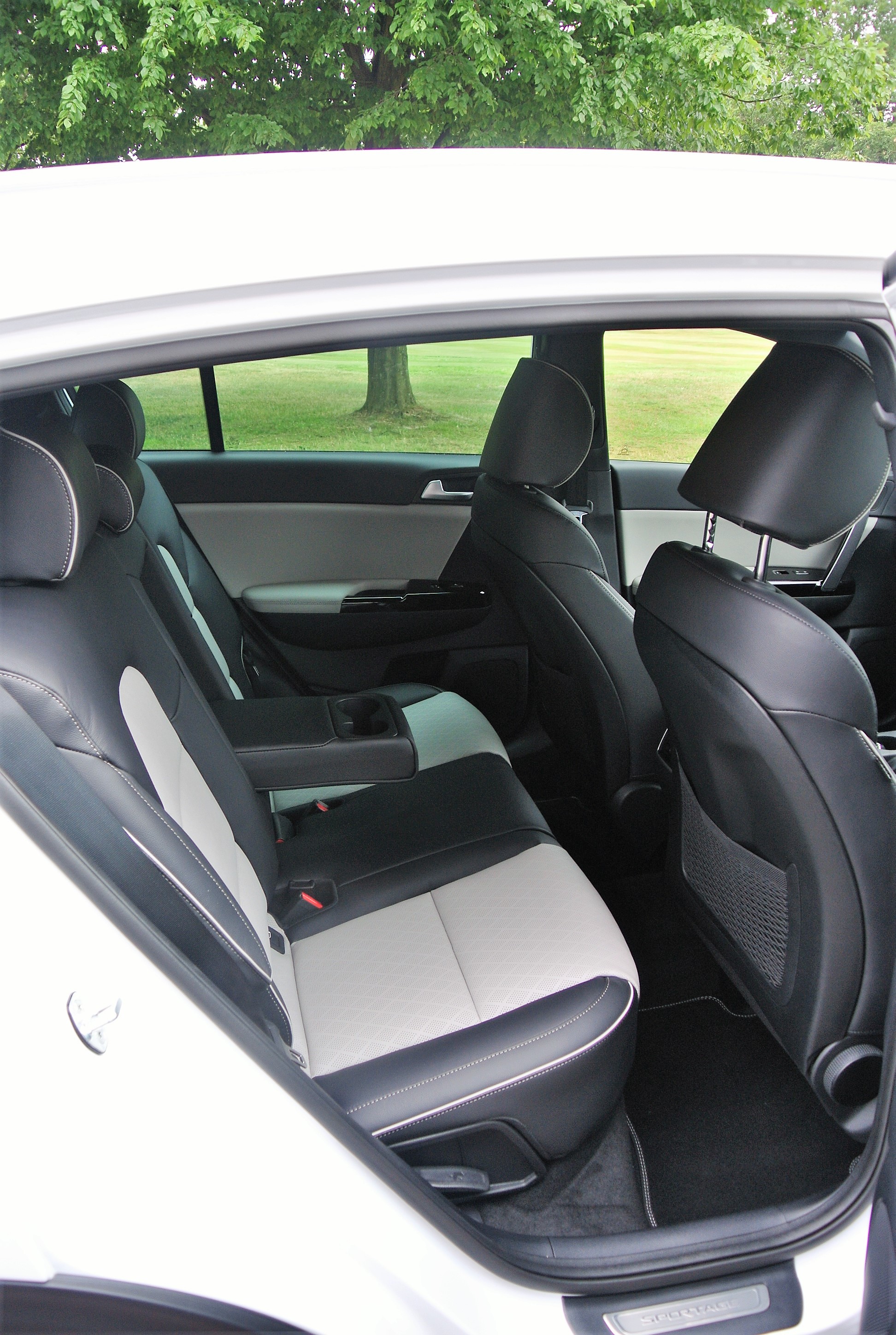 Fortunately, unlike some loftier models, the Kia's cabin is easy to clamber in and out of and it is a most welcoming place to reside, especially in top-specification 'GT-Line' trim. A rake and reach adjustable steering column, matches the rake, reach and 'reclinability' of the driver's seat, which also features an electrically adjustable lumbar support. Two-tone (black and silver-grey) leather covered seats provide excellent orthopaedic support and space both in front and in the rear of the car, which also benefits from dark-tinted security glass. The lighter leather shade also covers the door panels in a cabin predominated by light grey, easy-wipe plastics.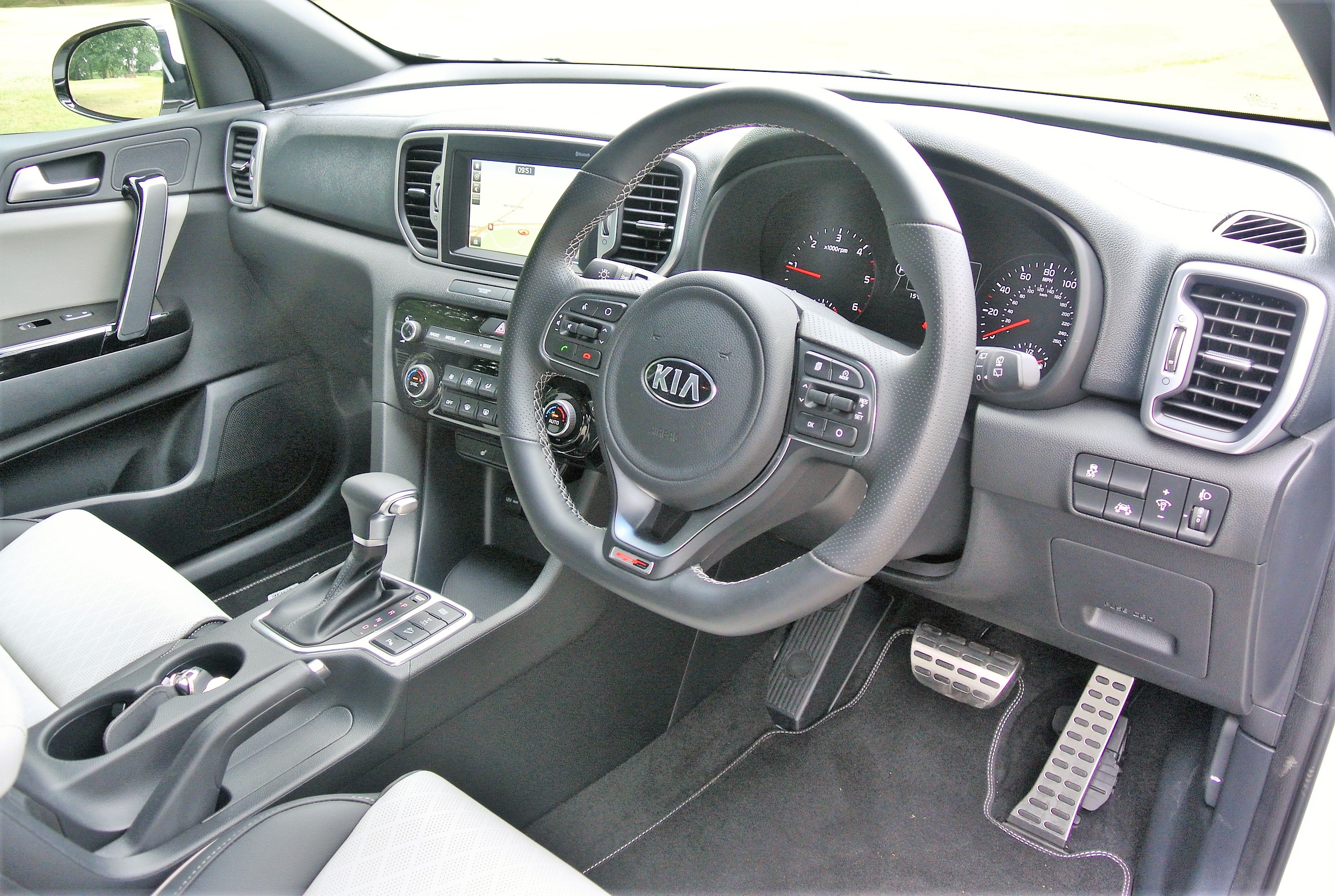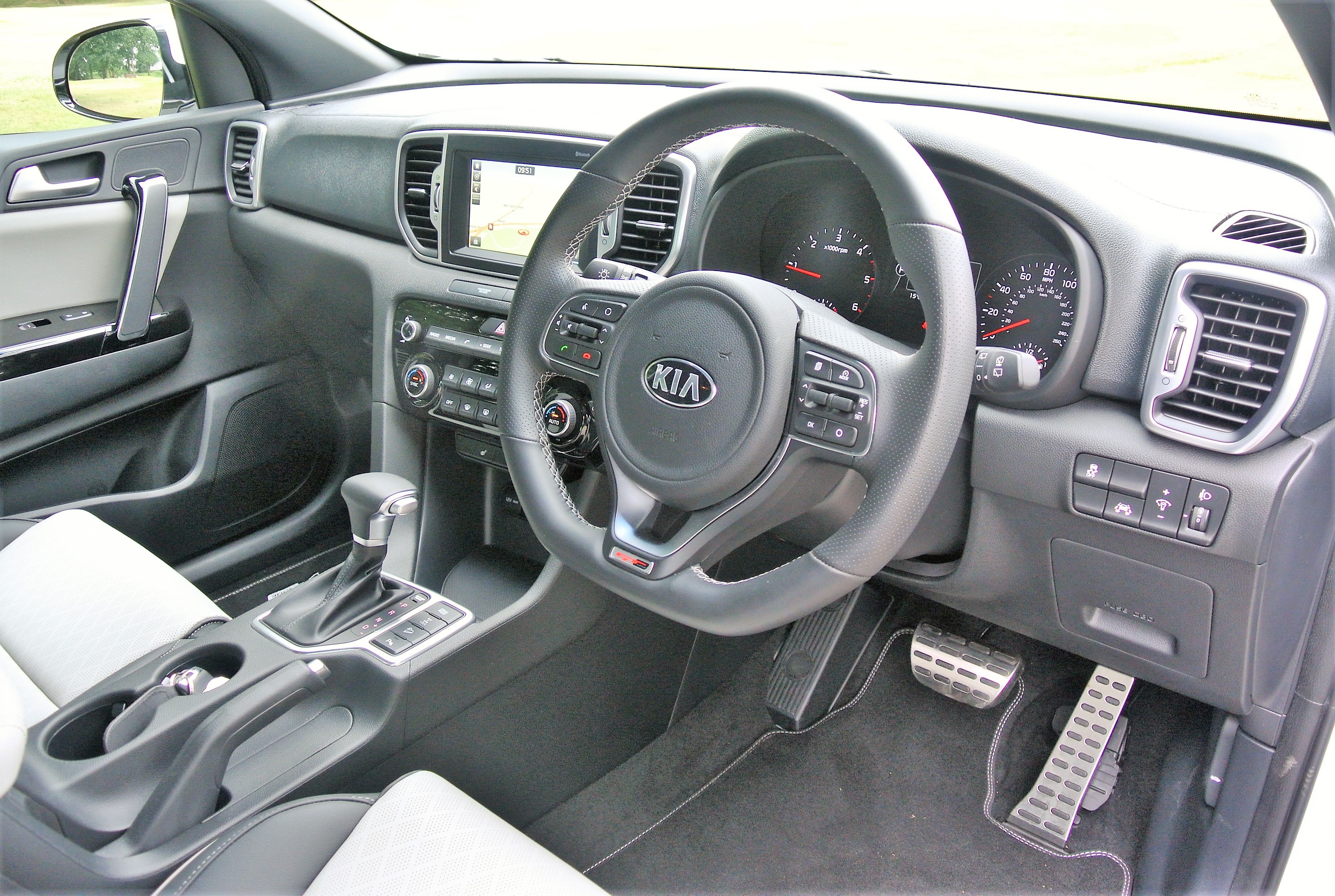 There is nothing complex about the Sportage's dashboard layout and switchgear familiarity soon builds, as most buttons are large and legible, carrying out the functions for which they are intended. The instrument cluster ahead of the driver is easy to read and the digital information panel between the speedometer and rev-counter can be readily reconfigured, using the steering wheel spoke controls, to relay trip information. The GT-Line factors in a leather-wrapped, flat-bottomed steering wheel that does not demand excessive wheel twirling, thanks to the rack's high-gearing (2.8 turns, lock-to-lock) for a fairly tight turning circle.
With a plethora of excellent competitor products available, for the first time in a Sportage, I found myself questioning its quality. It is well enough constructed and is undoubtedly most resilient but the detail finish of the interior now feels more down-market than many of its rivals and Kia is not afraid to charge top-dollar rates these days for any of its cars, which adds further meat to an argument in favour of early replacement.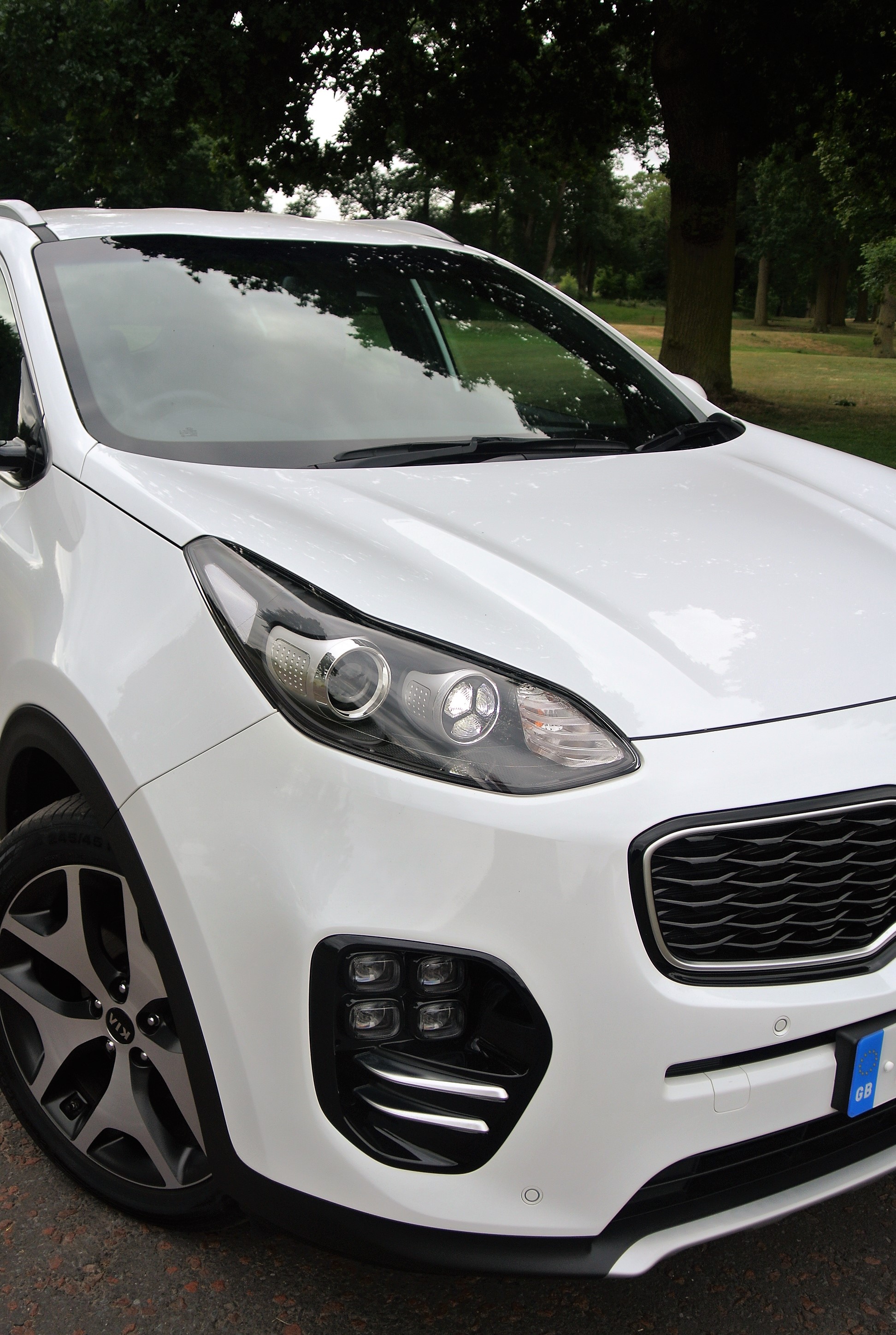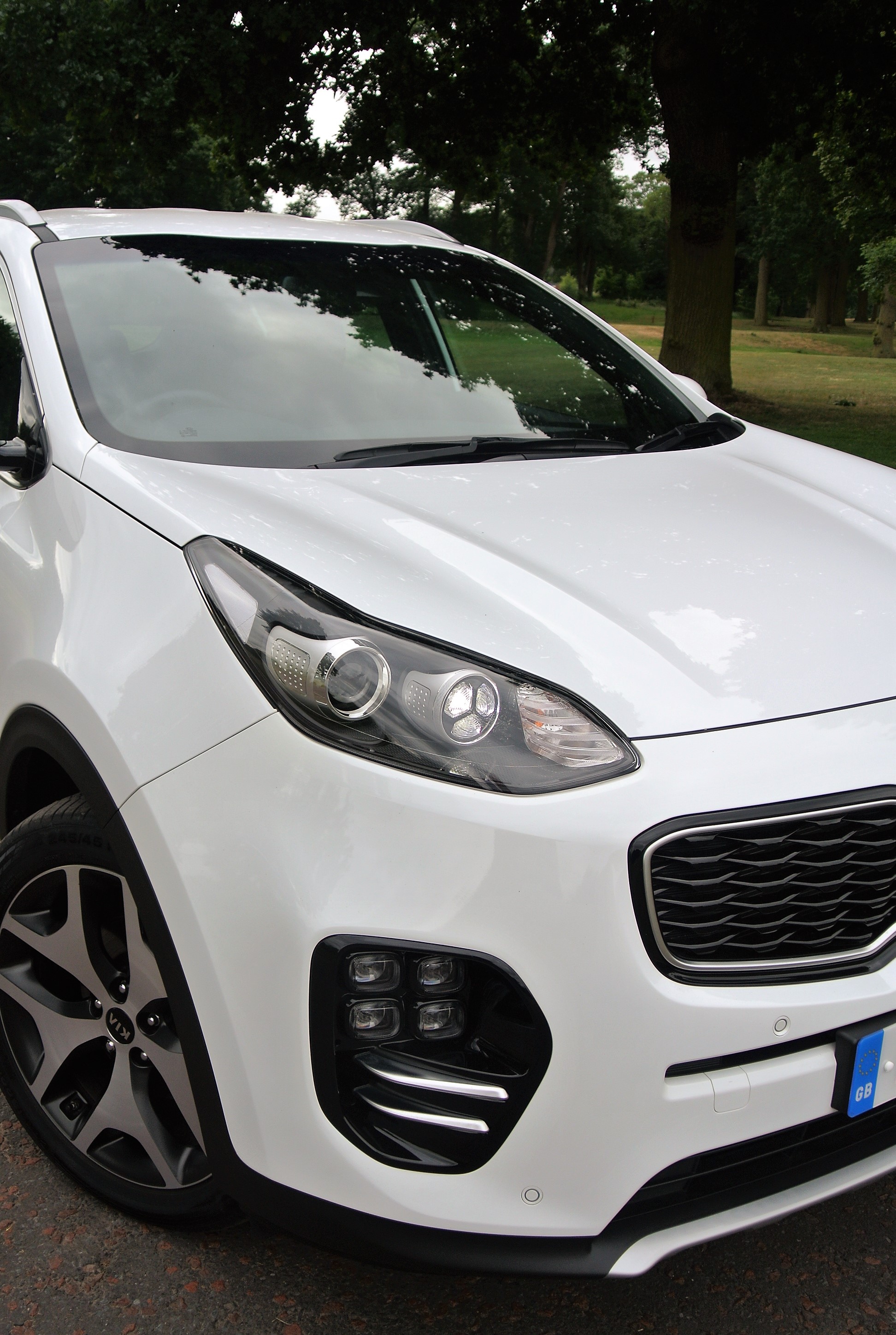 One of the GT-Line exterior recognition points is the 'ice-cube' LED foglamps installation within the lower front bumper. The LED daytime running-lamp signature is carried in the headlamp pods. Tastefully rounded, the actual height of bonnet-line is disguised by the combination of Kia's stylised 'tiger's nose' radiator grille and the silvered underbody protection. Yet, the car is chunky and I have heard it described as 'Florence's bootie' ('Magic Roundabout' fans will understand). The wide rear pillars do not cause a rearward obstruction from inside the car but they do promote the near van-like nature of the upright hatchback rear door, which opens to reveal a most accommodating and easy access boot, which is perfect for families, especially for transporting baby carriages and other paraphernalia. The split-fold rear seats (60:40) fold easily to provide more space, when needed. The Sportage has always majored on practicality.
Another of the key attributes of Sportage is that it looks quite different to its more organically styled rivals in the class. In many respects, it is a most elegant profile but it looks very sporty, especially sitting on 19.0-inch alloy wheels that do factor-in extra tyre replacement costs, set-off by silvered roof rails and skirt trims. Twin oval tail-pipes enhance a sportier proposition, although the test car is powered by a fairly rudimentary 2.0-litre turbo-diesel, four-cylinder engine that develops a modest 134bhp.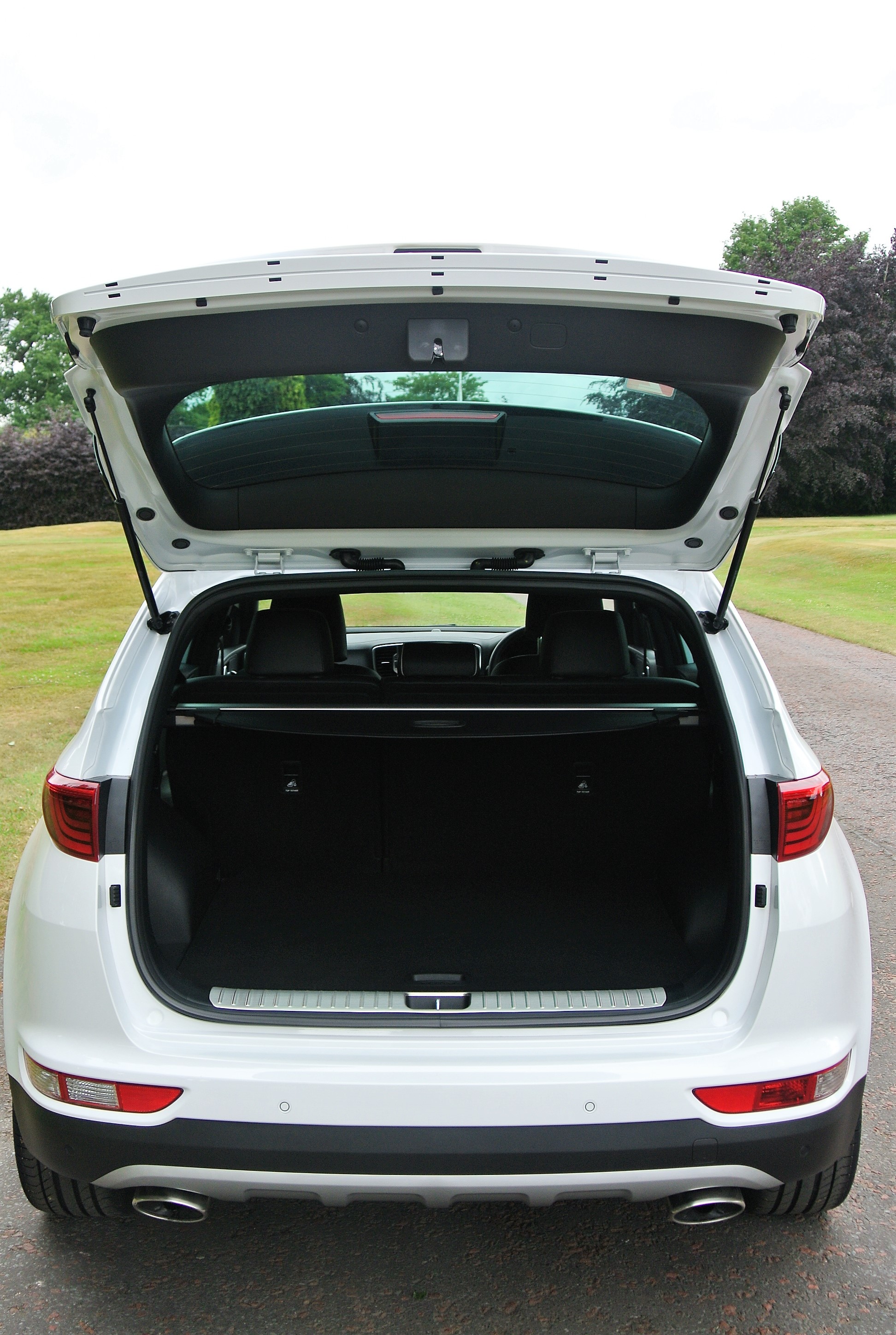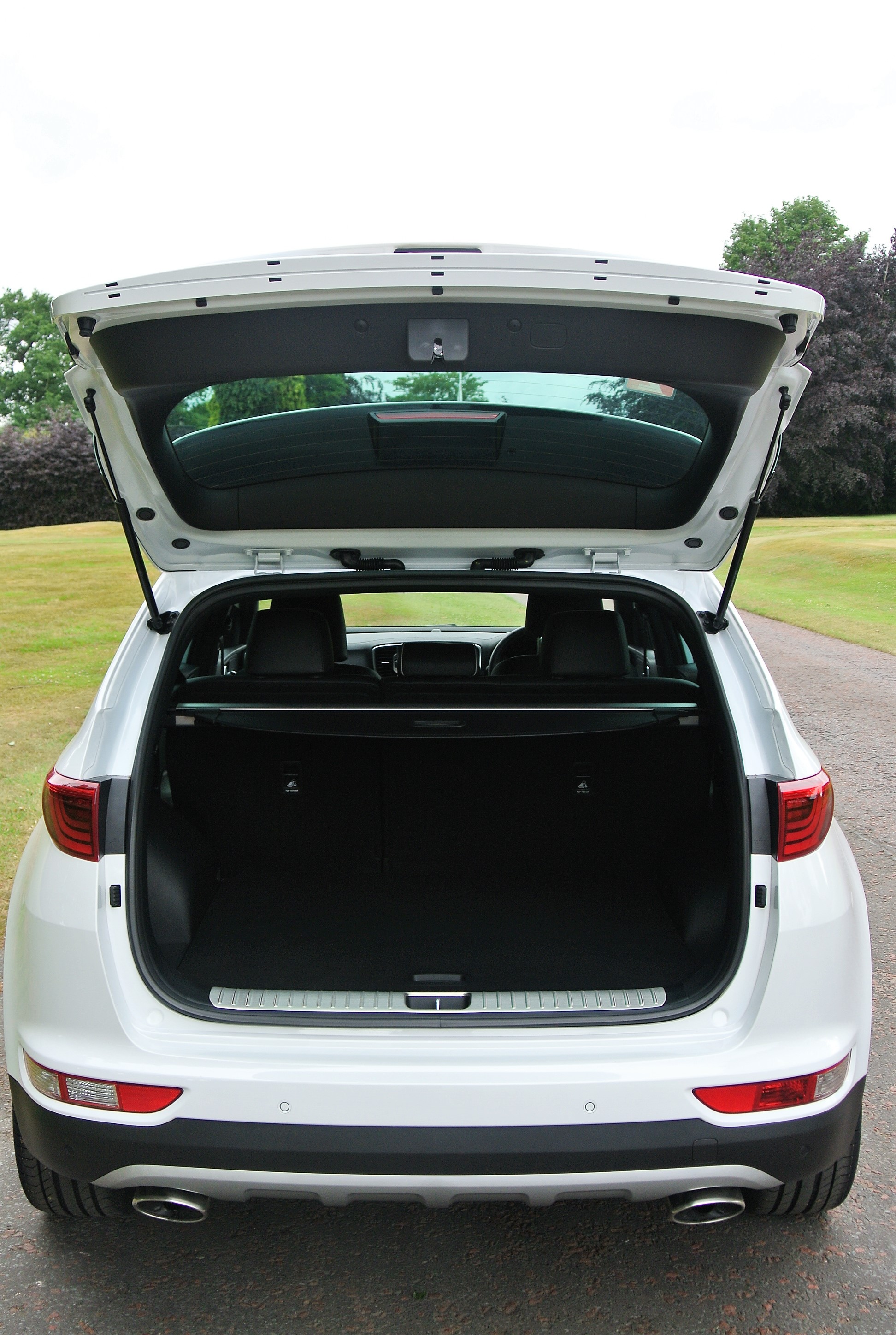 Yet, it is a strong unit and powers several other models in Kia's growing line-up. Promising an Official Combined fuel return of 47.9mpg, the running-cost benefits of diesel over petrol are clear to see. In addition, thanks to a healthy amount of torque (an impressive 275lbs ft), towing up to 1.9-tonnes worth of caravan is a doddle (the Sportage having won several towing awards over the years). There is a 182bhp option that might befit the sporting designation better, being capable of punchier acceleration, more mid-range grunt and a higher top speed. However, the 134bhp unit still enables the 0-60mph benchmark to be covered in 11.6s, with a modest top speed of 114mph. Remember that this model is also driving through an auto-box, with paddle shifters, which makes for exceptionally relaxed motoring. While slightly higher than the manual alternative, a 154g/km CO2 rating equates to a £500 first year road tax levy, followed by the standard £140 annually thereafter.
The Kia Sportage may be getting old but it still handles very well and provides a comfortable ride quality over most road surfaces, although the big tyres can rumble noisily on broken tarmac, as their low-profile construction can transmit poorer quality surface noises through the body and into the cabin. As a fit for market manufacturer, Kia ensures up-to-the-minute connectivity and the customary plethora of electronic safety and driver assistance devices. Hill-start, downhill brake control and trailer stability are all part of the comprehensive package.
With a replacement model on the horizon, now is the time to argue for a bargain. Priced at £28,475, prior to begging for dealer discounts, the Kia Sportage provides excellent value for money, due predominantly to its high-end trim level, where the options are minimal, because everything is included. Supported by the firm's renowned seven years warranty and a reputation for total dependability, Sportage is still a business transport 'no-brainer'.