It's win, win for two Lincoln businesses this week as a local HR solutions specialists announced the winners of a competition to mark the publishing of their Facebook Company Page.
Having launched their Facebook Company Page, Petaurum Solutions decided to run an un-publicised giveaway to their 100th follower on the popular Social Media platform.  The unexpected gift was the creation of a bespoke employee benefits package accessed through a simple online portal.
With offices in Lincoln, Suffolk, Birmingham and London, the scope for this giveaway was nationwide; and to the delight of Lincoln-based co-founder Adam Davey – the 100th follower turned out to be none other than Lincoln's own 'Ribs n Bibs'!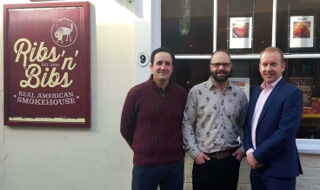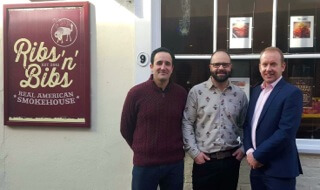 From Left – Right:  Charles Patrick and Adam Morgan (Ribs n Bibs), Adam Davey (Petaurum Solutions) 
Delighting in the revelation of a local business winning free access for all of their employees, Davey stated:
 "We couldn't announce our intentions to give away access to this great employee benefits scheme (for obvious reasons) but I'm thrilled that a fellow Lincolnshire business has become the lucky recipient. I'm delighted that the workforce at Ribs n Bibs will now enjoy further advantages to their employment package – and that this great local restaurant will be able to offer a further competitive edge as employers".
An ever-growing number of employers are discovering the enormous benefits that Benefits packages deliver; as they are simple to implement, highly cost-effective and capable of bespoke branding to match clients' corporate images.
The co-founder of Ribs n Bibs, Charles Patrick, certainly believes so, stating:
"We are delighted to be associated with Petaurum Solutions; and winning the Facebook competition was just the icing on the cake. In business terms their employee benefits solution is an excellent fit for us. We're always trying to innovate as a business, and the continued retention of our great team is key. The 'Benefits Lite' portal adds another string to our bow and will certainly help our team retention and recruitment efforts. We look forward to a long and fruitful working relationship with Adam and his team."
NOTE: This forms part of a Press Release for one of our clients; Petaurum Solutions.  The original article is linked here.