In some ways, Citroen should be applauded for trying to create another car brand with the DS but, states Iain Robertson, it has been stymied by the dominance of its volume models and a lack of design inspiration beyond mere titivation.
Possessing an essential and historical link to the Citroen marque, DS (pronounced 'Day-esse') is a determined move by PSA Groupe to broaden its model portfolio and effect an upmarket and slightly leftfield offering from the French car market. Its historical relevance is massive. DS was an innovative, advanced and bravely futuristic glimpse into family transport, when it was first introduced in the mid-1950s. In many ways, it remains unchallenged.
In its latest iterations, while the connection to Citroen is still risibly clear, slowly but surely, DS is moving into the realms of style-led, rather than volume-enforced reality. Every DS model shares the new family radiator grille outline, linked to multi-element LED headlamps with the liberal application of chrome and the artistically relevant application of the 'DS' logo, which is carried into screen icons, scuff guards and even the door pulls. However, shedding the 'Double Chevrons' is perhaps not as easy as just telling people is. While Audi was able to do it with Volkswagen, as Lexus has done from Toyota, Nissan's failed efforts with Infiniti highlight how tough it can be.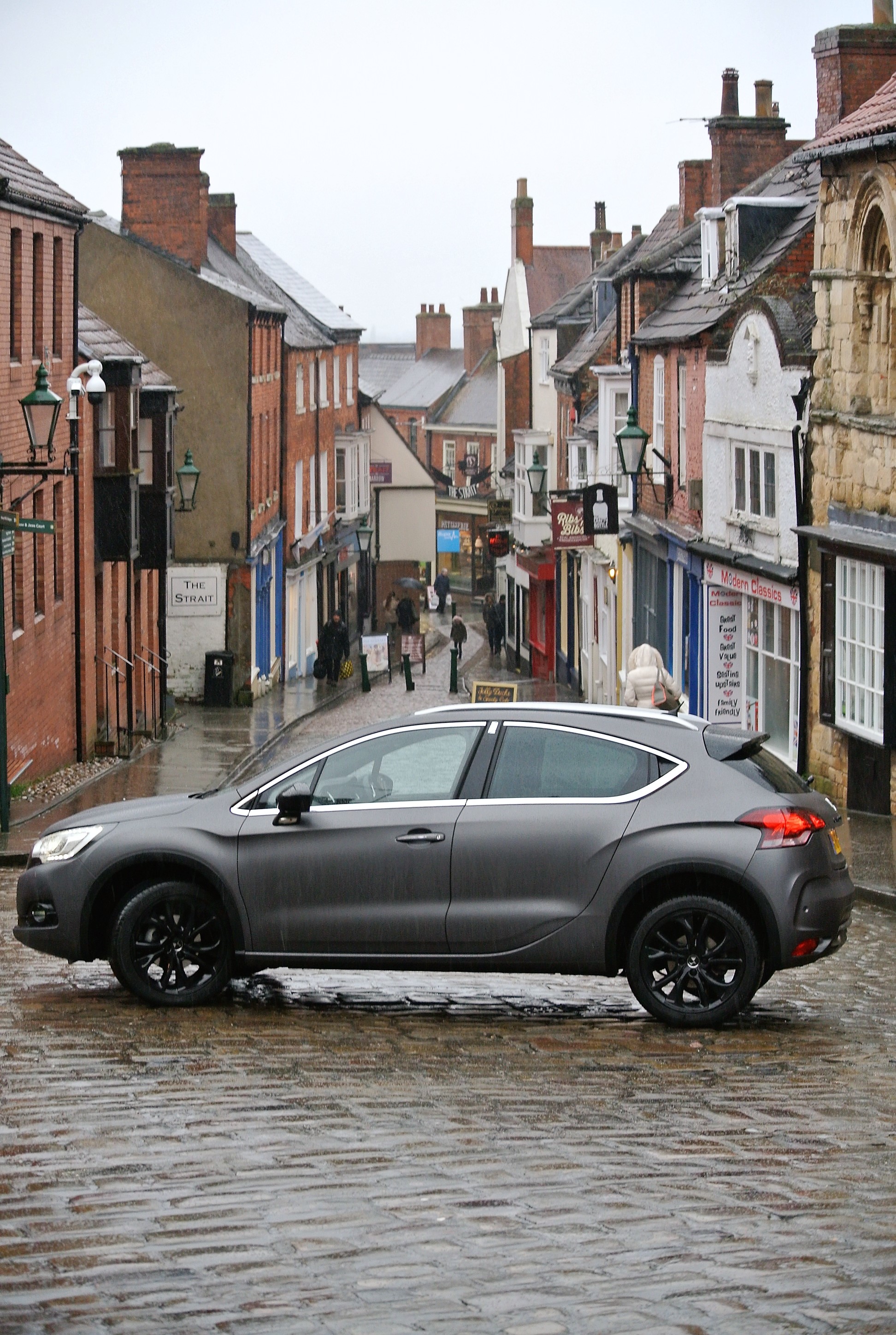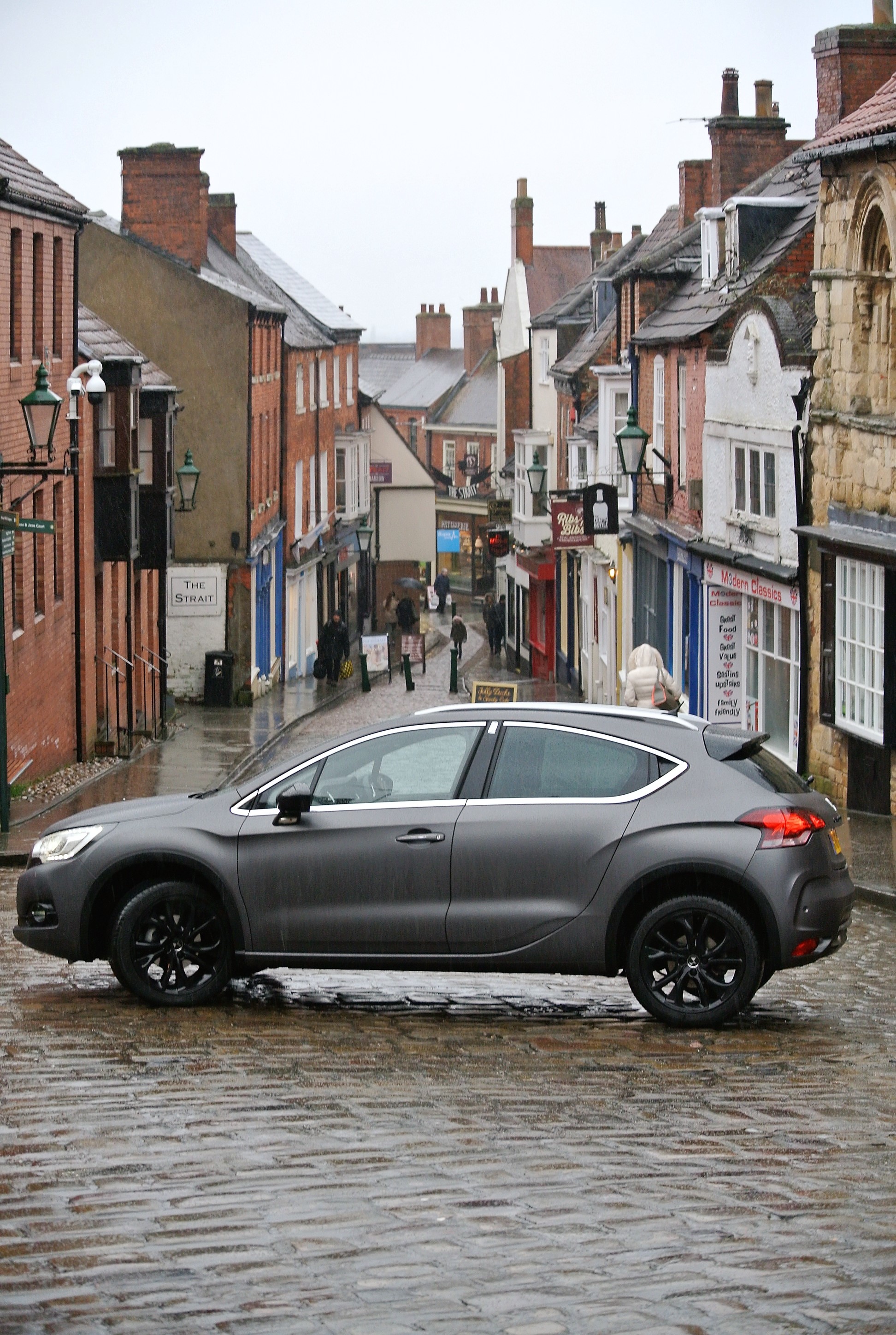 The DS4 sits in the middle of the firm's current line-up, being augmented by the new DS7 variant at the top-end of the SUV sector. Although there is no 4×4 aspect, the DS4 follows the current market predilection for SUVs by incorporating bolstered wheel-arches and, in the case of the Crossback test car, a ride height increased by 40mm. With two petrols (1.2 and 1.6-litre) and two diesels (1.6 and 2.0-litre) available in the line-up, it is the popular 1,560cc HDi unit that powers the Platinum Grey matt-finished example pictured here.
Personally, I am a long-standing fan of this engine, mated to a sweet 6-speed manual gearbox. It has been a mainstay of PSA models for several years now and, in this instance, it delivers a modest 120bhp at 3,500rpm, allied to a monumental 221lbs ft of torque. While power output is important, it is torque that enhances performance and, in the DS4, it equates to a wonderful spread of potency across a wide rev-range, which makes it a delight to drive in most conditions. However, the Crossback is a chunky wee thing and, if the intention is to give it large, buyers might be better to invest in the 2.0-litre HDi instead.
Despite tipping the scales at a moderate 1,465kgs, most of which lies in the raft of creature comforts inherent to the DS brand, the Crossback can still manage a zesty 0-60mph benchmark in just 10.6s. Once again, thanks to the wealth of torque on tap, the car feels much zestier than the on-paper figures suggest and it can reach a top speed of 117mph. Fitted with a 13.2g fuel tank, a truly impressive range of over 950-miles is feasible, which makes the DS4 a most unassuming grand tourer. Its Official Combined fuel economy is given as 72.4mpg, which, as I know from past experience, is achievable by almost any driver. If you can recall, this engine in various PSA models has topped 90mpg in real-time fuel economy tests.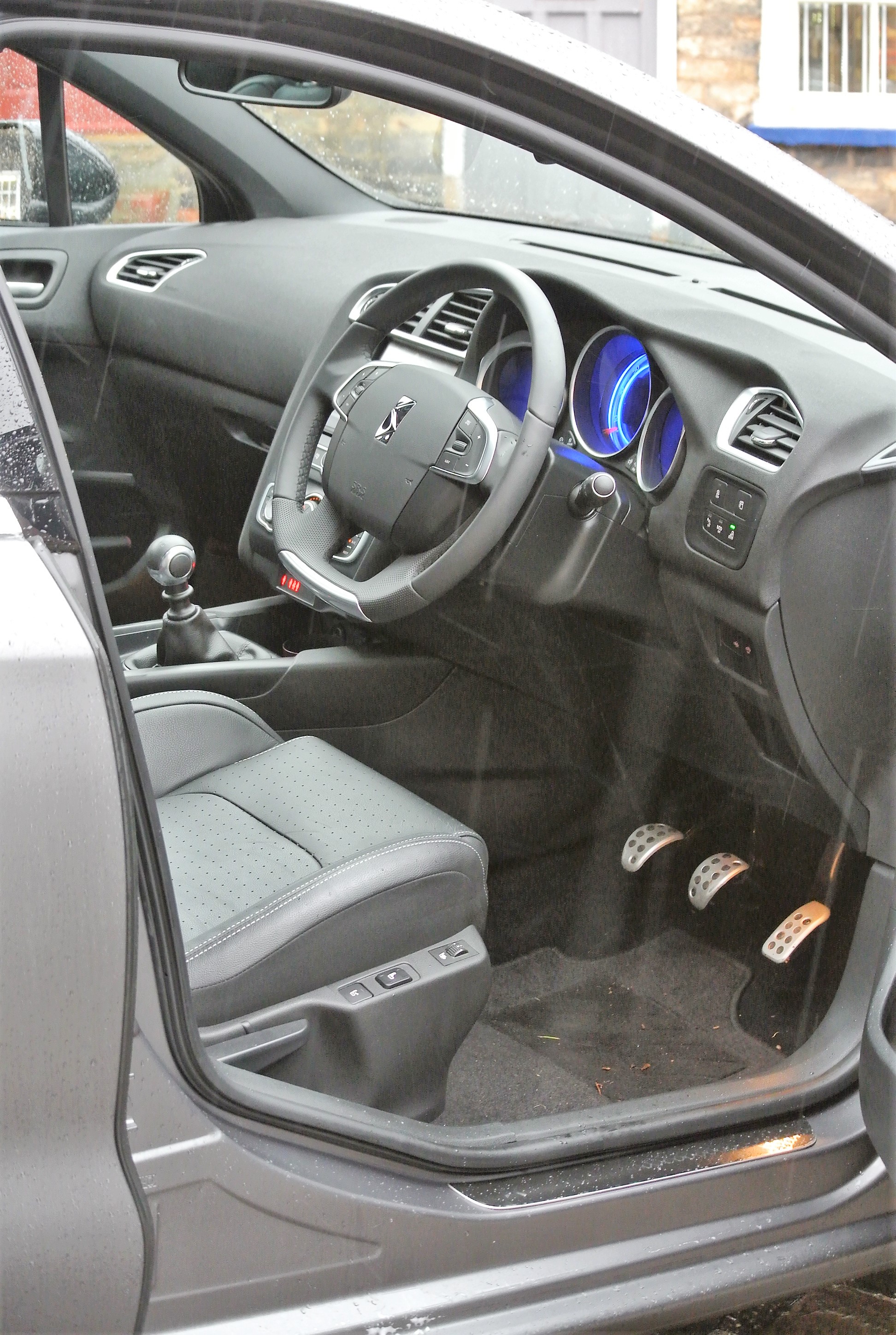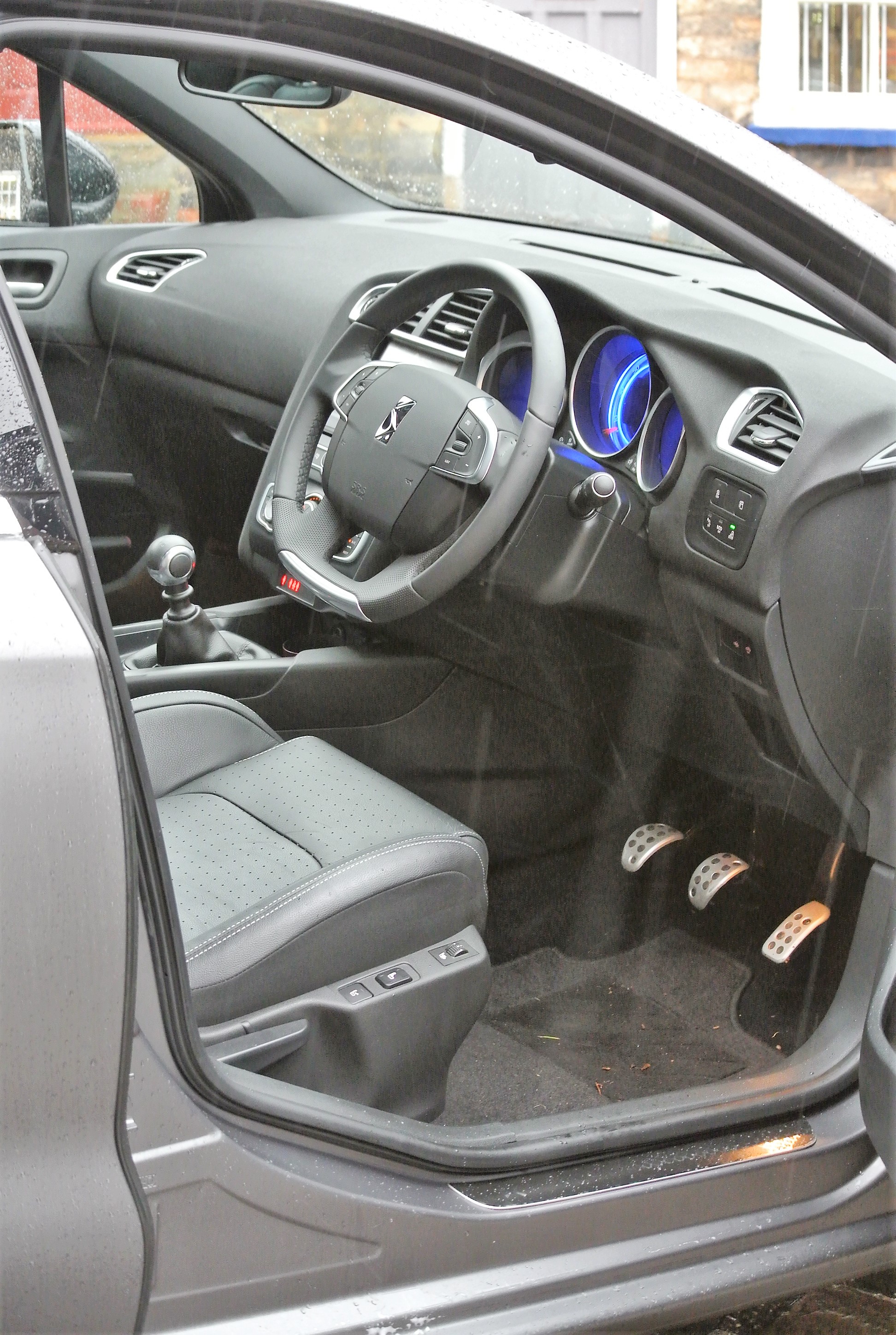 The large diameter, flat-bottomed steering wheel gifts the interior of the car a classically elegant environment but its quick reacting, variable power assistance enhances the impression of nimbleness at the controls. Yet, it is a monster of a wheel, compared with the diddy efforts used in some Peugeot models, and it can create height restrictions for some drivers, while the foot pedals are rather too closely positioned for (male) drivers with feet greater than size nine (more on which momentarily). Despite the increased ride height, the DS4 feels moderately stable and well-balanced on-road. Lacking the adjustable driving mode of some SUVs ensured that I did not test its competence off-road.
Considering its 4.2m length, which is exceptionally compact, the normal ride quality is surprisingly good. However, riding out some of today's road surface imperfections, while the moderately sporty damper settings resist body roll and gift the car a lot of its surefootedness, they can induce uncomfortable pitch, especially in mid-corner. Sitting on 18-inch diameter, Brisbane gloss black alloy wheels, wearing 225/45 section Michelin tyres, grip levels are outstanding, even on the sleet and rain-washed roads of the test period. All-round disc brakes provide strong and fade-free retardation, even from motorway speeds.
Most noticeable, on the test car, is the amazing textured matt paint finish. PSA is becoming increasingly adventurous with its paint detailing and Crossback Moondust, which is this model's top-spec trim level, seems to be perfectly comfortable in its own skin, even extending the matt finish to the black of the door mirror caps, tail spoiler and front bumper elements. The aluminium alloy roof bars offset the reflection-free finish to perfection. How durable it might be, after three years of ownership and 40,000 miles of usage, remains to be witnessed. Apparently, it must be hand-washed, as carwash brushes can damage the paint irreparably. Polishing it is a no-no. Most polishes contain cleaning agents that will alter the paint's natural sheen, so it would be best to take advice from the dealer outlet…if its personnel actually know.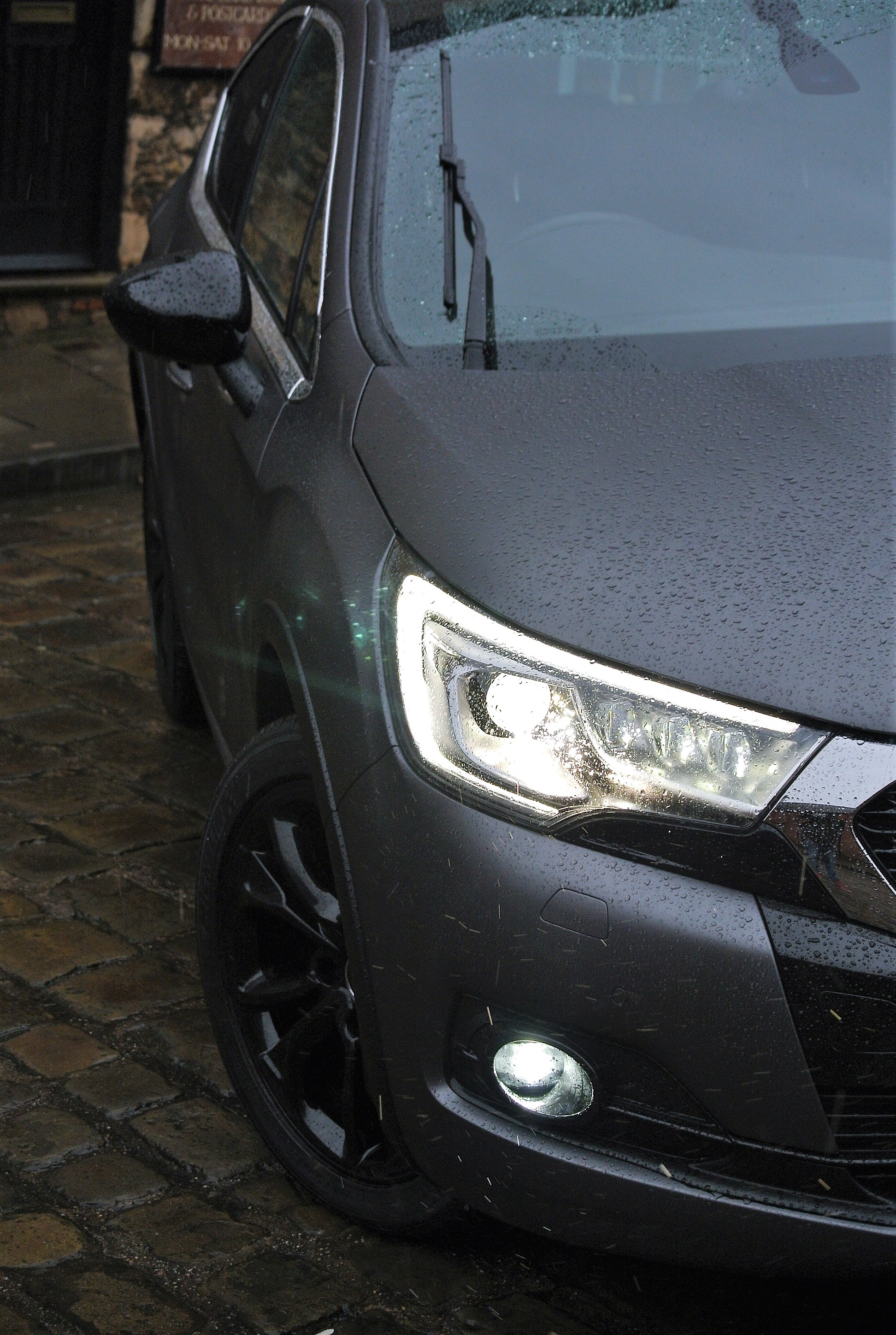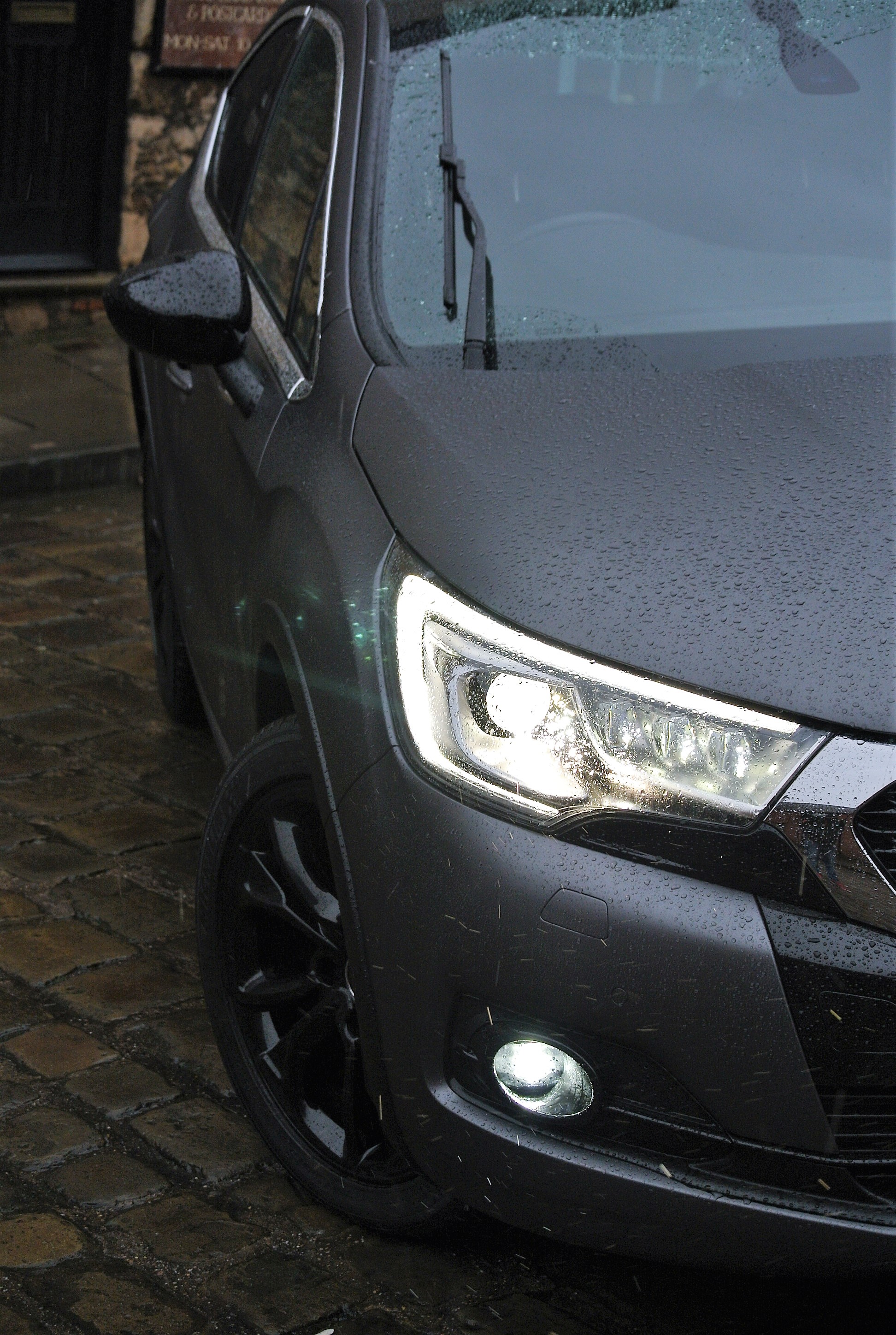 Within the cabin, an atmosphere of quiet elegance reigns supreme. The soft-touch dashboard moulding and various trim textures add to the feeling of high quality tactility. The leather covered seats are almost voluminous in their cossetting appeal, the Nappa-grade hide being carried onto door cards and steering wheel rim. The 'watchstrap' leather finish introduced on the original Citroen DS4 model is still available, as an extra-cost option. Of course, at this level, there is keyless entry and a push-button starter factored-in as convenience aspects.
Ahead of the driver is a three-dial nacelle, containing easy-to-read instruments and digital read-outs that are also linked to the touch-screen in the dash-centre. Its illumination can be altered from white, through several shades, to a restful blue. Interestingly, the touch-screen also features an alternative 'ruby red' setting to its otherwise blue background. The parking brake is electronic and operated via a switch in the centre console.
The DS4 works as a family car, thanks to a 385-litres boot capacity and enough space across the rear bench, which split-folds to almost treble the available luggage space. However, space is at a premium and the cockpit can feel very cramped for drivers over six feet tall. Both power and USB sockets are installed and there is plenty of practical storage around the cockpit for personal possessions. As is common these days, there is no spare wheel, although a puncture repair kit is located beneath the boot floor.
While the test car is in the costliest trim (£28,140 on the road), there are both 'Terre Rouge' and regular versions of the Crossback, while Elegance, Performance Line and Prestige are the trim levels reserved for the lower-line versions. Finally, I should point out that the lighting performance is excellent, with up to 134 LED modules and high-intensity Xenon discharge bulbs providing night-into-day illumination at the front of the car. The indicators are also of a scrolling type.
Only a few carmakers have elected to produce up-market versions of their compact models so far, DS being one of them. It is an intriguing proposition, when you consider that a lot of car buyers are 'down-sizing'. In the DS4 Crossback's case, it meets fuel economy, space and classy appeal square on, factors that go a long way to justifying the brand's market position and stance. However, there is still some way to go before businesses will feel confident about making DS their default choice.