Possessing a history steeped in affordable, quality motoring, VW Group set a cat among the pigeons, when it unveiled the up!/Mii/Citigo model range six years ago and Iain Robertson believes that it is yet to be beaten.
Although it all sounds terribly post-WW2, when foodstuffs and fuel supplies were rationed, it is worth noting that the daily spoonfuls of cod liver oil, malt and concentrated orange juice, meted out by the fast-growing National Health Service and the Ministry of Food, had a remarkable effect on the Great British public; we were all significantly healthier. Our nation was not alone in having to rebuild extensively following the atrocities of a conflict that should never have happened.
Thanks to the efforts of a British Army Major, Ivan Hirst, the severely allied forces' bombed town and factories of Wolfsburg, an industrial town due east of Hannover, Germany, whirred into action to produce a world-storming version of the 'people's car', the 'Volks-wagen'. It had been the German dictator, Adolf Hitler's dream machine that was deemed perfect for a population burbling along that country's Third Reich-developed motorway network.
Generous as ever, the Brits helped where they could to repair war-induced damages, ironically before even setting about restoring normality in the homeland. The Beetle, as it became known, provided bare bones transport. A no frills means of getting a nation mobile, back to work and into future prosperity.
When the VW up! was introduced, in 2011, along with affiliated Skoda Citigo and Seat Mii semi-clones, I was not alone in declaring it to be a master-stroke of automotive ingenuity in a post-economic crash recovery period. In fact, prior to it being announced as the 2012 Car of the Year, I had already made the trio of models my 'cars of the year' in a series of newspaper and magazine reports at the end of 2011.
As you might be aware, I 'owned' (leased, actually) a Skoda Citigo variant equipped with all of the optional bells and whistles that I acquired in 2013. Gosh! How I loved that little car. For a variety of reasons, not least that my original £100 per month rental payment had doubled to more than twice that figure, I changed to my current Suzuki Baleno, which offers significantly greater value for money than the current Citigo. Yet, I retain fond memories of a fantastic small car.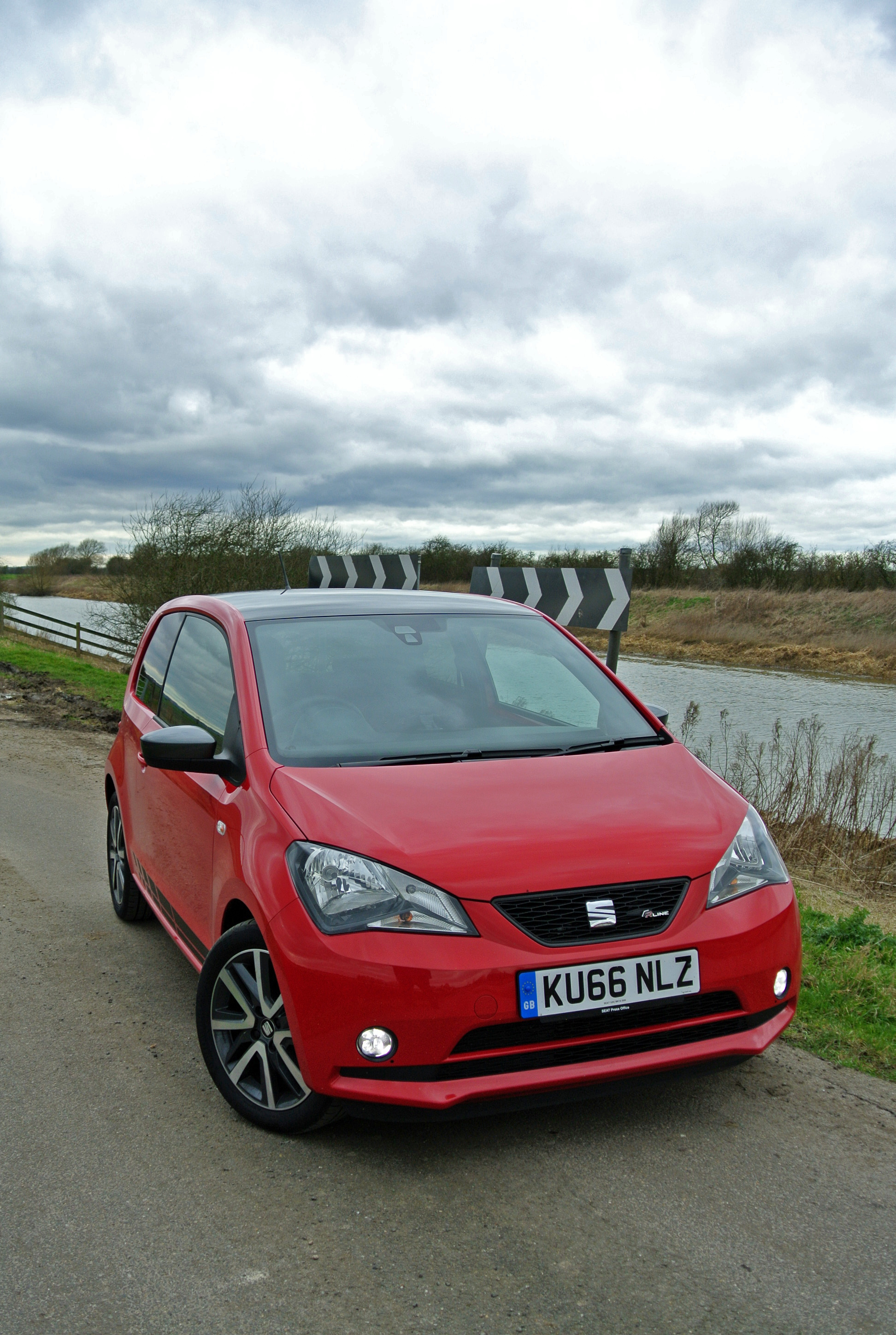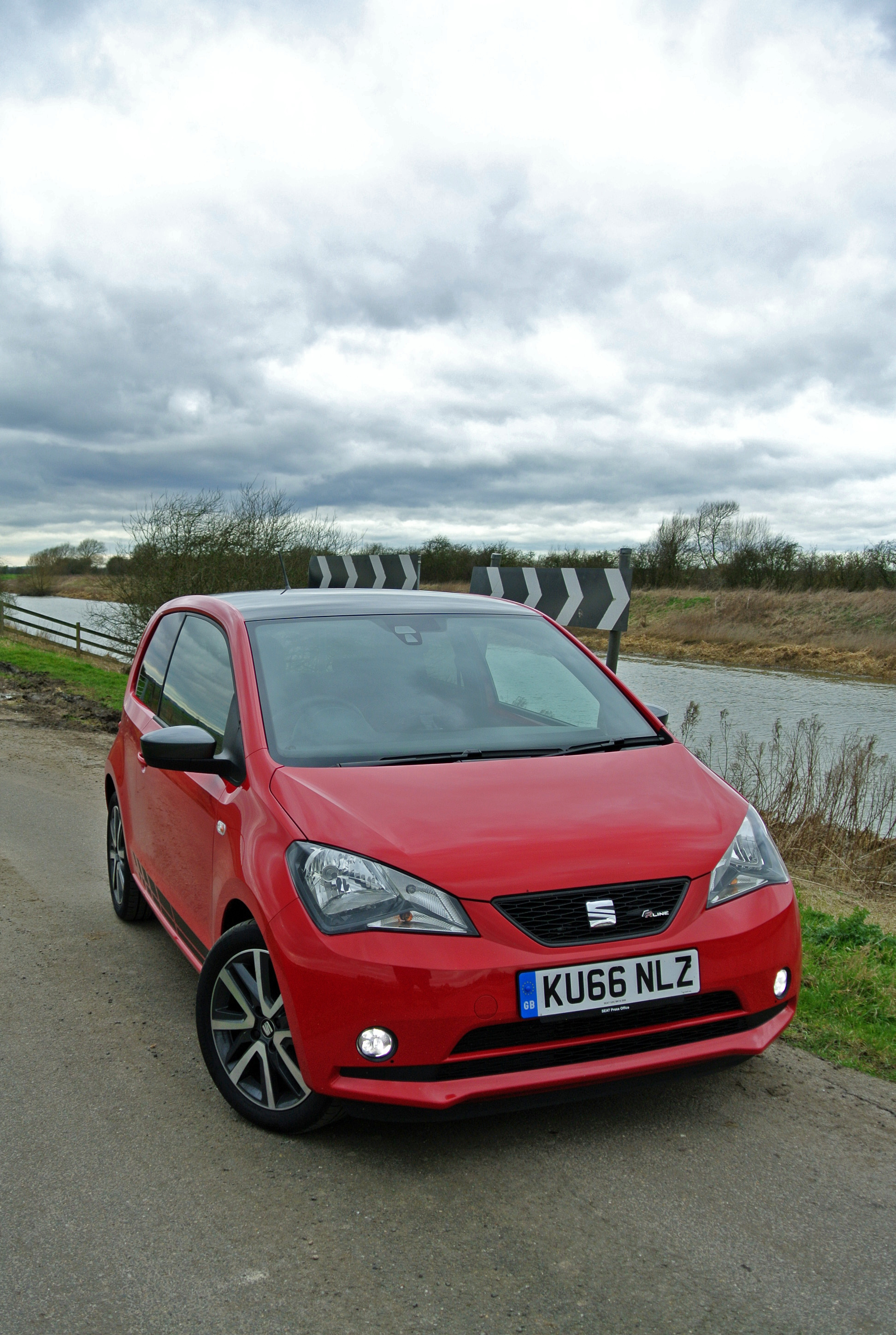 In sampling the latest version of the Seat Mii, I have been reminded of that semi-convenient austerity, which leans more appositely towards chic, rather than cheap, these days. In fact, my mind harked back to another post-WW2 food, condensed milk. While useful for producing home-made fudge, plenty of 1950s' children enjoyed condensed milk sandwiches for their tea and the Mii, even in its sportiest FR guise, is like a good car condensed into a phenomenal car that is suitable for consumption by all and sundry.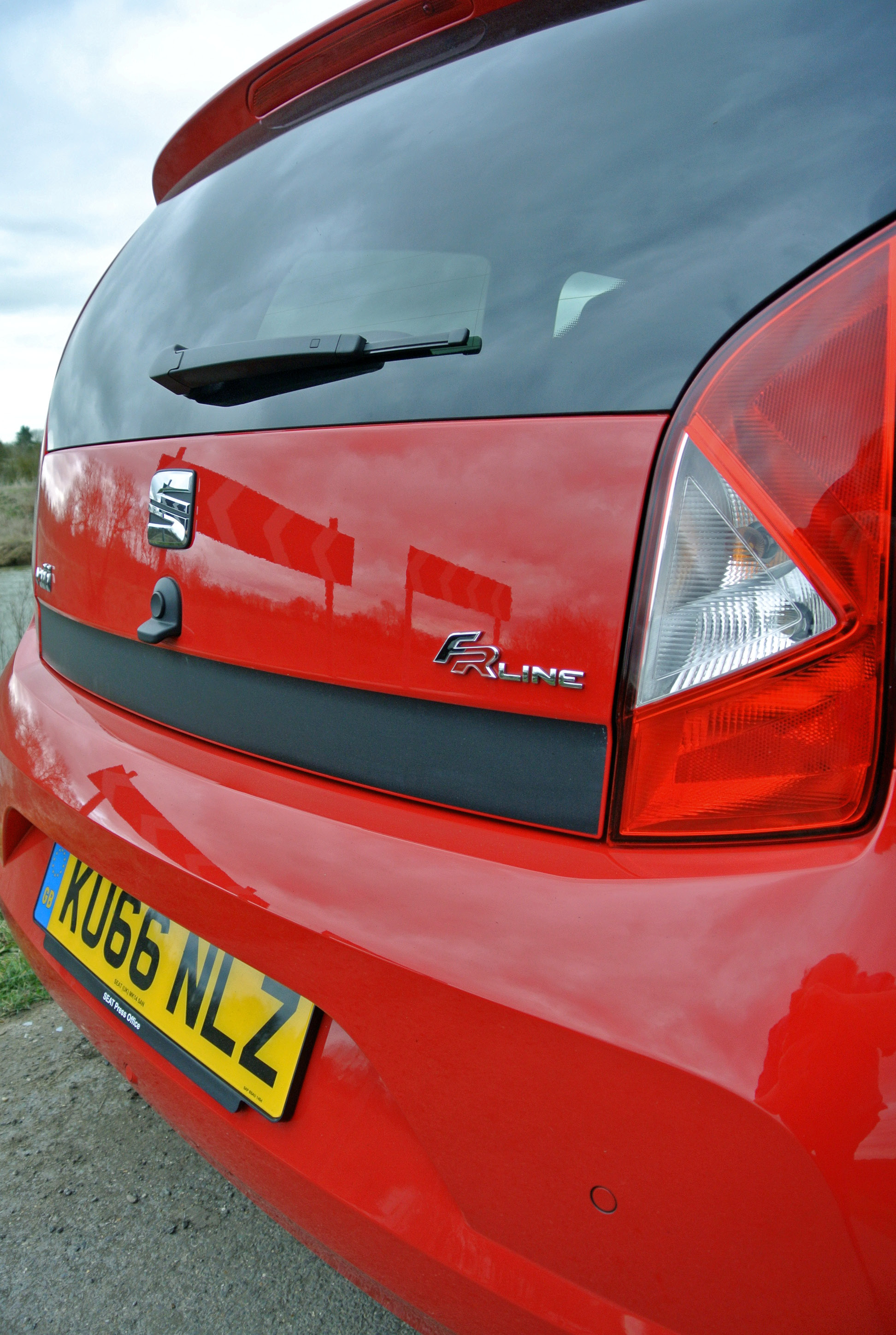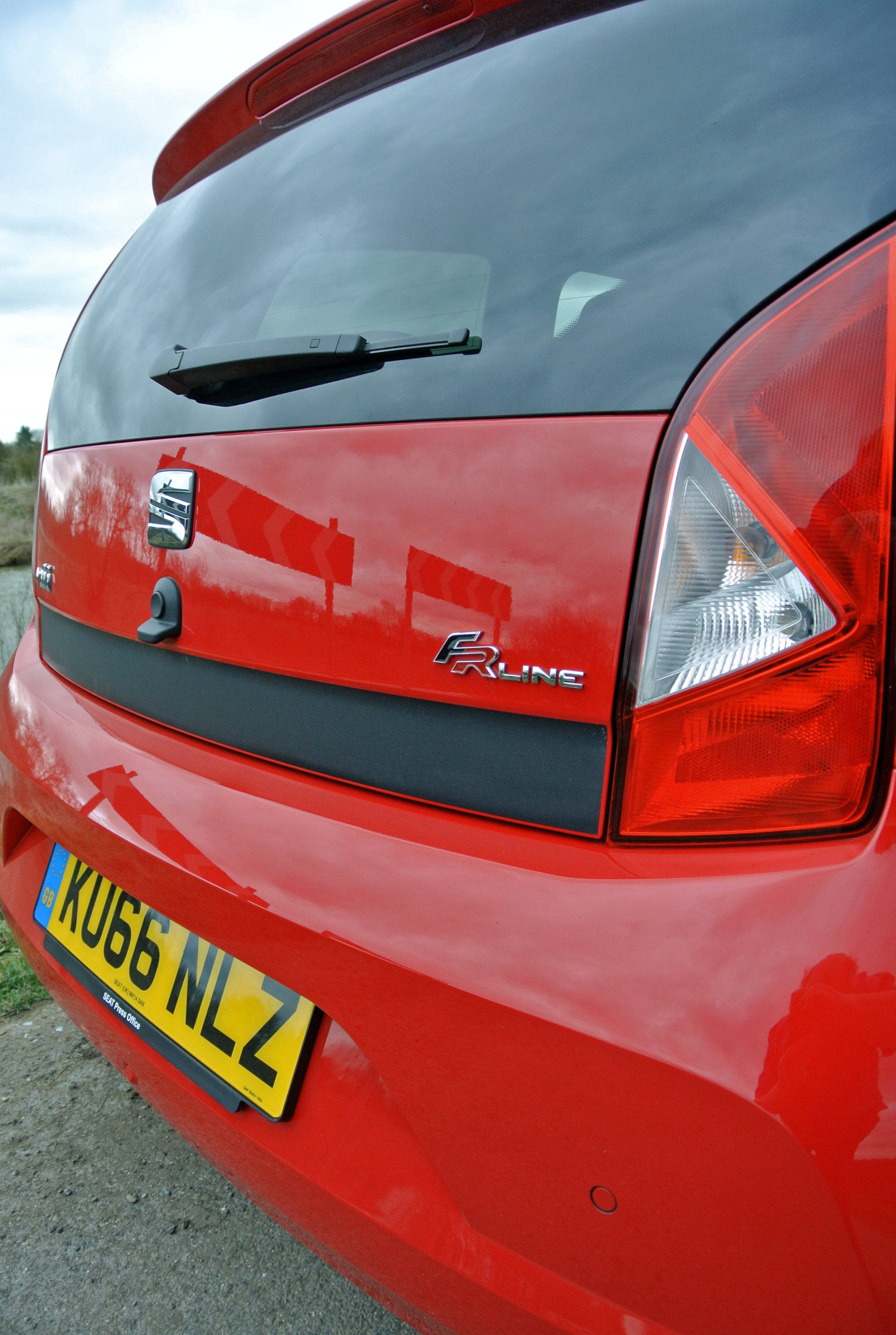 Price-tagged at £13,005, it includes £215 for autonomous city braking, £120 for the roundel of LED daytime running lamps located (where I had them installed first on my Citigo) in the fog lamp slots in the lower front bumper, and £190 for a DAB radio. The Seat sound system, complete with six speakers and 300W boot-located subwoofer costs £310, while the Driver Pack includes cruise control, trip computer and rear parking sensors for £340 and red paint adds a further £255 to the £11,575 basic price. In today's terms, these fairly inexpensive 'extras' turn frills-free transport into something a little more cushy.
The Mii FR certainly looks the part, hunkered down to the road surface by lowered, stiffened suspension, running on the 16-inch alloy wheels that were not even an option, when I ordered my Citigo. I wish that they had been, as they fill the wheel arches successfully and I also wish that I had not listened to negative dealer advice about the alternative suspension enhancement, because, contrary to its view, the ride quality, while firm and sporty, does not lack control. In fact, occupants of this car would know very well that it had been stiffened by around 20% but, rather than providing an unsettling experience, it turns the Mii (as it would my Citigo, or an up!) into a most engaging driver's car. It corners securely and faithfully to input at the steering wheel, grips like pooh to a blanket and gifts the car a Mini-like sensation of thought-transferred dartiness that is immense fun.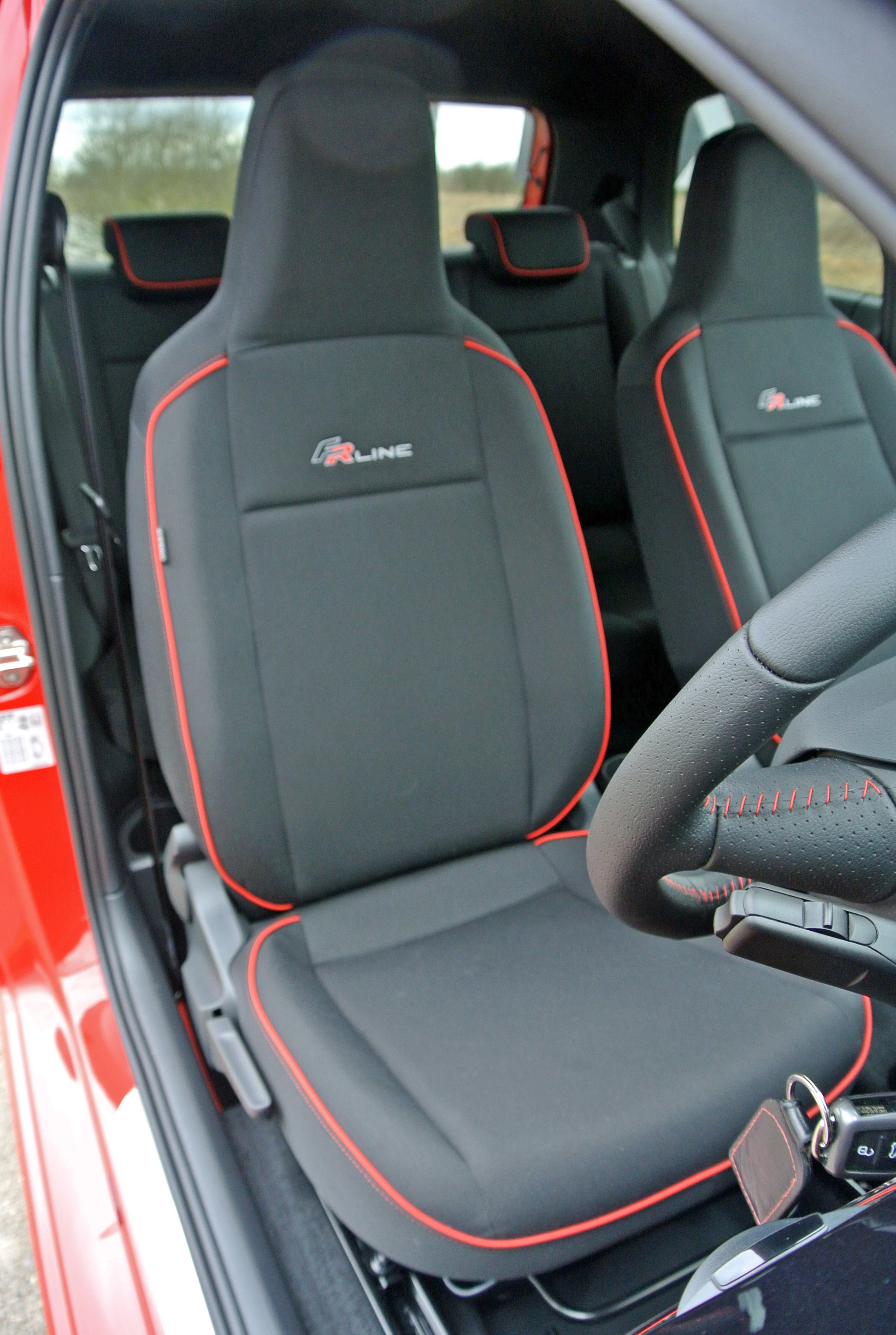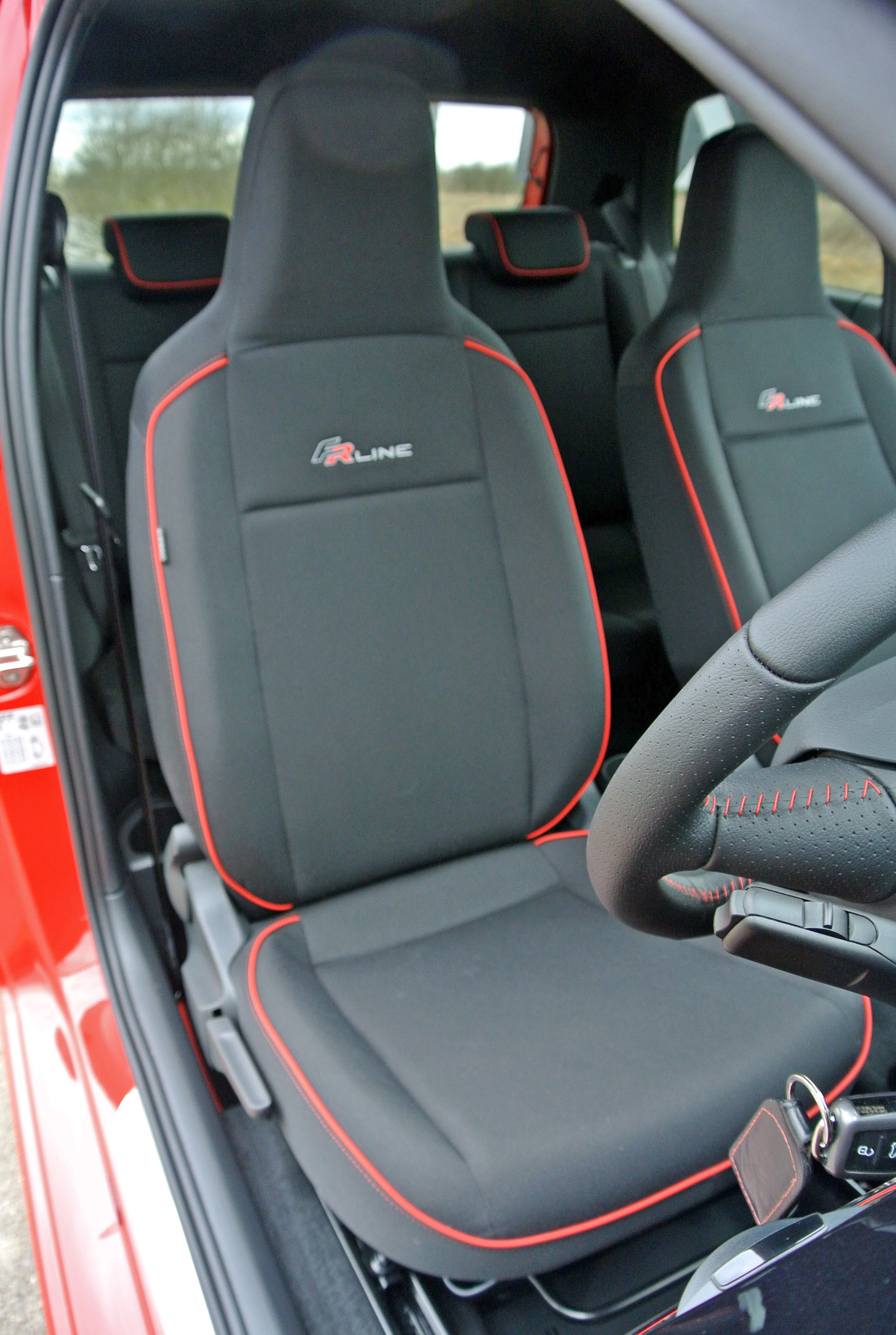 While the FR features a black roof, unlike my Citigo, which featured an electric-opening glass roof, I benefit from an extra inch or so of welcome extra headroom. The 'boy-racer' appliqués on the car's flanks are a bit 'love/hate' but they are not OTT. The Tornado Red paintwork is complimented adroitly within the Mii, thanks to its untrimmed sections of panel work and the blend of red piping on the seats, carpets and additional red trim around the air vents and stereo head unit. Complete with a flat-bottomed steering wheel (great for clearing my long legs) and a piano black panel ahead of the front passenger, it is an harmonious combination that is more than merely pleasing to the eye.
Much like the original VW Beetle, while not as sparse as cars like the early Citroen 2CV (which shared similar ambitions), the instrument panel is predominated by a large diameter speedometer face and Seat's signature markings, flanked by a teensy rev-counter and fuel gauge. That's your lot, because all other functions are governed by warning lamps. It is uncomplicated and more than enough.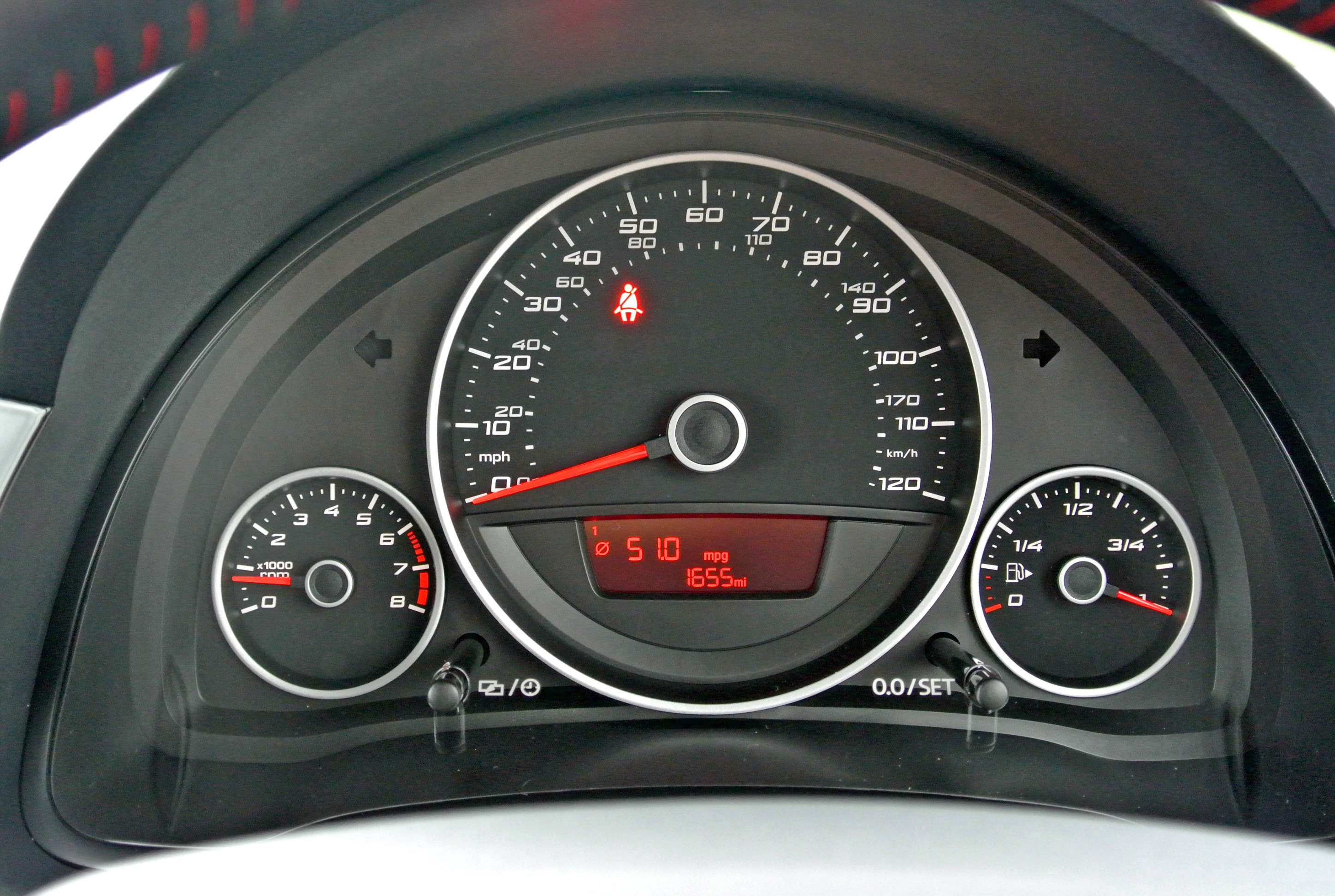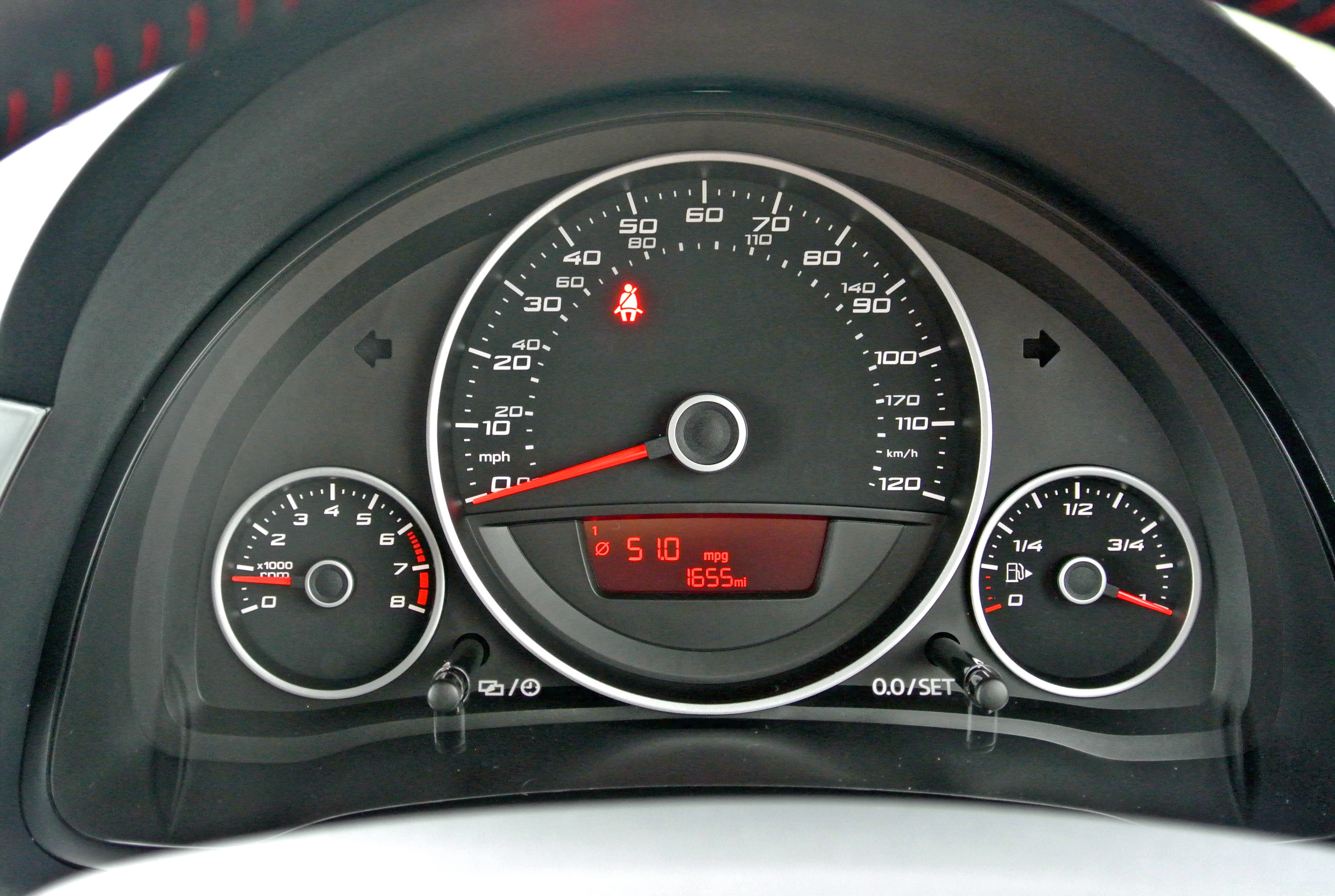 You might note that this model is a three-door, which makes for fantastically easy access to the high-back front seats, although getting into the rear demands some knowledge of callisthenics. The driver's seat does not slide forwards practically like the front passenger seat, which is fair enough, as most back seat occupants will probably enter and alight from the Mii at the nearside of the car. However, there is no 'memory' function available, which means that its recline and reach have to be readjusted every time. It is not a painful process, when you repeat it frequently enough, but it does lack a soupcon of convenience. Yet, it is a comfortable four seater, possessing plenty of space in a way that the original Mini did, albeit without the ingenuity. Fortunately, its boot is a lot larger than that of the Mini, being deep and capable of carrying several shopping bags, although the load area can be extended by folding the rear seat backs almost flat to the floor.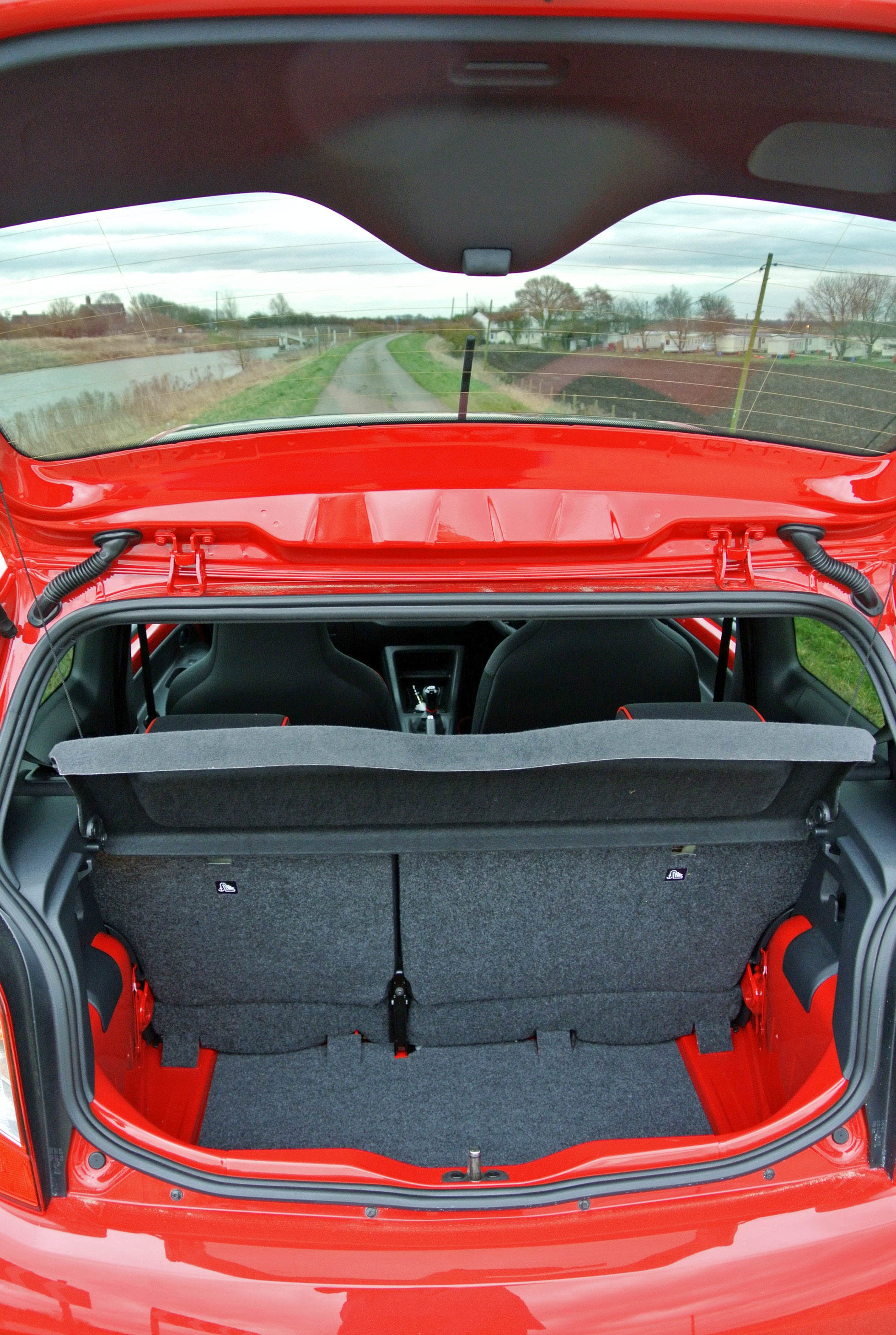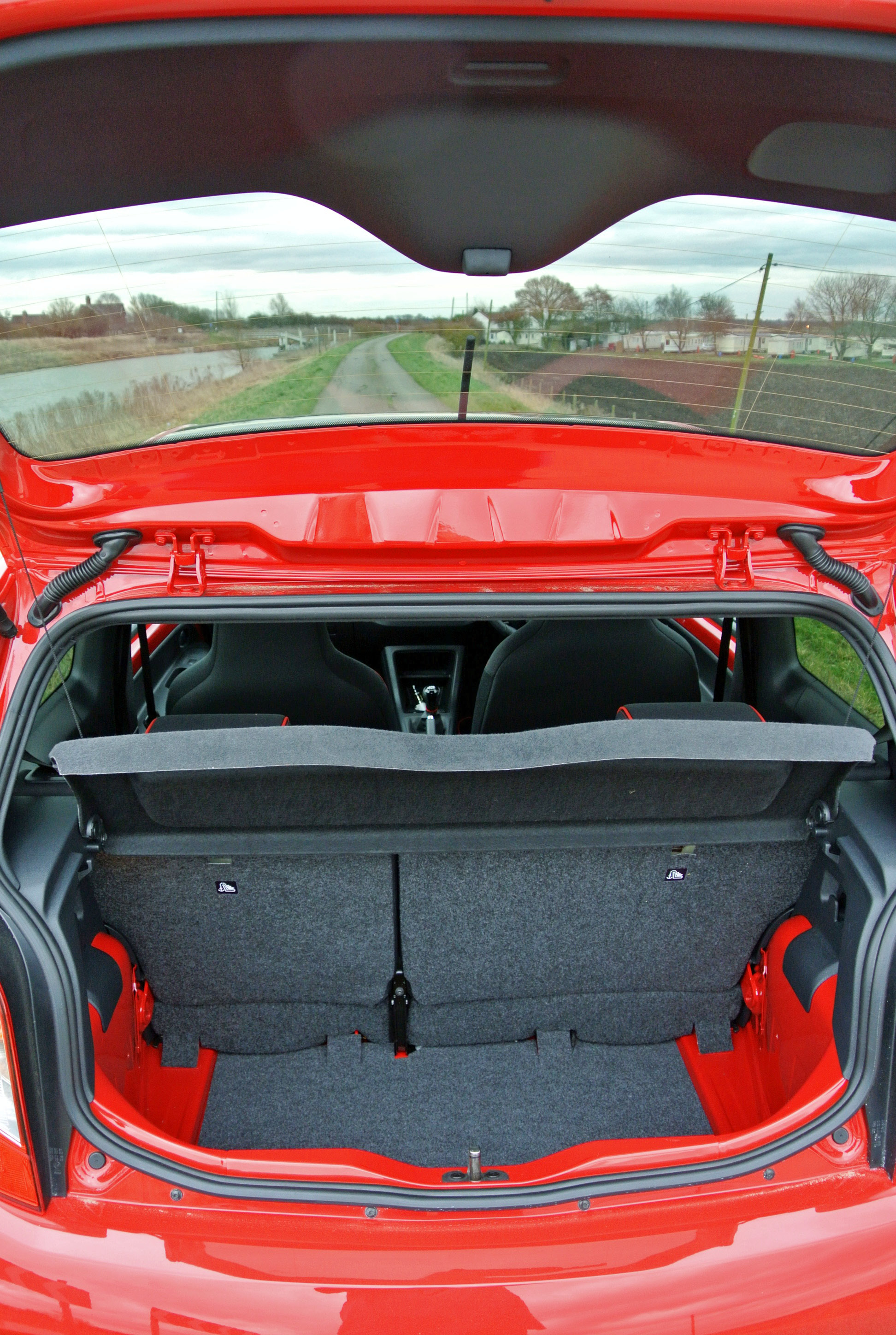 As I have already outlined, the general on-road behaviour of the Mii FR is excellent. Thanks to a 'lack' of rattle-potential trim, there are no extraneous noises, or creaks, emerging from anywhere around the car and its fairly lightweight but rigid construction translates into a taut and engaging driving experience.
Its power unit is the 72bhp, 1.0-litre 'triple' that sings along happily with every excursion. It is rated at 106g/km for CO2 emissions and its stated 61.4mpg (Official Combined) is a genuine return even for the average driver. Tipping the scales at a fairly meaty 932kgs, considering the car's compact dimensions, its on-paper performance is not exactly thrilling, the car despatching the 0-60mph sprint in around 12.9 seconds but running out of puff at a maximum velocity of 106mph. Yet, perfect gearing ensures that it makes the most of the package and it is leggy enough in fifth gear not to be fussy at motorway speeds, while seldom feeling out-gunned in the lower ratios thanks to a sense of genuine eagerness from the engine. The gearshift quality is slick and direct, while the pedals are all pleasingly balanced to enable the driver to extract the maximum amusement from the car.
In terms of value for money, while I do have great difficulty in accepting the runaway price tags of all new cars these days, mainly because I believe that the car manufacturers are 'at it', in attempting to rip-off our purses and limbs. £13k is a lot for a tiddler, regardless of how well-equipped it is. Yet, if your heart is set on enjoying a bit of practical fun, then you will not go far wrong with a Seat Mii FR. In some ways, driving this car made me harbour some teensy regrets about dispensing with the services of my former Citigo.
The up!/Mii/Citigo was a landmark car, when it was launched, and it remains pretty much unchallenged six years later, even when pitted against a might of South Korean, Japanese and other rivals. In Skoda guise, the car served my business motoring needs to perfection, being as classless as it needs to be, yet as effervescently efficient as one might hope it to be. The Seat Mii FR is a charming and engaging little car that more than merely exceeds expectations.