While the back-to-back testing of two near-identical models was intentional, Iain Robertson was gobsmacked by the list price and specification differences in evidence between Skoda Rapid and Seat Toledo models.
Platform sharing is common practice around a number of industries, from food manufacturers, to ethical drugs firms, but most notably the world car industry. Although it has been inherent to some motor manufacturers for many years, a factor that applied to British Leyland of the 1960s to 1970s, when it 'badge-engineered' a succession of near-identical models, several of which did possess specific market appeal, it was Volkswagen Group that turned it into a cause celebre.
While models as diverse as the Audi TT and VW Beetle, shared core platforms with the Skoda Octavia, Seat Leon, Audi A3 and VW Golf, the brand personalisation offering necessary differentiating elements, no consumer ever questioned the premium prices charged for an Audi, even though a significantly cheaper Skoda was all but identical in technological terms. VW Group is recognised for it and accorded many accolades on the back of its exceptionally clever product planning.
The reasons for sharing platforms are primarily costs-based. Of course, the amount of sharing that takes place, while extensive, does not always extend to the metal pressings below the carpets. In fact, it is often the types of components used and their relative layouts that constitute the 'share', as wheelbase lengths, track widths and even ride heights can vary from model to model and brand to brand, within the group. By the same token, front, rear, or four-wheel-drive, even the engine position (transverse, or in-line) may differ significantly. The bottom-line is greater profitability to the manufacturer, with high-volume models, while vehicles such as the Bentley Continental and VW Phaeton have shared platforms that have enabled limited volume lines to introduce new models more frequently and at markedly reduced on-costs.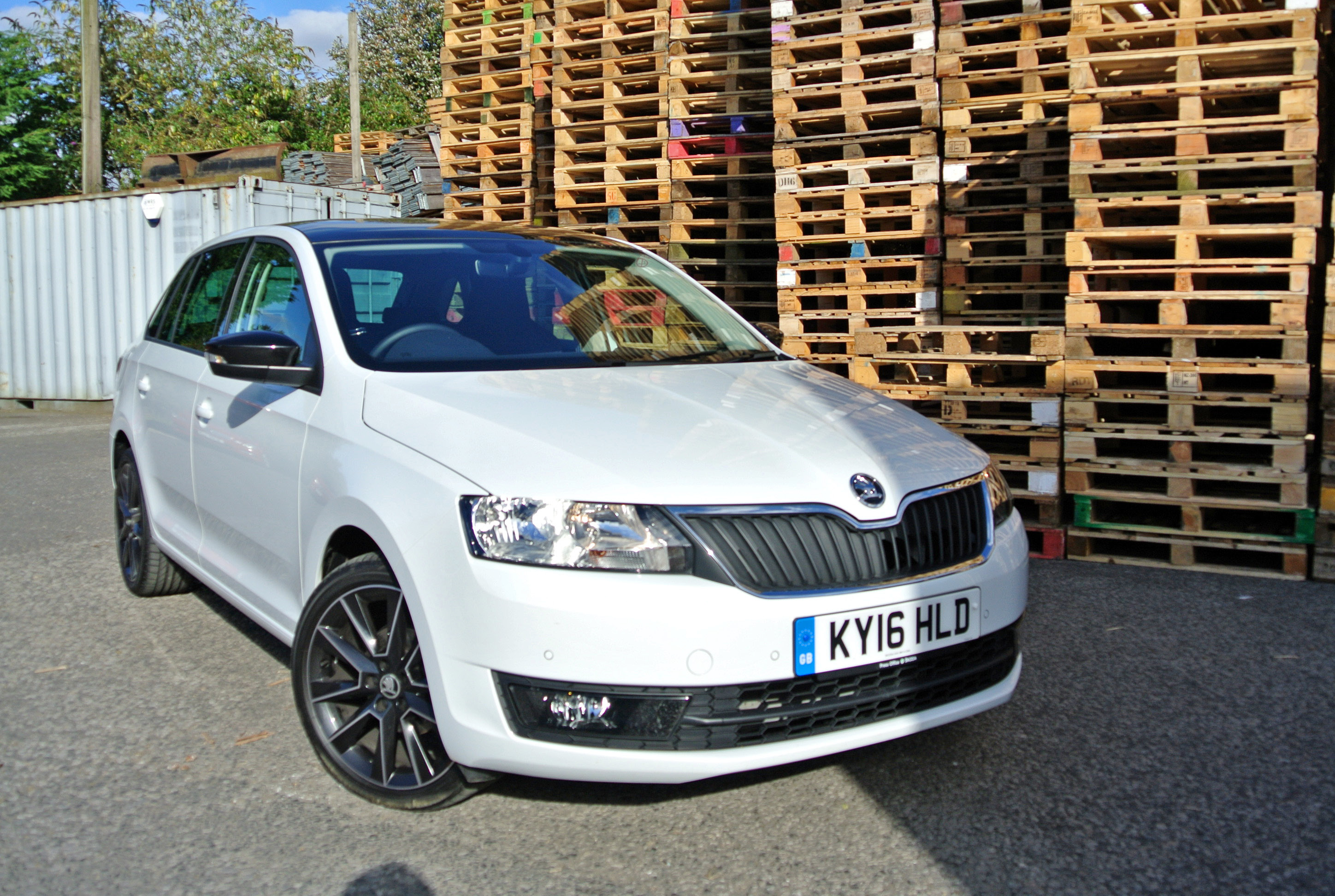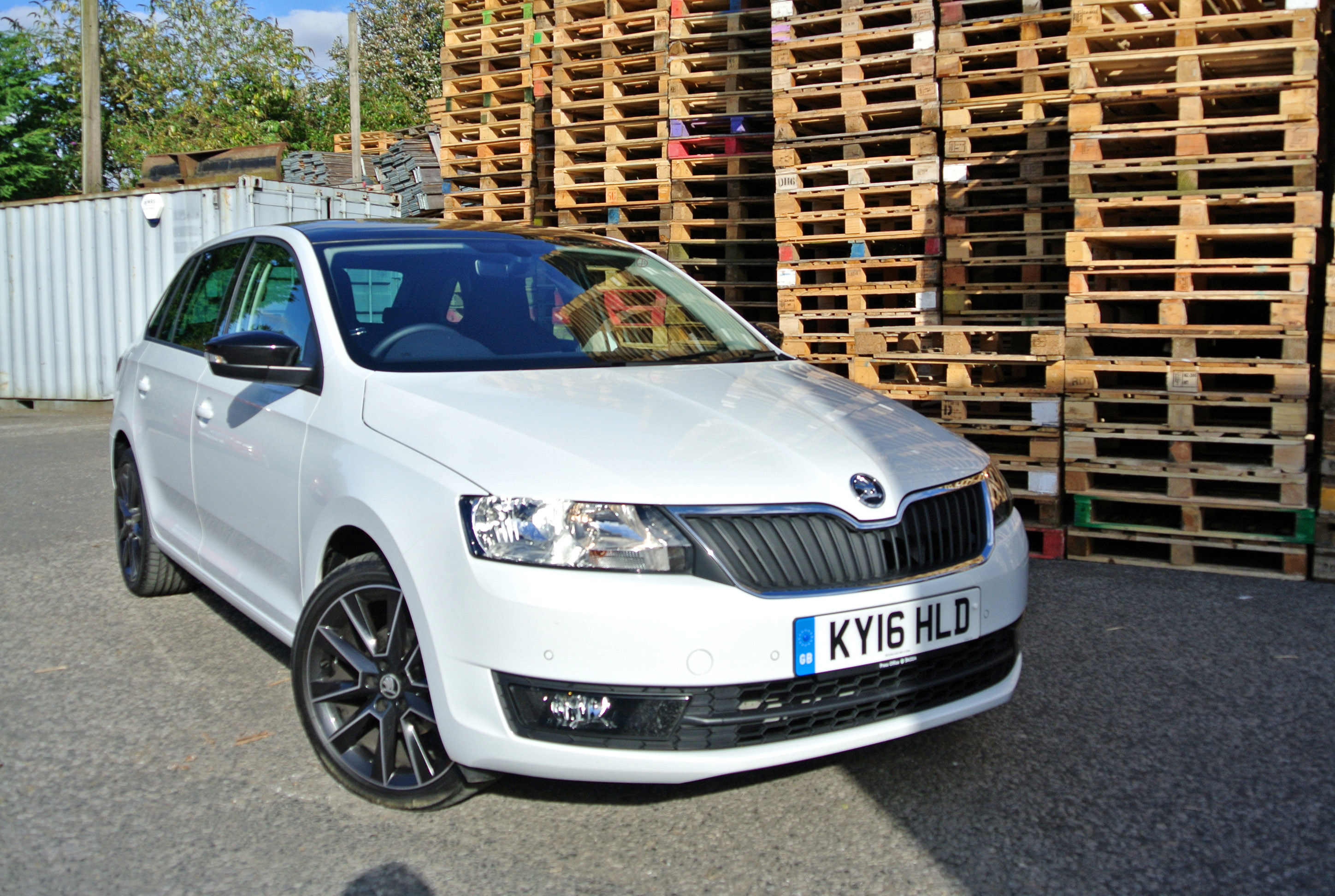 In the case of the Seat Toledo and Skoda Rapid, it is easy to think of them as being little more than the badge-engineered, modern equivalent of a Wolseley 1300 and a Riley Kestrel. Amazingly, this could not be further from the truth, as the Toledo is considerably different to the Rapid, even though some body panels are shared. While both feature hatchbacks, that of the Seat is more 'bustle-back' to the more conventional Skoda. Showing deference to its 'Sport' handle, the Skoda also features black exterior door mirrors and a neat black roof spoiler.
The first key difference, however, lies in the pricing. The Rapid Spaceback SE Sport pictured is tagged at a most reasonable £17,755, which includes front/rear parking sensors (£270), metallic paint (£535), front/rear floormats (£75), heated front seats and screen wash nozzles (£205) and Smartlink mobilephone connection (£150). The base price is £16,520. The Toledo tested just the other week was well over £20,000.
Although the Toledo was powered by a 1.6-litre TDi engine, the Rapid features the three cylinder 1.4-litre TDi unit, which I prefer, because of its eager performance and delightful 'grumbling' engine note. It is only fractionally less speedy on-road, despatching the 0-60mph sprint in a modest 11.3 seconds, before coursing onto a maximum speed of 114mph. Yet, thanks to the engine note, it sounds more willing but also feels it, with a more responsive throttle.
Thanks to a CO2 rating of just 94g/km, should you invest in the Rapid prior to the VED changes taking effect next April, it would be tax-free. Its Official Combined fuel economy is given as 78.5mpg, which might be attainable by a genuine light-foot but, in a normal mix of town and country driving conditions, 56-60mpg can be considered as a more normal and perfectly frugal return.
The engine drives through a fairly leggy five-speed manual gearbox but, despite the tall final drive ratio, there is more than enough turbocharged urge to ensure that downshifts are unnecessary to maintain momentum. While the steep hills around Lincoln were not really fifth gear territory, fourth was more than enough to scale them and I know of plenty of other turbo-diesel, let alone petrol, models that would demand a downshift to third instead. However, open-road progress seldom required a shift out of top gear.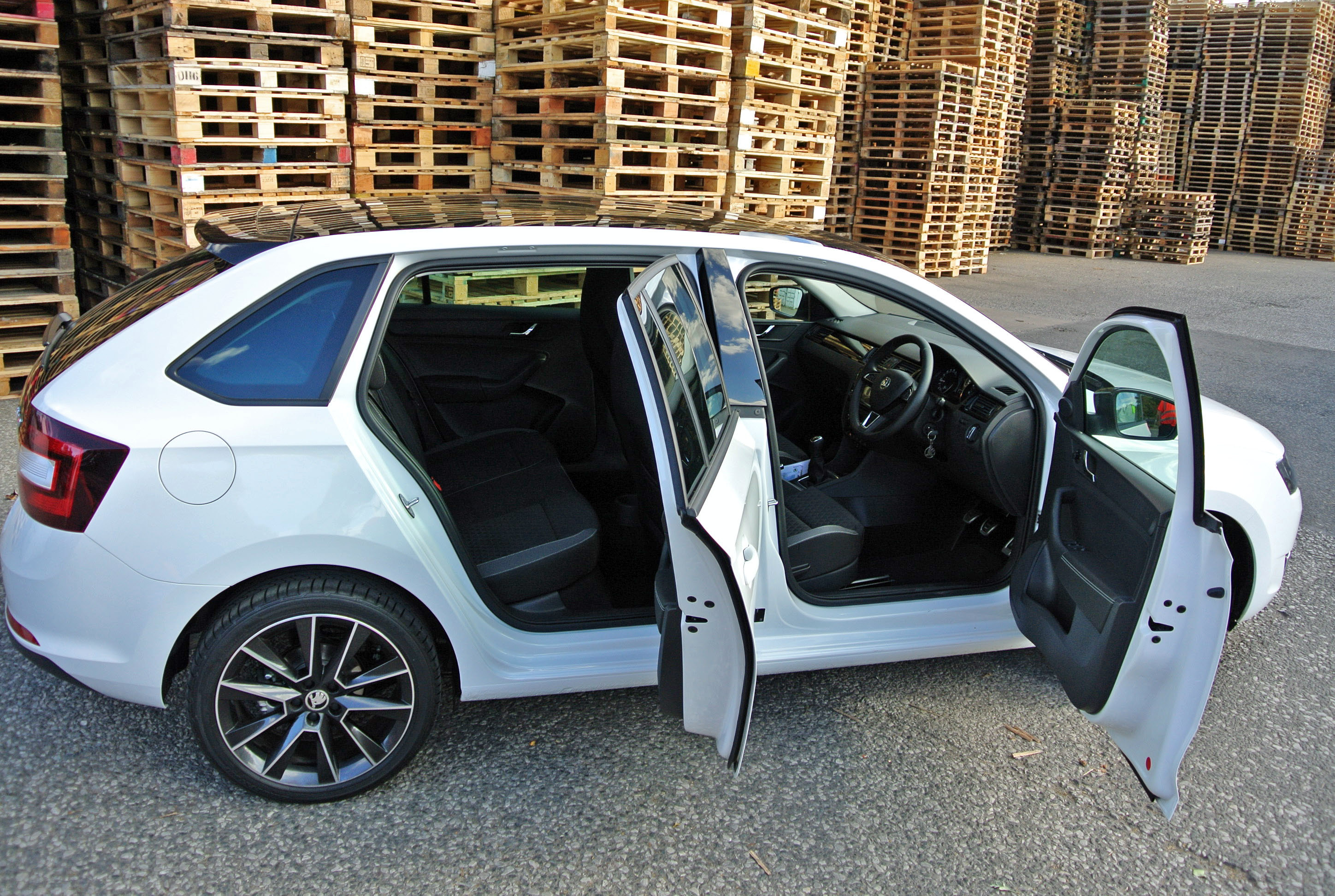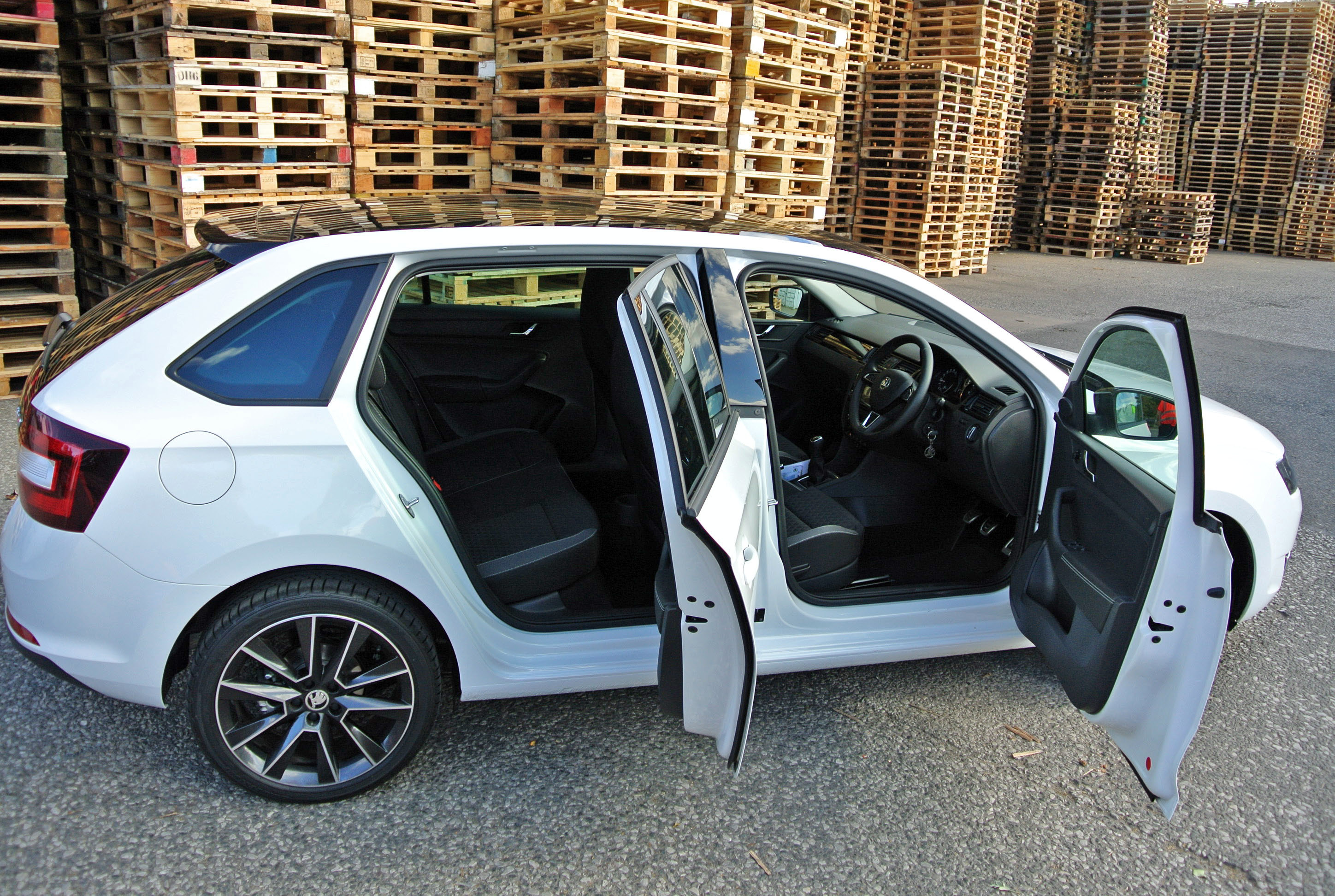 Peeking inside the cabin reveals an unusually sporty, crosshatched seat material pattern. Although the seat frames are shared with the Toledo, it was clear that the bolstering and comfort levels were from a class up. The seating position in the Skoda is far better than in the Seat and it was easier to adjust both steering column (for rake and reach) and seat height, to achieve the maximum driving comfort.
Although there are dashboard similarities between the Toledo and the Rapid, the instrument graphics are different. The same hard plastic moulding carries a broad expense of contrasting shiny trim, which does help to lift the quality from base model to a higher plane. However, look a little closer and it is clear that both models are playing a budget pitch, as the trim is brittle and not particularly tactile, even though the Seat carries a much more expensive price tag.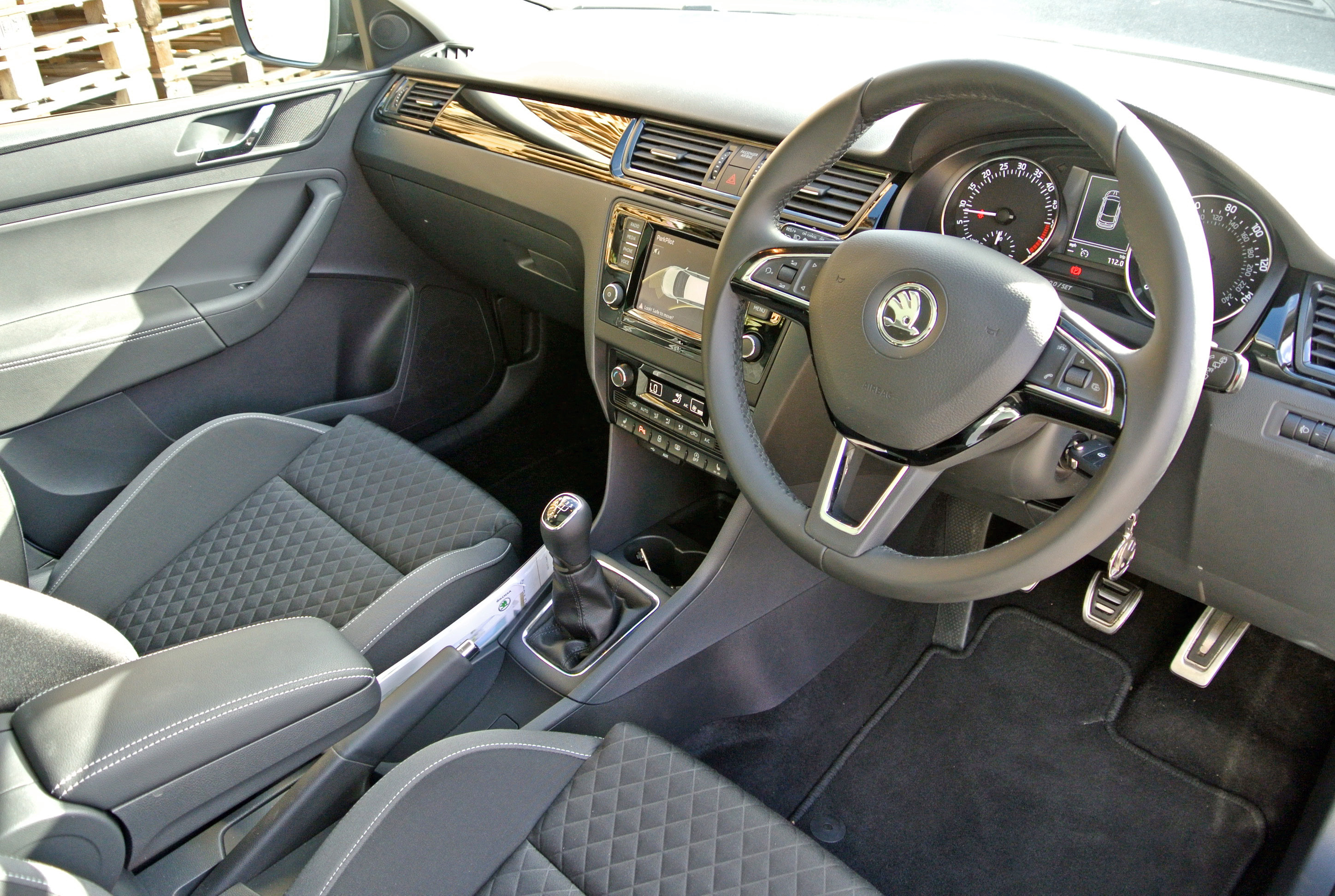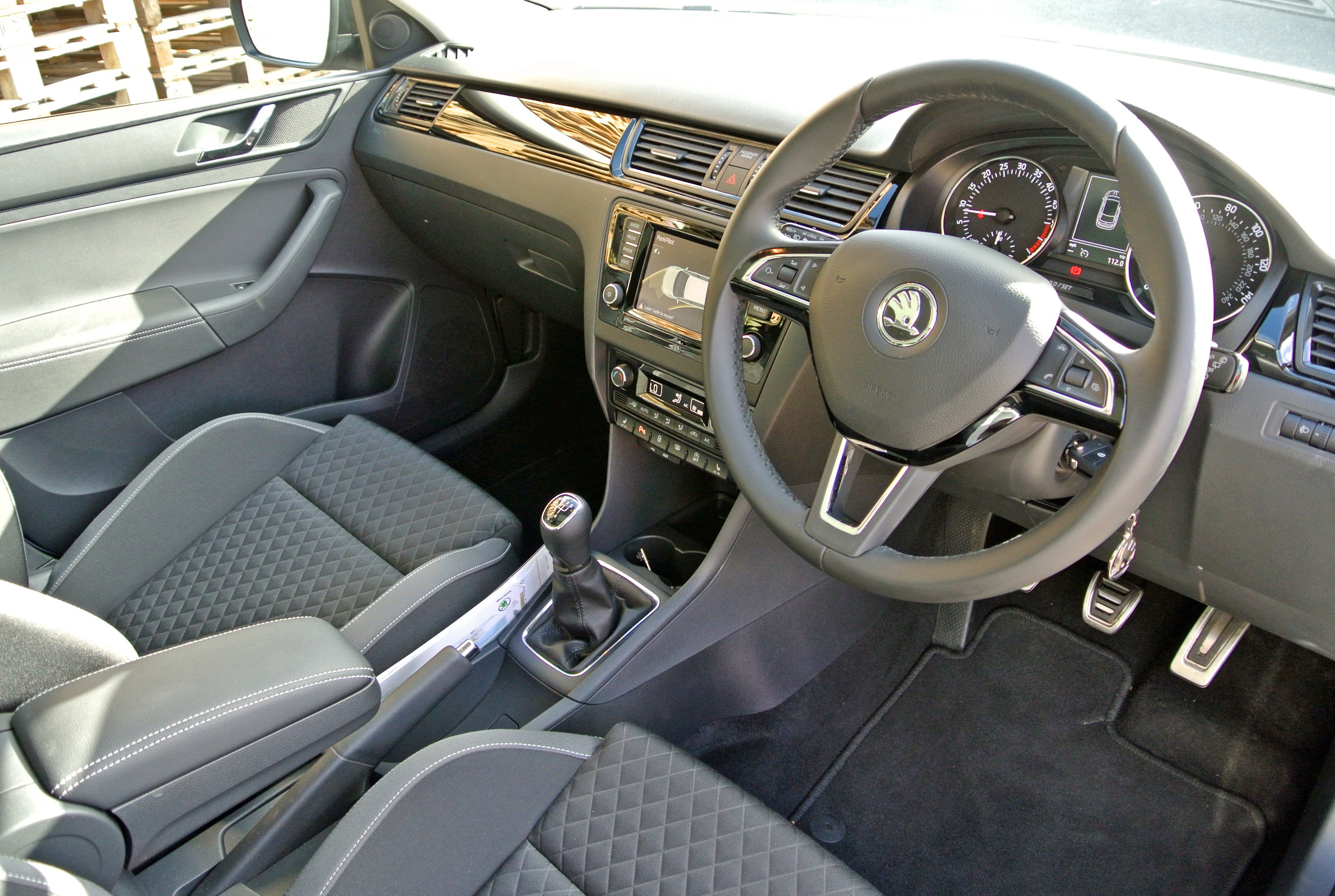 The Amundsen sat-nav head unit, located in the centre console, is almost identical to that of the Seat and suffers from similar sound reproduction issues that only fitting a set of better engineered speakers might resolve. When the car is at standstill, the sound quality is okay, however, drive off and it is very hard to retain any balance and the crackling of the paper cones is actually nasty. However, the steering wheel remote controls are pleasant enough to operate.
In terms of driveability, the Skoda feels by far the more capable, its suspension providing a firm but resilient ride quality and a sporting tautness to its electro-hydraulic steering responses. The low-profile, 215/40R17 tyres grip very strongly, even on wet road surfaces, although they do transmit a lot of road noise into the cabin. This version of the Rapid also benefits from a glazed but non-opening, full-length roof section, which protects occupants from the effects of the sun's rays by a pair of sliding screens that roll readily into either the front, or rear, header rails. They are divided in the middle, which means that they can cater for front, or rear, of car personal desires.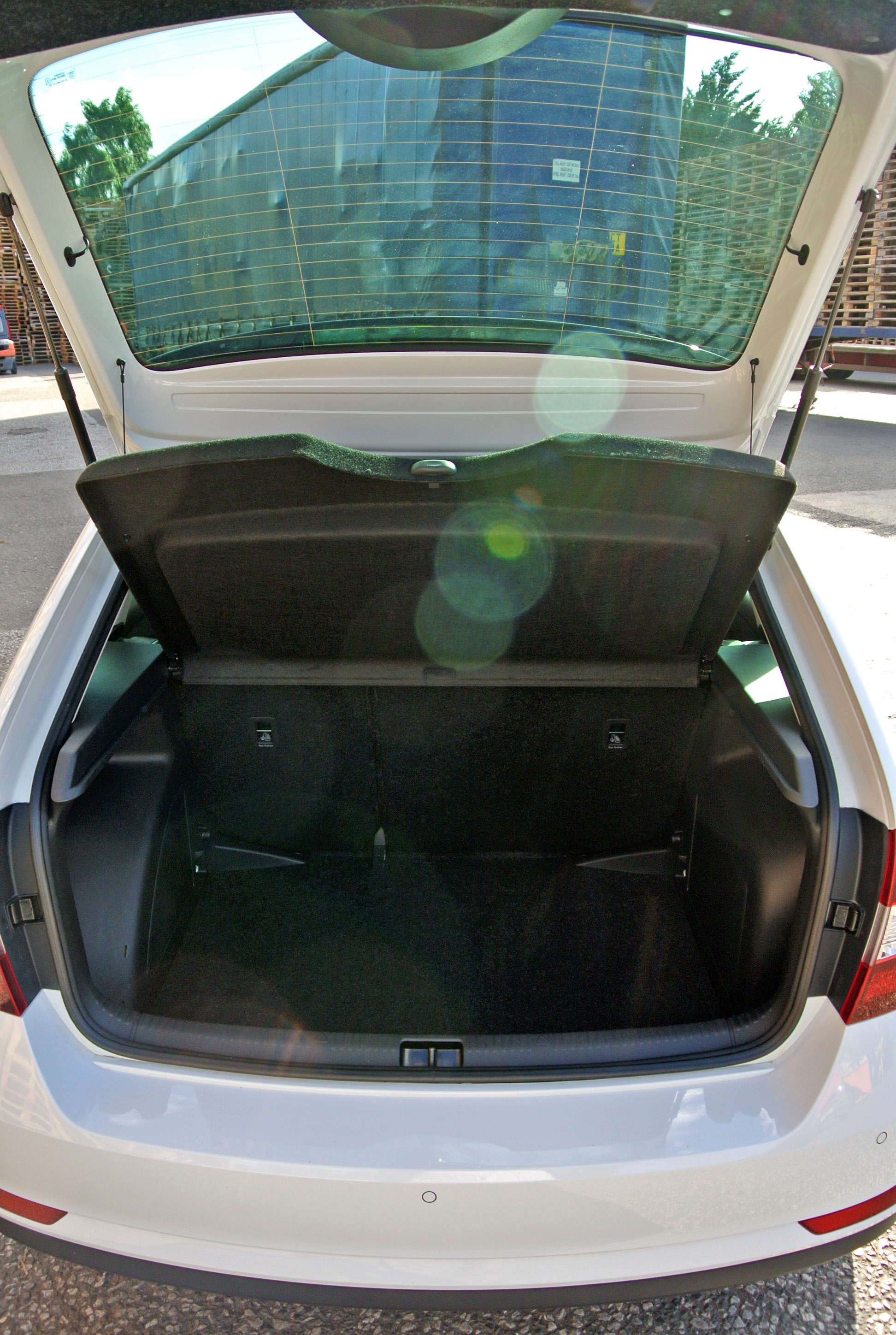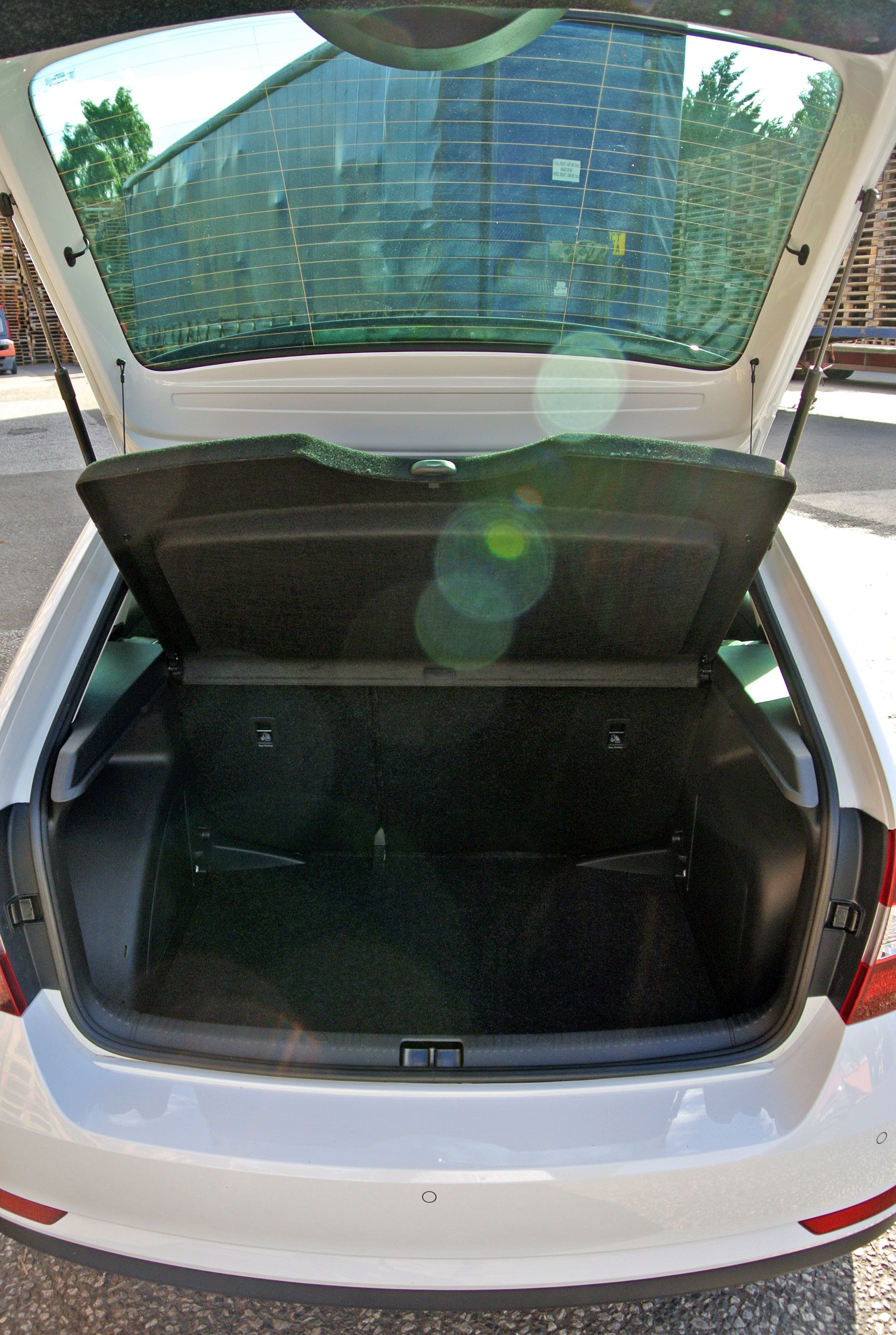 Interestingly, the Toledo featured LED headlamp illumination, which the Skoda does not. It is not even an option. However, the lamps on the Rapid offer a superb spread of light on both dip and full beams, while those of the Toledo simply never felt powerful enough.
It amuses me that such a pair of almost identical motorcars can be so vastly different to each other. Put simply, I would have no problem at all in parting with the price demanded for the Skoda Rapid, while I had suggested that the Seat felt and was at least £2,500 too expensive. This unintentional comparison virtually proves my point.
As a Skoda fan of twenty years, I have to admit that, although the Rapid is not as appealing to me as it might be (had it benefited from a higher class interior), it is so much better than the Seat Toledo that I am unsurprised that Seat shares some unconfirmed brand concerns with me. To be frank, I think that asking over £17k for the Rapid is a bit rich, from a so-called 'value-brand', even in a vastly over-priced new car market. Were businesses to contemplate running Rapids on their fleets, I would advise great care be taken with lease rates. However, I would not recommend the Toledo at all. The same applies to the private 'buyer', which I accept is a rarity in today's lease-first environment, but, if the rate is keen, the Rapid would be a good choice.