It snowed in Snowdonia, which provided the ultimate test of BMW's exceptional high-performance M5 model that is also its most competent, as Iain Robertson reveals its enhanced 4WD traction, allied to abundant executive comfort and track pace.
My relationship with BMW's Motorsport division is as broad as it is long, involving ownership, various model experiences, the occasional incident and total respect. While the Bavarian carmaker can be criticised by observers, as much as it can be praised, when it places its remarkable focus on a specific line-up of steroided and boosted examples of its mainline production, it possesses few rivals.
Wilful, edgy and effervescently potent, to find a quiet roundabout, near to the City of York, was a fortunate occurrence and an opportunity to squeeze open the throttle to a car's politically-restricted 286bhp, straight-six engine. My 1984 drive of the, then, first version of BMW Motorsport's M5 lineage was smile-inducingly wicked. Traction control lay within the driver's capabilities and dialling-in tail-out oversteer was a rare on-road possibility.
That innovator demonstrated the Bavarian manufacturer's talent to produce the consummate shrink-wrapped performance saloon…dimensionally large but imparting a close-coupled intimacy more familiar to sportscar owners. Using its internal model code, the E28S established a standard, as the world's fastest 4-door car. Four years later, in E34 guise, a final run of 900 estate cars proved that 340bhp could drive in a different direction.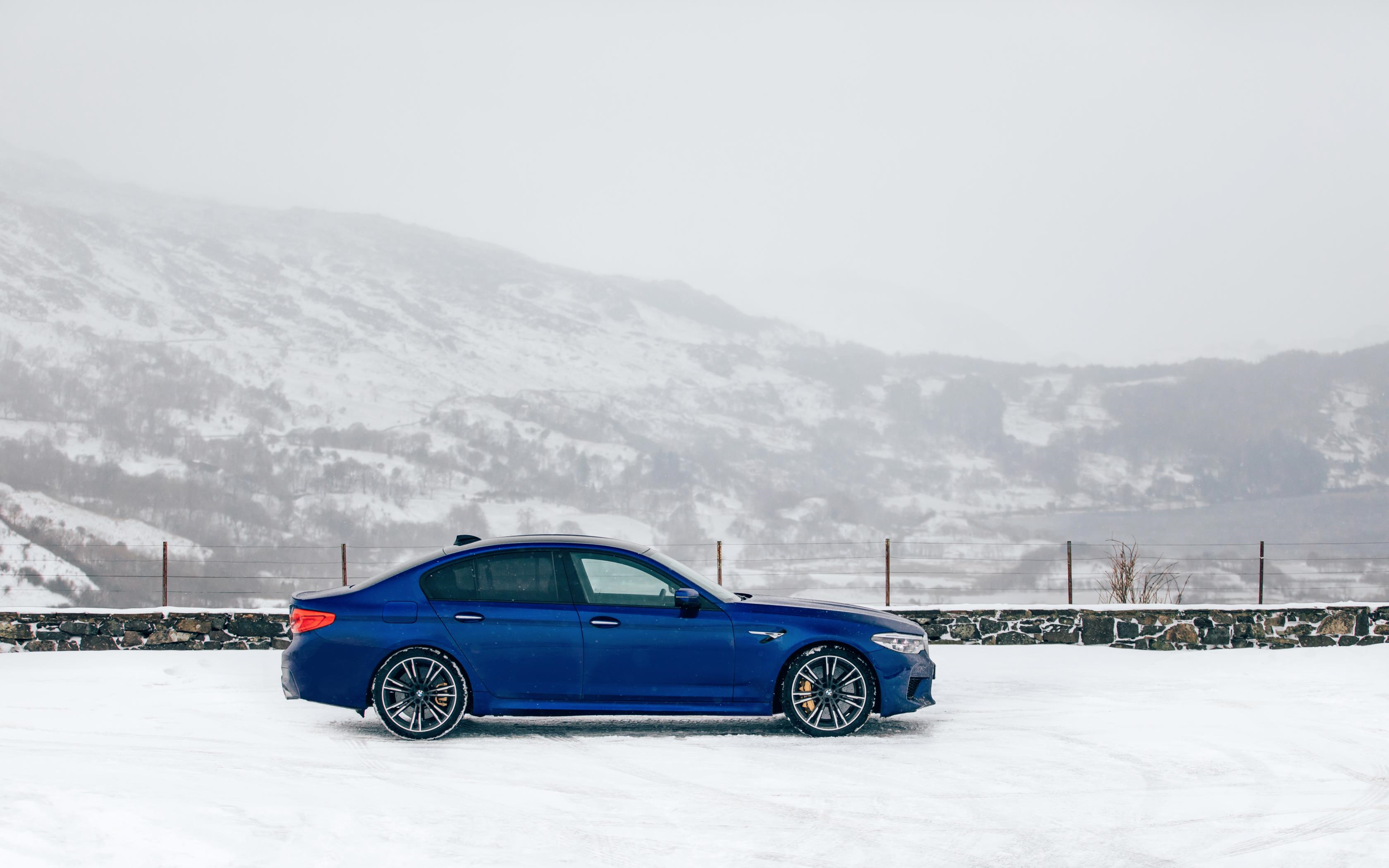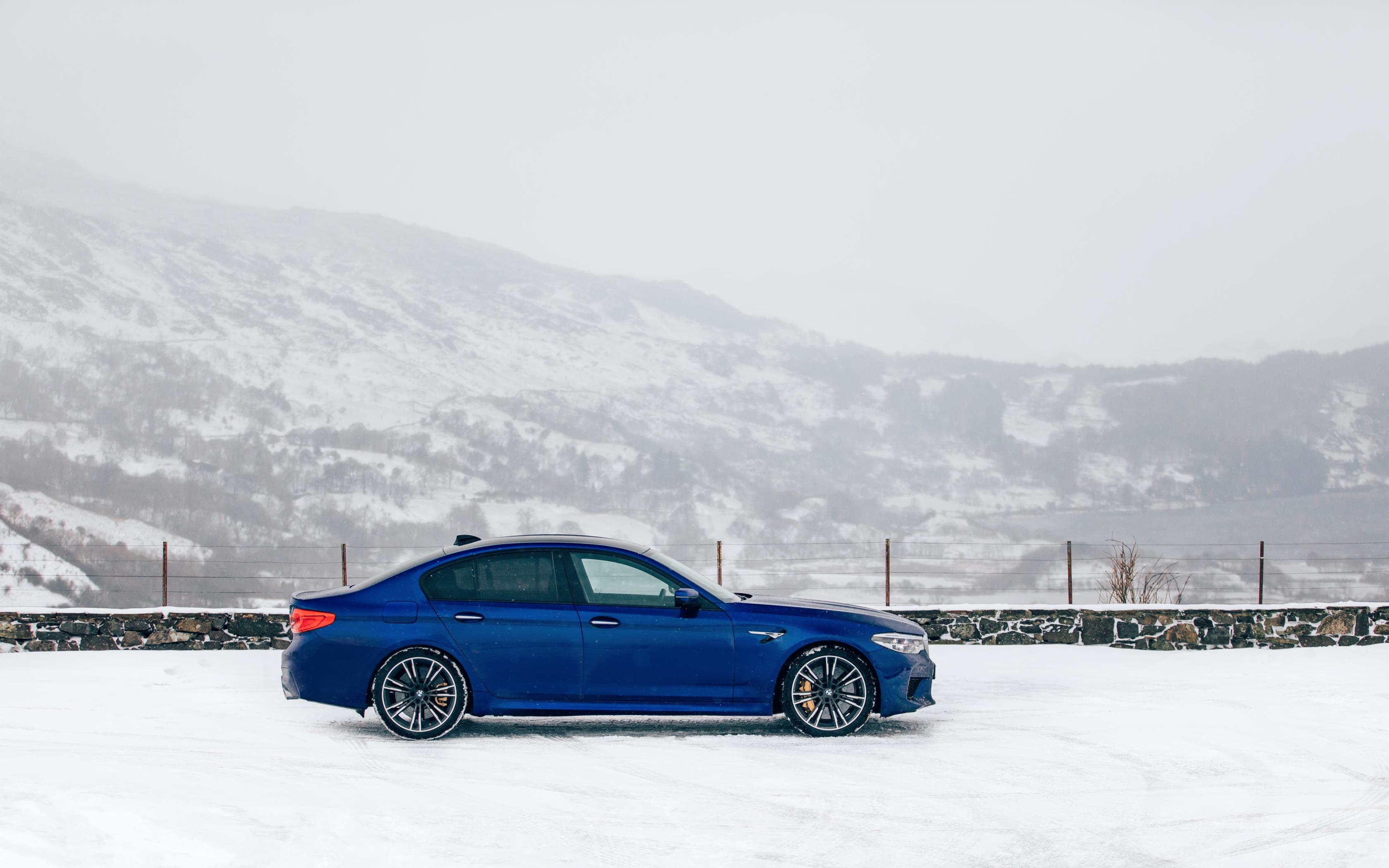 It was almost a decade before the first 5.0-litre V8 396bhp version arrived (E39S). One of the most popular and in-demand examples of the breed, it retained a subtle elegance and underscored BMW's engineering talents to a fine point. Yet, by 2005 and the introduction of a race-developed, naturally-aspirated, 5.0-litre, 504bhp V10 powerhouse that revved gloriously to almost 8,000rpm in the E60 (or E61 Touring variant), the M5 appeared to reach a pinnacle that would be difficult to replicate in years to come. I can still recall a 211mph, speed limiter removed blast (authorised) along a brand new French autoroute that remains the highest speed I have ever attained in a road car. Its uncanny ability to consume miles without tiring the driver was much to its credit.
The fifth generation (F10M) introduced the M5 faithful to a 4.4-litre, twin-turbocharged V8 power unit that delivered 556bhp, drove through a seven-speed, twin-clutch, automated-manual gearbox and toppled the 0-60mph dash to a cool 4.0s. A run-out version with 596bhp arrived in 2014. Sadly, I wrecked both nearside forged alloy wheels of a test example, when nearly forced off the road near Ullswater, in the English Lake District, by an oncoming driver. The AA-Relay trip home took an unprecedented nine hours…but, prior to the incident, the rear-driven M5 had behaved more like a rally car than a luxury sedan on the uncluttered, off-season lanes of The Lakes.
However, it has been quiet at Fort BMW, until the end of 2017, when the company promised what could be a swansong F90, now introduced to the UK new car scene but still exhibiting a time-honoured passion for luxury allied to ultra-performance. The 4.4-litre, bi-turbo V8 has been enhanced, although power remains at a more accessible 596bhp. Stronger, lighter (thanks to the extensive use of aluminium and carbon-fibre) and even faster, the new model blitzes from 0-60mph in a supercar-taunting 3.1s, still features the standard 155mph limiter but the owner can opt for a 190mph hike. Prices start at £89,645.
While power is an undoubted attraction, traction is an undoubted necessity. The new M5 features a judiciously re-engineered version of the firm's X-Drive, 4×4 transmission, although, with the DSC disengaged, a track-biased rear-wheel-drive selection can be made. Say 'Hello' to Anglesey's outstanding Tracmon racing circuit. With not far off 600bhp and 553lbs ft of torque on tap, driving through an 8-speed fully-automatic transmission, breaking traction is the order of the day but not without a genuinely involving and innate sense of dynamic balance. Being a hooligan in the latest M5 is a truly refined experience that is as rare as that first enjoyable tail-out in the original version. BMW Motorsport knows its onions, for sure.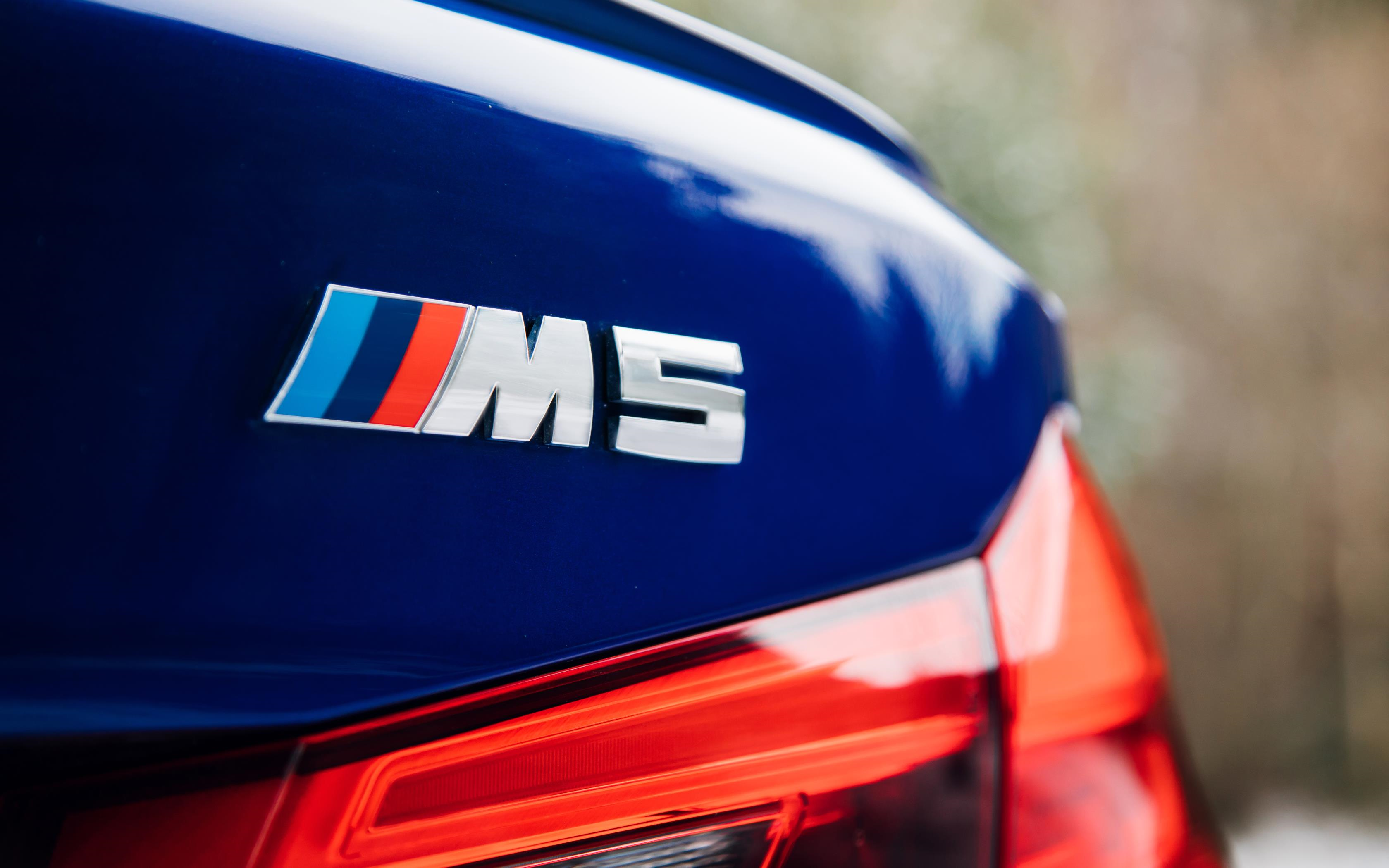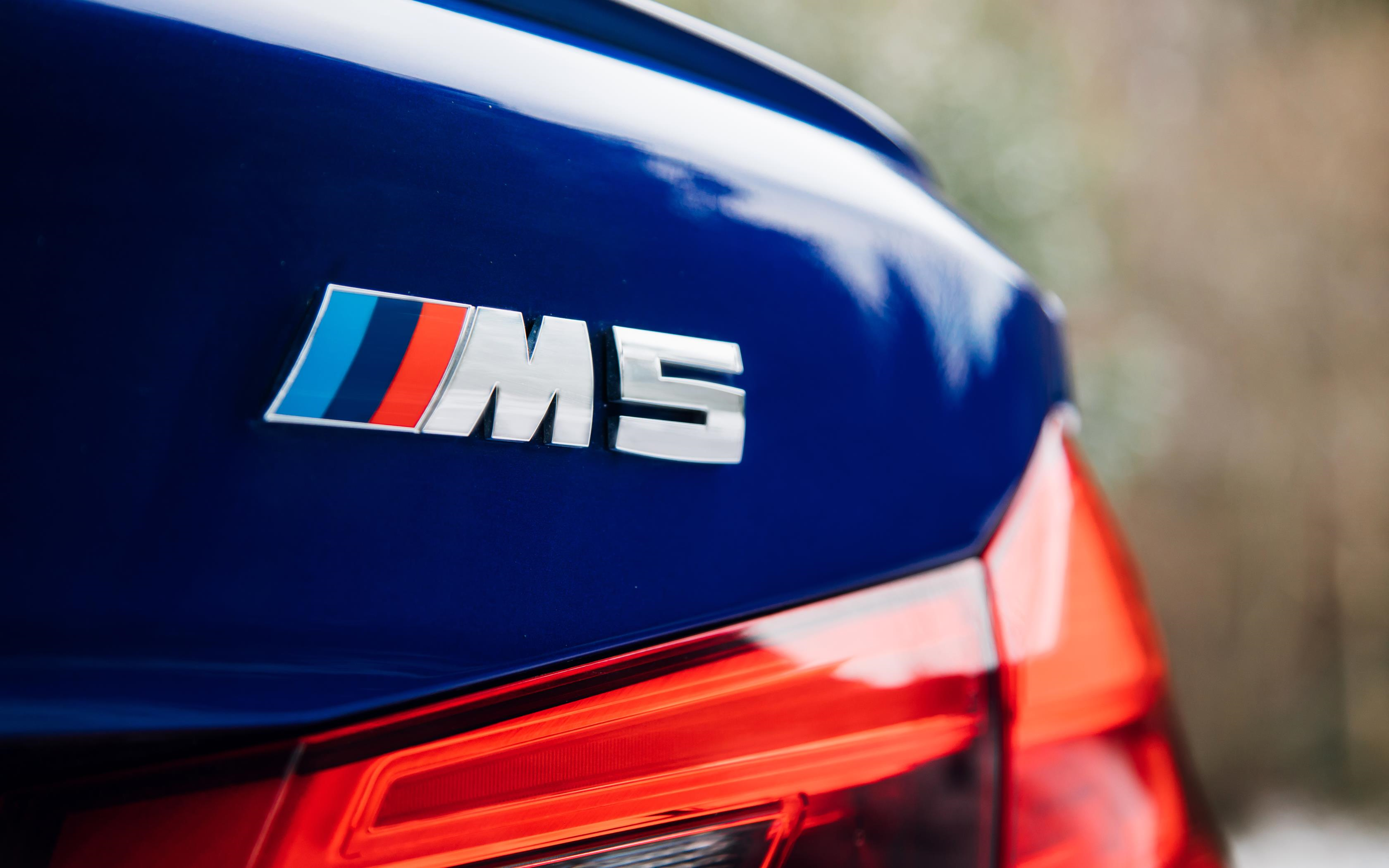 Yet, we live in strangely restricted times and 4WD, even with programmable levels of application, ensures that nobody will recognise full-bore acceleration, unless it is of a visual overtake, or indomitable cross-country progress, when an M5 will despatch even the hardest driven hot hatchback, with mountain goat assuredness, most noticeable in the snow-bedecked mountains of North Wales. This may be a BMW swansong but driving in God's own country, on awesome roads, is an unforgettable experience. In case you why I talk of 'swansong', even BMW is being forced into a low-CO2 reality that 241g/km and a posted 26.9mpg buck without mercy. The company is already well-versed in harnessing electricity as a motive force, so a next-gen M5 could well be a hybrid.
The amazing front seats of the new M5 provide an ergonomically perfect location from which to revel in the car's outstanding dynamics. BMW has always focused on the driver and all switches and controls fall readily to hand. Inspired by racing, the seats feature a totally supportive, comfortably bolstered and many ways adjustable means to enjoy M5 performance. While the illuminated M5 logo in the backrest may be a teensy flex towards 'blinginess', there is space in abundance both in the front and the rear of the car. Its boot is also very accommodating, although there is no word about a Touring version, at this stage.
The driver is fronted by the customary instrument clarity and familiar display that the company has made its own over the decades. However, accessibility has been improved, notably of the centre screen, which now features 'gesture control', and connectivity is to the highest industry standards. For the first time on an M-car, two additional lacquered red thumb-switches have appeared on the multi-function steering wheel cross-spokes. They allow the driver instantaneous control of chassis settings, including the dampers, steering and transmission characteristics, as well as the head-up display, which BMW introduced us to in the E60. They can be reprogrammed according to the driver's needs.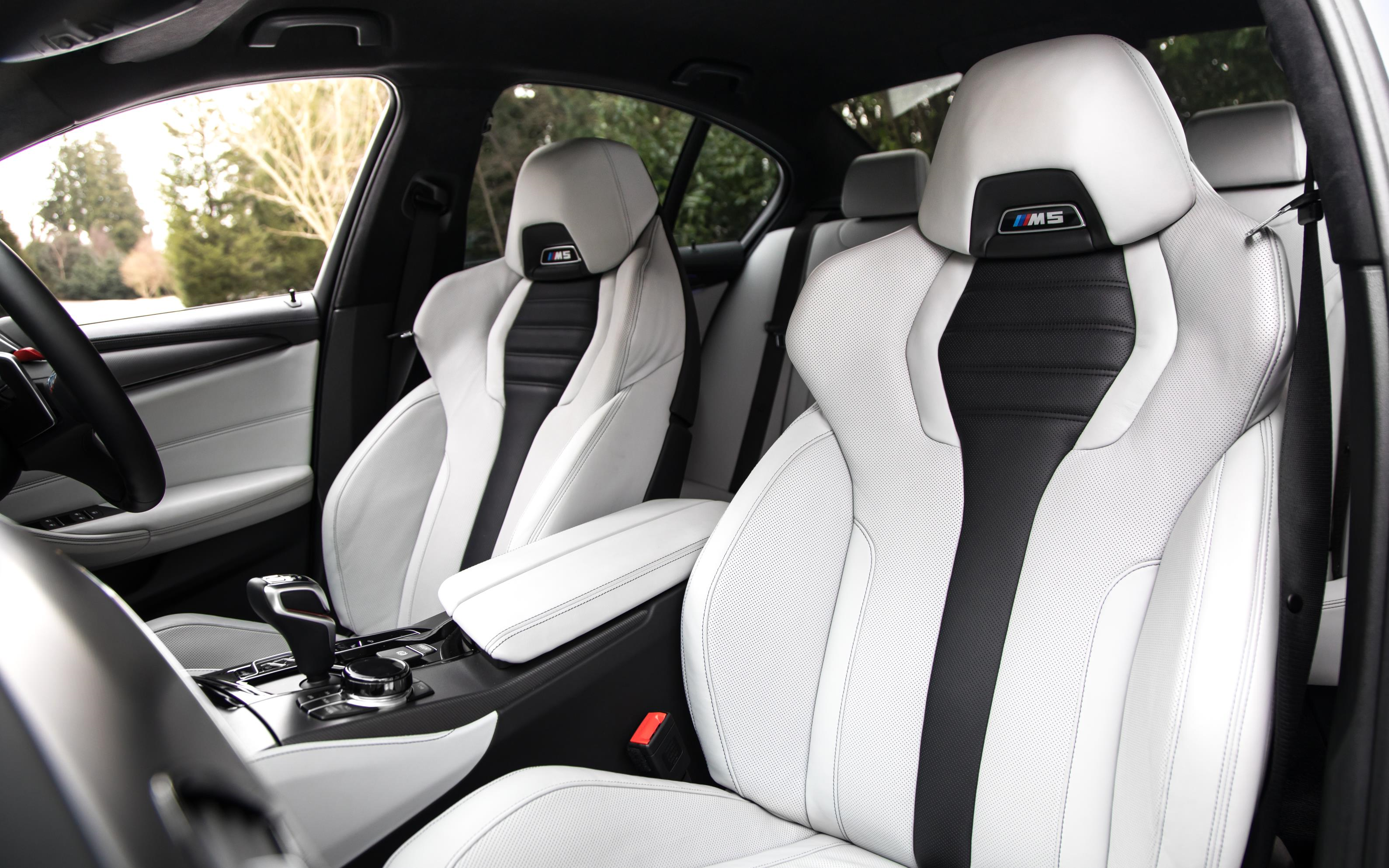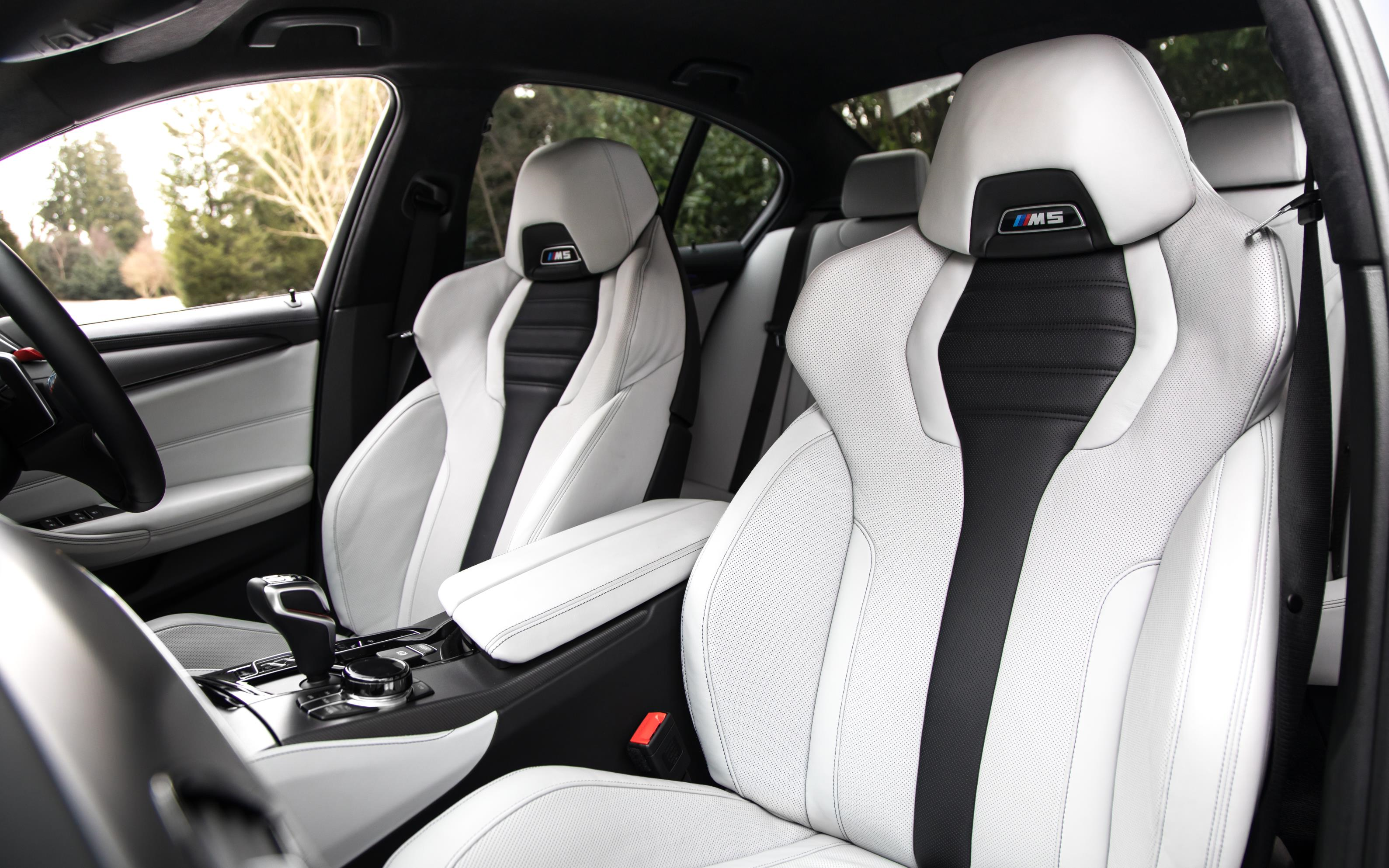 Exploiting the race-developed chassis is part of the joy of M5 motoring, the company's engineers refining every element on a variety of test facilities around Europe. However, while it is possible to dial-in a largely unforgiving ride and handling compromise, 99.9% of motoring joy with the M5 comes from its outstanding stability, engaging suppleness and a truly planted feel. It is accompanied by a firm but comfortable ride quality, in which even hearing the road imperfections is a muted affair. The M5's unique ability to connect the driver to the road, both effortlessly and directly, has to be experienced to be comprehended.
Running on 20-inch diameter tyres designed specifically for the car is another example of BMW's focus on perfection. Even the brake pad friction material is of a compound created by the firm's Motorsport division, the six-piston callipers being finished in blue, with the M-logo, and thermally-stable ceramic alternatives are available at extra cost (gold callipers).
Be under no illusion, BMW means business with its latest M5 model. The lessons learned from 34 years of fine-honing are exemplified in what could be the greatest iteration of one of the world's most exceptional sports saloons. Of course, it is expensive but it is still less costly than the myriad supercars that can perform as strongly but cannot compete in terms of sheer practicality and inherent safety.