On selected Sundays, the ITV4 coverage of the UK's premier motor racing championship, the BTCC, is most comprehensive but Iain Robertson wanted to delve behind the scenes to understand it even more.
Dateline: Easter Saturday
Location: Donington Park, on the Derbyshire/Nottinghamshire border
Host: Honda Cars UK – with Birmingham-based Team Dynamics/Halfords-Yuasa
A logistical nightmare occurs at ten racing circuit locations around the UK, ranging from Brands Hatch, Kent in the south-east of England to Knockhill, Fife in Scotland, every motor racing season from April to October. Not dissimilar to a military manoeuvre, the main act, the British Touring Cars Championship (BTCC) arrives, unloads its precious cargoes of 32 premier league racing versions of popular family cars and sets-up hospitality premises, in which to entertain its VIP guests.
Yet, while the BTCC is the undoubted audience draw, the packed race-day programme also includes championship races for the support acts from Porsche, Ginetta (both Junior and Senior drivers), Renault Clio Cup and Formula Four (single seat racing cars). Each of the formulae must both practice and qualify for the races, while some only benefit from a single race, others obtain two, although the BTCC teams, as the 'star turn', benefit from three races on the Sunday. Therefore, Friday is normally set-up day, with Saturday being devoted to practice and qualifying in all respects, all directed at making the Sunday a spectator-fest.
Talking of which, for those ten Sundays spread throughout the season, no less than 60,000 ardent fans will turn out, some on season tickets, some buying on the gates, which create another logistical nightmare of directing traffic flow from main highways, via local roads, into dedicated car parks for regular race day attendees, VIPs and Media. It is mayhem barely managed by local roads authorities but they do it, usually without incurring major delays. Around 8-10,000 fans will attend the Saturday element alone, which can still create minor headaches.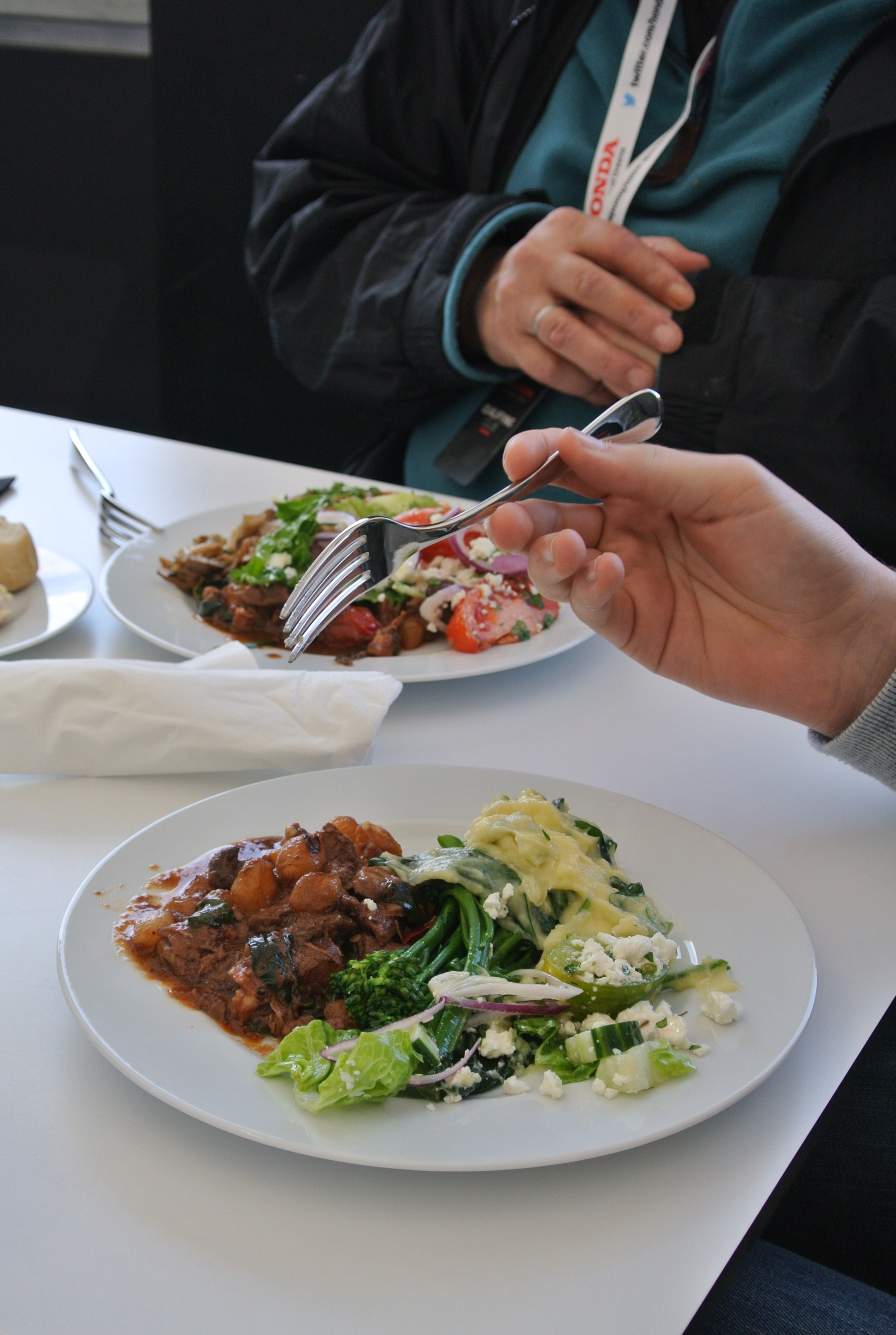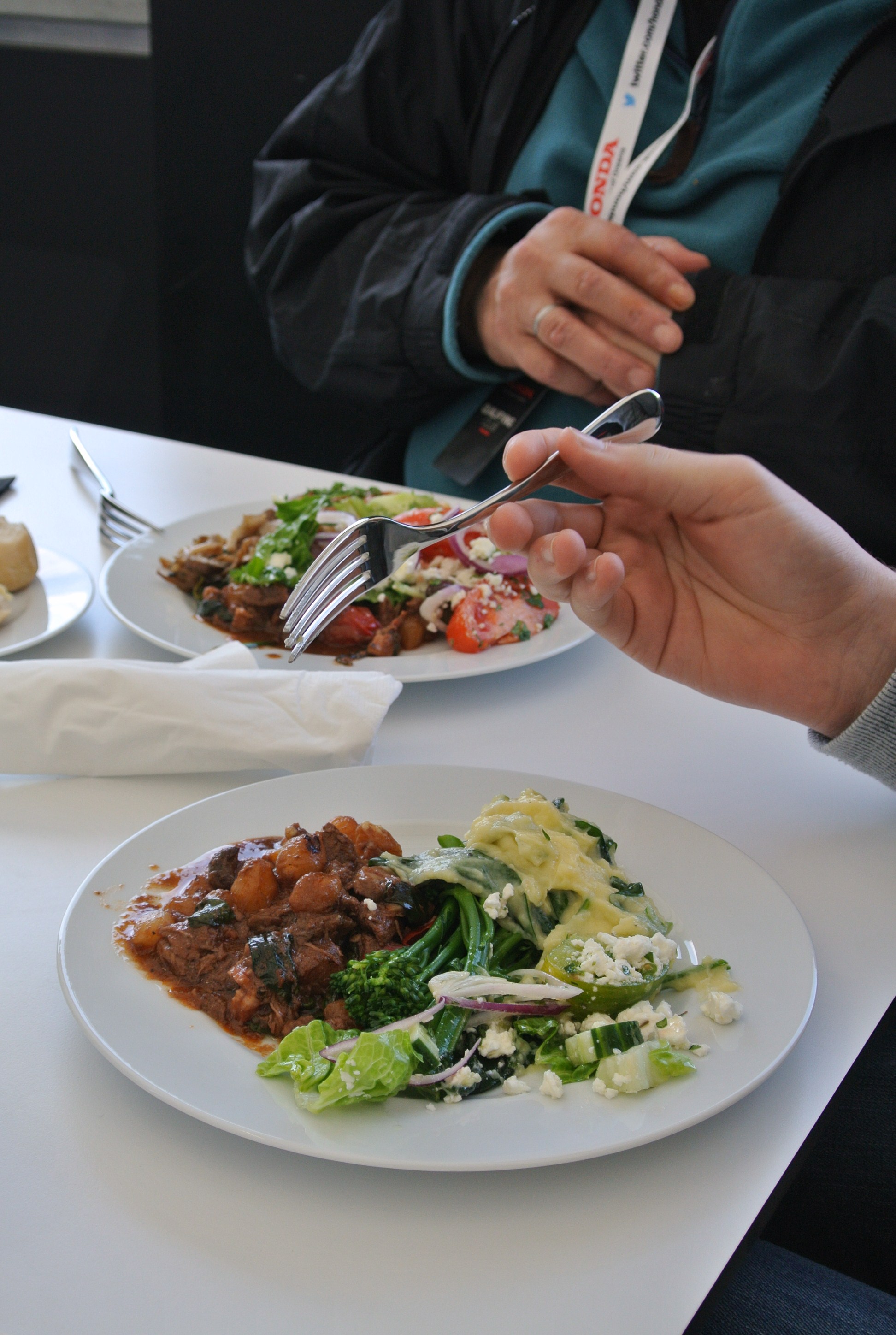 One half of the paddock, the holding area for the race teams, is packed with BTCC paraphernalia, from their immense, immaculate and smartly attired trucks, complete with mobile workshops, neatly stacked spare parts and around twenty dedicated staff, all milling around between the pit-lane garages and their units that also house conference rooms, a management office and other facilities, across an access lane from which are the hospitality suites (mobile, extensible trucks that contain catering galleys, VIP seating areas, welcome zones, a light refreshments area and a haven, complete with television links, from which to 'escape' the hubbub). In the other half of the extended paddock mentioned earlier are the other support teams, with their service vehicles, packed with staff, families and their fans.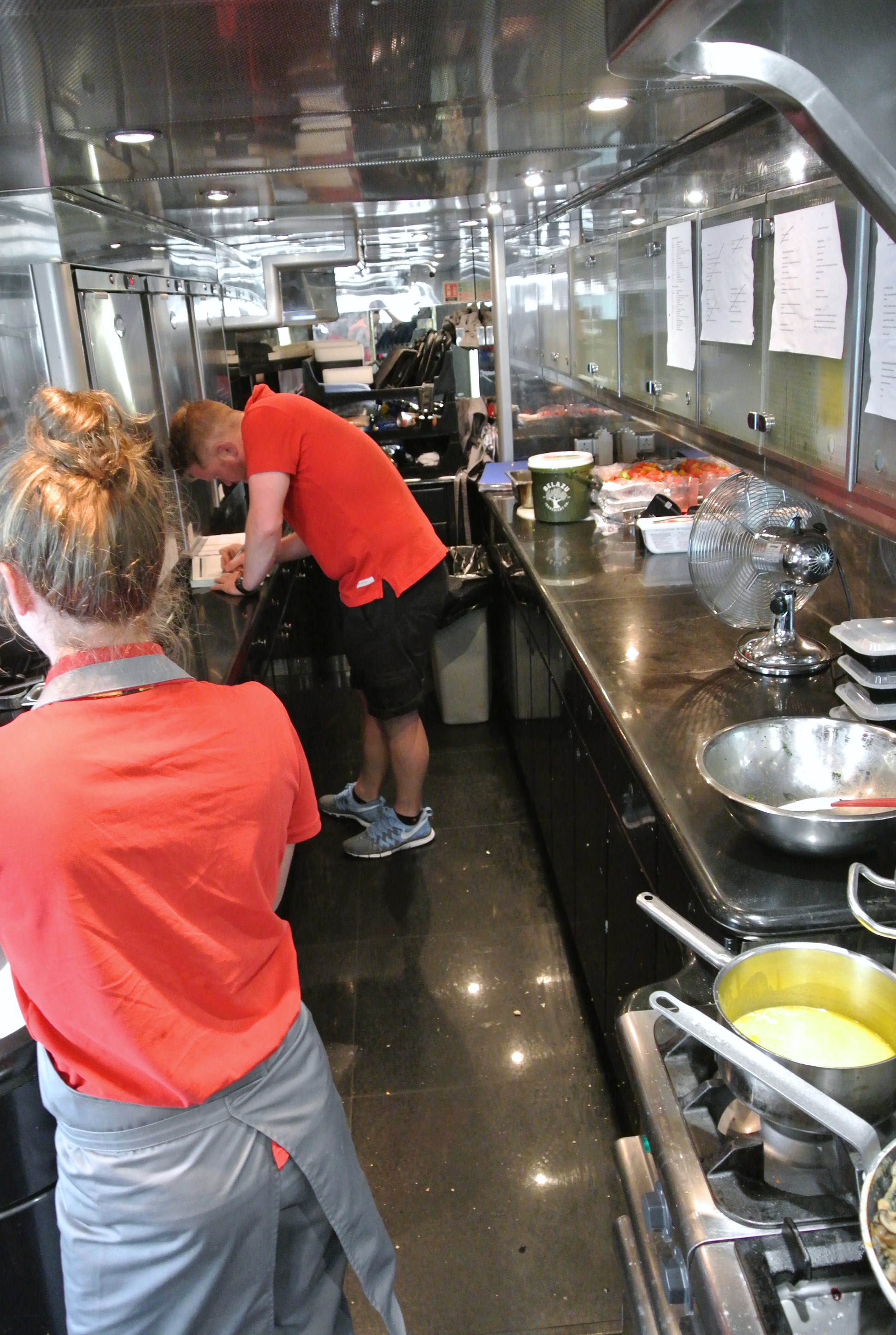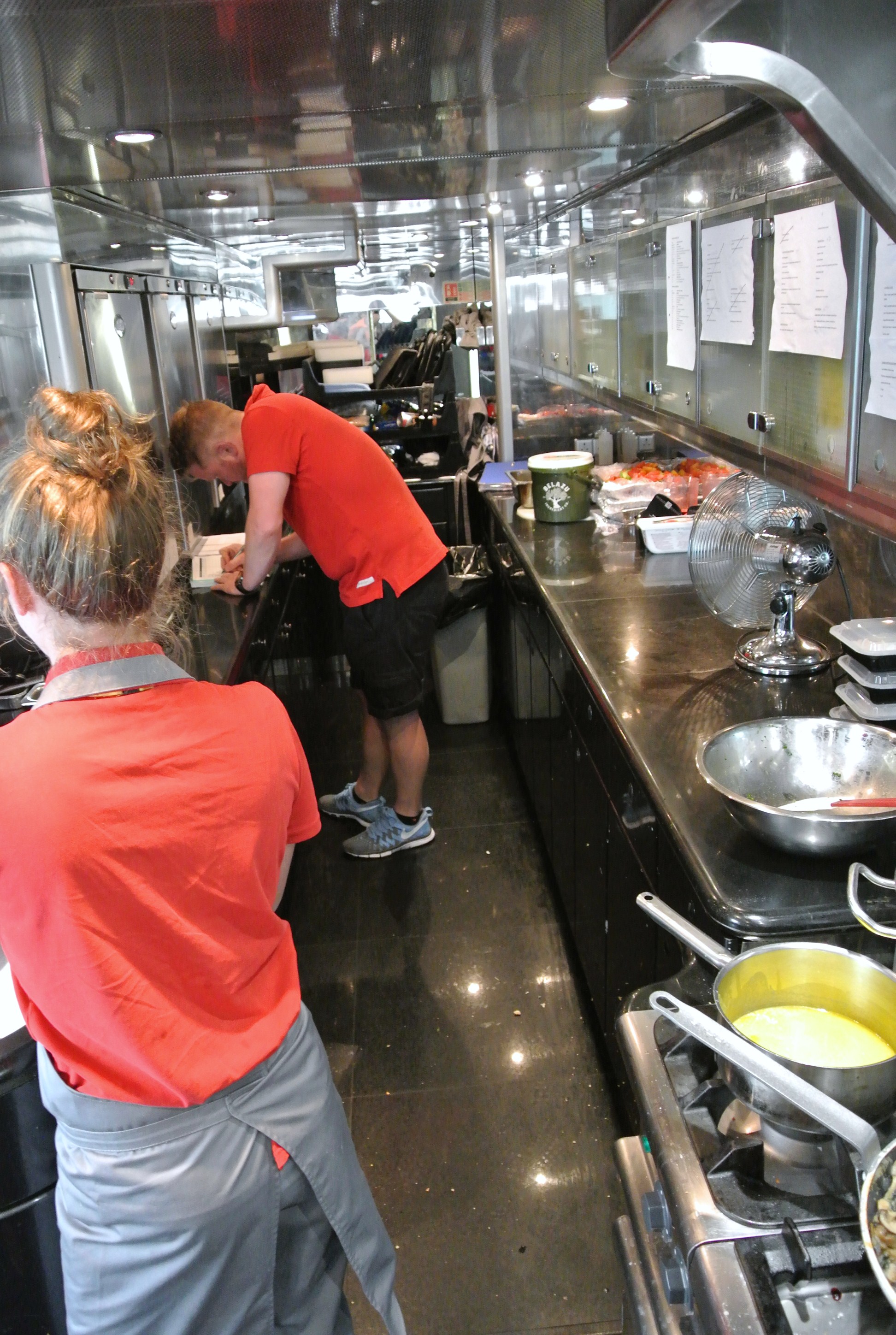 The differences between the two halves of the paddock are stark. BTCC is where the big money is spent, with each car costing roughly £250,000 and most teams running two cars, although some have up to four. On the other hand, the support teams will have up to six cars per large awning that extends from the sides of their team trucks. While the BTCC teams will provide dedicated catering of a very high order, for breakfast, lunch and tea, the support teams provide more basic, picnic-style catering, although Renault supports its drivers with group catering facilities (it's basic but sound).
Prime presentation is key for the BTCC. Although every aspect is carefully costed out and buffet catering is the order of the day, from the cramped galley a typical breakfast consists of bacon, or sausage in toasted brioche buns, with banana and chocolate muffins, with coffee (from a Barista class machine), tea and chilled soft drinks and fresh juices, all in seemingly endless supply, all cooked on-site. Lunch is a rich Beef Bourguignon, or (vegetarian) mushroom and ricotta cheese pies, with Irish champ (buttery mashed potatoes with fresh scallions) and freshly baked breads, followed by lemon posset with rhubarb topping and wine and bottled beer selection. Afternoon tea consists of mini apple pies with clotted cream, mini Victoria sponges and sliced pork pie with piccalilli, all produced from the dedicated galley kitchen.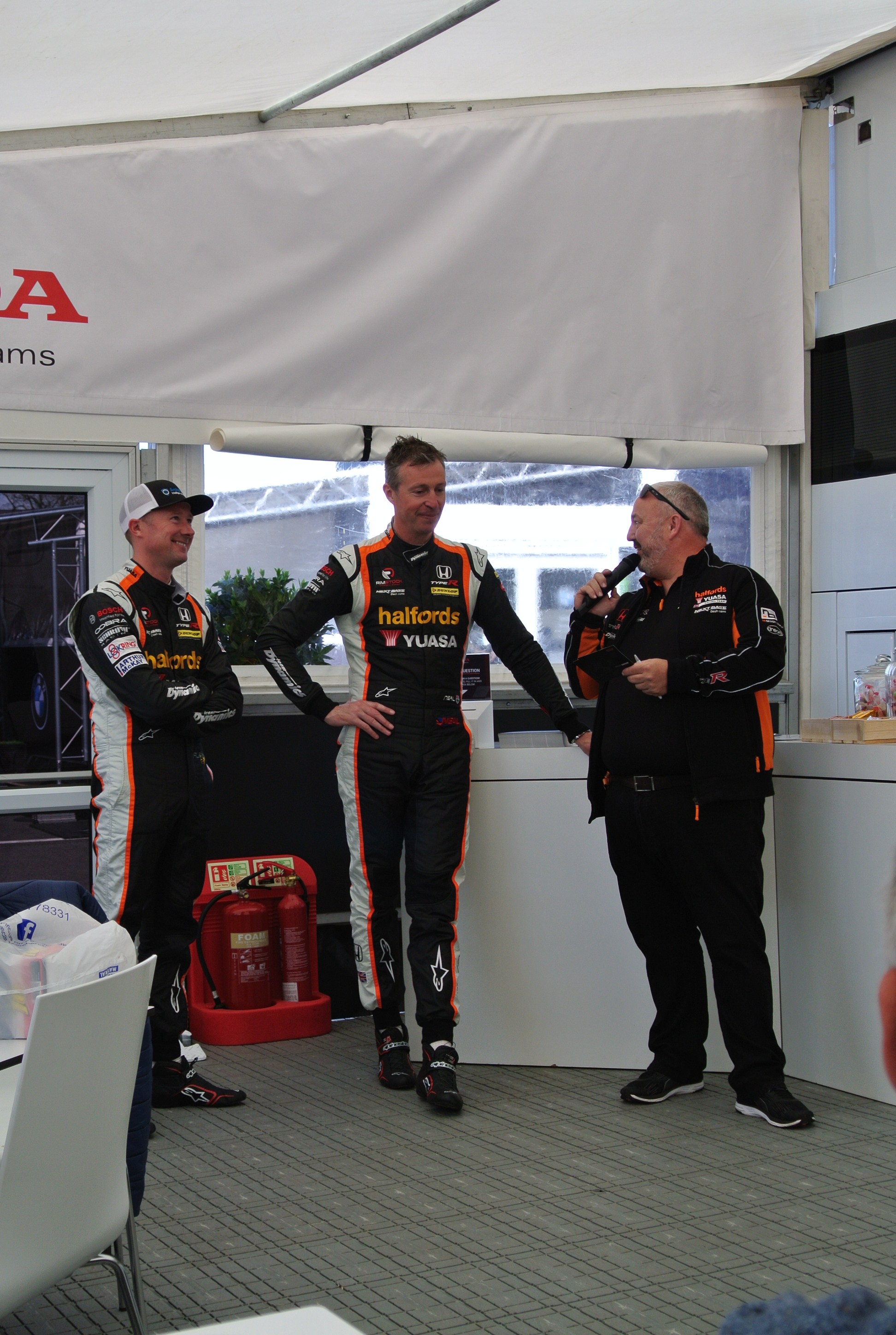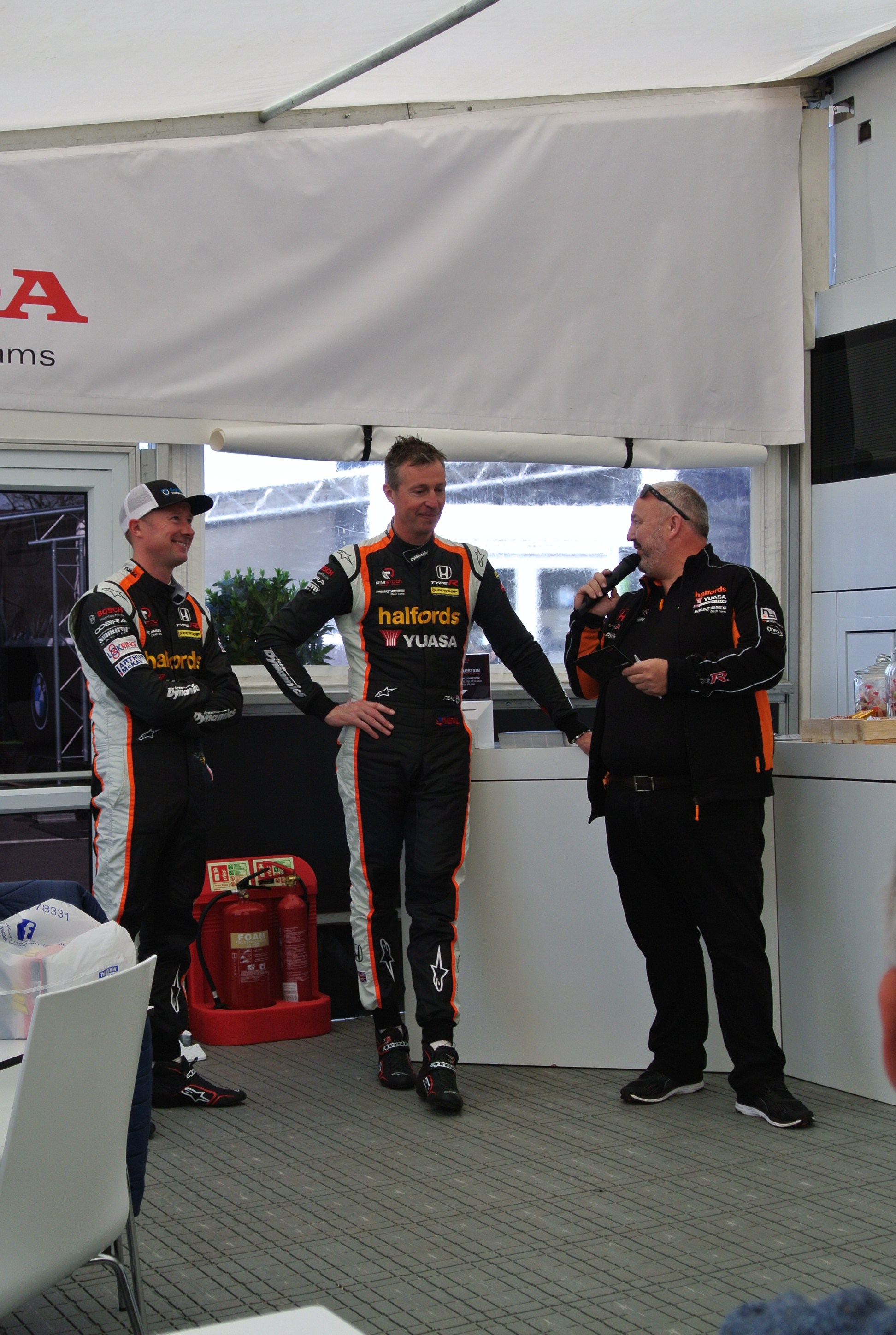 VIP guests of The Paddock Club are entertained during the day with pit-lane garage visits and mid-qualifying, or race session, headphone links between management and drivers. The star drivers also turn-up between their working sessions to respond to visitor Q&As and to hand-out personally autographed photo-cards, all to demonstrate their relative approachability and to highlight the circus-grade quality of the overall package.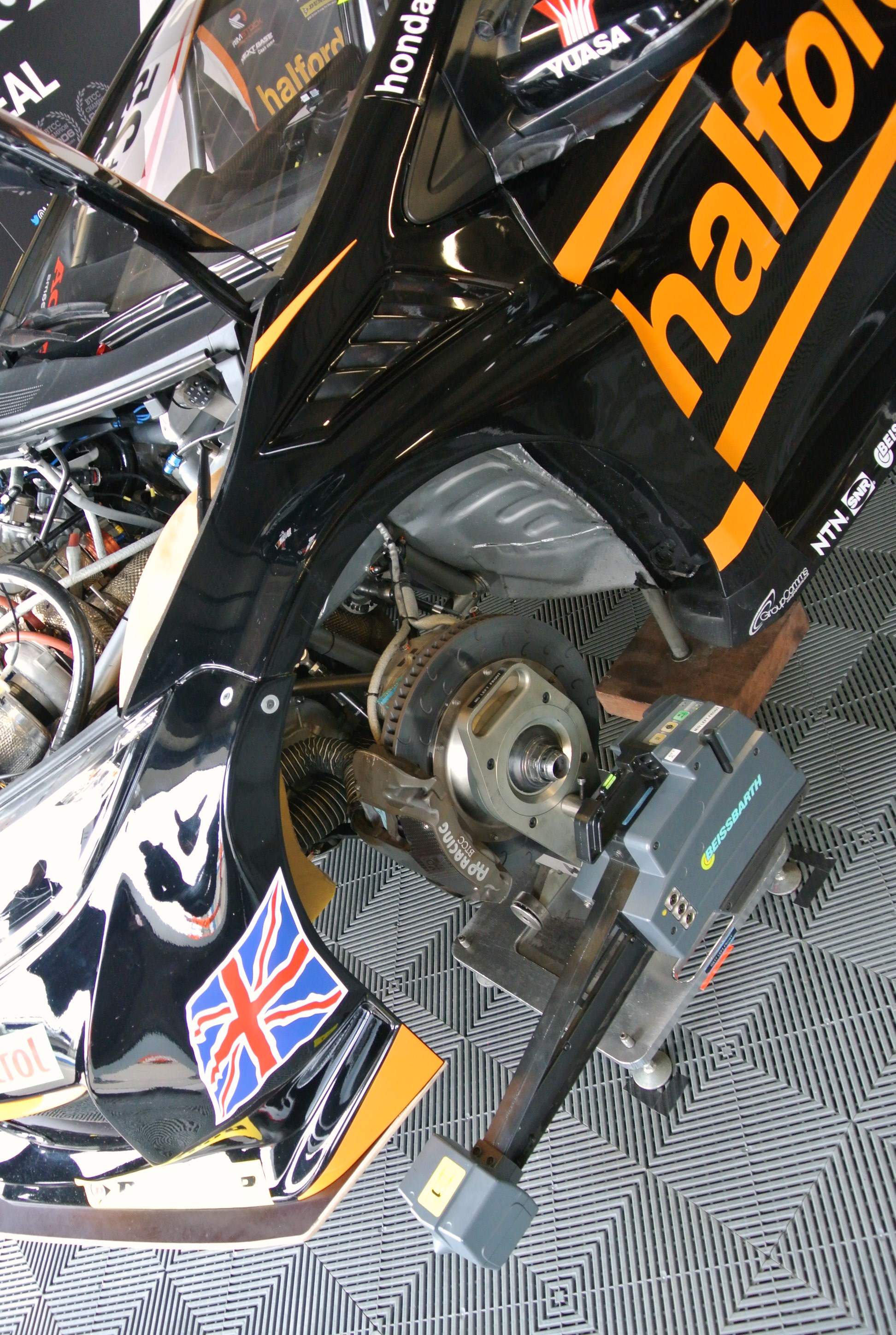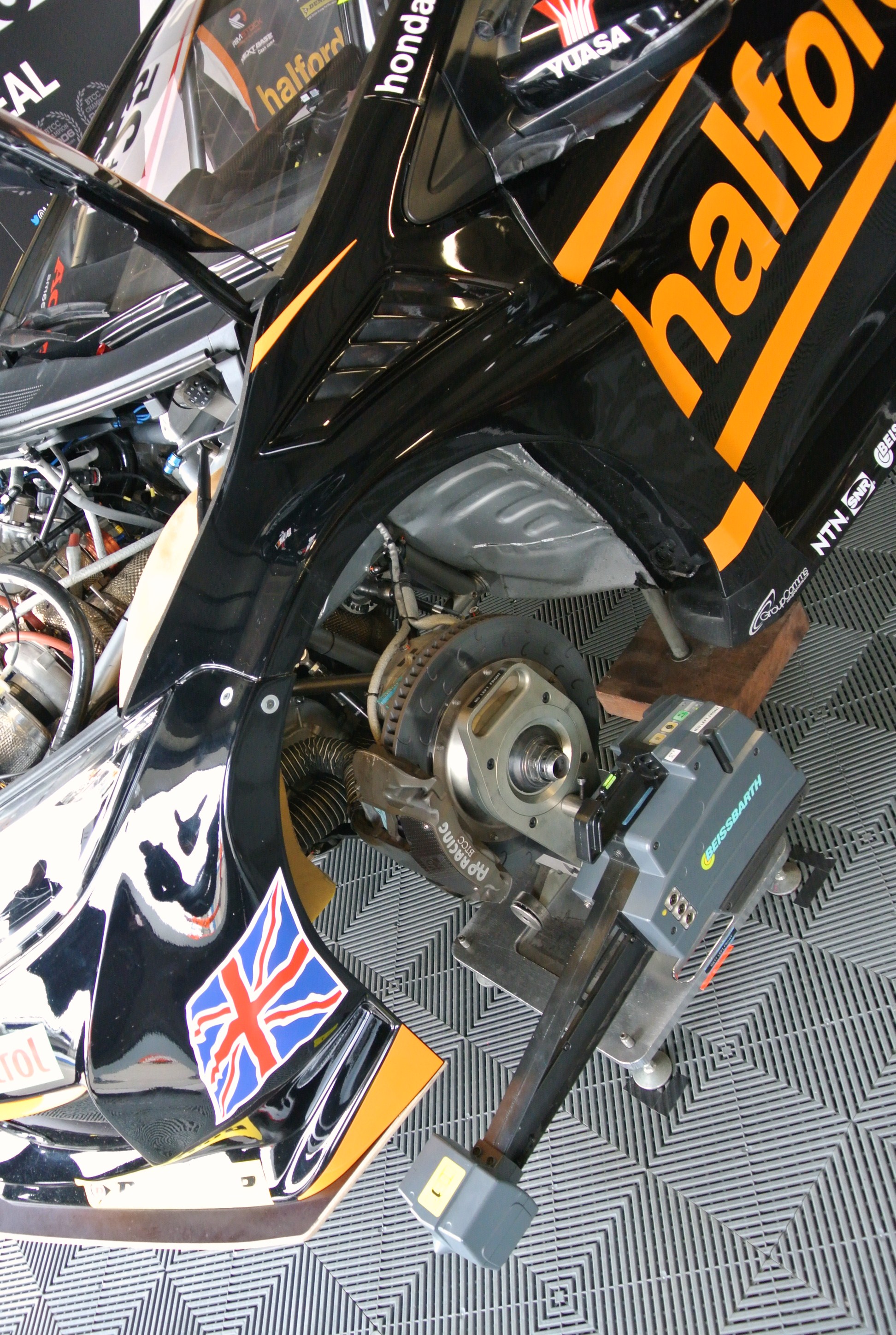 Being able to see close-up the technology that constitutes a BTCC racing car is an added bonus. Having the staccato idle setting explained, which ensures that race engine turbochargers are cooled efficiently. Peering at the expensive chassis telemetry set-ups that are essential to the perfect balance and handling of each car. Being amazed by the special equipment needed to turn a family car into an externally recognisable, internally confusing racing car, is all part and parcel of the BTCC experience. Yes, it is 'smoke and mirrors' but not so that people might notice too much.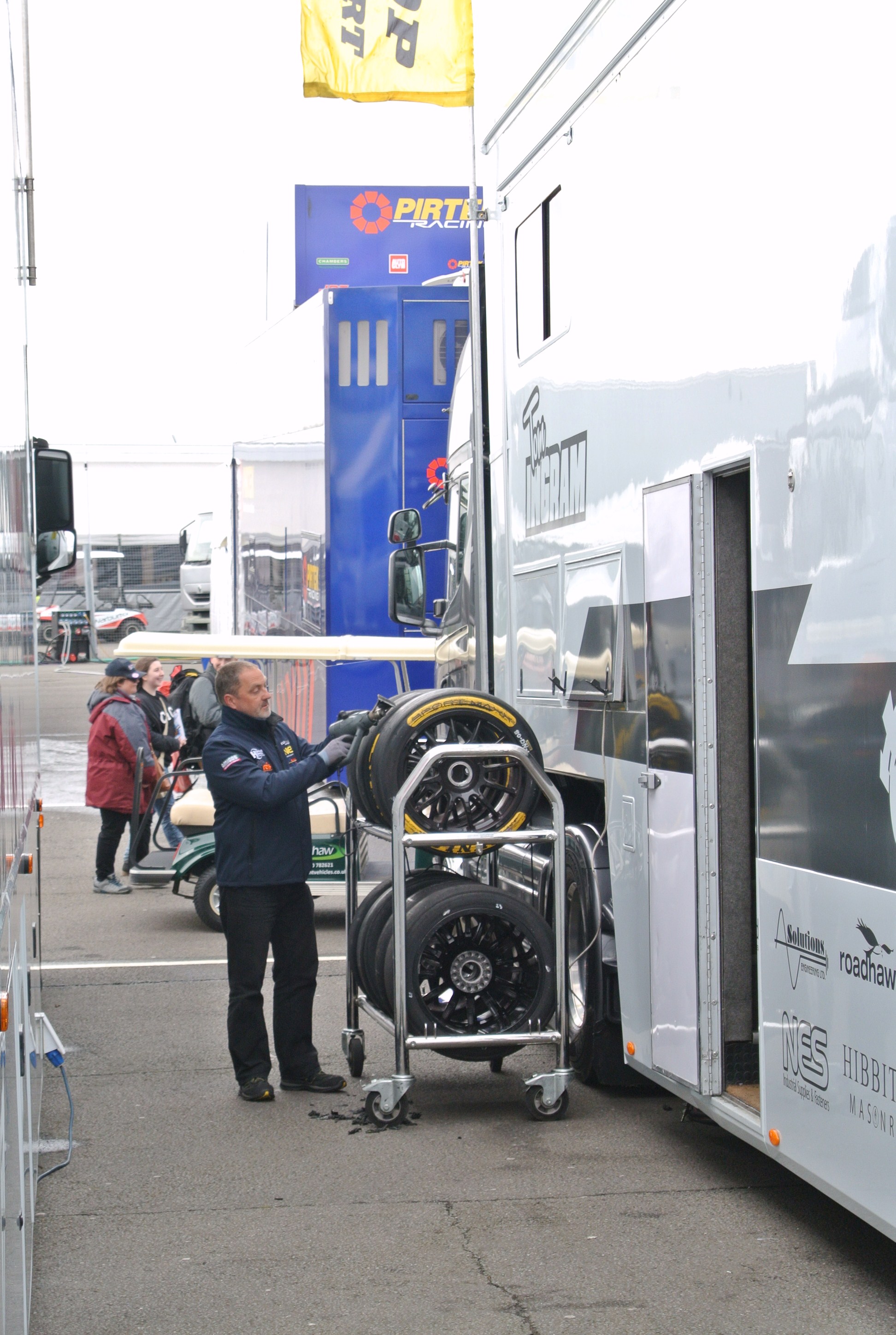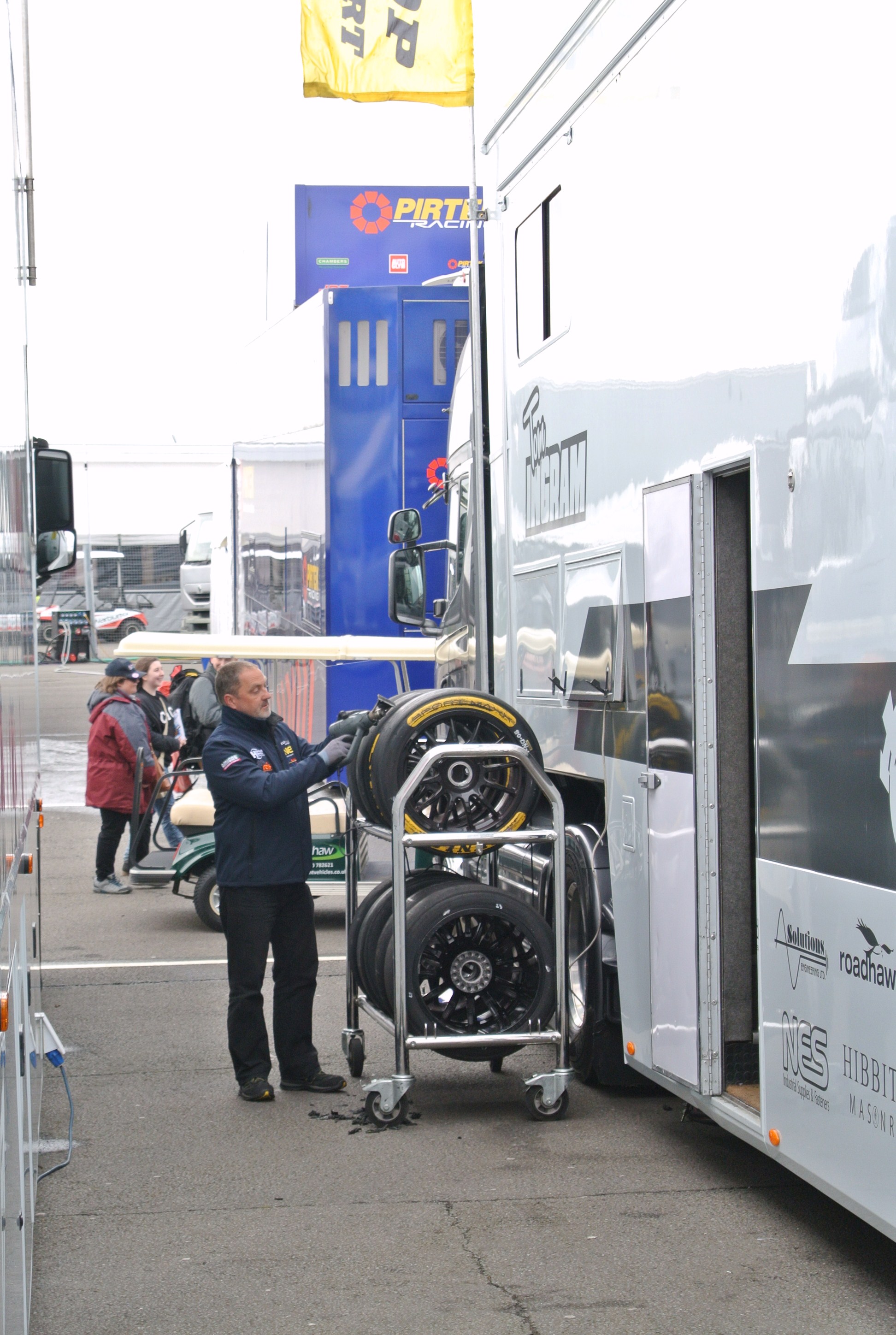 Yet, taking a voyeur's view and watching the cooks slaving in the galley, or the hospitality manager adjusting table heights on uneven surfaces, or the tyre specialist removing scrubbed-in debris from the special racing tyres, or nattering with the team's marketing manager, those places are where the beating heart of BTCC resides. They are nervous about how well the services will be received; the OCD nitty-gritty that is invested in putting on a top performance; the meeting of expectations and the hopes of exceeding them. It is a multi-million Pounds  travelling circus that opens most of its doors to an expectant audience that will depart enthused and enervated and ready for the next rounds.
Yet, each VIP ticket could be worth upwards of £700 per day, especially when invited to the after-race dinner at a local posh hotel, usually funded by the car company representing the respective teams. Each visitor receives a 'goodie bag', in Honda's case that includes a pen, a pair of red Honda sunglasses, a Halfords' (team sponsor) gift, which is a useful USB plug-in device and other minor hand-outs, all of which add to the costs but also enhance the memory of the 'experience'.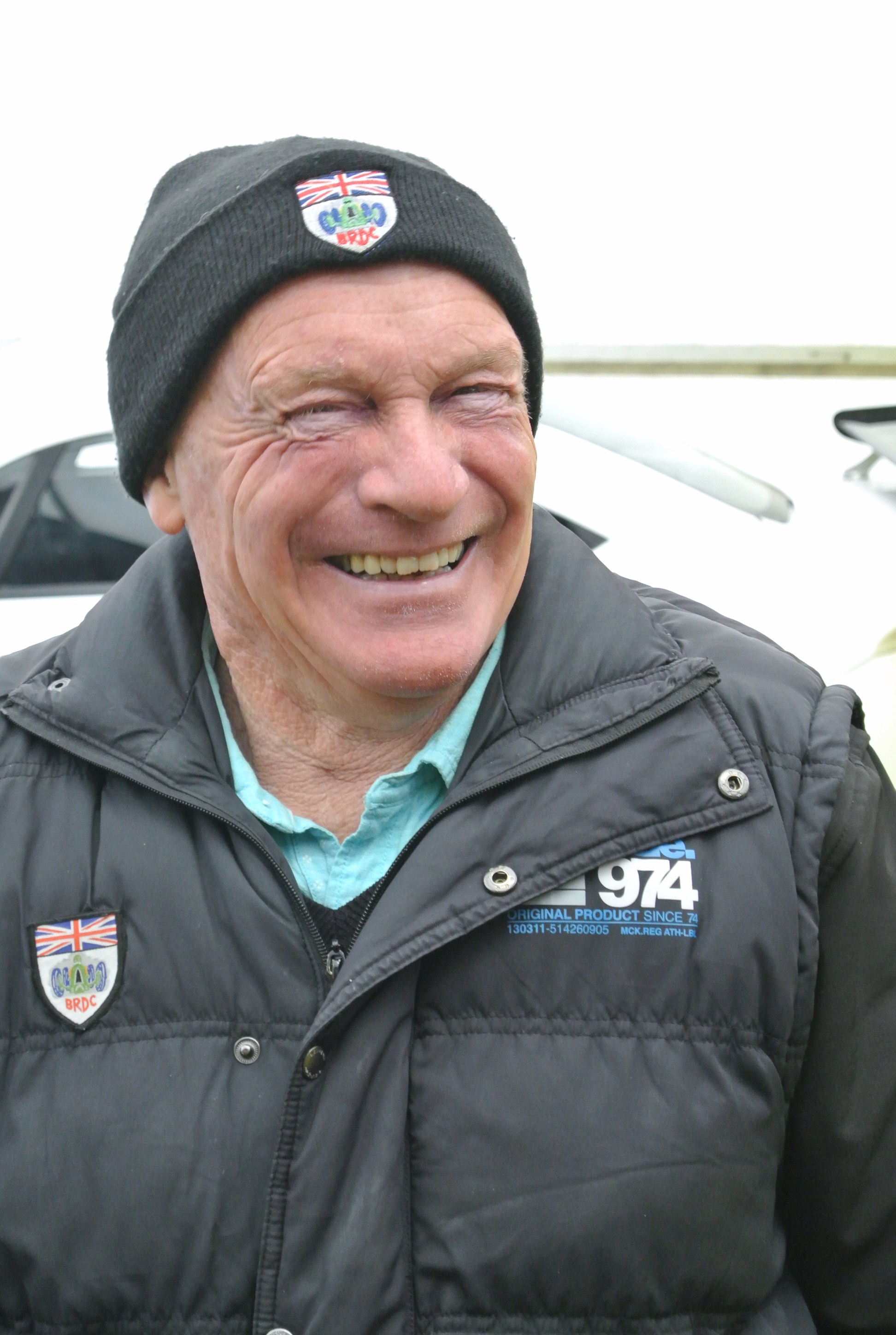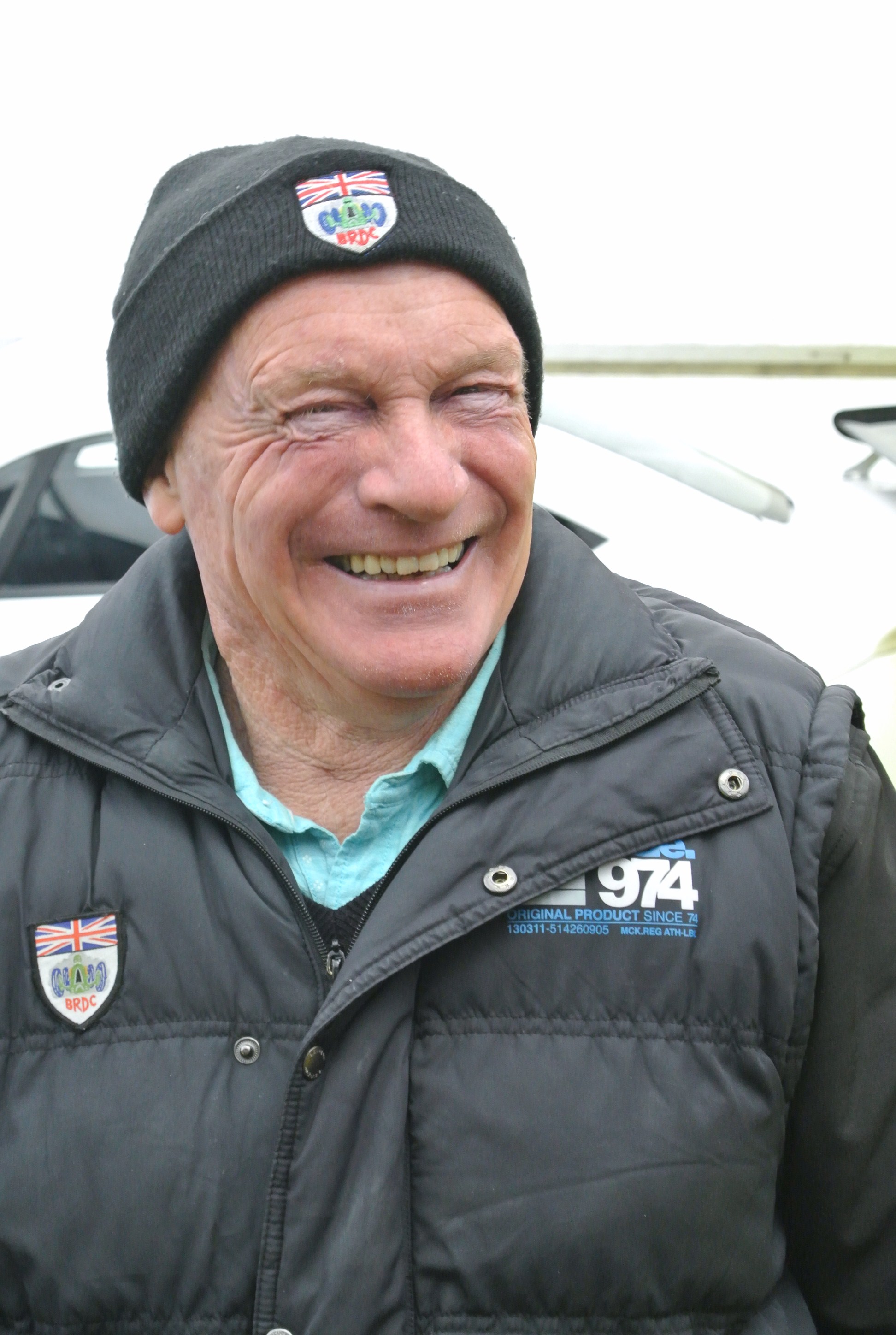 Me? I head home after a long day of meeting and communing with the top racing drivers in the UK, both three times former BTCC Champions, Matt Neal and Gordon Shedden, one six feet seven inches tall, built like a racing snake and possessing the wit and guile of the consummate star performer, the other, younger, often faster but no less engaging in character. I even take time away from Honda to visit an old friend, Chris Hodgetts, himself a former BTCC Champion but now top race driving instructor to the burgeoning development formula that is Ginetta Juniors. Here, in the other paddock area, I also meet a 24 years old owner of the Elite Racing team. Edward Ives is a marvel in his own right, a sometime racer and now team owner (at 24!), he is giving the opportunities to future star drivers, such as 16 years old Harry King, a future Champion for sure, remember his name.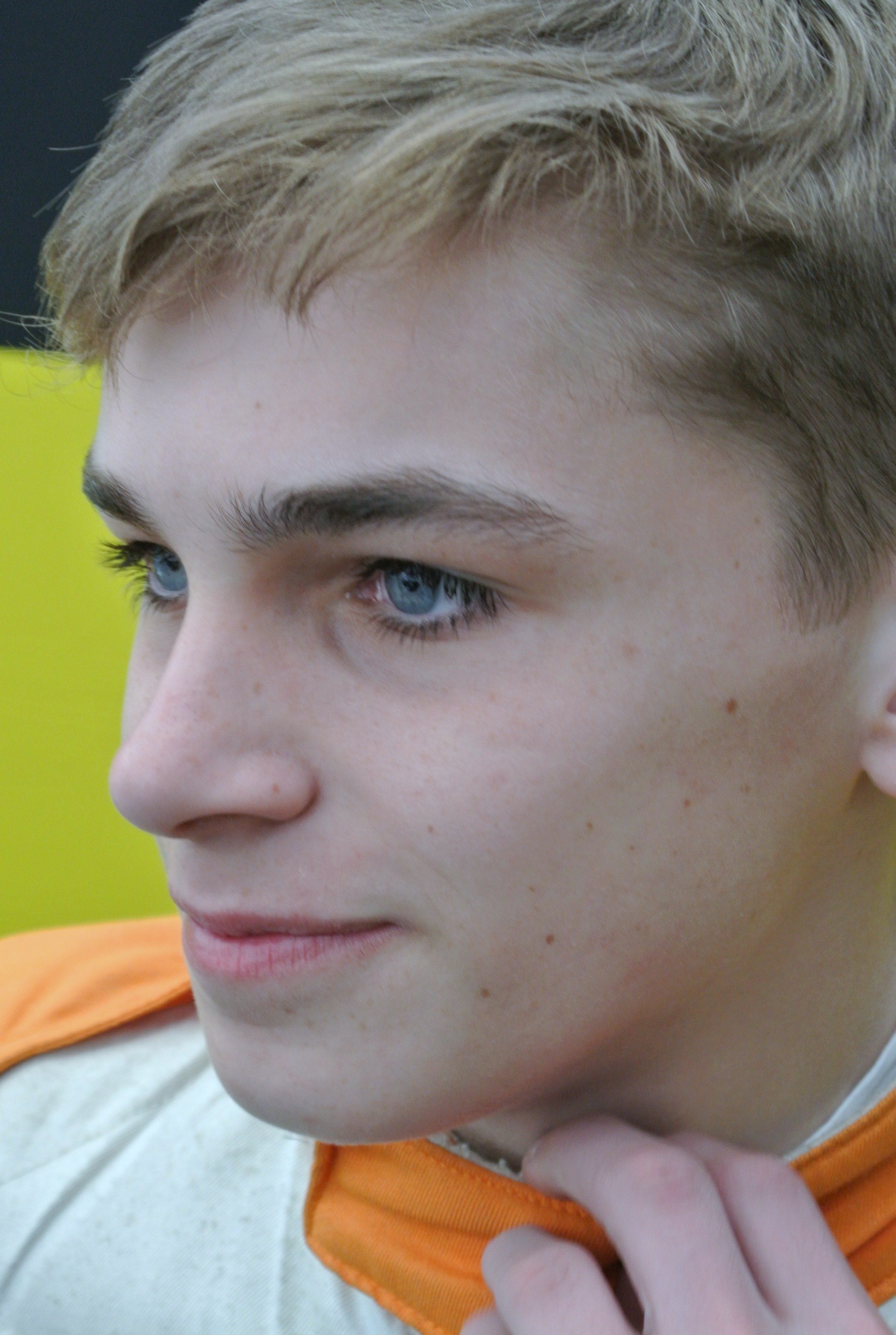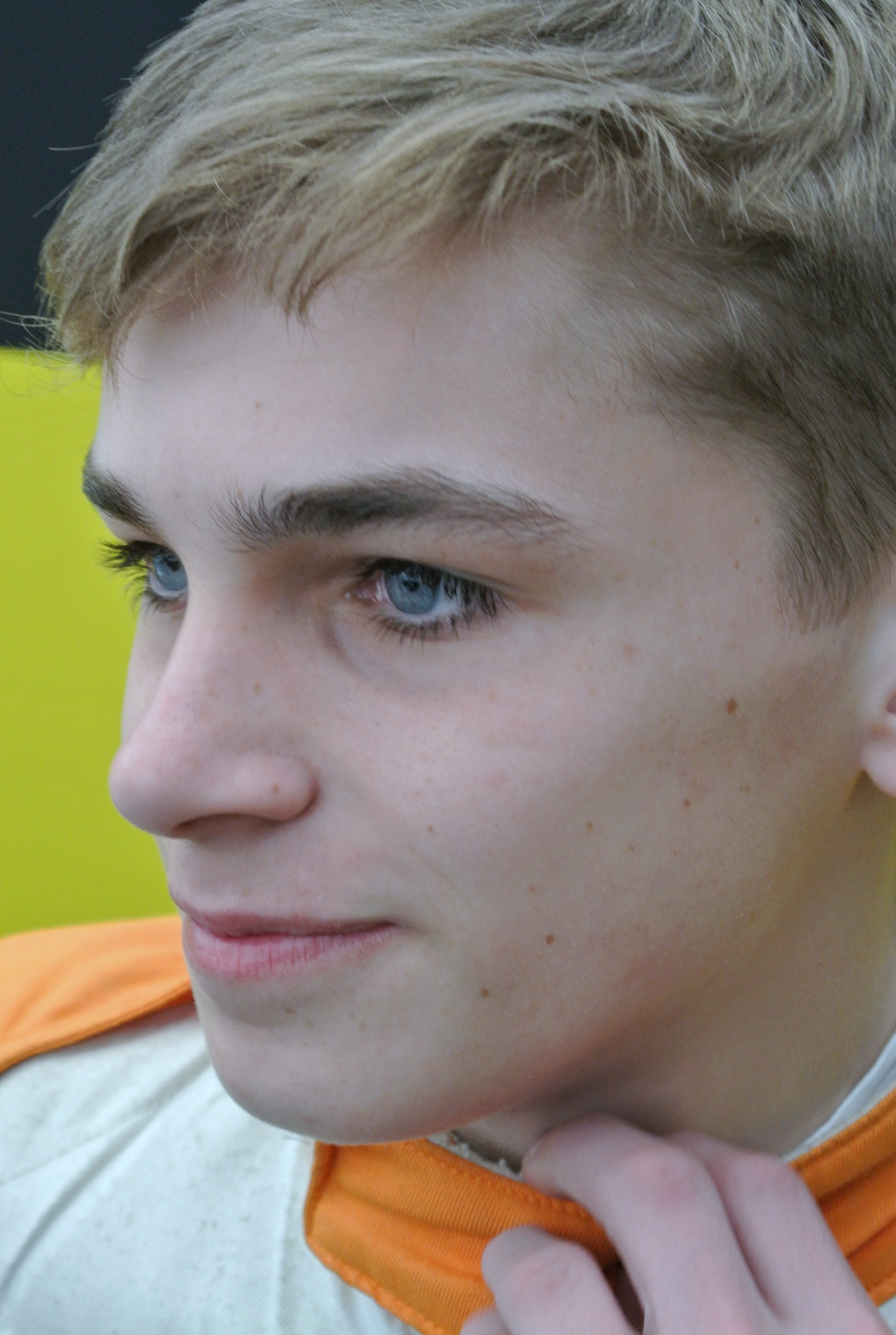 Matt and Gordon qualified on the third row of the grid for the Easter Sunday race programme (5th and 6th spots). Glued to the excellent ITV4 coverage, I watched them put on a great show, albeit thwarted by very changeable weather conditions that produced wins for neither Honda Civic driver. Disappointed but eminently professional, the circus moves on to the Thruxton Circuit, in Hampshire, for Rounds Seven to Nine of the Championship (6th/7th May), followed by Rounds Ten to Twelve at Oulton Park, Cheshire (20th/21st May), or you can watch the live race day programme on the Sunday's splendid ITV4 coverage.