There is no denial of Toyota's commitment to hybrid technology, as a means to address eco-transport needs, and its revised line-up now includes an SUV hybrid, which means another new model for Iain Robertson to test.
Pointing an accusatory finger at any commercial business that fails to address environmental demands is perfectly justified. It is fortunate that the majority of the world's carmakers have been tackling global warming issues (yes, that old chestnut, even though US President-Elect Trump does not believe in it), for the past thirty-odd years, as they would (and do) make a sizeable target.
BMW was a pioneer in engineering a mechanical solution, with its 525e (eta) model of 1983, while VW introduced stop-start technology to its Golf just a year later. Saab engaged with its Trionic engine management system several years after, which boasted of being able to exhaust cleaner gases from the tailpipe than had entered the car's engine. Although North America had been subjected to the power-strangling complexities of the exhaust catalytic converter in the mid-1970s, it took a decade before the fourth generation Toyota Celica became the first car thus equipped and sold in the UK.
Toyota and Honda were the major innovators on more eco-friendly developments and I can still recall test driving the truly oddball, first generation Toyota Prius hybrid (using series petrol/battery technology) around a year prior to it going on UK sale in late-2000. However, Honda was confident enough to provide me with a year-long test of an Insight coupe in 2001. It was both outrageous and strangely attractive in equal measure and provided me with a liveable, alternative, parallel petrol-electric hybrid experience. I became a fan of hybrid technology, although it would take another ten years before Peugeot redefined the sector with its RXh version of the 508 family car that partnered a turbo-diesel engine with battery power.
While I believe that both governments and pressure groups are comprehensively wrong in their most recent attempts to ban diesel engine technology, Toyota has stuck rigidly to using petrol engines in league with its electric hybrid developments and the company has never stalled in its on-going endeavours, refining and introducing new models and technological revisions, the latest of which is in the popular RAV4 SUV. At least the company is not avoiding the playing of a populist card, as the RAV4 has been at, or close to, the top of the SUV sales charts for several years and four model generations now.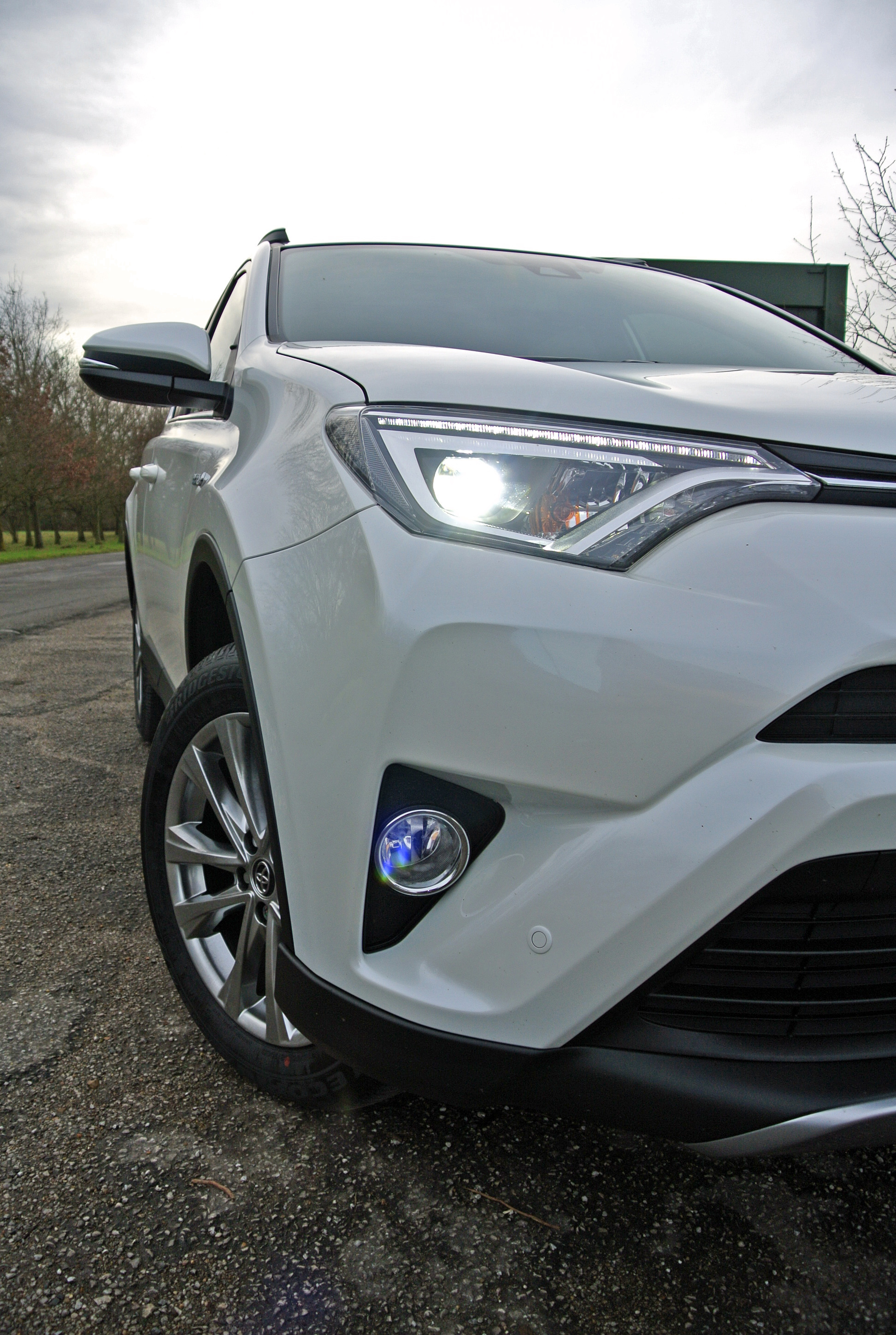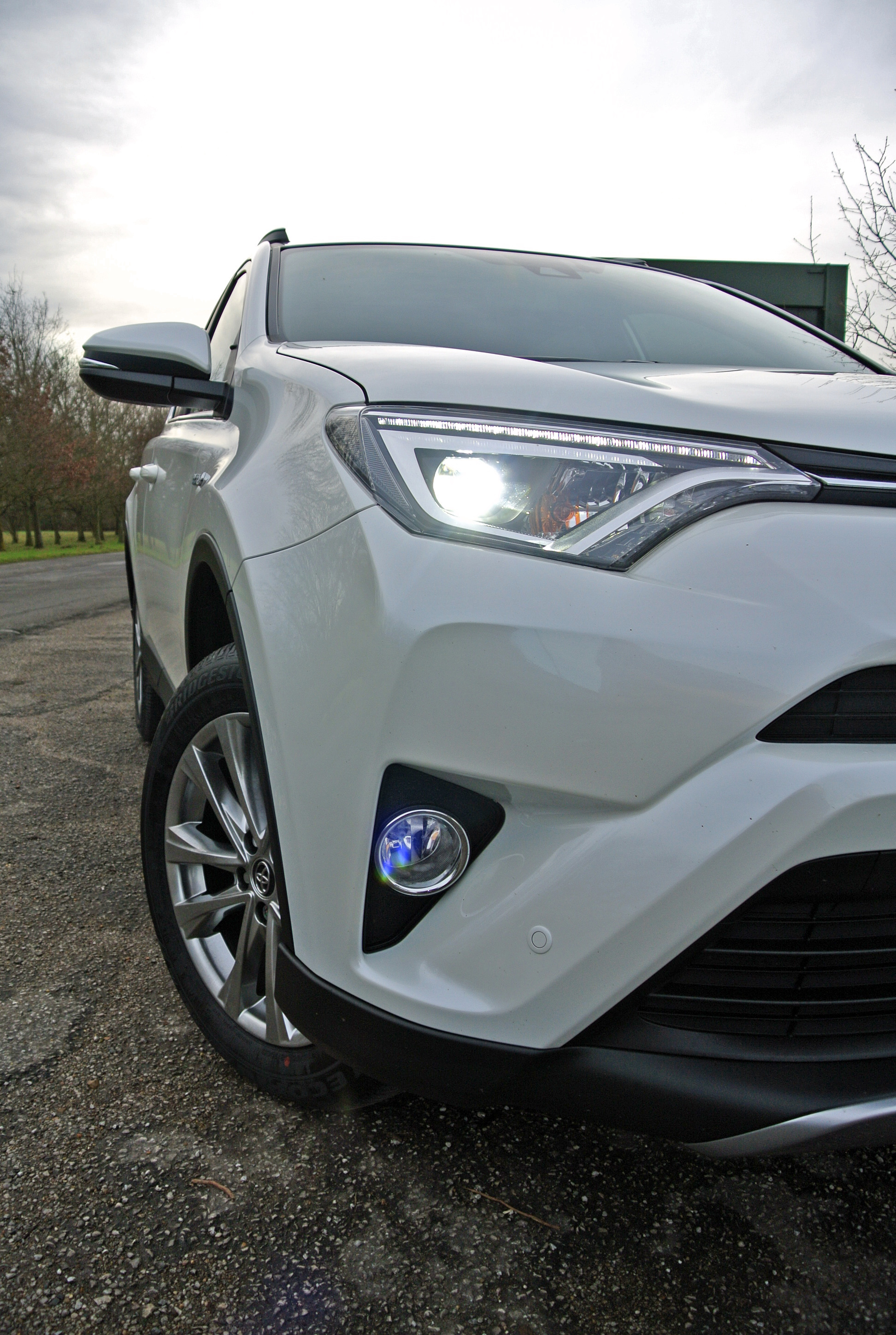 If you care to trawl back through our archive of vehicle test reports, you will come across several, sub-2.0-litre Toyota hybrid pieces, a factor that led me to question the installation of a 2.5-litre, four-cylinder petrol engine in the latest RAV4 hybrid. Such a large capacity unit might appear to run contrary to the purported rules on eco-friendly transport. Yet, it does feature Atkinson-cycle technology, which means that its efficiency is optimised (notionally), hooked up to a 204-cell Nickel-Metal Hydride (NiMH) battery pack located beneath the rear seats. While this type of battery is now quite 'old-tech', having been overtaken by the less space-demanding NiCAD and Lithium-ion alternatives, Toyota believes that it retains a decent life expectancy and questioning the hybrid master on that choice is not worth exploring.
The resultant maximum power output is a healthy 195bhp and the Hybrid Synergy Drive system transmits it through an electric CVT (transmission). Of course, although carefully managed, this means that a 'roaring' (well, satisfyingly muted) engine-at-max-revs accompanies most overtakes and necessary floorings of the throttle pedal. The first downside is the disappointing 31.4mpg reading on the dashboard computer, while punting around town. The situation improves slightly to around 36mpg on cross-country forays, which is still someway adrift of the Official Combined return of 55.4mpg and serves to underscore my concerns about the use of a larger capacity petrol engine, even though its CO2 emissions rating is a respectable 118g/km, which equates to a Band C fee for VED. You should also remember that from this April, the new Road Fund Licence regime comes into effect, which removes the 'tax-free' status from this and other hybrids. Get used to it!
Although this aspect will surely dent many potential users' aspirations for hybrid technology, the upside is that the RAV4's overall performance is significantly better than that of the Prius, even though it is a lot heavier (1,775kgs kerbweight). Typical of a hybrid, its top speed is governed to 112mph, although it scurries from 0-60mph in around 8.1 seconds.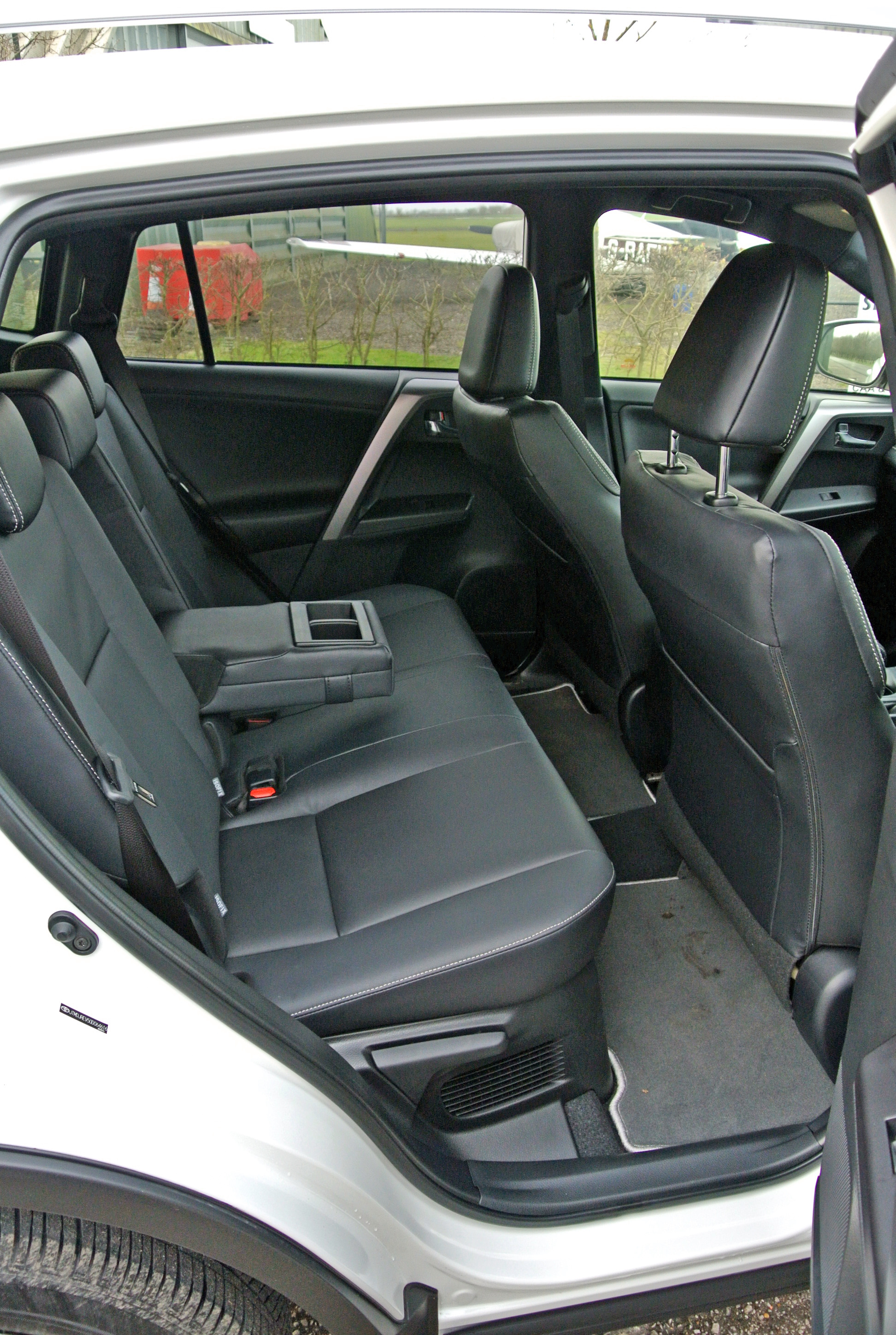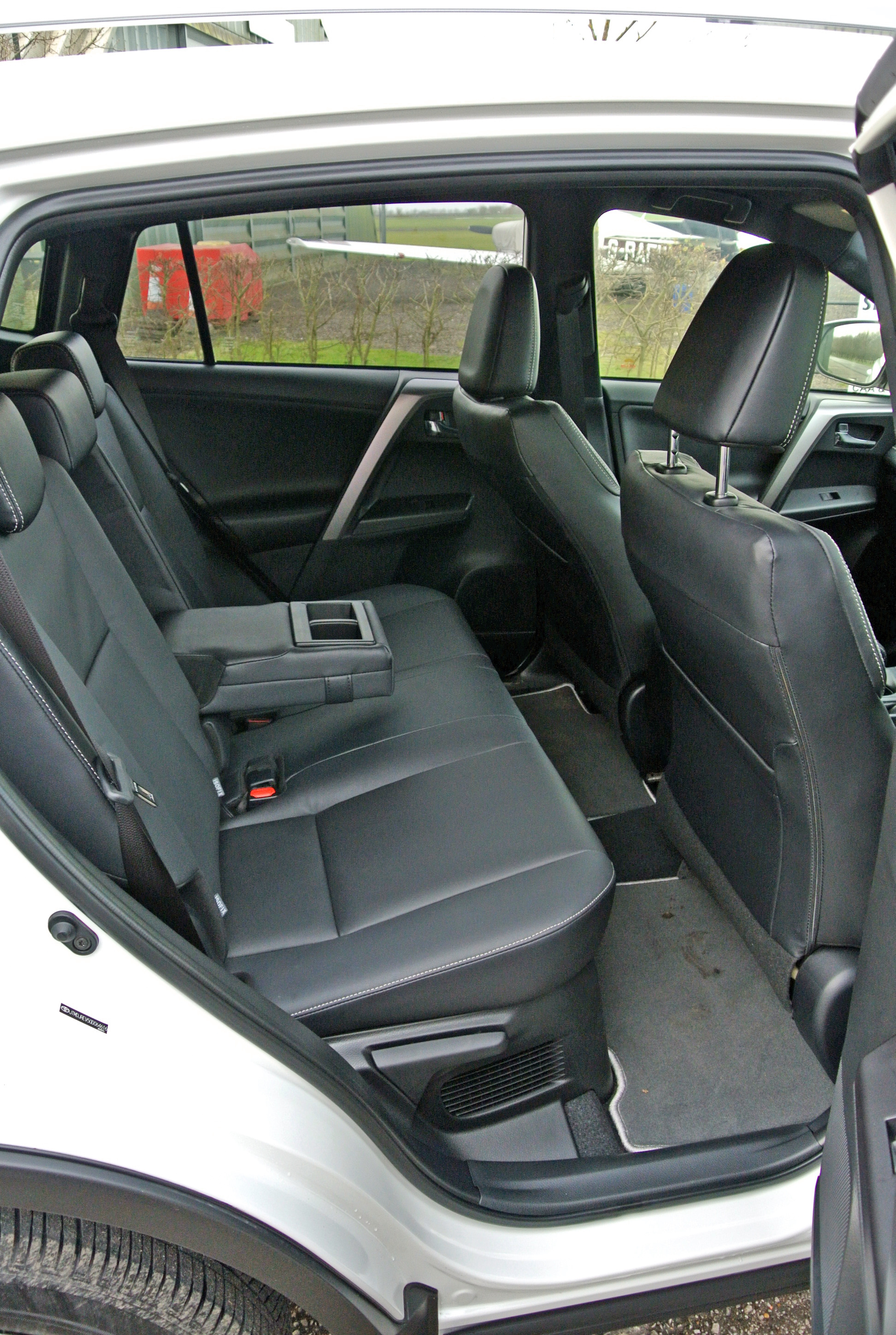 Built on Toyota's new platform, this latest RAV4, apart from being the first of the SUV line with hybrid technology, serves purpose with better cabin space utilisation. The quality of the interior trim has also been improved markedly over the previous iteration and it can sit happily alongside both the latest C-HR model, which has established an outstandingly fresh standard for Toyota interiors, and the recently revised Auris model. RAV4 now offers a comfortable and roomy environment for the driver and up to four passengers, while its boot is practically shaped and can be loaded and emptied easily.
The customary column stalks control most major functions, with supplementary switches on the steering wheel cross-spokes that replicate some of the on-screen controls. Some of the minor switches are scattered but familiarity soon points to the front seat heaters, the descent control and traction control buttons. There are plenty of small slots and bins for in-car paraphernalia.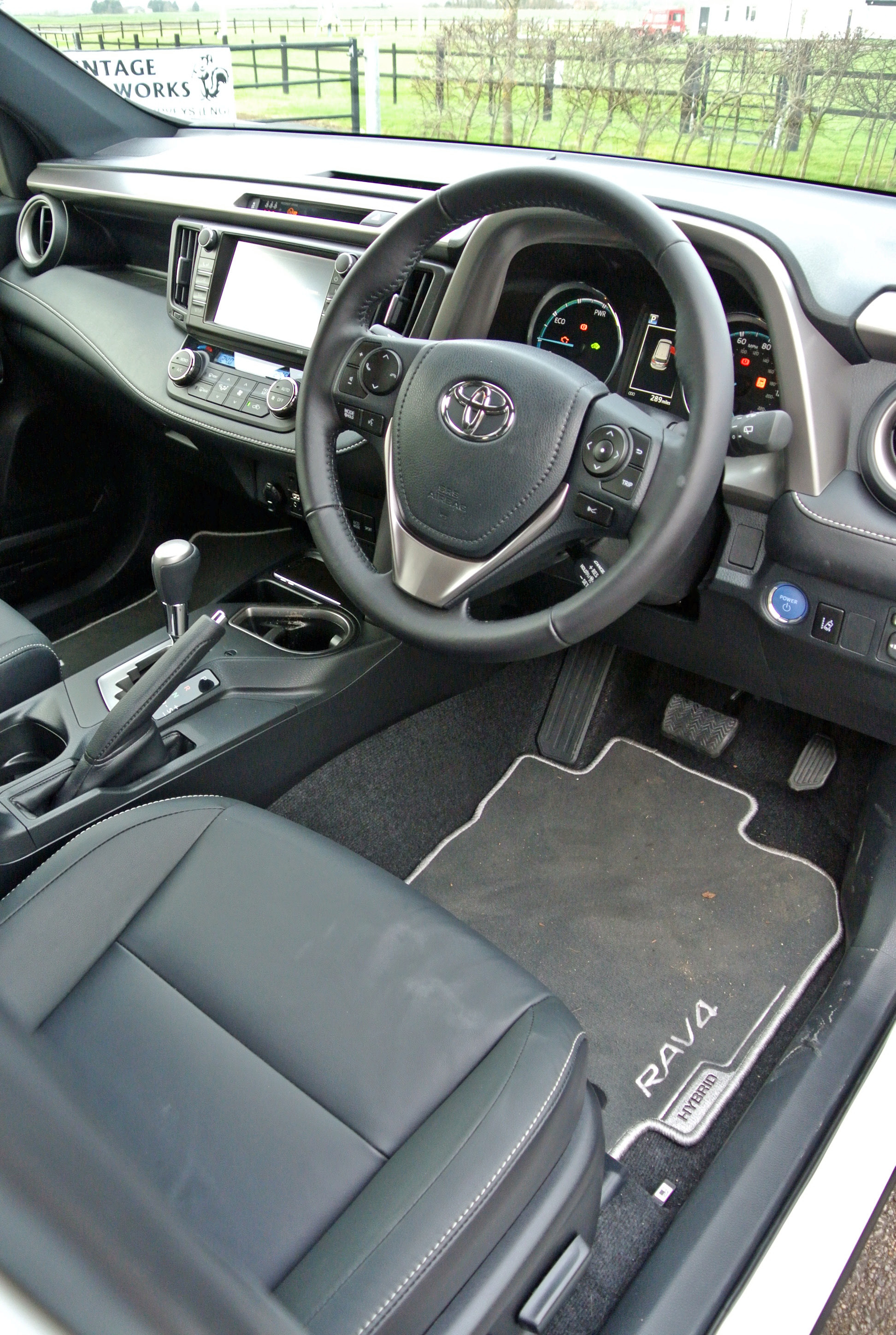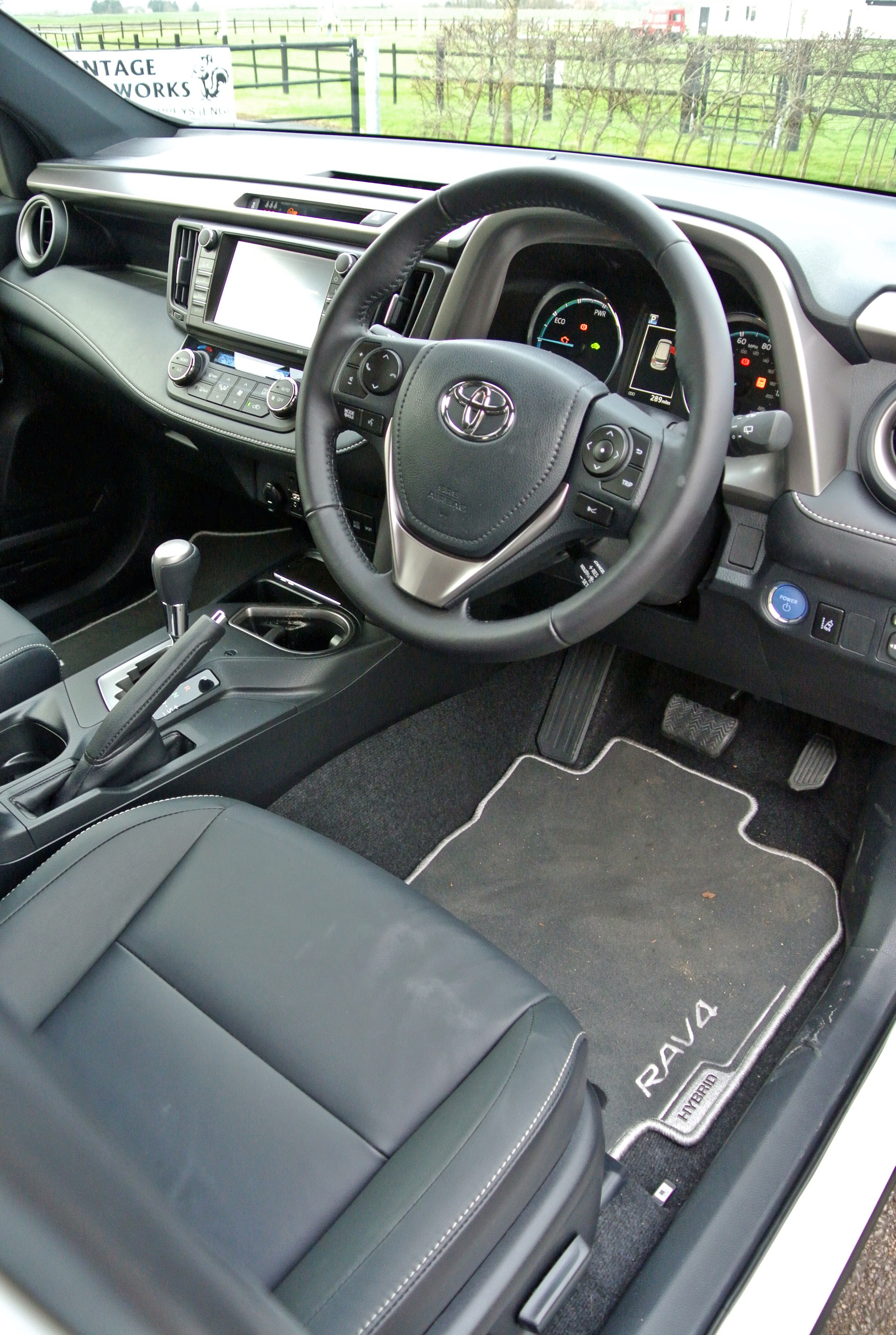 As tends to be the case with hybrid models, a sporty rev-counter is replaced by an efficiency dial, with the space between it and the speedometer filled with a condensed digital display that can be configured in one of several different ways, according to driver requirement. When I drive a hybrid, I like to see how both storage battery and engine power are being spread around the drive-train, as it helps when trying to maximise the fuel economy. With that graphic showing, I was amazed to note that the car could run on battery power alone at speeds in excess of 60mph, which is of great psychological help in justifying the extra invoice cost of the hybrid. Including the £795 for the pearlescent white paint finish, the invoice bottom-line, in Excel trim, is a hefty £33,770…so, you really have to want the purported eco-benefits of the technology!
Where Toyota has succeeded in spades is making its hybrids feel amazingly conventional to drive, even though some of its models still look wildly avant-garde, a factor that seems to satisfy the halo-chasers, as those cars do possess a 'look-at-me, see-how-holy-I-am!' appeal. In some respects, it is fortunate that the RAV4 falls into another classification of 'remove-the-badges-and-I'll-defy-you-to-tell-what-make-it-is', because normality reigns supreme in the middle ground of the SUV scene…they all look the flaming same!
While there is no outstanding element to its ride, handling and road-holding, the RAV4 performs competently, its steering possessing a pleasingly connected feel, despite the tendency of its electric power assistance to obscure road surface feedback to the driver's fingers. The turn-in is crisp and the tail follows the nose, a most useful attribute. The brakes are dependable and progressive in operation and a conventional handbrake lever makes parking and manoeuvring less of an issue over an electronic equivalent. The hill brake assist holds the car for up to two seconds, which is useful on hill-starts, although the CVT has enough 'creep' in Drive to make it largely unnecessary. In fact, everything is predictable, the suspension damping is resilient and the ride comfort is fine.
You probably know what my attitude is towards SUVs…I am not an ardent fan but, if you must have one, a RAV4 will meet requirements and is a far better default option than a Nissan Qashqai. In this hybrid form, I remain slightly unconvinced about its hoped for fuel frugality but there are zero issues with its zesty performance, or the sheer ease of driving that it presents. It is comfortable, roomy and, yes, it would make an excellent business car choice.