Monstering the world's car sales charts has been the Toyota remit of the past few years but Iain Robertson appreciates that the company's 'new normal' is now engaging style, with a sense of purpose, to garner added attention.
Towering several million units above its nearest numerical rival, since 1966 the Toyota Corolla has continued to outsell brand leaders consistently. In fact, the company surpassed the 40m mark some three years ago, which is more than twice the sales of VW Beetles and almost three times those of the Ford Model T. To be fair, it has been a model that has seldom stood still, despite never exactly being a style, practicality, or performance icon. The Auris for the UK and a few other markets is still called Corolla in many other regions.
Although the car's popularity has always puzzled me, not least because it has spiked personal curiosity on several occasions, leading me to buy examples over the years, most of the time this model has flown little higher than the total tedium bar. While I cannot deny that, for the vast majority of Toyota buyers, numbness in an automotive sense is about as exciting as it ever needs to be, Corolla's (Auris's) blandness and almost complete lack of character has seemed to match the zeitgeist.
My first Corolla experience came in the mid-1970s, when, to some eyes, Japanese motorcars were closely akin to the sons of Satan. Just over 25 years after the end of WW2 strife, the antipathy shown towards these oriental usurpers was edgy to say the least. It was a dark bronze metallic 1.3-litre model, with a beige cloth interior. It was the perfect business car at the time. Light and pleasant to drive, it returned 38mpg and, while it felt insubstantial, it offered excellent value for money.
My second Corolla arrived around eleven years later, in the form of the front-driven, 1.6-litre GTi hatchback. In original 126bhp form it was the class of the field. Just three years later, with around 130,000 miles on the odometer and much modifying having taken place beneath its bonnet (188bhp), I was actually sad to wave it farewell…although I had replaced it with a Sierra Sapphire RS Cosworth.
Since then, I have experienced zero desire to live with a Corolla again, even since the Auris was introduced in 2007. Yet, this latest version has done slightly more than just turn my head. In truth, its most impressive aspect is the 1.2-litre four cylinder unit residing beneath its bonnet. Boosted by a light-pressure turbocharger, it develops a respectable 114bhp and a phenomenal 136lbs ft of torque. I shall not back down from that claim, because it is torque that turns average performance into sparkling delivery and, in the Auris, it is a relentless surge, from little more than idle speed, all the way up the rev-range.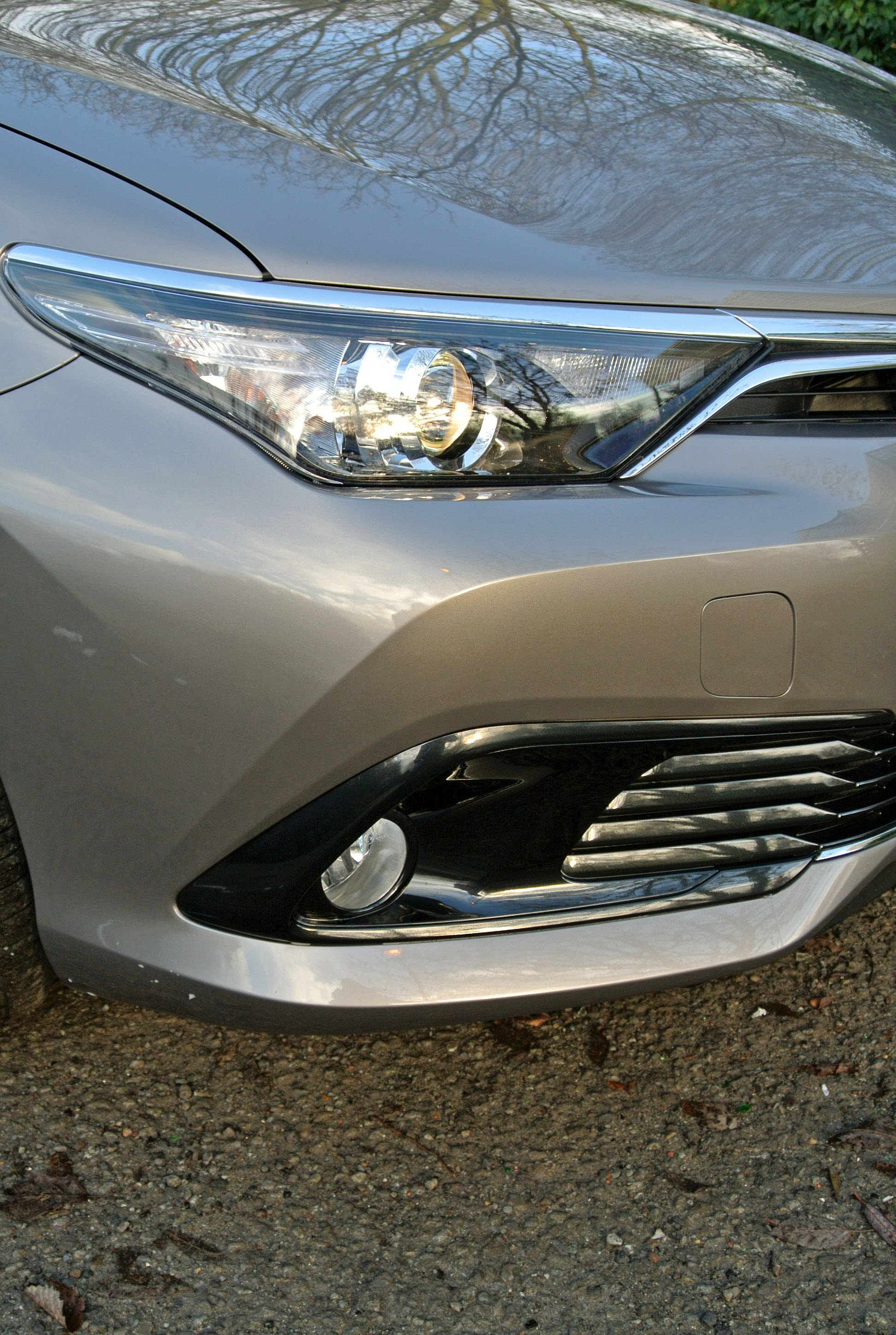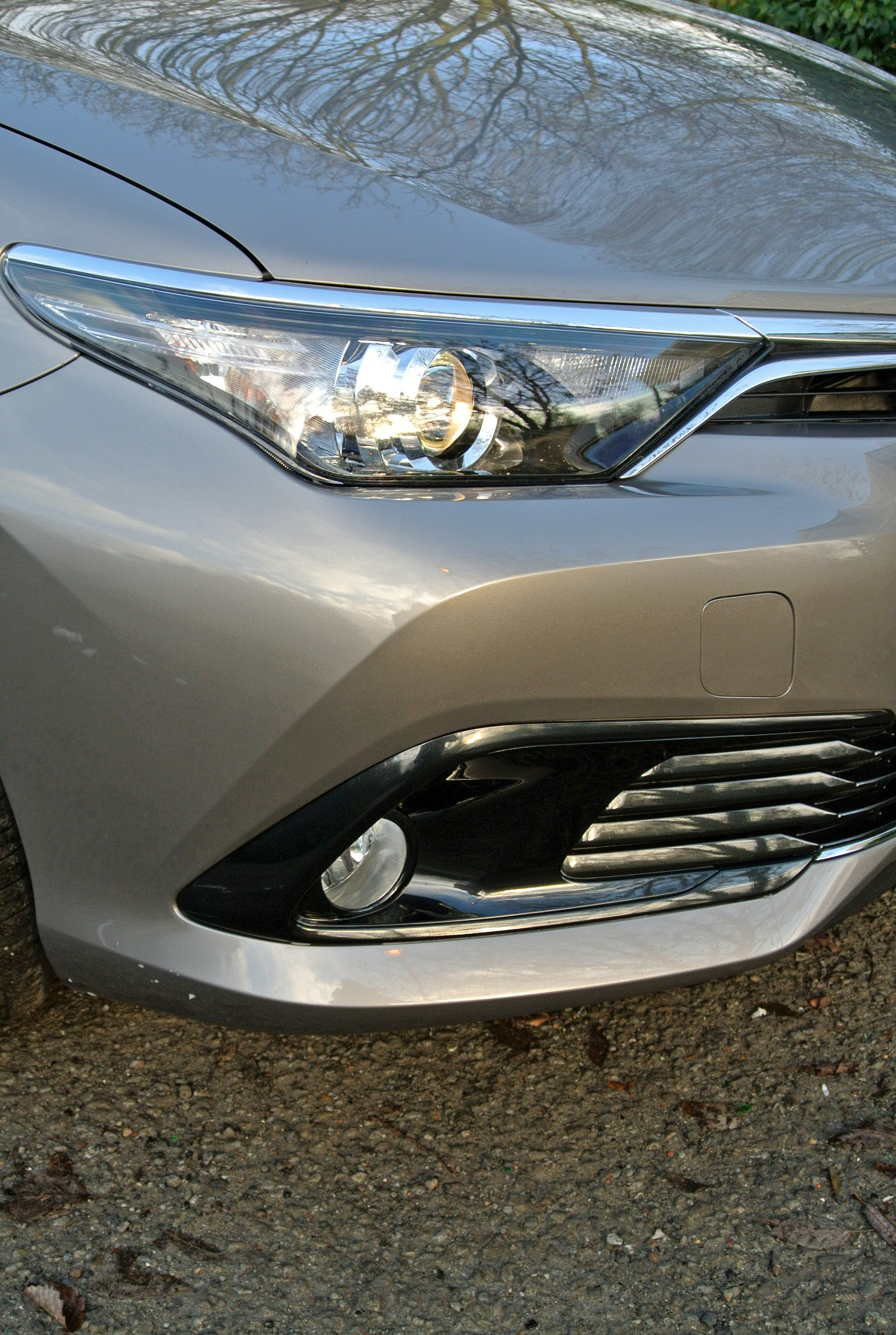 As a result, bends and junctions that might demand a shift down to second gear, or hills that necessitate a downshift to third gear, can all be taken at least one gear higher. This means better fuel economy and supports the Official Combined claim of 52.3mpg, which is not a bad figure for a car that tips the scales at 1.35-tonnes. While I only breached that figure (54.3mpg) on one occasion, in a mix of conditions, the car returned 46.7mpg over the course of a week's motoring, which is excellent. Incidentally, the engine emits 125g/km CO2, which equates to a Band D VED annual rate of £110.
Ironically, there is a downside to its high overall gearing (70mph equates to 2,000rpm) and the exceptional refinement of the engine, as wind roar and tyre noise are all at more noticeable levels; the 225/45×17 tyres fitted to the test car, while providing unerringly sound grip and not ruining the ride quality as some low-profile covers can do, grumble away merrily within the wheel arches. I have zero complaint about the performance, the Auris despatching the 0-60mph benchmark sprint in around 9.8 seconds, before topping out at a maximum of 124mph, which was the same top speed accorded to my Corolla GTi, a factor that emphasises the advancements made in modern engine technology.
While this unit is box-fresh and shared with the latest compact Toyota SUV that I shall be testing imminently, this story is not just about a model's drive-train. The cabin of the latest version of the Auris is one of the most improved that I have witnessed on any mid-life refresher exercise. The upper level is clad in a soft-touch moulding, within which, ahead of the driver, is set the twin speedometer and rev-counter dials, with a switchable, digital computer readout between them and two minor dials for water temperature and fuel contents.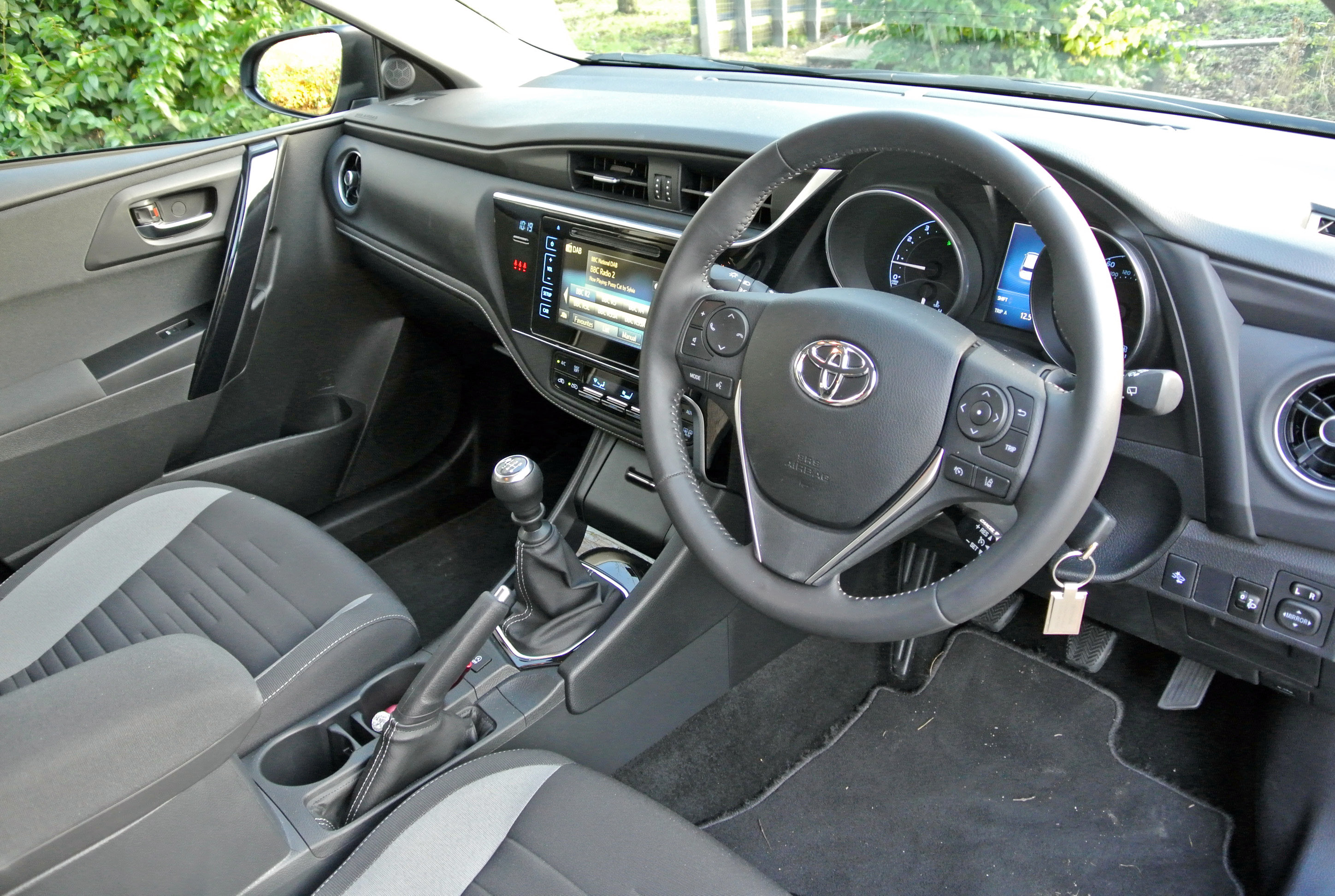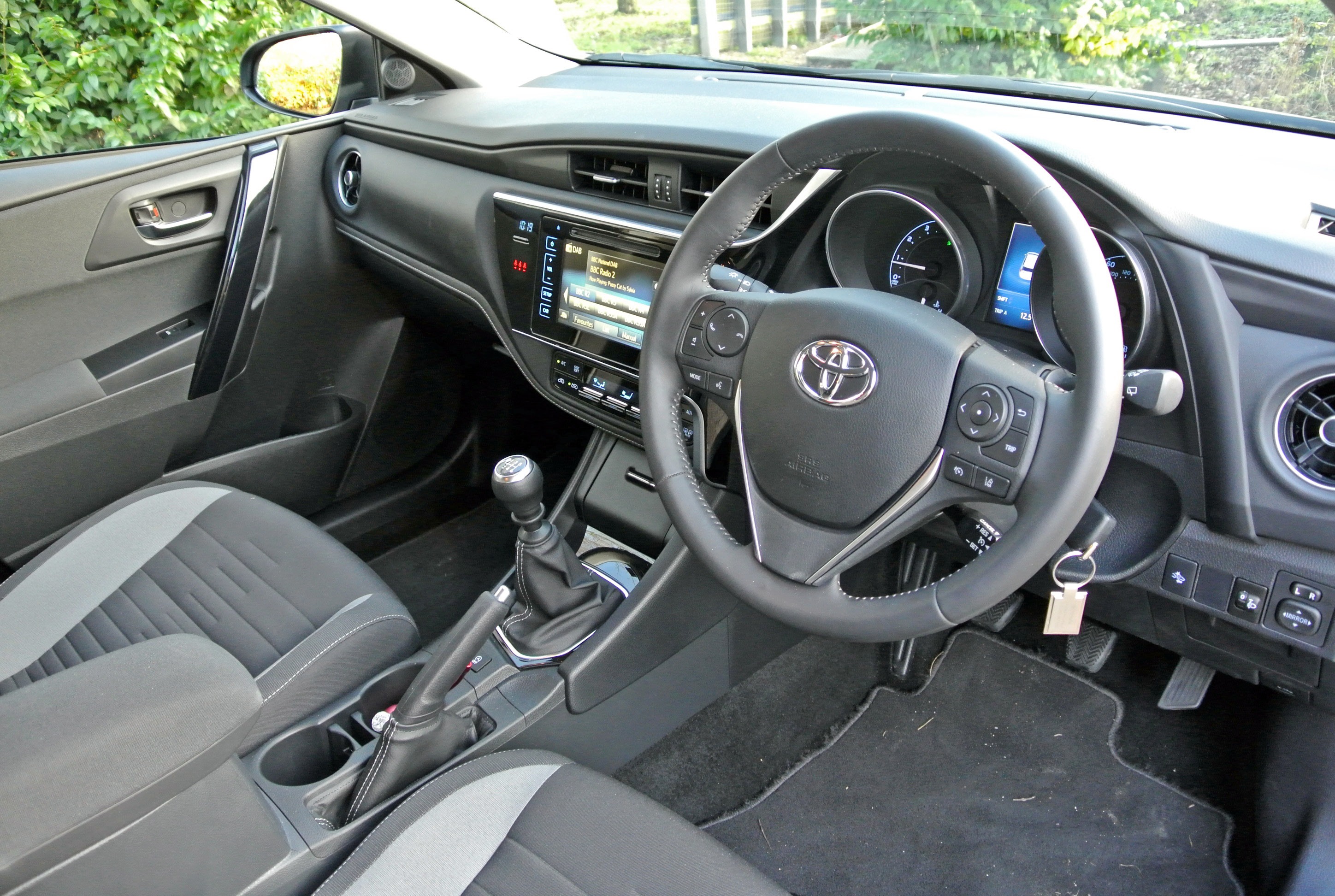 The centre console stack is topped by a touch-screen, while the heating and ventilation is managed by three rocker switches and blue graphics. Just below the HVAC is a lidded bin, within which are the USB and power sockets, with space enough to secrete a mobile phone, or an iPod, as an added bonus. Further back, behind the leather-topped, six-speed manual gearlever but alongside the conventional handbrake lever, is a pair of drinks-holders. The padded lid of the central armrest between the front seats moves fore and aft for added comfort. However, most impressive overall is the fit and finish of the trim, as well as creating an impact with its high-end quality.
The rake and reach adjustable steering column and multi-adjustable driver's seat work through a substantial range to allow a comfortable and supportive driving position for almost any stature of driver. Space in the back seat is slightly compromised by larger front seat occupants, although the rear seats also fold forwards to expand the otherwise acceptable boot area. In the absence of a spare wheel, extra storage compartments are located below the boot floor, which is almost flush with the rear bumper height, making loads easier to slide in and out.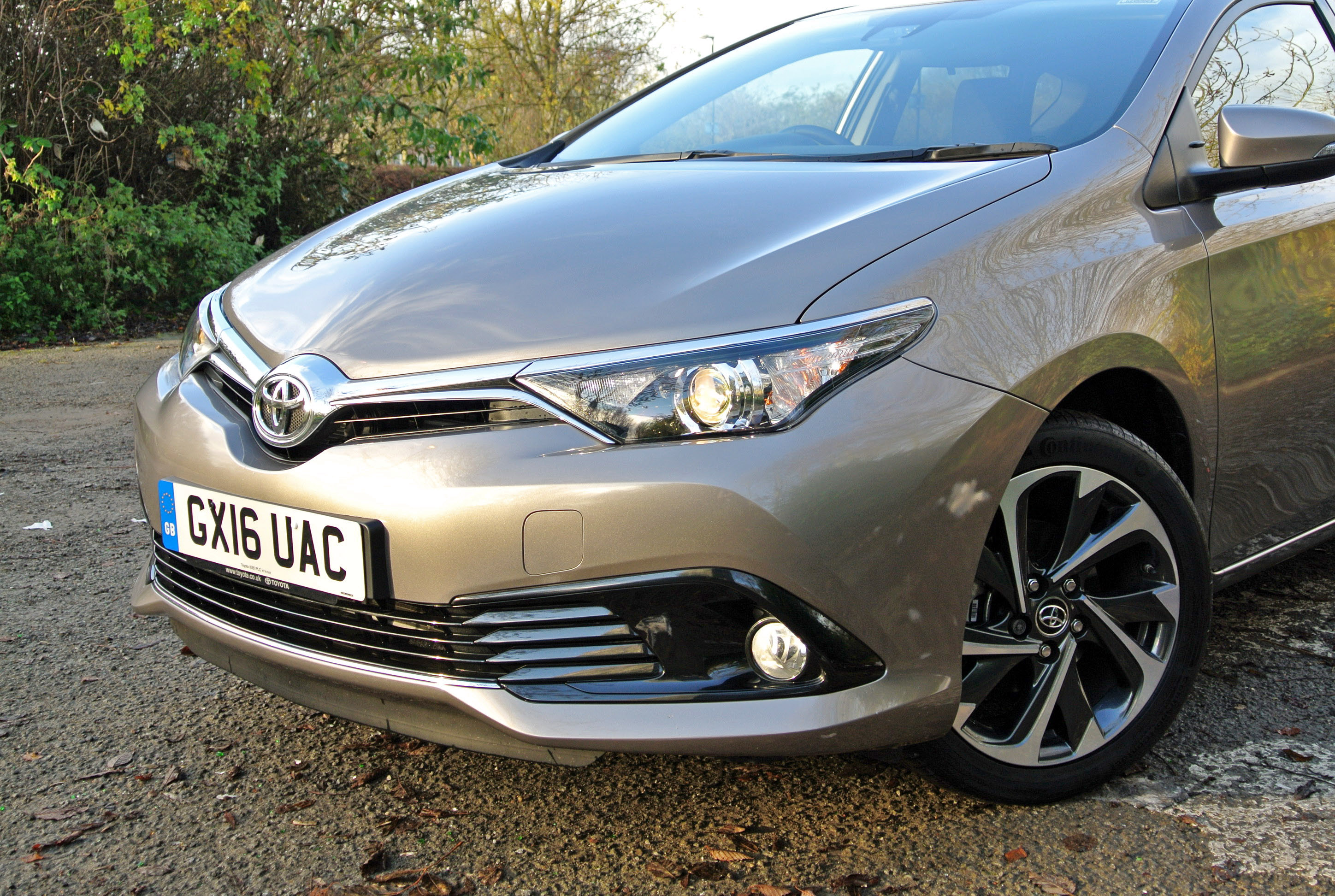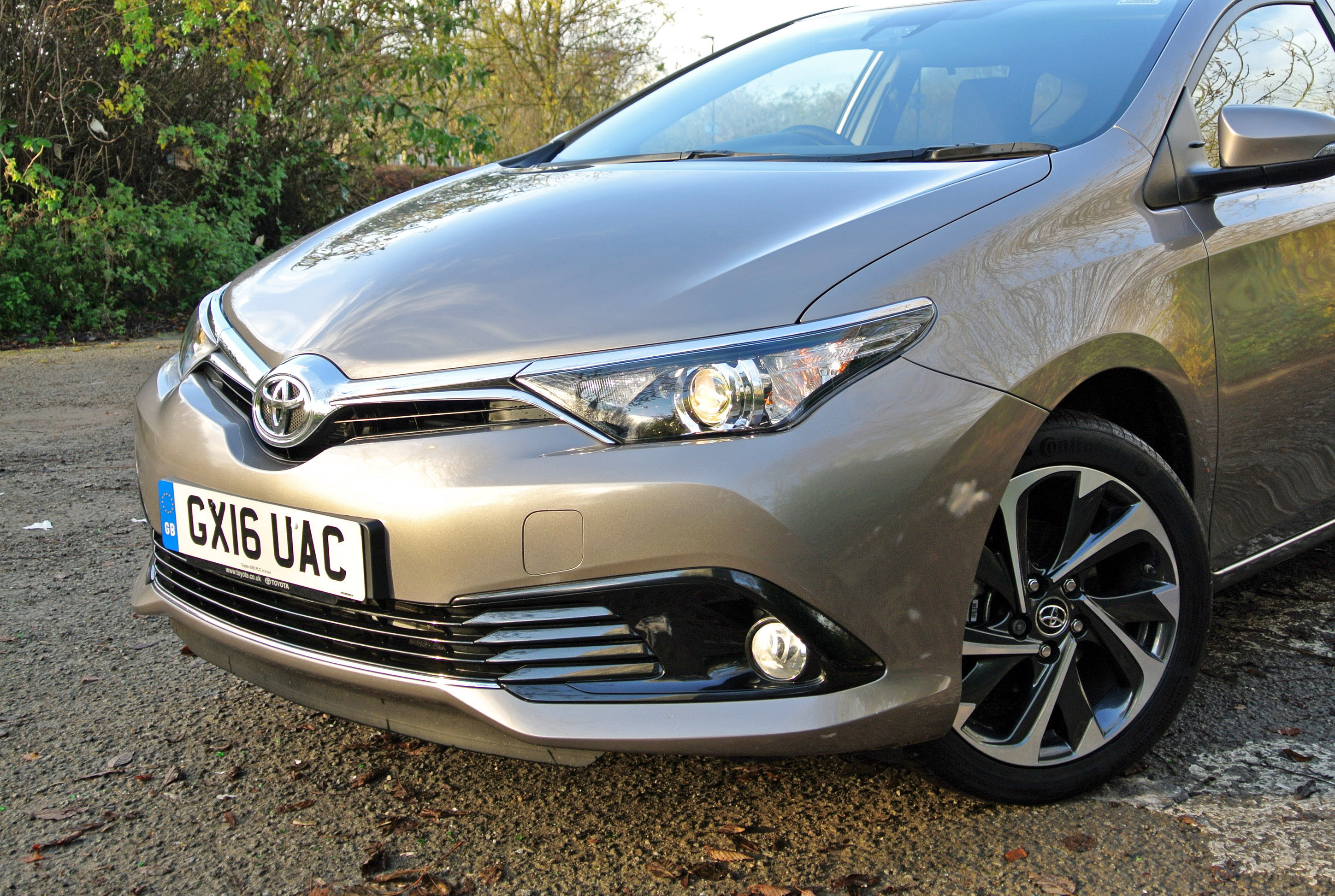 As far as the exterior design is concerned, the chrome-ringed and narrow front headlamps now look especially neat, although, sadly, the lamps' nocturnal performance on dipped beam is very poor and only marginally better on high beam; perhaps Toyota has some future illumination options to contemplate. The lower section of air intake is flanked by five stylish louvres that add to the high-tech appearance. At the rear, the stretched five-pointed-star LED tail-lamp arrays look particularly well integrated, although attempting to depress the electronic rubber strip in the middle (alongside the rearview camera, which displays on the in-dash screen), to gain access to the luggage area, resulted in very grubby fingers, which suggests that a minor design modification may be necessary in that zone.
Today's Auris is vastly different to the original version, possessing both character and more than a degree of charm. It drives supremely well, its steering possessing both decent weight, yet a fluidity of action and feedback to the driver's fingers that is both well-judged and supports the higher quality aims of the car. The same applies to the well-weighted and progressive brakes and even the nicely balanced clutch action, which enables the most delicious snick-snacking of the gearlever through its quadrant.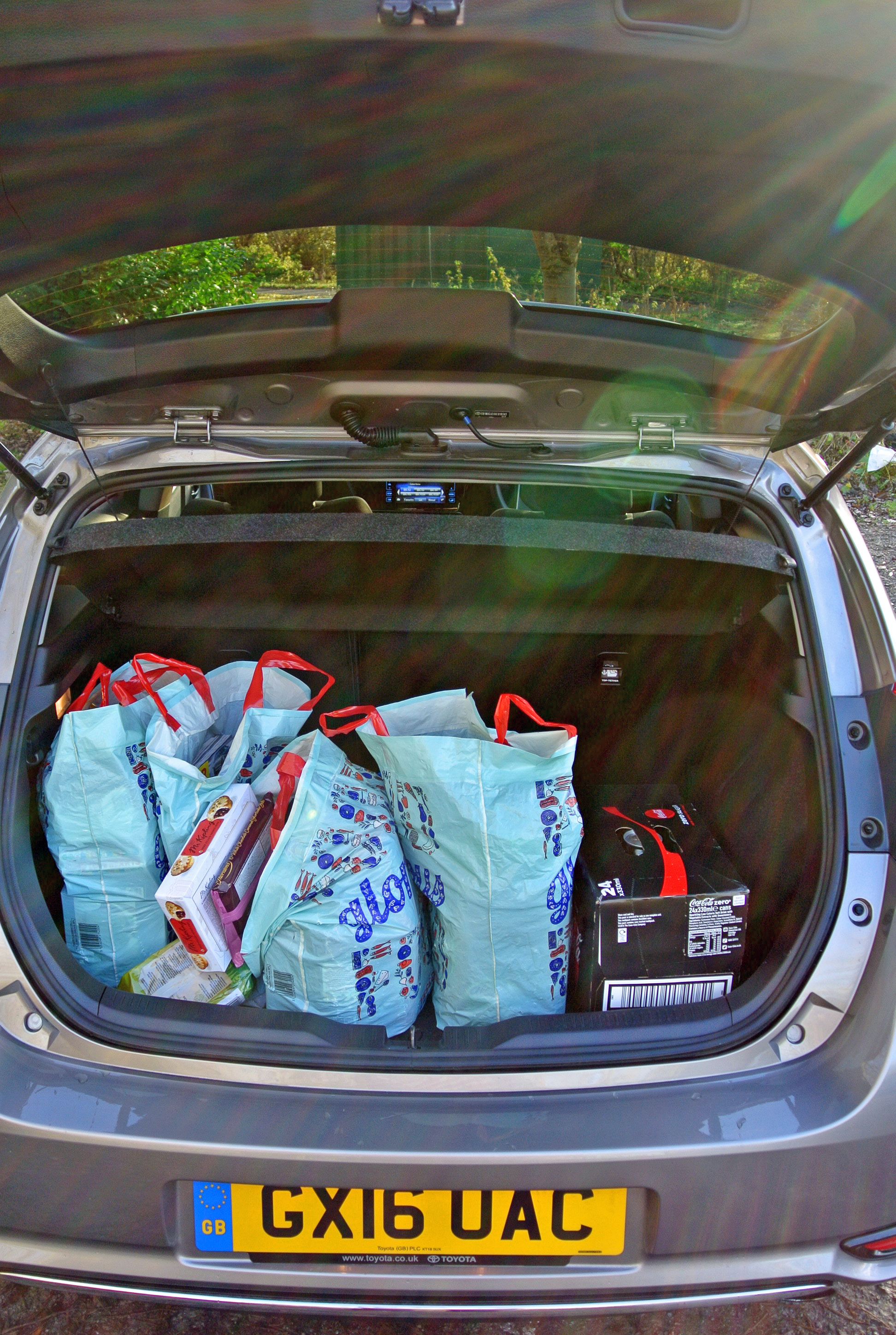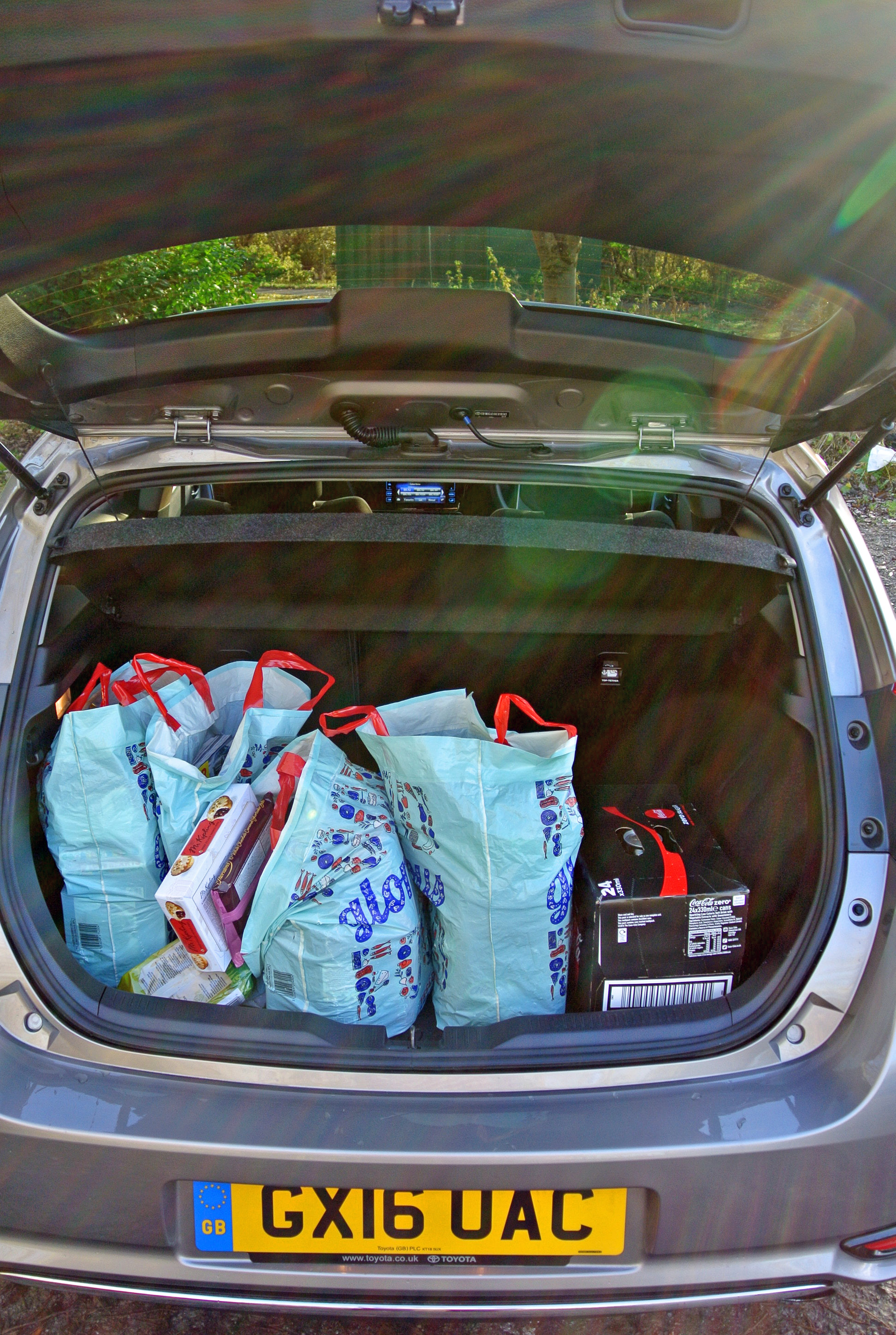 Appositely selected damper and spring rates ensure superb stability, even on the most give and take of road surfaces. Fitted, as mentioned earlier, with 45-profile tyres, cornering grip levels are high, although the overall balance of the Auris is such that even in extreme situations, when the front-end of the car might lose grip and wash out, a simple lift off the throttle draws everything back to normal, before the ESP even kicks in. The car's overall driveability is on a significantly higher plane than I expected of a car in this class and I feel confident that it could handle markedly more power, without losing any of its competence, or composure.
As you can probably gather, I have experienced something of an attitudinal sea-change with my drive of the latest Toyota Auris. It is a handsome car that I feel is finally presenting something approaching a more defined character to potential owners. Auris is not the bargain that the Corolla once used to represent, with prices starting at a hefty £19,945 in Design trim, to which needs to be added £495 for the metallic paint finish and £750 for the Touch & Go system (£21,190 total), although in mitigation, I would suggest that these are 'market prices' and most buyers will opt for a PCP, or a private business finance scheme. Where, in the past, I might have refused the option to live with an Auris, I have now changed my mind and it would be well-qualified 'Yes!', instead.