Occasionally, transport needs demand a combination of more space, more seats and more practicality and VW now has a rival in the form of the latest van-derived MPV from French PSA Group.
The escalation of the humble light commercial vehicle to the ranks of desirable transport is no less than amazing…in the UK and Europe at least. After all, the Americans have a fascination for vans that has lasted for more than half a century and, when you consider how many Americanisms we adopt over here, it amazes me that it has taken us so long to cotton onto the van, to customise it and to revere its clean canvas offering.
Yet, peer along any back street around the UK and it is rare not to spot a converted VW Transporter, some more radical than others, with fat alloys, fancy paint-jobs, lowered suspension, tinted glazing and a pursuit of themes as varied as surf, rally, touring and passion-wagon. All of this plays right into the hands of PSA Group, which owns Peugeot, and its latest Traveller factory van conversion.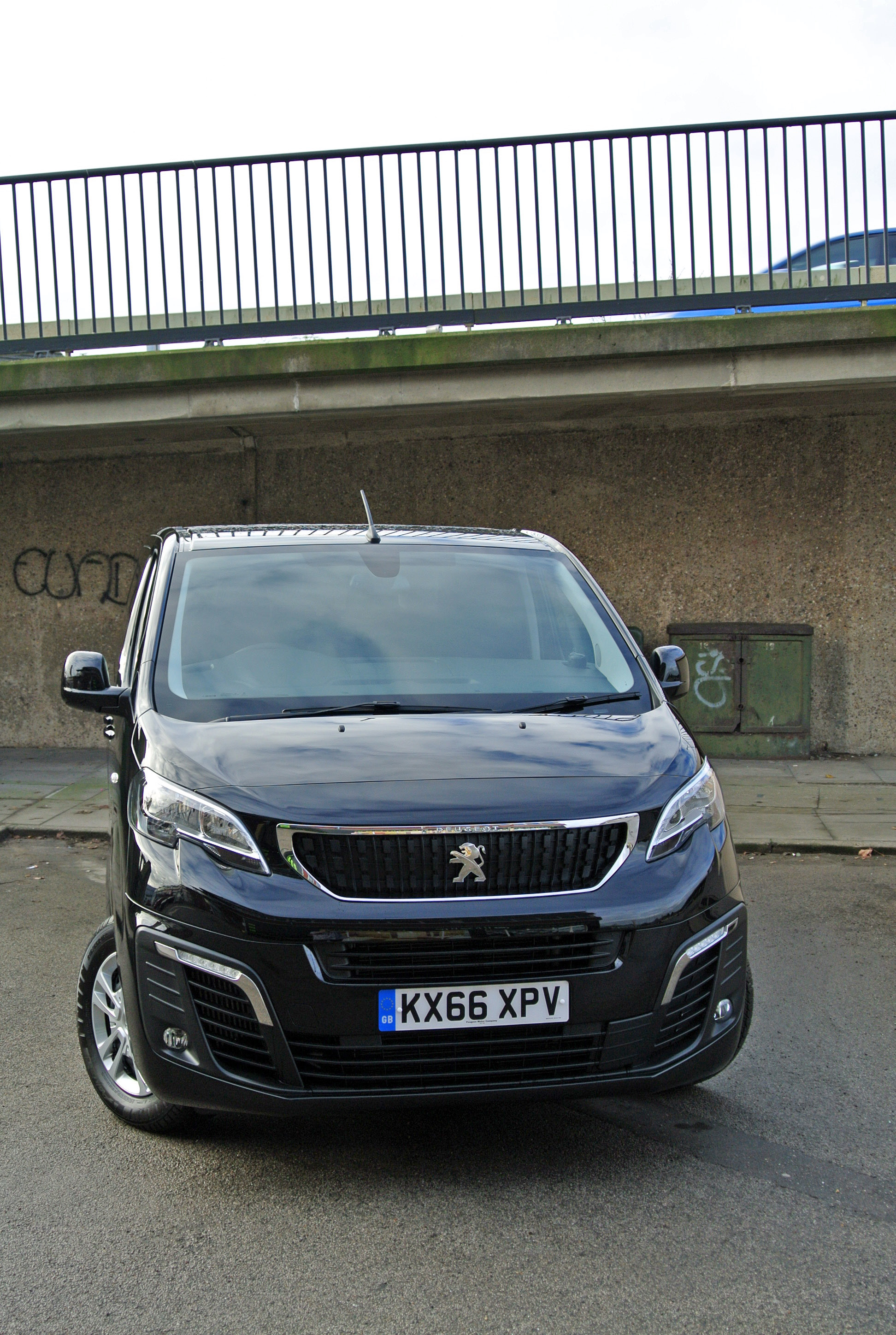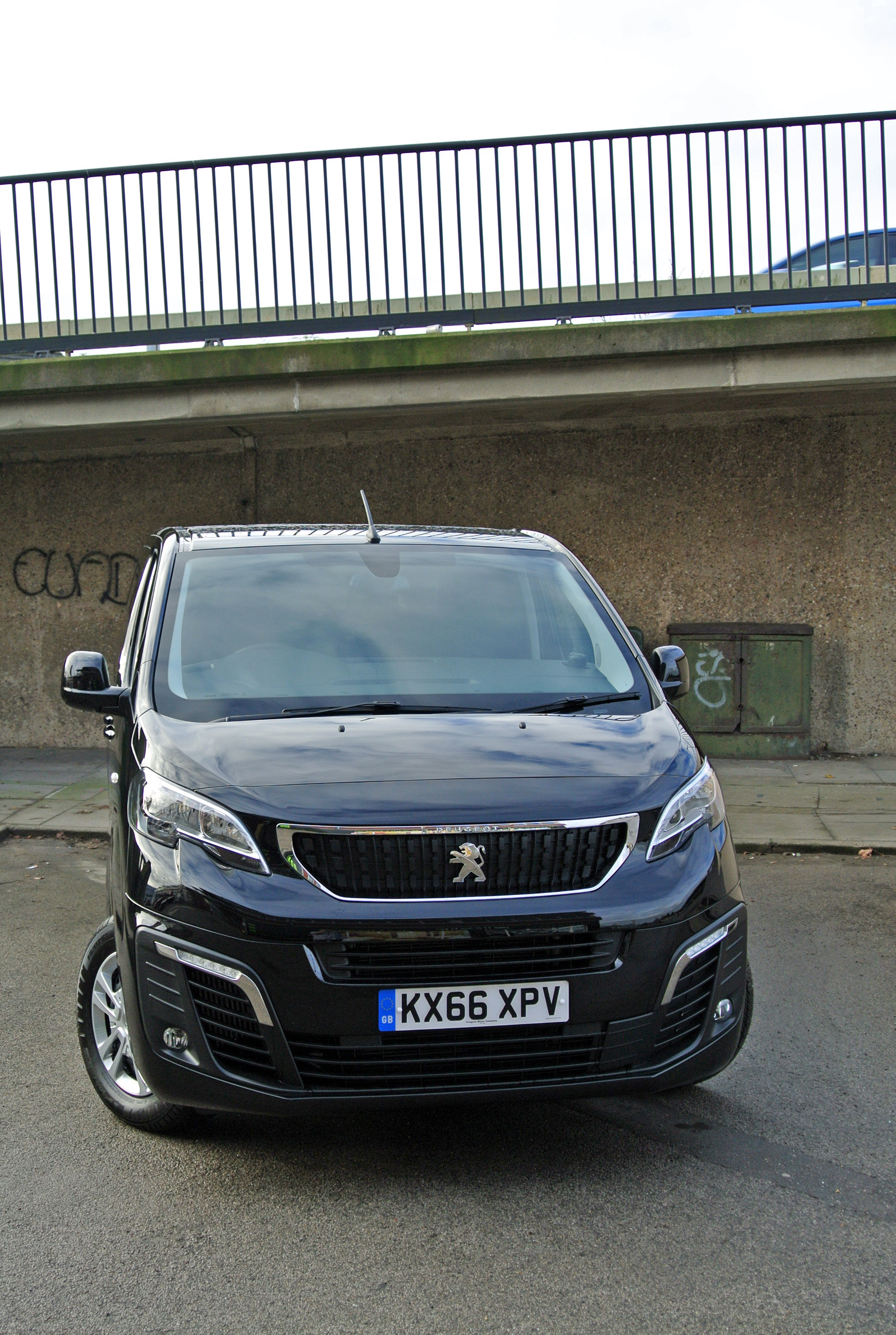 Yet, while VW recognised several years ago that making its light vans easier to live with would have longer term benefits, it has taken a long time for another van-maker to hop onto that wagon. Of course, it could be the influence of the mystical White Van Man, that professional denizen of our roads network, who lives in his van for much of the week and demands a number of car-like features be present. Regardless, while not leaving the commercial leanings too far out of reach, cockpits and cabins (of the vans-with-seats and windows) of most light commercials have improved almost beyond recognition.
However, there is more to satisfying the equation than improving the driving environment. Remember the original Transit? I do. In fact, I drove one of Ford's classic collection examples a couple of years ago and, believe me, it was an experience! Vans have invariably always been smaller trucks. The Transit never attempted to be anything less, from its simple beam front axle, to the cart-springs on the rear, a pair of rudimentary seats up-front possessing hardly any adjustment potential, and a clattery Perkins diesel rattling away beneath the bonnet and struggling to top 55mph, in a downhill, with a tailwind.
Yet, Ford made millions of them, at a time when the American giant used to respect its vehicle manufacturing position in the UK, with not only a full car production factory Thames-side at Dagenham but also The Home of the Transit at Southampton. Quite why that company deserves to remain in the UK sales pole position for either cars, or vans, is actually beyond my mildly xenophobic comprehension. After all, its decision was not exactly beneficial for UK plc. Personally, I shall never buy another Ford, as a result of that firm's desertion of our market and I would urge you to do likewise.
Yet, Transit made the transition from agricultural transport, with marginally less sophistication than a Fordson tractor, to eminently car-like over the course of its recent history. While there is still a lack of 'soft-touch' surfaces within this class of vehicle, which remains a hangover of their intended commercial leanings, where a quick brush and scrub out is normally the only valeting treatment for a hard-worked van, the textures of the plastic trimmings are merging closer to those of regular motorcars, which makes them all the more habitable, of course.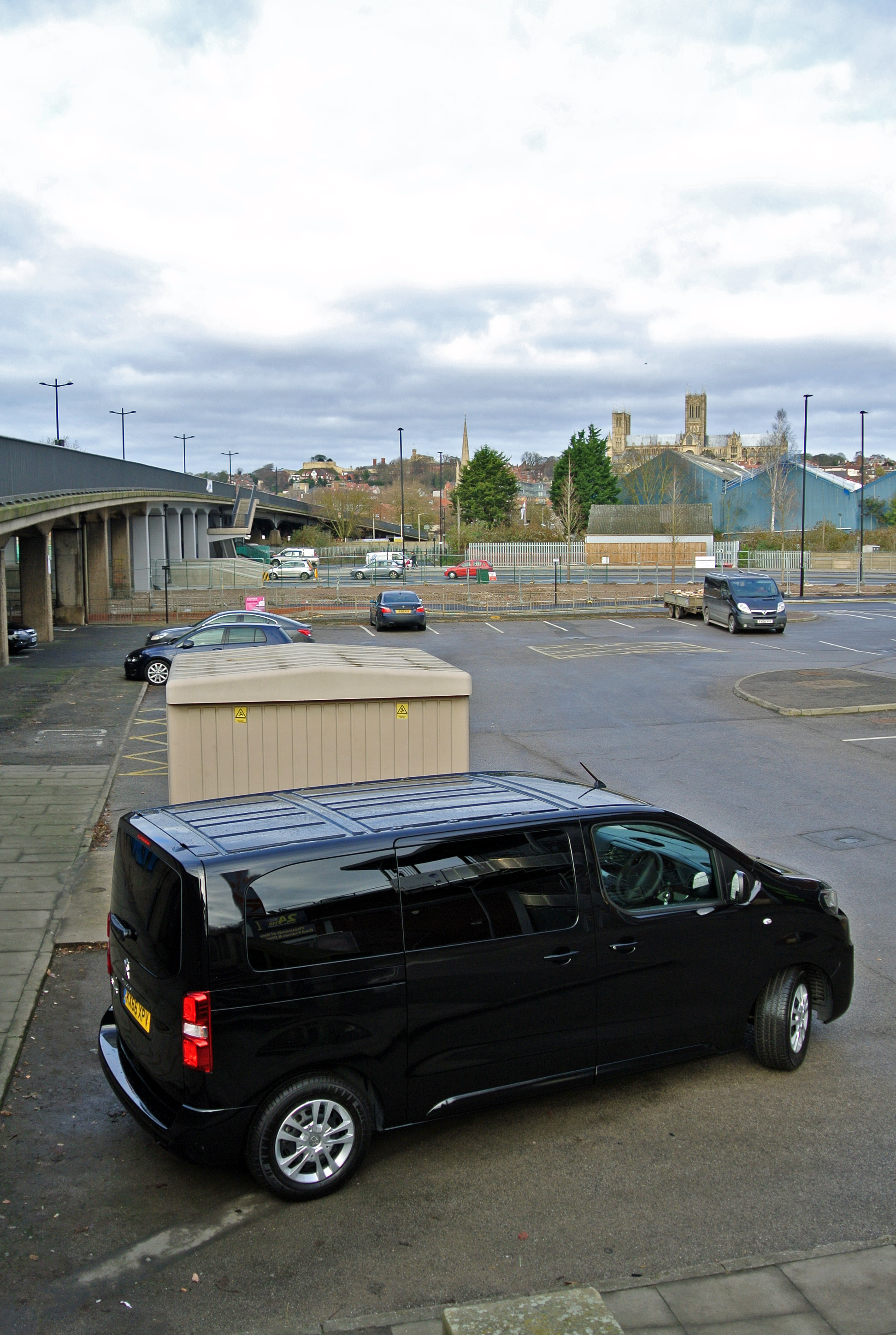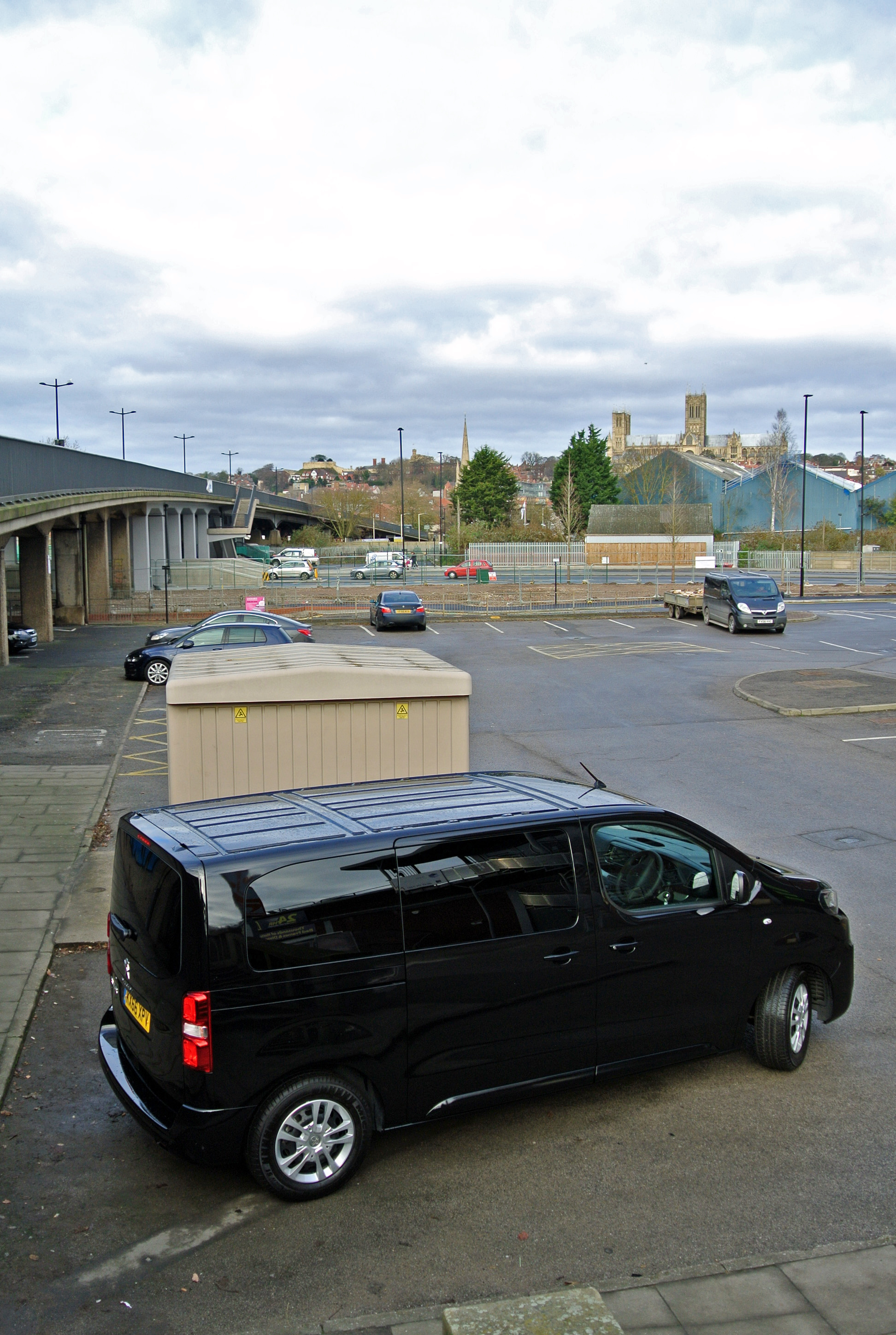 The exterior design of the Peugeot Traveller is neat and uncluttered, the dark tinted, privacy glazing adding somewhat to its visual appeal. Naturally, its front end is Peugeot corporate, with headlamp units that look to be close in style to those on the latest 2008 and 3008 passenger cars. Apart from that and the first-rate quality of its paintwork, there is very little that can be added to its one-box design. However, within that framework is a practical space for up to nine persons (including the driver), with a decently sized luggage area behind (and below a robust parcel shelf).
For added convenience, both offside seats in rows two and three can be folded, or tilted and removed, for both access and for carrying longer loads. The cloth covered seats in this Business specification version are comfortable and would serve purpose even for the longer drive. It is worth highlighting that there are three body lengths available (two chassis lengths) in the Traveller range and the test van is actually the middle, standard version.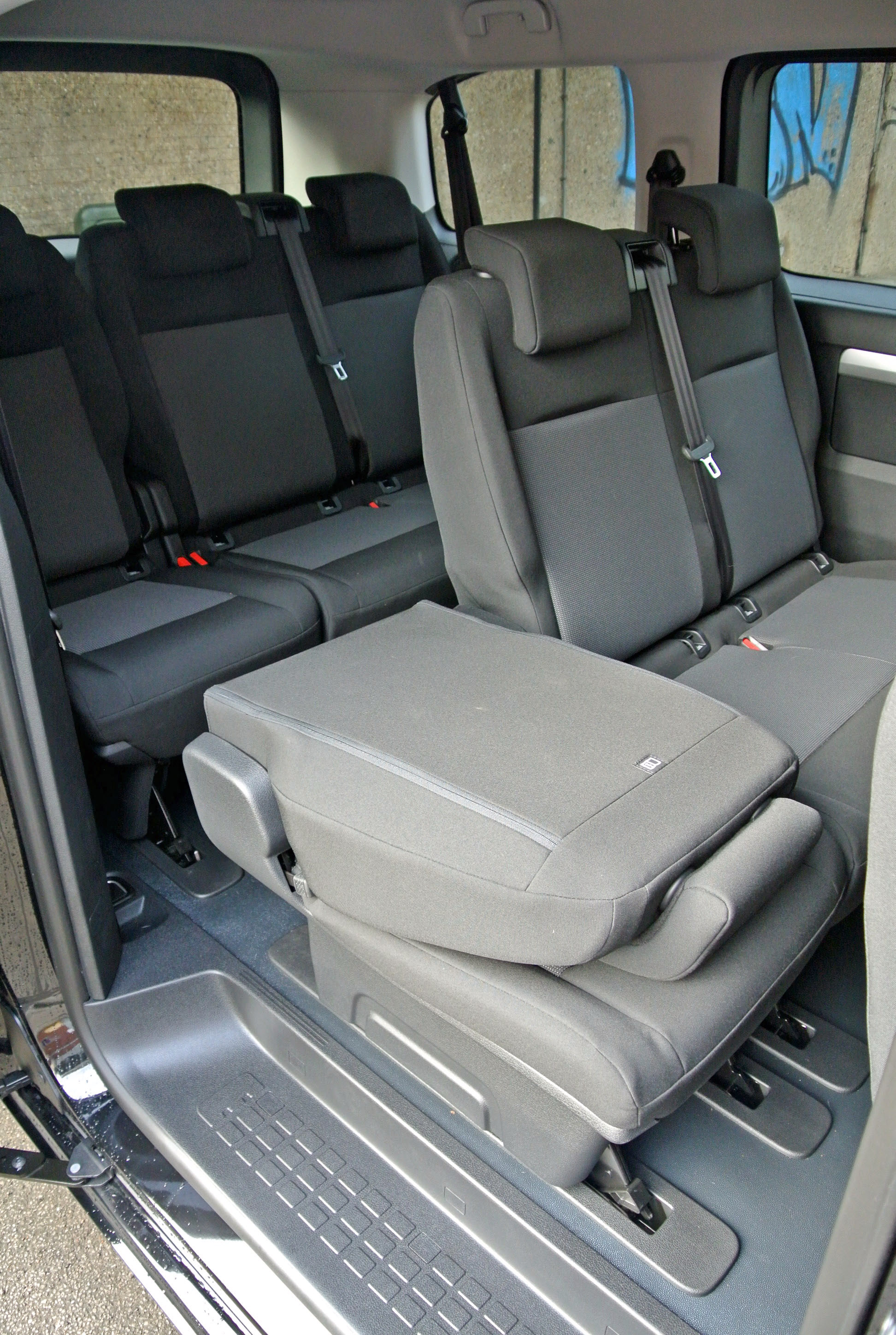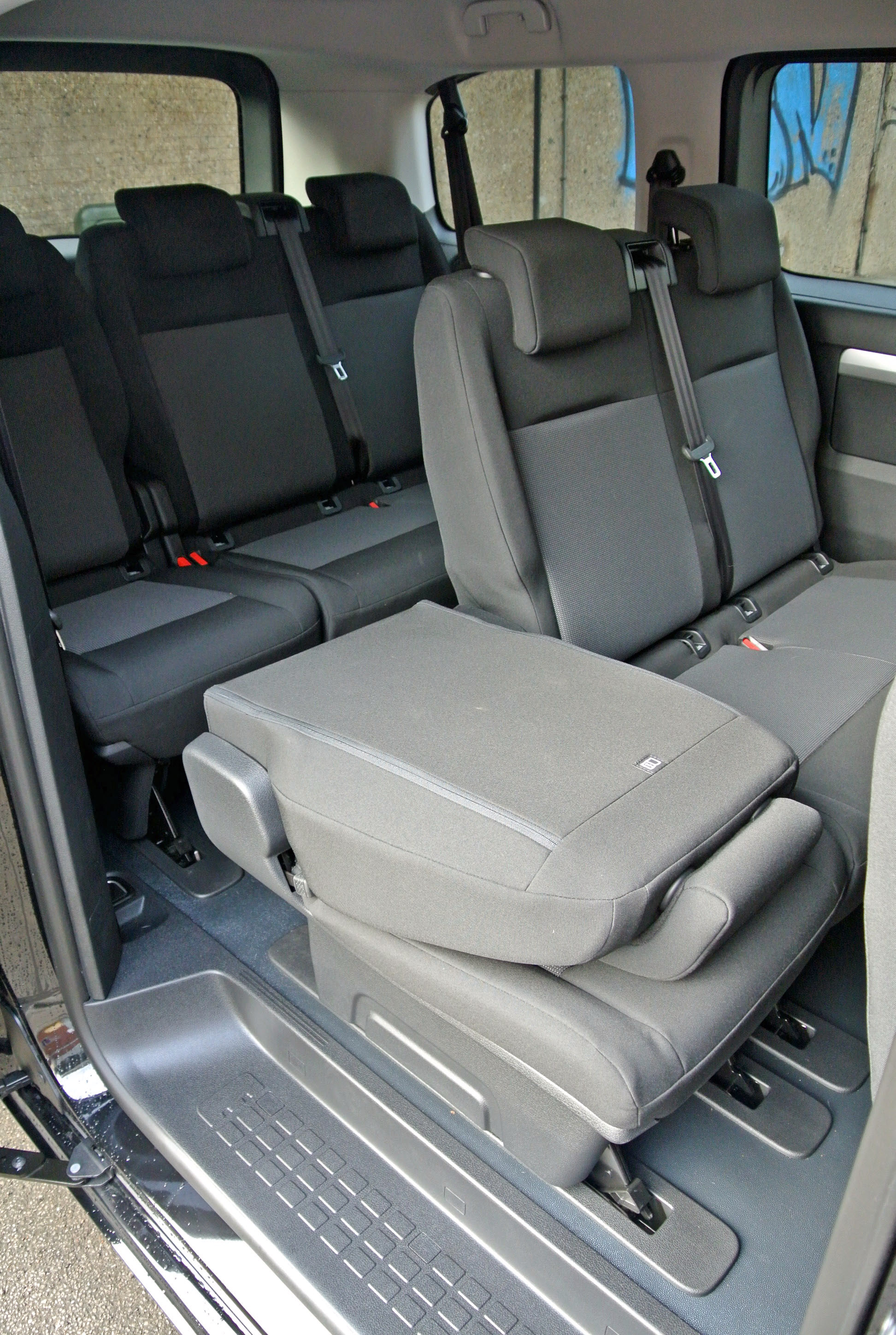 The driver's seat adjusts for height, as well as rake and reach, while the steering column can also be adjusted to create a truly comfortable driving position. Ahead of the driver is an instrument pod containing a matched pair of speedometer and rev-counter dials. A large touch-screen is located in the centre of the dashboard panel, for which the only omission is the optional sat-nav, although users can mirror-link their mobile phones and, thus, music streams to the head-unit. Below it are the heating and ventilation controls. For all the additional cost it would add to a vehicle that weighs in from around £28,000 (including VAT; the test vehicle costs £29,650), I just wish that van-makers would place rubber mats as standard within the various storage cubbies, slots and bins, which would not only cut down extraneous noise but would stop items from sliding around hard plastic surfaces. On a vehicle that will be used for people-carrying purposes, this minor enhancement will make a world of difference.
Although a carpeted floor features in the £40k VIP versions of the Traveller, a fitted rubber covering suffices from the front to the rear of the cabin in this example. Although it features sound deadening materials beneath it, it can be washed out with care, which makes it suitable for quite heavy usage and lends its practicality to the taxi ranks.
Powering this model is the ever popular 1.6-litre PSA HDi turbo-diesel engine, developing a modest 112bhp. While it is enough to deliver a 0-60mph acceleration time of 13.1 seconds and a maximum speed of 99mph, with just a driver on-board, I feel that it would struggle on hills and when driven on A and B-roads cross-country, were each seat occupied. It is not a bad base unit (there is an 87bhp version as well) but I think that heavier usage might demand the optional 2.0-litre in either 147, or 177bhp forms, for greater longevity and as relief from working the van hard to maintain momentum. Emitting 137g/km of CO2, it will not be overly expensive to re-tax annually.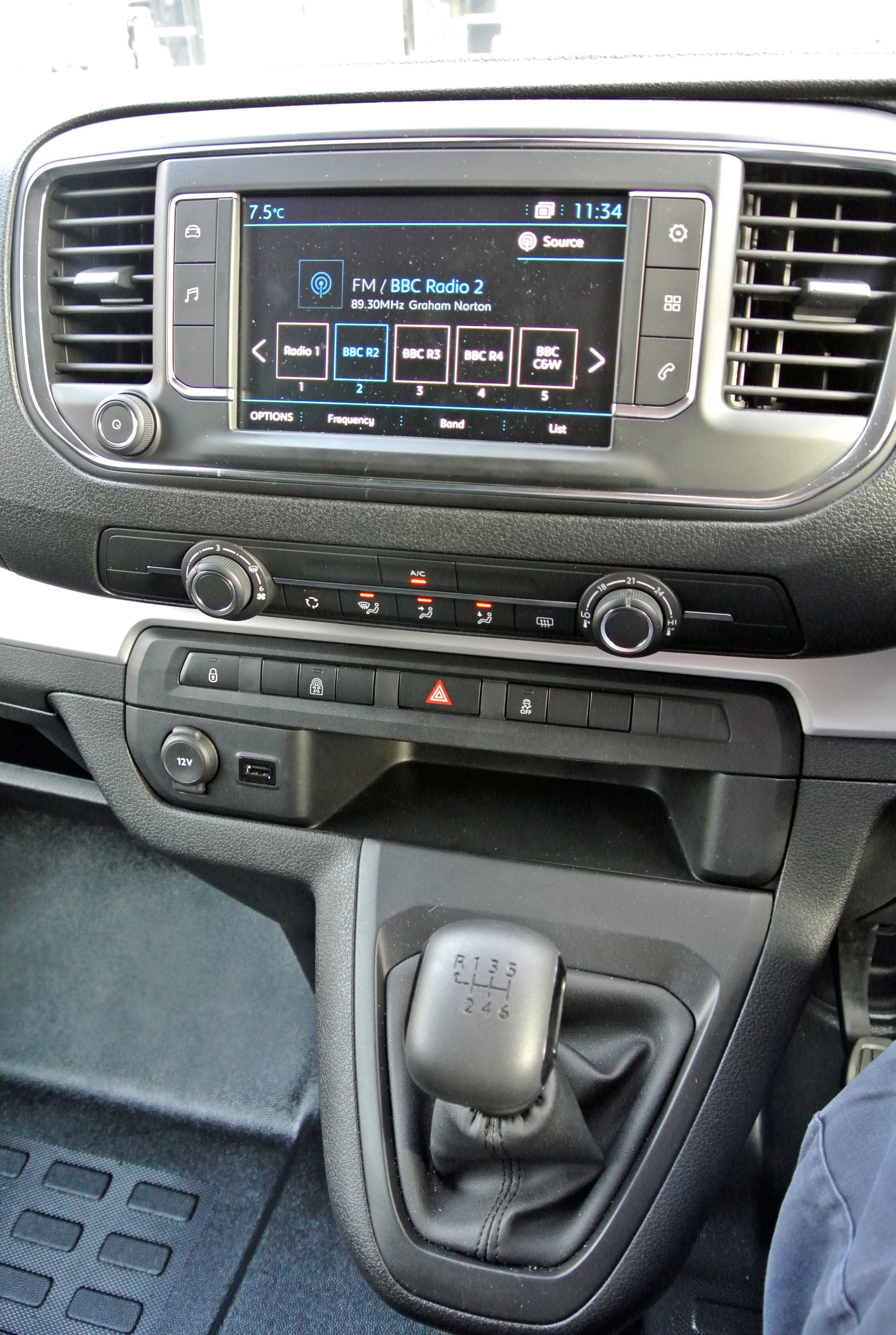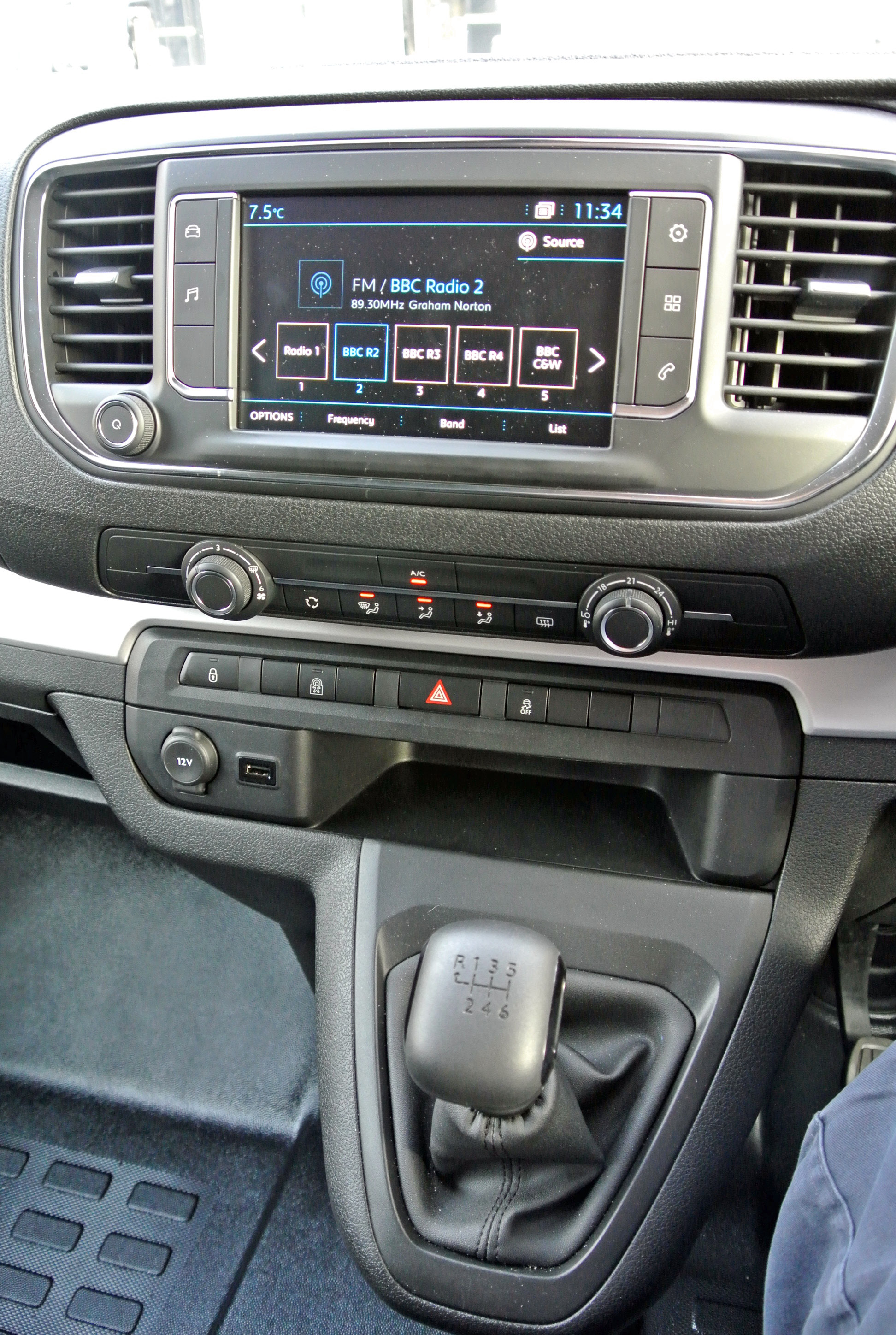 Mated to a six-speed manual gearbox, even though the shift linkage is quite remote, the shift quality is excellent and speedy, which is fortunate on a lower powered version. Featuring independent suspension all-round, the van's handling is surprisingly roll-free and very tidy. The ride quality, while firm, is quite compliant and there are no major signs of lightly laden pitching that can occur on vehicles of this class and size. This, of course, is highly beneficial to passengers, especially in avoidance of car sickness. Its steering is moderately low-geared, demanding almost four turns for lock-to-lock manoeuvring, although a modest turning circle of just over forty feet makes it manageable in town centres and car parks.
Considering that Volkswagen has had this sector of the vans-with-windows market pretty much to itself for a number of years, the Peugeot Traveller is a welcome addition. It is a good looking van and its cabin, while lacking some refinements, is a comfortable place to reside. I do believe that it is slightly over-priced but, as most businesses will claim back the VAT element and lease programmes will reflect the moderate residual values held by LCVs, a Peugeot Traveller should have no difficulty finding a sound base of customers, even if they are just protesting the Ford situation!