Refined and adjusted ever-so-gently during its existence, the purposeful pickup truck, highlights Iain Robertson, is a solid role-player and the latest Navara is intended to maintain its status at the head of the class.
My farmer granddad first taught me to drive, on his hill farm, in the Perthshire Highlands, at the controls of a 'pickup'.  Truth is, I sort of steered…he used the hand-throttle…it was actually a Rolls-Royce engined Austin Gypsy, with its lid removed for easier access. Yet, to nine year old me, it was 'truck'.
While I have always comprehended the practicality of the pickup and one of my favourite Matchbox toys was a Jeep Wagoneer in pickup form, it was not until I was in my late-teens and living in Canada that I was able to extol its virtues first-hand. My 4WD Chevy Comanche truck was powered by a 5.7-litre V8 petrol engine, which was just about enough to transport me and Skidoo to wherever I wished to go, in some style. Incidentally, in summer, it could leave twin 50 yard lines of burnt rubber at any and every junction…
More recently, I still recall my British driving experiences at the helm of the Dodge Viper V10 engined truck; a left-hooker that stood head and shoulders above all traffic and other road-users, possessing a 0-60mph acceleration time of 4.7 seconds and a top speed around 150mph. It was ridiculous but 'hot' trucks are de rigueur in the North American market…much as they are in Australia. Of course, this did beg the question, could they work in the UK?
Well, for the past few decades, car-derived-trucks have enjoyed a very small percentage of the nation's total new vehicle registration statistics. Their primary aim has been to aid farmers and industrial users, with models as 'exotic' as the Subaru BRAT and Hyundai Pony. Yet, a slightly heavier-duty variant would grow the sector ever so slightly into a larger volume status, predominated by the Japanese brands. In fact, Nissan possesses more than 50 years of small truck knowledge and experience and it was in the vanguard of Benefit-in-Kind tax-dodging aspects during the 1990s, even though Mitsubishi led the revolution, with its variant.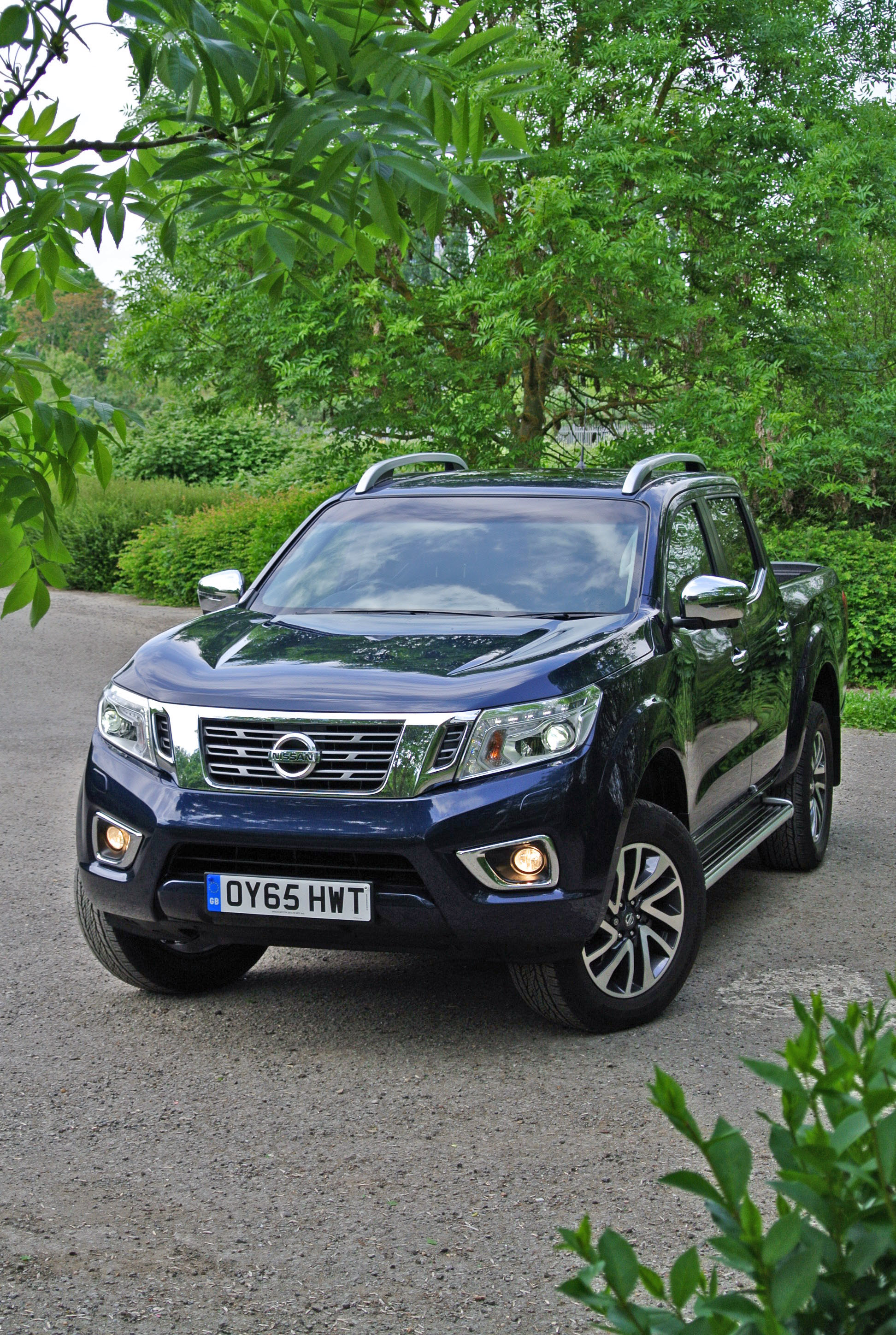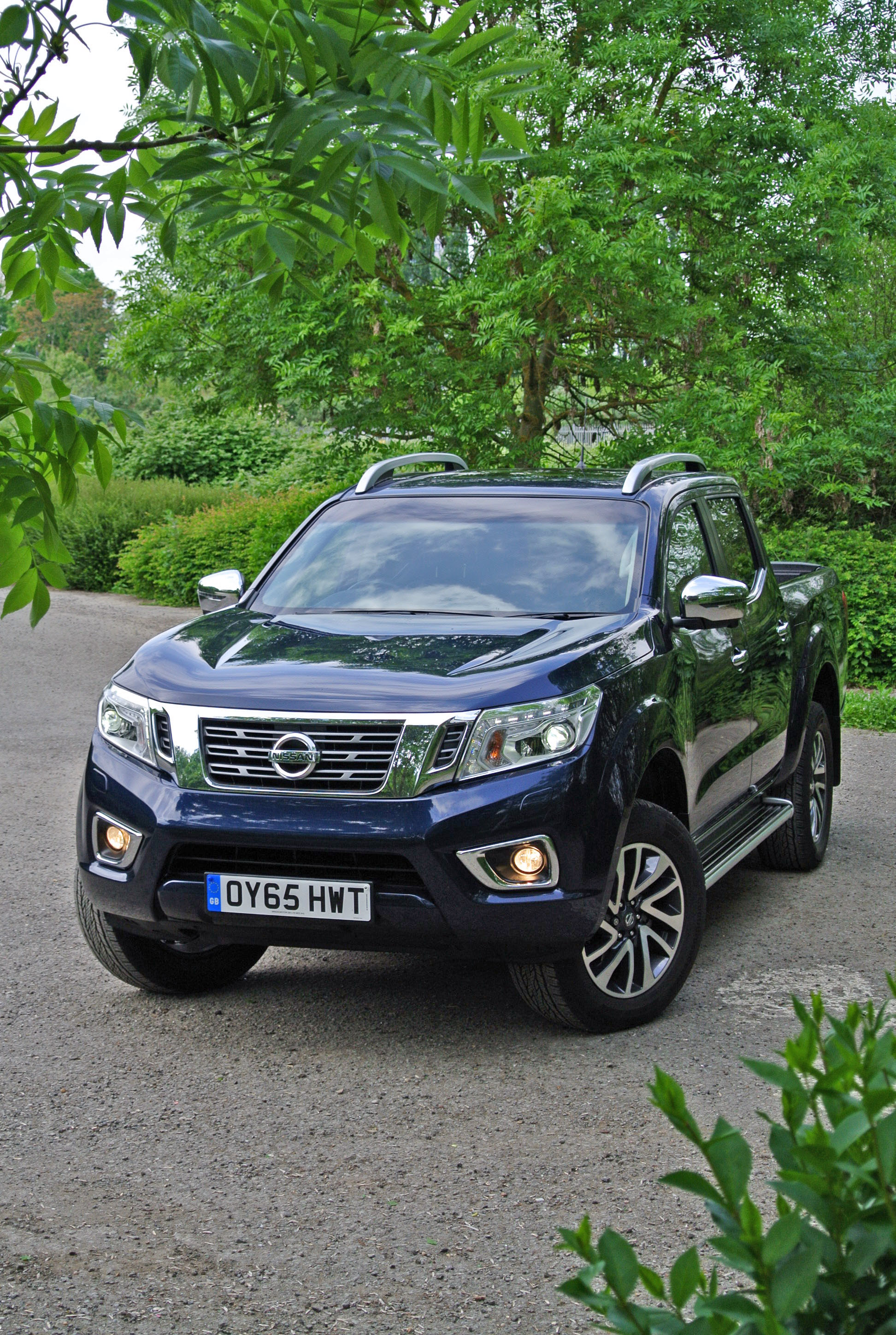 In case you wondered, as long as a pickup truck could carry one tonne of payload, it could escape the percentage-based company car tax reckoning, which meant that, in return for an annual tax of just £500, as opposed to upwards of £2,000, the business vehicle user would also obtain significantly greater value for money. It was the ideal quid quo pro.
While Mitsubishi and Nissan battled it out, Toyota, Isuzu, Ford and Volkswagen joined the throng. Yet, it was VW that took a swipe at the sector and started to change it comprehensively, by tackling the quality and passenger car-like details. Nissan had already introduced the truly tough Navara model and it generated an immense amount of support, especially from the leisure sector, which set out the stall for the latest iteration of what I have described as 'the best pickup truck sold in the UK'.
The latest NP300 Navara double-cab, in popular, up-market Tekna trim, is an amazing machine. Its cab is typically truck-like to enter and escape from, which ensures that the various grab-handles earn their keep. However, powered by a bi-turbo-diesel, 2.3-litre, 4-cylinder power unit that develops a cosy 187bhp, which drives either rear only, or all four, wheels through an advanced 7-speed automatic transmission, while moderately easy to pilot, shrinking violets are never going to be its primary customers.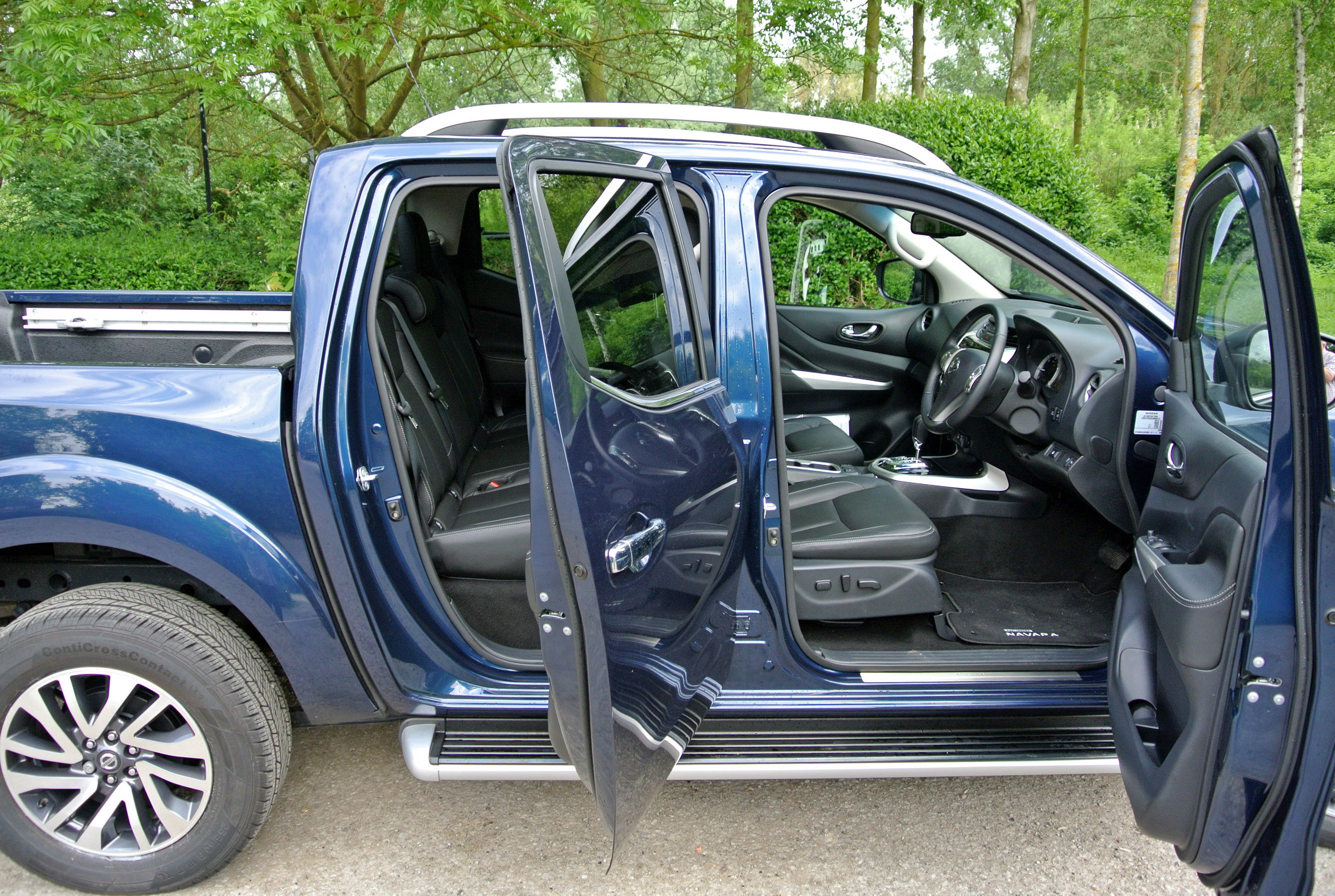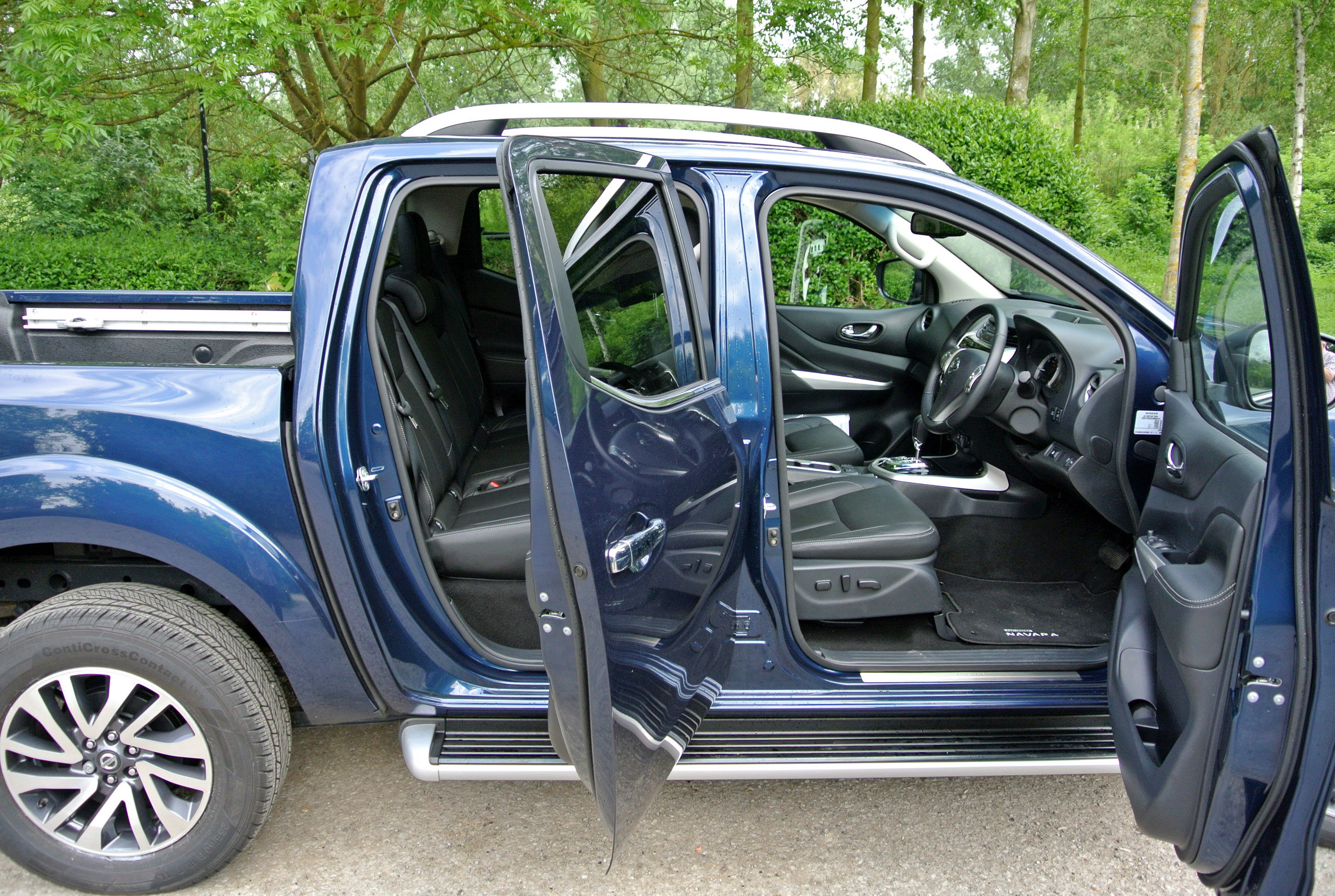 Tipping the scales at just shy of two tonnes and based on a sturdy ladder chassis frame, it offers a towing capacity of 3.5-tonnes, aided by 331lbs ft of strident engine torque, and needs one-and-a-half parking spaces at the local supermarket, to accommodate its 5.3m length and just over 2m width. Given its head on the open road, it can whoosh from 0-60mph in around 10.0 seconds, topping out at a limited 112mph, with a gushing noise emanating from its viscous-coupled cooling fan drowning out any diesel clatter at idle.
Its Official Combined fuel economy is given as 40.3mpg, although nearer to 34mpg will be the norm while running in 2WD (you can lop 5mpg from that figure for 4×4 applications), and the engine emits a modest 183g/km CO2, which equates to a VED of £350 in year one, followed by £225 per annum in Band I.
The Nissan remains rare property in the truck sector, being suspended by coils all-round, which afford it a dynamic capability that few of its rivals that normally use cart sprung rear axles can equal. Having said that, it does feel like a great lumbering beast at low speeds, despite its power steering and auto-box. The ride quality in unladen state is best described as 'knobbly', although at speeds above 45mph, everything seems to smooth out and progress can be surprisingly spirited and refined. With rather too much ease, the speedometer will register 70-80mph, although the cabin is devoid of either road, or wind racket. Yet the steering feels responsive enough, regardless of its 12.4m turning circle, and the ride quality is more than just acceptably good.
It is worth noting that the build quality is exemplary. The doors shut with a solid thunk and there are zero squeaks and rattles emanating from within the cab. Much like a full-size SUV, the cabin feels immense and built to last. There are no soft-touch surfaces, with due deference to its alter ego role as a mud-plugger, as wipe-clean is far preferable to spending hours with upholstery cleanser, following an afternoon sampling Navara's off-road potential. Incidentally, the drive selector is a dial located in the lower centre console.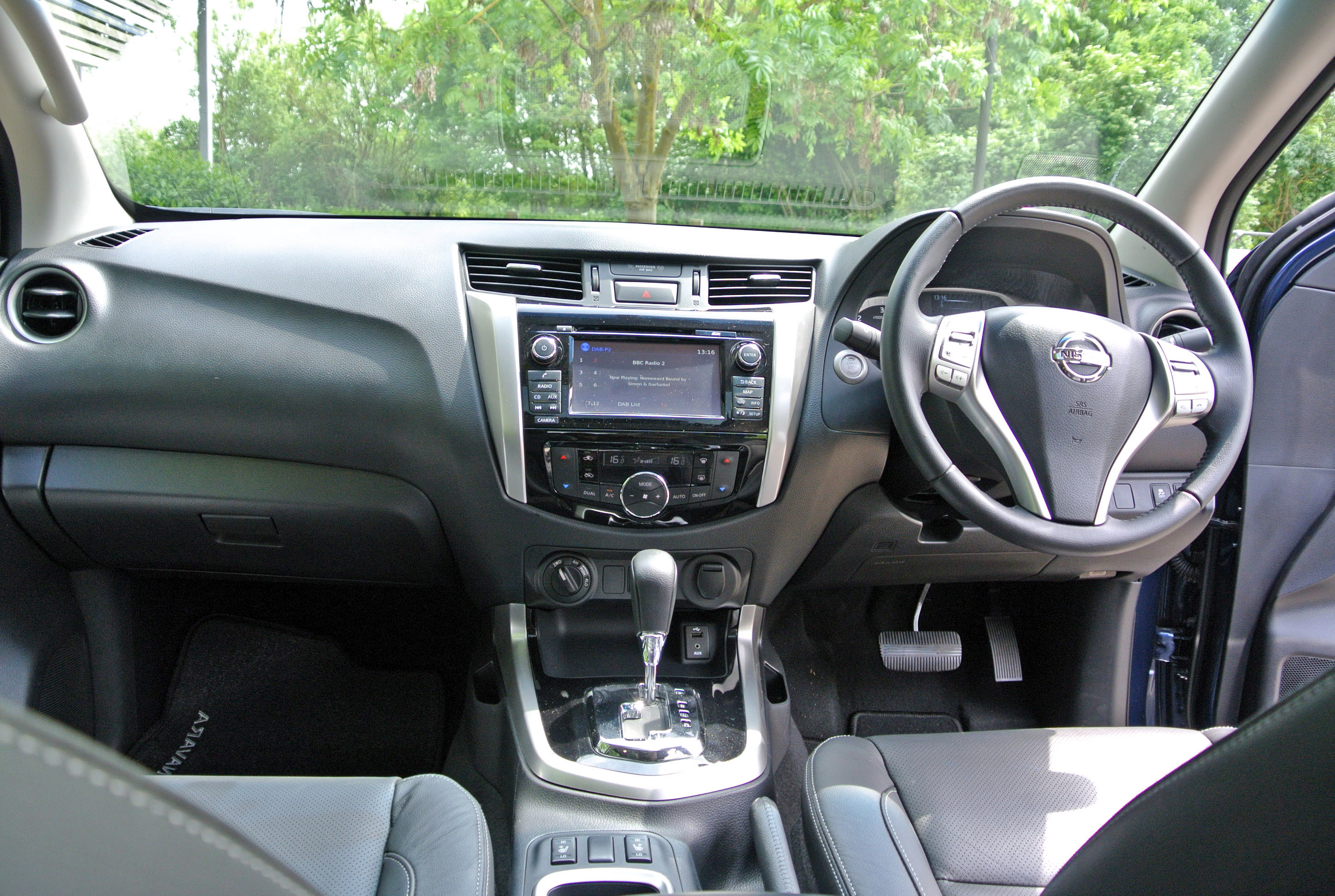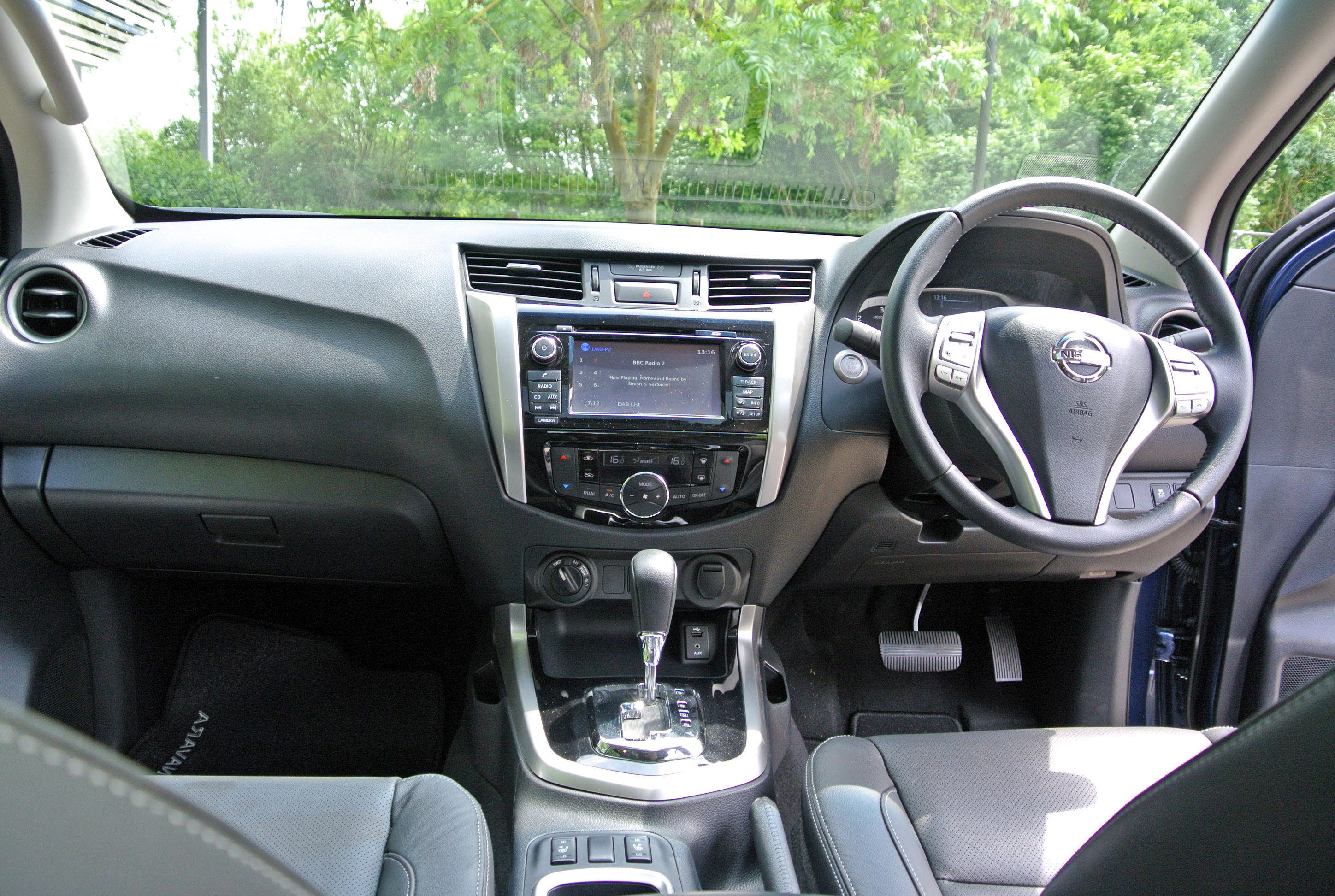 However, the cabin is not so agricultural that it feels non-car-like. Apart from the blingy auto-transmission selector, a piano black centre console carries the air-con controls and a high-resolution, 7-inch touch-screen that provides a stereo head-unit, a screen for the reversing and around-car cameras and the customary mobile-phone links. Clad in hard wearing grey hide, the heated front seats are both supportive and comfortable, although the three-abreast rear bench is a little too upright for extended travel use. Its base can be hinged upwards, should you require extra carrying capacity and the jack and wheelbrace are located in a pair of under-carpet bins below it.
Equipped with electric windows, mirrors and a proper sunroof, it is a well-specified driving environment, supplemented with more 12V power outlets than seems feasible. As well as a pushbutton start and keyless entry, auto-on headlamps and wipers provide familiar fayre for car owners. The Navara also puts on a decent show externally, with 18-inch alloy wheels, clad in 255/60 section all-weather tyres, roof bars on the cab and an 'Armadillo' bed-liner, with adjustable, heavy-duty load restraint hooks.
Blessed (although I do feel it is a mixed blessing) with a 24-months/16,000-miles service interval and Nissan's reputation for indefatigable reliability, living with the latest Nissan Navara is unlikely to be excessively taxing (in more ways than one). It is a handsome and impressive truck. Consummately easy to drive, thanks to its auto-box and moderate manoeuvrability (although it is not the most agile vehicle in its class), the Navara has a solid role to fulfil and, if towing is a requirement, it will despatch that duty readily.