Renault's latest SUV offering is neither nasty, nor obnoxious, states Iain Robertson, as he revels in a style-centred, high-quality family car that exudes far higher levels of driving satisfaction than he ever anticipated.
By all definitions, Kadjar is a name without meaning. Its closest relationship is with a member of the Iranian royal house and a prince by the name of 'Qajar', which, with a 'zhizh' phonetic to the 'j', is how Renault would prefer that you pronounced it. Thanks to my on-going obtuseness, my leaning is towards 'cadger', defined in Middle English as a person who scrounges, or begs, with no intention of repayment, while the Scots define a cadger as a pedlar, or a carrier.
To a certain extent, Renault may have struck pay-dirt with its choice. All commercially enlightened businesses register their product names and then protect them vehemently with the full rigours of the copyright legal system. Kadjar has no rivals. Kadjar is Renault-speak for its version of the Nissan Qashqai, a convenient platform-engineered SUV model arising from the strategic relationship that exists between the Japanese and the French firms. Personally, I prefer the latter, as you will discover imminently.
A few years ago, I met today's very charming design chief at Renault, a man of Dutch birth, whom, aged just 25 years, commenced his design career with styling the interior of the ill-fated but highly revered Bugatti EB110, when he worked at Design System in Turin, Italy. It was on one of those rare occasions that I happened to be visiting the spectacular Bugatti factory, at Campogalliano, just across the motorway from Ferrari, where I first met him. He was impressive then.
Subsequently, after spending some time with Audi, then Ford, he gravitated to Mazda and became its global design chief. While Mazda remains an independent and fairly small manufacturer, his guidance resulted in some truly excellent car designs and also gave precedence to a colour that I regard as 'Van Den Acker Red', because it graced every new Mazda concept of the period and also features most attractively on every new Renault, since he moved to the French company in 2009. It needs to be highlighted that his name, especially if said quickly, is almost as unfortunate as that of the Kadjar, even though it is now synonymous with it.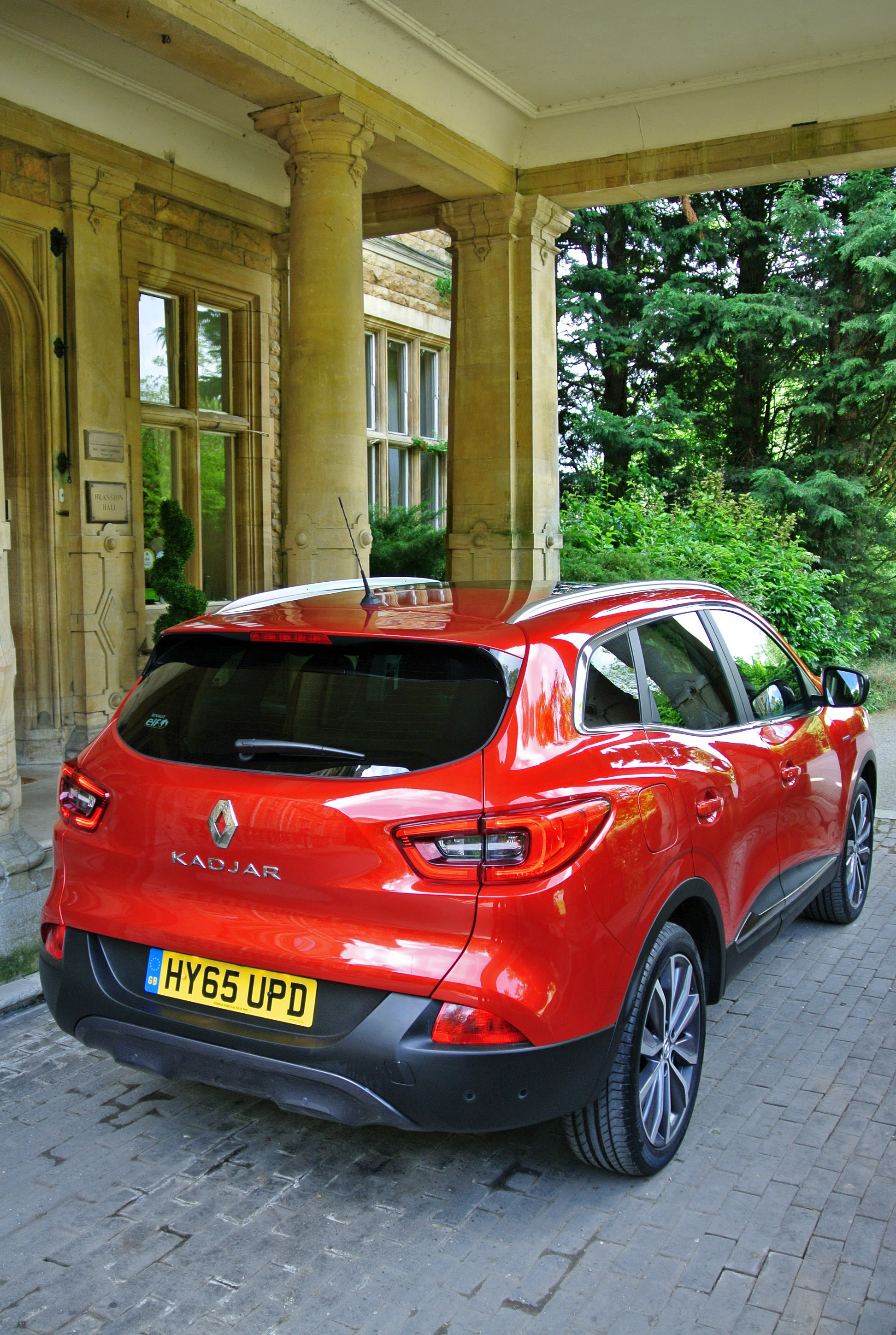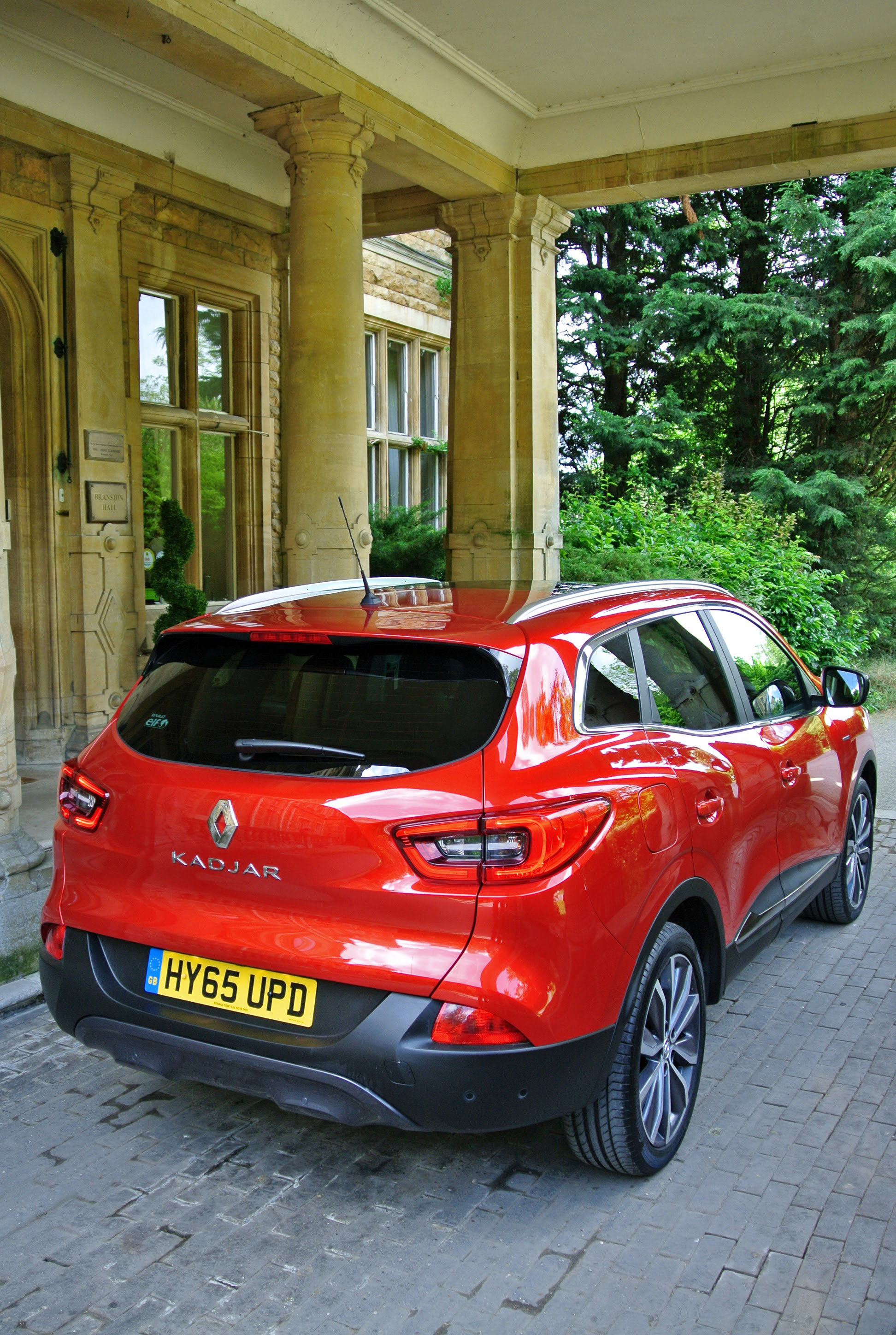 The test example's red paintwork is simply gorgeous. It is not dissimilar in many respects to the made-for-television colour that appears on every red snooker ball (red looks brown on the telly, unless it features this special orangey shade), or even as adopted by Ferrari for its Formula One racing cars, for precisely the same reason. In Renault's case, it is a very special, lustrous, metallic finish that looks superb regardless of weather, or light conditions. It also has the most desirable effect of highlighting beautifully every curve and blister of a most stylish contender in the hectic SUV sector.
Also notable with the Kadjar is its very shapely side window graphic, which seems to reflect another timely model in Nissan's past, the Terrano II; a car that fitted with the SUV sector of 1993, sharing the market with the Ford Maverick at the time, with its 'Coke bottle' inspired lateral aspect. In all other respects, the latest Kadjar manages to out-trump its current Nissan stable-mate in terms of stance, relative lack of fussiness and detail quality. While the Qashqai feels 'cheap', the Kadjar exudes refinement and driver satisfaction on a significantly higher plane.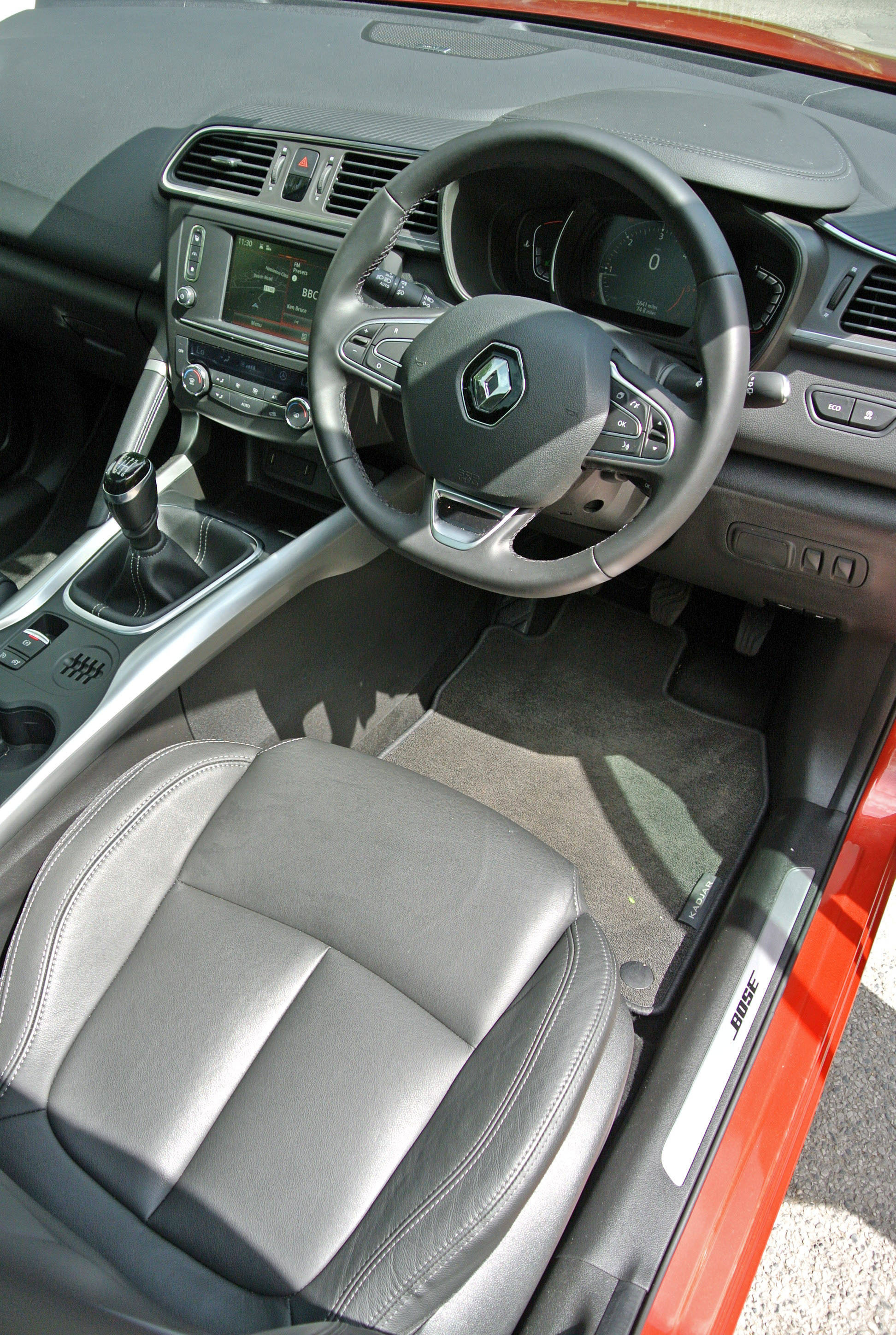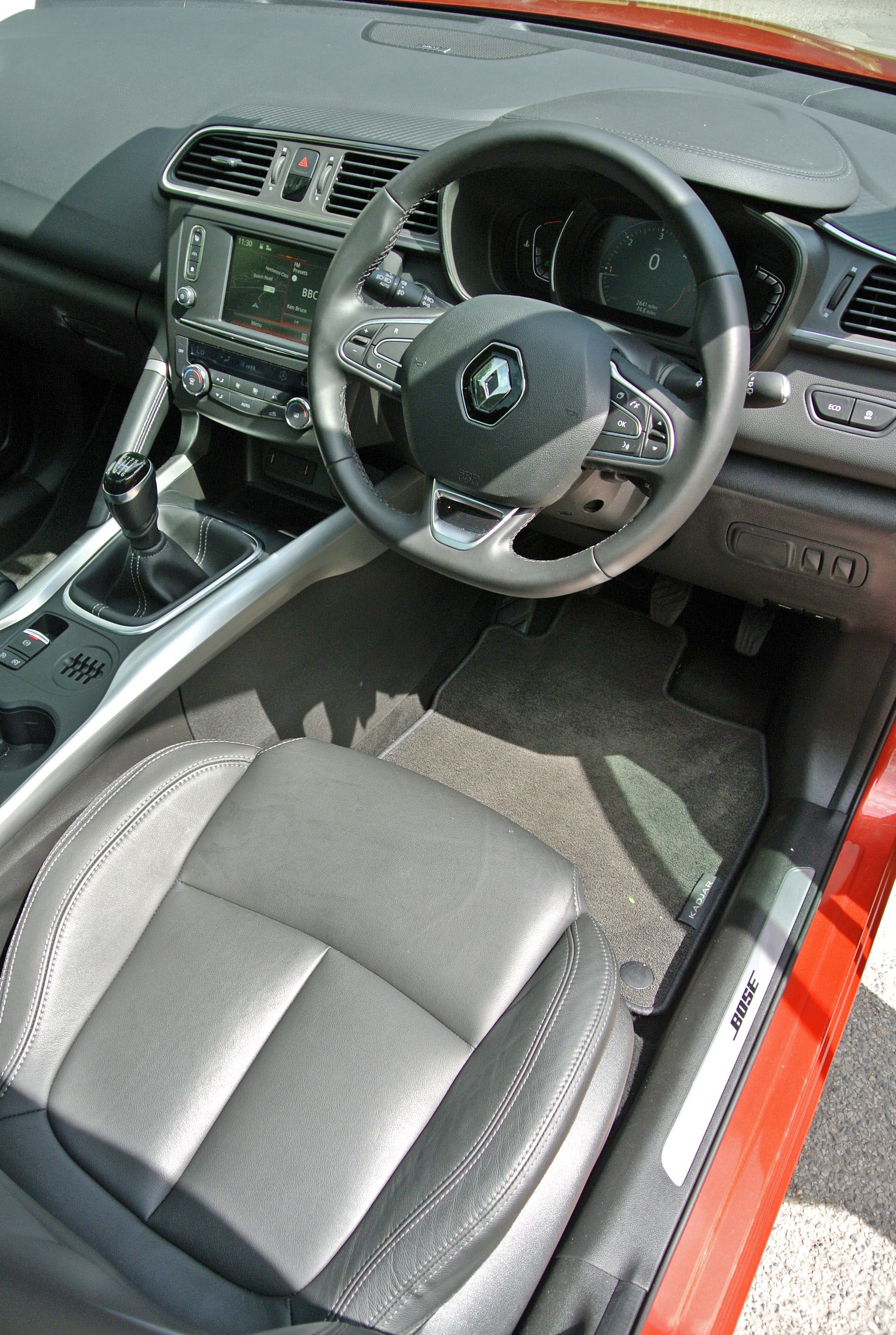 From the cockpit, it feels surprisingly large and spacious, an impression enhanced by the upturned kink to the bonnet-line edges. It is a muscular style statement, with the added integrity of silvered bars that run the length of the centre console, with a bold, leatherette-clad grab-handle for the front passenger and a minimum of extraneous switches, as most in-cabin functions are controlled via a large touch-screen in the upper section of the console.
Even the instrument panel is strangely sparse, its speedometer reduced to a digital display surrounded by a representation of an analogue rev-counter on the TFT-screen within the binnacle. To be honest, I am not so keen on the large blocks used for the temperature gauge on its left side, matched by the fuel contents gauge on the right. If anything, they look too simplistic, over-large and out-of-place with the otherwise technical display. Everything else is worked either by stalks (including the Renault 'brick' for the audio system), or efficient micro-switches, on the chunky rimmed, leather-clad steering wheel cross-spokes.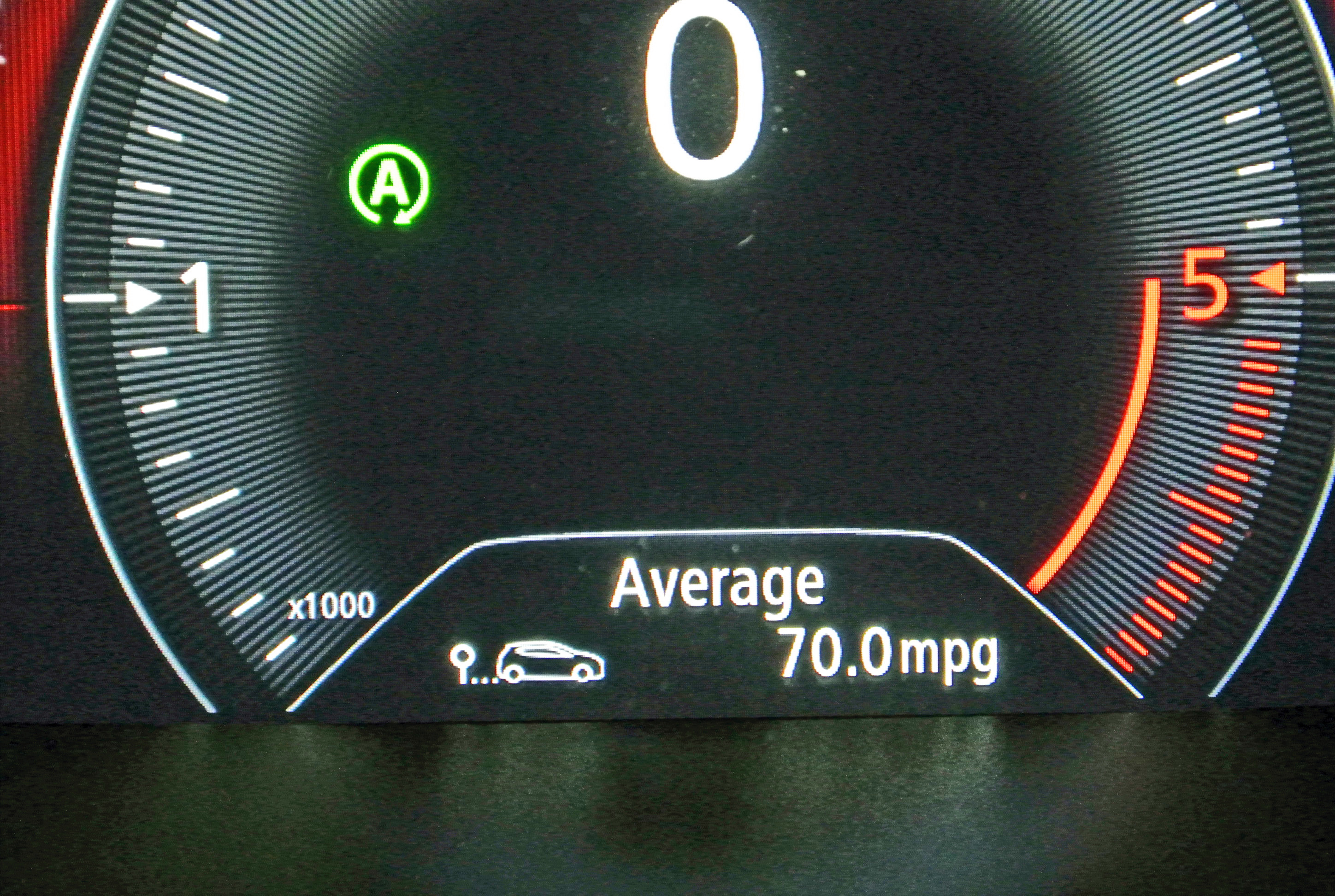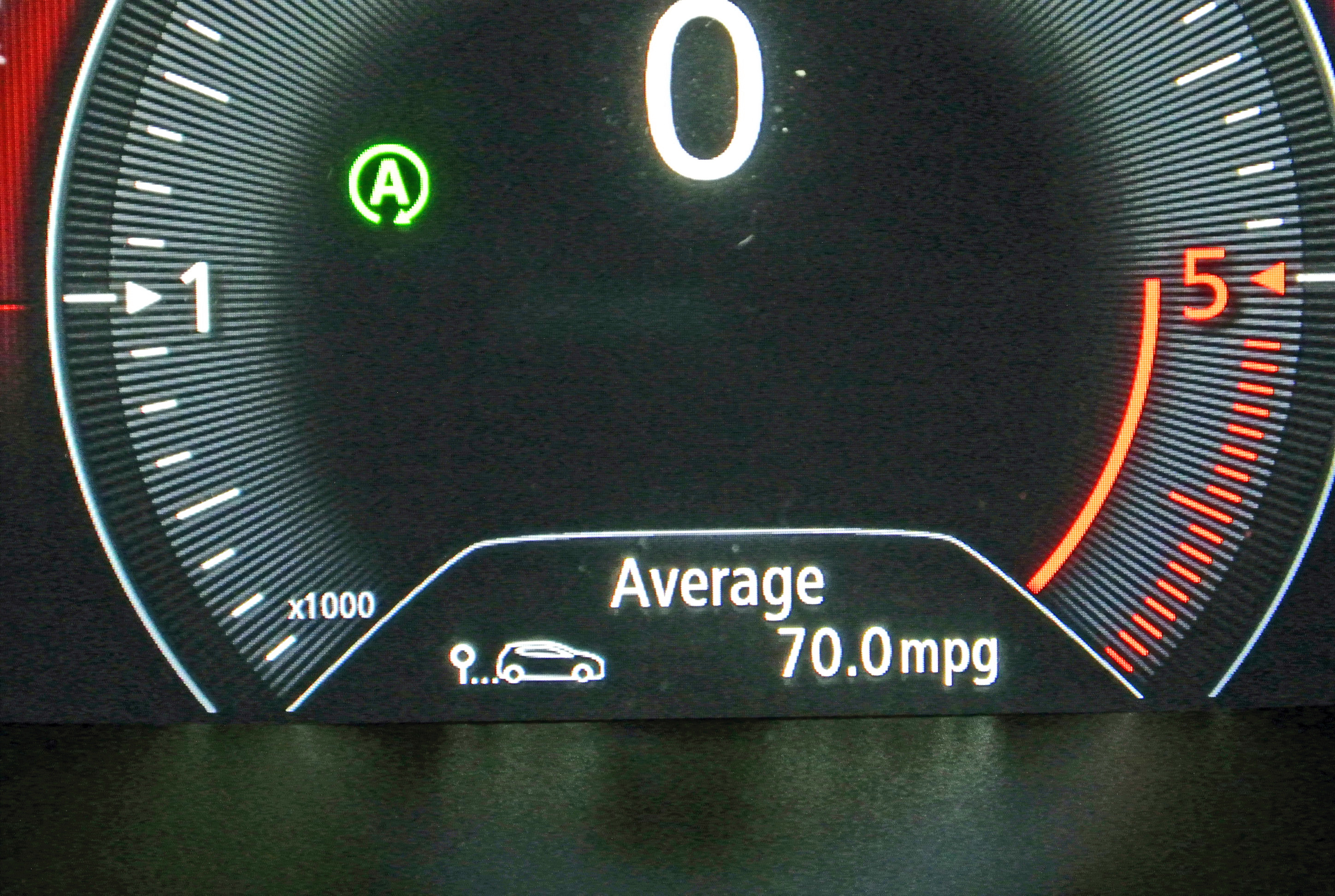 Thanks to decent rake and reach adjustment ranges of both driver's seat and steering column, an excellent position results for almost any stature of driver and there is bags of space in the rest of the cabin for four passengers. The seats are especially comfortable, in a Renault style of old, providing excellent support and an interior spring rate that matches perfectly with the car's suspension system, an aspect forgotten too readily by one too many of Renault's rivals.
Load space is excellent, with decent door pockets, a deep glove box and central armrest storage, and an easy access boot, through the hatchback rear door. Two solid but carpeted panels conceal below-floor boot storage and 450-litres of load area (rear seats up).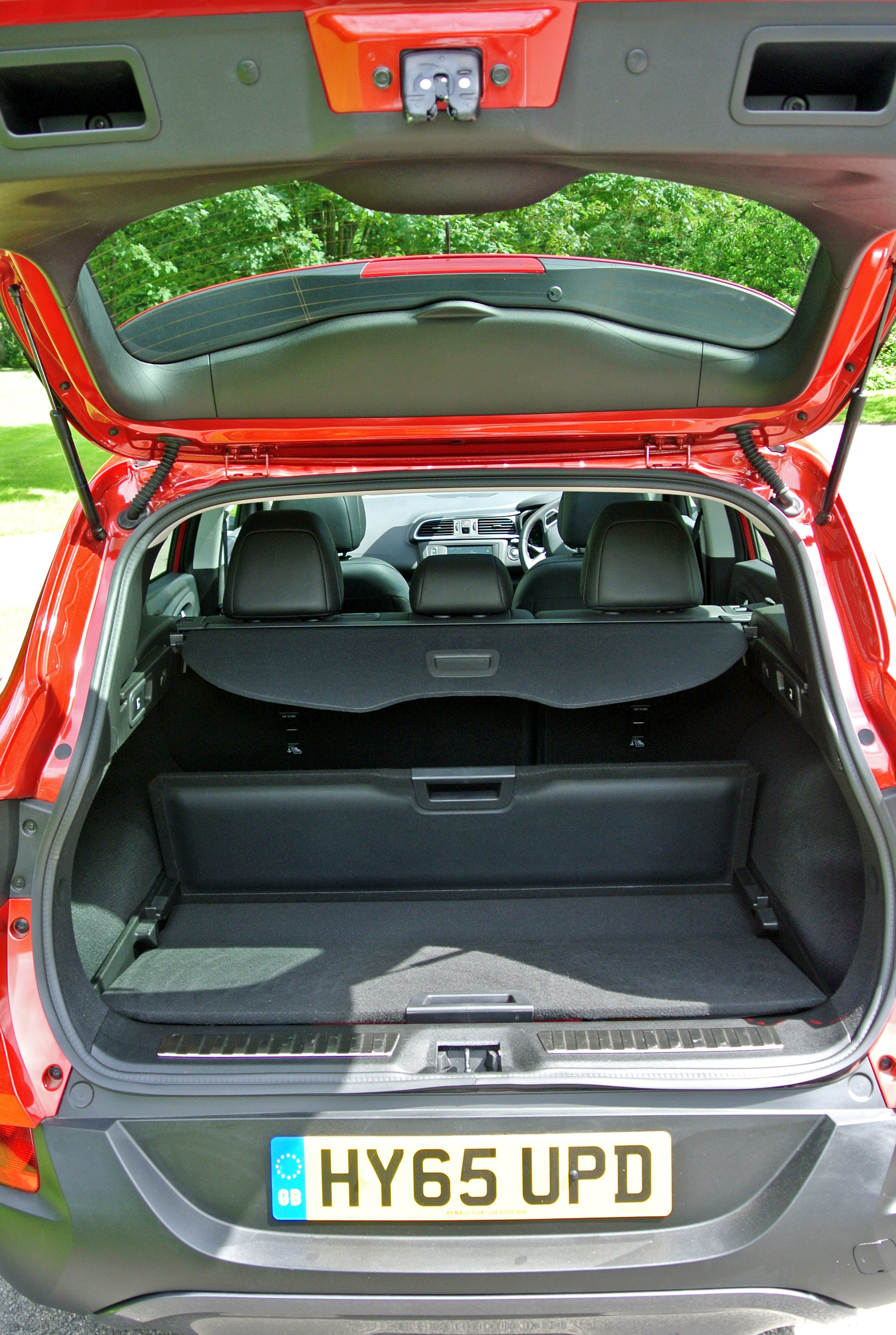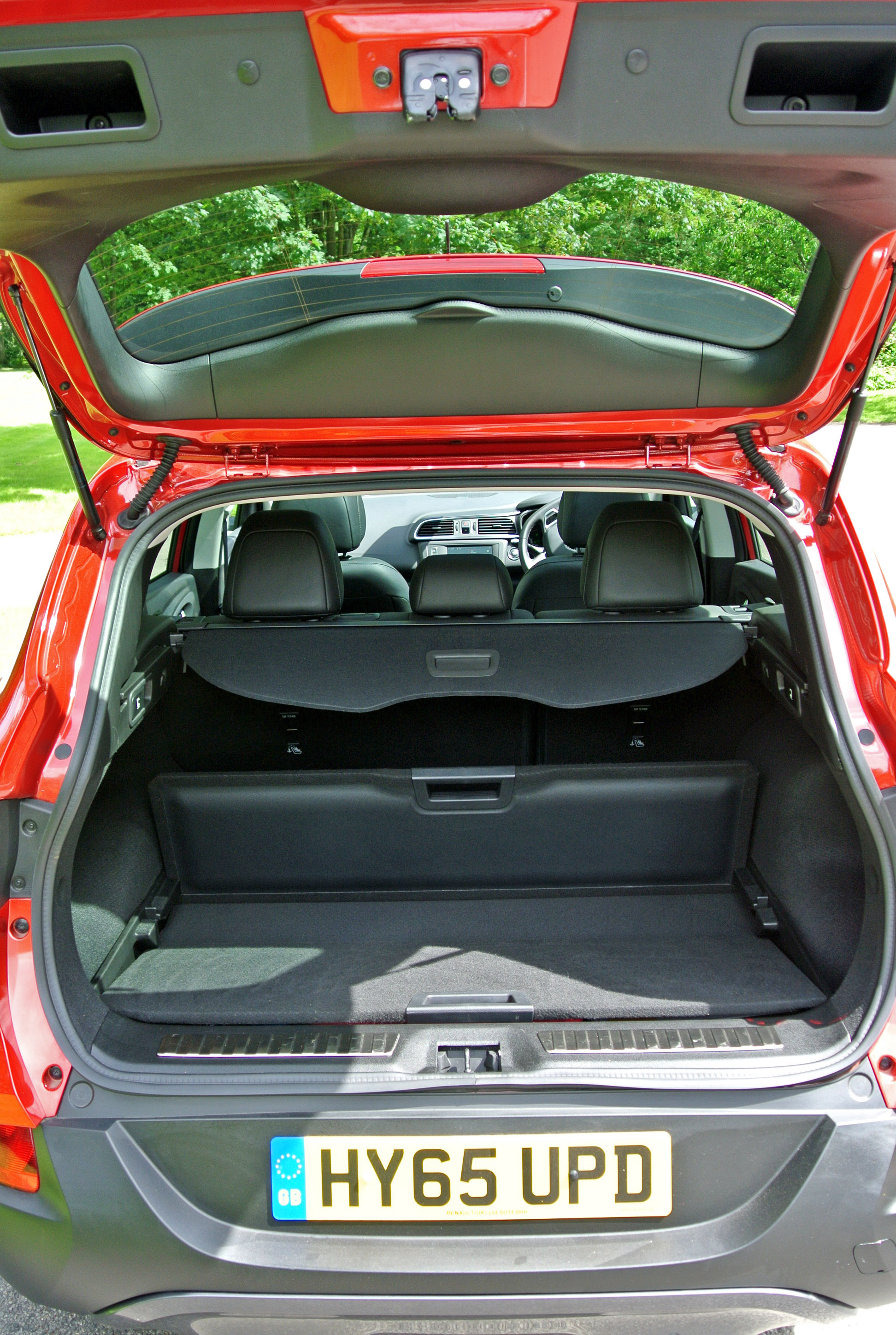 The high quality appeal of the interior, with hide wear surfaces on the seats and pleasantly tactile trim textures everywhere else, provides an impression that hikes the Kadjar markedly above several models in the class. While the model line-up starts with the Expression+, priced at a competitive £18,495, rising to £28,195 of the Signature S Nav 4×4 variant, the test model is one down from the top, powered by the same 1.6-litre turbo-diesel engine but with front-drive only (£25,395).
The 1.6-litre unit is Renault's latest diesel derivative that develops a healthy 127bhp and displays such delightful and refined driving manners that you would scarcely want anything else. It promises an Official Combined fuel return of 62.9mpg (with 19-inch alloy wheels) but I attained around 49.7mpg consistently during the car's tenure with me, although I managed 70.0mpg on one trip, which can translate into a 12.1gallon fuel-tank range of between 500 and almost 900-miles, which is little short of astonishing for a 1.32-tonne family estate car that emits just 117g/km of CO2 (£30 annual VED charge).
Its mid-range torque is tremendous, providing a strident pull from around 1,500rpm, all the way to 3,500rpm, which means that motorway hold-ups can be despatched without having to drop down the gear ratios. Top gear (sixth) provides relaxed cruising, demanding just 2,000rpm at a steady 60mph, although the engine will despatch the 0-60mph sprint in around 9.7 seconds and reach a maximum speed of around 120mph, all of which are highly respectable figures.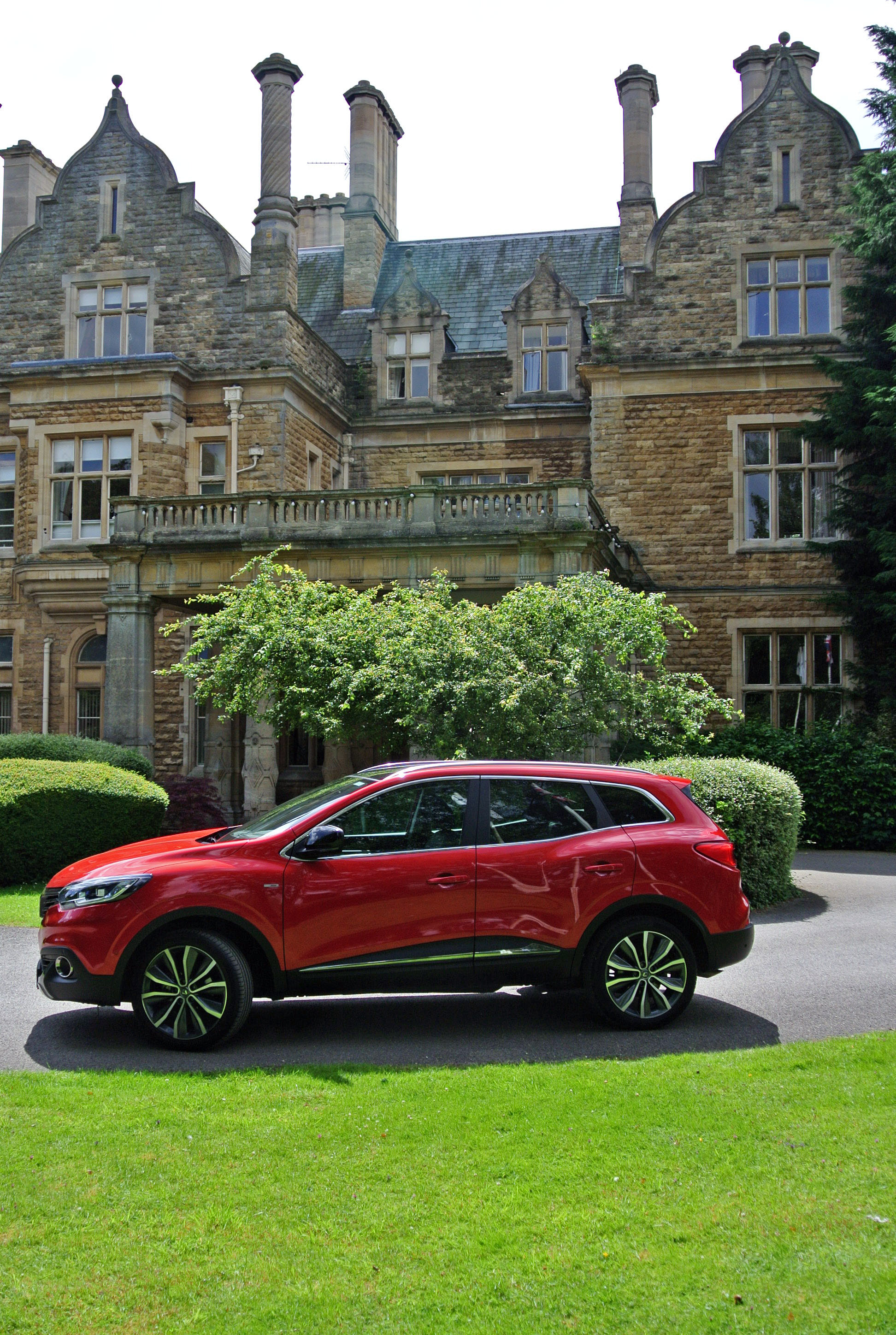 However, the Kadjar's most outstanding characteristic lies in its sublime ride quality. A lot of modern French cars have ditched their ride fluency in favour of a more Germanic sporting edge but, despite using big alloys and 45-skinny profile tyres, Renault has managed to retain another quality for which it was once famed. The manner by which it absorbs even the nastiest of road surface imperfections is outstanding. The mildly soporific effect it has on occupants needs to be experienced to be appreciated. It is not merely comfortable but is also less tiring than almost any of the Kadjar's competitors.
Well-equipped at this level, with every aspect from the cream enamelled keyless-go fob, to the auto-on lamps and wipers, even its electronic parking brake works efficiently. I do like the full-length panoramic glass roof, complete with electric sun-shade, although I would prefer an opening section too. Yet, applying BOSE badges to the car's flanks and sill protectors, to denote its fairly high-end in-car entertainment system, is a touch of twee-ness gone slightly wrong. I am not as impressed by the hi-fi's sound output, as Renault might hope that I am, even though I do own one of that company's expensive but pleasant alarm-clock radios.
To be honest, I enjoyed my first drive of the Renault Kadjar late last year. This past week's test session has allowed me to appreciate what is one of the company's most recent best-sellers. Apart from a few very minor niggles, there is not much that I would change about it. It is a great looking family car, possessing bags of room, exceptional refinement and low operating costs. It rides and handles supremely well and looks both elegant and stylish. The Kadjar is competing in the most hotly contested sector of the SUV scene but it does seem to have monstered its way to the top of the class, a factor that should bode well for Renault's continued improvements in all other respects.