Living with a new car is a fascinating exercise in the modern era, not least because of upwards spiralling overheads and a desire to ensure relevance, aspects that Iain Robertson is following religiously over the next 3.5 years.
TPMS. Four letters that herald dread and fear in every new car operator's motoring life. The Tyre Pressure Monitoring System, which has been a legal requirement on all new cars sold in the UK and the EU for just over two years, might be a practical safety measure, when you consider how infrequently any of us looks at those black round things located within each of our vehicles' wheel arches, can create nightmare proportions, given half a chance.
The Baleno is such a new model that, when it was whisked into Auto Exhaust & Tyres, on Chieftain Way, Lincoln, to have its Kumho WP51 'Winter' tyres fitted, the ever-so-friendly and helpful fitters at this long-established specialist firm were completely dumbfounded by the erroneous, never-before-encountered message being displayed on the car's instrument panel. A combination of 'Low Pressure', a flashing amber warning and an inability to access the 'on-board computer' was leading to apoplexy for staff more familiar with providing unerringly good service to its customers.
While the car's comprehensive service manual highlights a process to normalise TPMS settings, I can tell you that, while logical, it was not the easiest of tasks to complete. As with all modern cars, there are innumerable sensors and transponders in operation at all times. After much tedious button-pushing, it transpired that all the car needed was a brief drive of around two miles, to allow the transponders within the wheels to 'talk' to each other. They did and all is well.
In case you wondered, this second report is primarily about tyres. With the car having covered just over 700 miles in its first fortnight of use, I had been familiarising myself with its several features and tailoring them to my long-term preferences. The OE Bridgestone tyres, my first repeat use of that brand in more than 35 years of driving (on a Mazda of that period), are eminently sound, although dramatically improved over those first experiences. Early, Japanese-made Bridgestones provided excellent, if a trifle noisy, dry weather grip but suffered from poor wet weather performance and high wear characteristics, none of which afflict the latest iterations.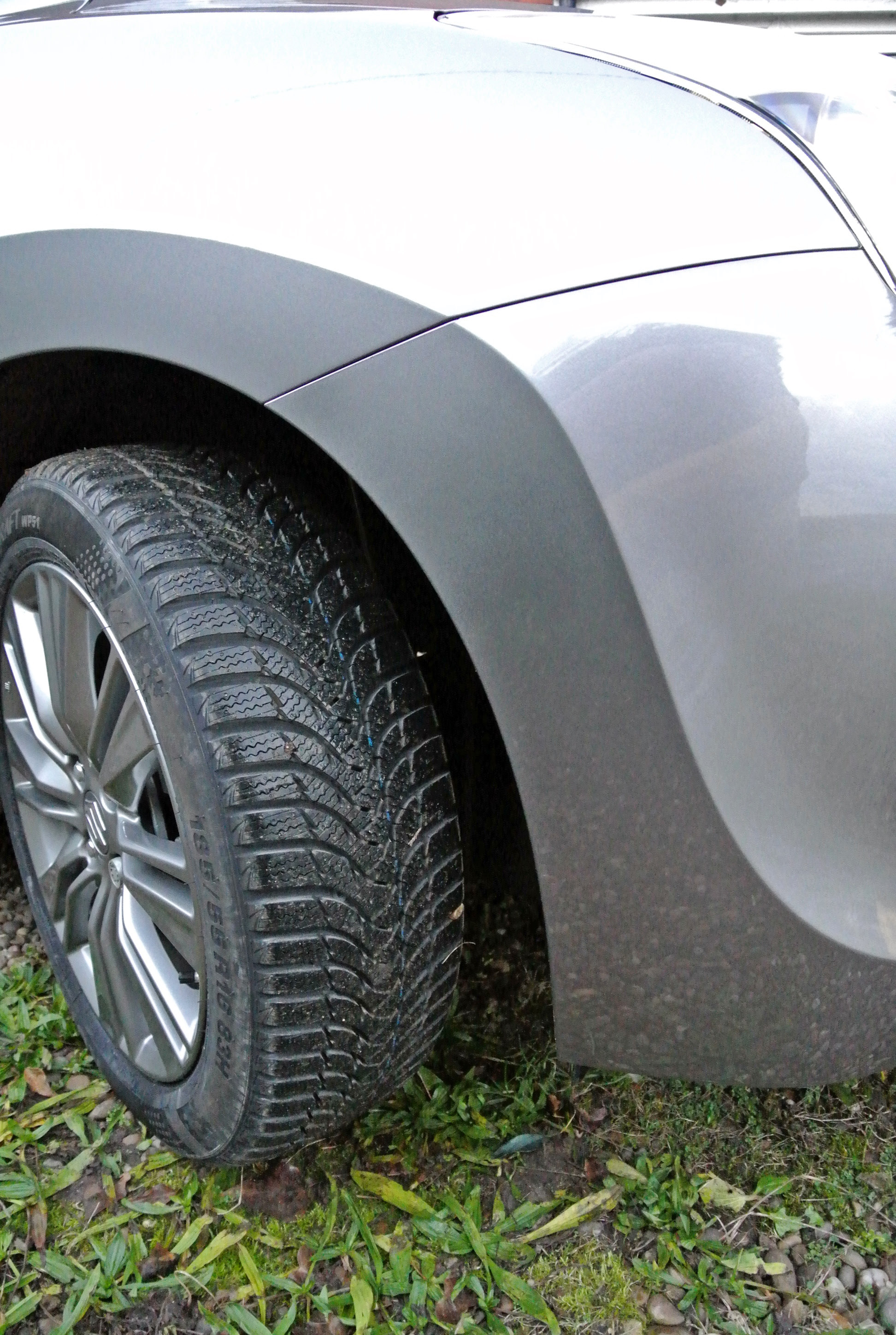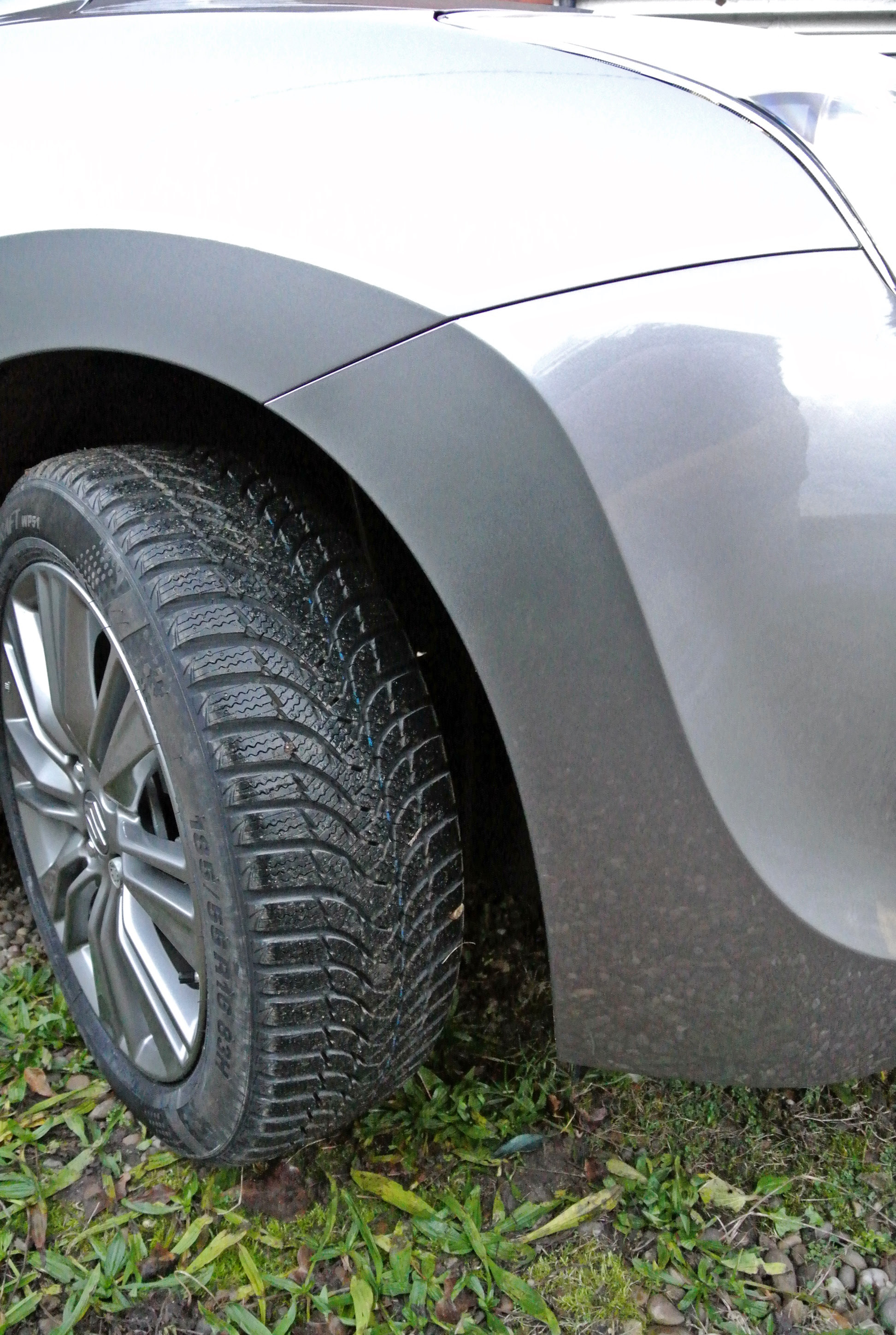 Working on the basis that the Baleno is 'new' and I like to carry out a little 'running-in' process, I can tell you that it has attained, on its 'Summer' tyres, a remarkable 67.8mpg on a return trip from Lincoln to Hereford, I shall also admit to testing its top-end performance. Registering in excess of 125mph (on a private facility!), with more to come, as the engine speed was just over 4,000rpm, highlights the Suzuki's leggy gearing and the fact that, in manual form, it simply does not need an even rangier (and weightier) sixth ratio. With a fuel tank capacity of just over 7.5gallons, a realistic trip range in excess of 450-miles is feasible.
The fitting of 'Winter', or 'Low-Temperature', tyres, as I prefer to call them, is something that I have practised for more than 20 years in the UK. In previous years, I used to have a pair of chunky M&S (mud and snow) covers that I would apply to the driven axle around the end of November, replacing the original tyres sometime in late-February the following year. Fortunately, the latest low-temp tyres are not only less bulky than M&Ss but behave more like conventional summer tyres during sub-10-degrees Celsius motoring.
Kumho is a brand that I have never sampled before and the UK arm of the company was more than willing to allow me a full set of its WP51 covers to trial for the duration of my time with Baleno. Auto Exhaust & Tyres, Lincoln (a member of the Black Circles.com and Micheldever Tyres distribution set-up), supplies them at £79 per tyre fitted, balanced and re-valved. Naturally, although just fitted, they will be removed in late-February/early-March, once daily temperatures rise above 10C, however, they will be refitted in late-2017 and again in late-2018 and 2019. It will be interesting to see how they last and I shall be feeding back the wear characteristics and performance information to Kumho Tire. So far, they are quiet, satisfyingly grippy in a mix of road surface conditions and look good with their uni-directional 'arrow-head' tread pattern. I am now longing for snow and ice in abundance.
Just a quick note about Auto Exhaust & Tyre Ltd; established in 1983, from the outset, AET was all about providing the best quality of service at the most realistic prices. It is the local Kumho authorised supplier. Considering that the last time I visited the premises was over a decade ago that Pete, its receptionist, remembered me and every other customer that entered the premises, says a lot about the firm's attitude. Automotive distress purchasing does not offer the most appealing of premises but, somehow, AET is clean, presentable and effervescently delighted to see each and every customer. Top marks to a great outlet. I am going to enjoy working with AET and it has stored kindly my 'Summer' tyres.
My final tyre issue with Baleno concerns a disturbingly recurrent problem on our roads. Forced into an on-road situation, where avoidance was impossible, due to an overtaking car and another following me closely, the Baleno's front spoiler (nearside) clashed with the remnants of a blown truck tyre on the A46 Lincoln bypass. Fortunately, it was a glancing blow, below the normal sightline, but it still dug a furrow into the otherwise unmarked paintwork. To say that I was disappointed to have marked the car in just its first month is an understatement.
The problem lies with the fact that, in 2011, Highways England contractors adopted a zero carriageway crossings policy, under the pretence of 'protecting its workforces'. The reality is more profits related. Although these contractors are engaged to remove roadside debris, the costs associated with closing carriageways have proven to be a disincentive to removing on-road debris, such as blown truck tyre remnants and even larger items, all of which can be exceedingly damaging, if struck. The fact is that lives are being put at risk, as well as unwarranted costs incurred, not least for those motorists afflicted by this lack of effort. If you become a victim and are able to do so, either make a claim through the local authority, or to your MP, as they might be the most effective routes to resolving a growing safety issue.
Costs incurred:
£193 month one finance payment
£91.85 for fuel (Shell V-Power Nitro+), over 1,003 miles (61.2mpg overall)
(£316 for four x Kumho WP51 Winter tyres, on test).