Putting the latest Hyundai model to the test has raised a key issue with Iain Robertson, as he believes that the carmaker is being either exceptionally cheeky, or simply setting fresh standards to which all other brands will now aspire.
There is a fellow that I have known for the best part of the past forty years. Without being too explicit, he was among a vanguard of people, who gave me early breaks into the motor-writing business. In fact, he was employed by a South London-based publishing house but entrusted me, a budding Scottish scribe, with some meaty editorial tasks. To be honest, I will always be grateful to him.
However, when we first communicated by telephone and written contract, in those days prior to e-mail and the world-wide-web, his accent and, thus, aspects of his character came across in his 'Sarf Lahndun', ever-so-slightly 'estuary' tones, which he would pepper with the occasional F-word and more frequent R and B-words. For him, it was editorial practice; for me, it was baptism by fire. Fortunately, it all worked out well and we enjoyed a good and blossoming working relationship.
In later years, he moved to the 'Dark Side', to work within the PR department of a major motor manufacturer. Through various promotions and career shifts through a couple of brands, he soon climbed the slippery slope into senior management. In the meantime, he also got married, some observers would suggest that he married well, because, in the process, he became a minor baronet. Subsequently, despite a break in contact with him, we 'collided' on a media event for a particular motorcar that he and his team represented.
The first thing that struck me about him was that he had changed immeasurably. No longer a South London 'barrow-boy', he was now more closely akin to The House of Lords. In fact, his accent had become so affectedly like that of HRH Prince Charles that I nicknamed him jokily and mildly disrespectfully 'Lord Peter Whimsy'. Well, I reckon that the latest Hyundai i30, an excellent hatchback in a Ford Focus/Vauxhall Astra mould is the automotive equivalent. Allow me to explain…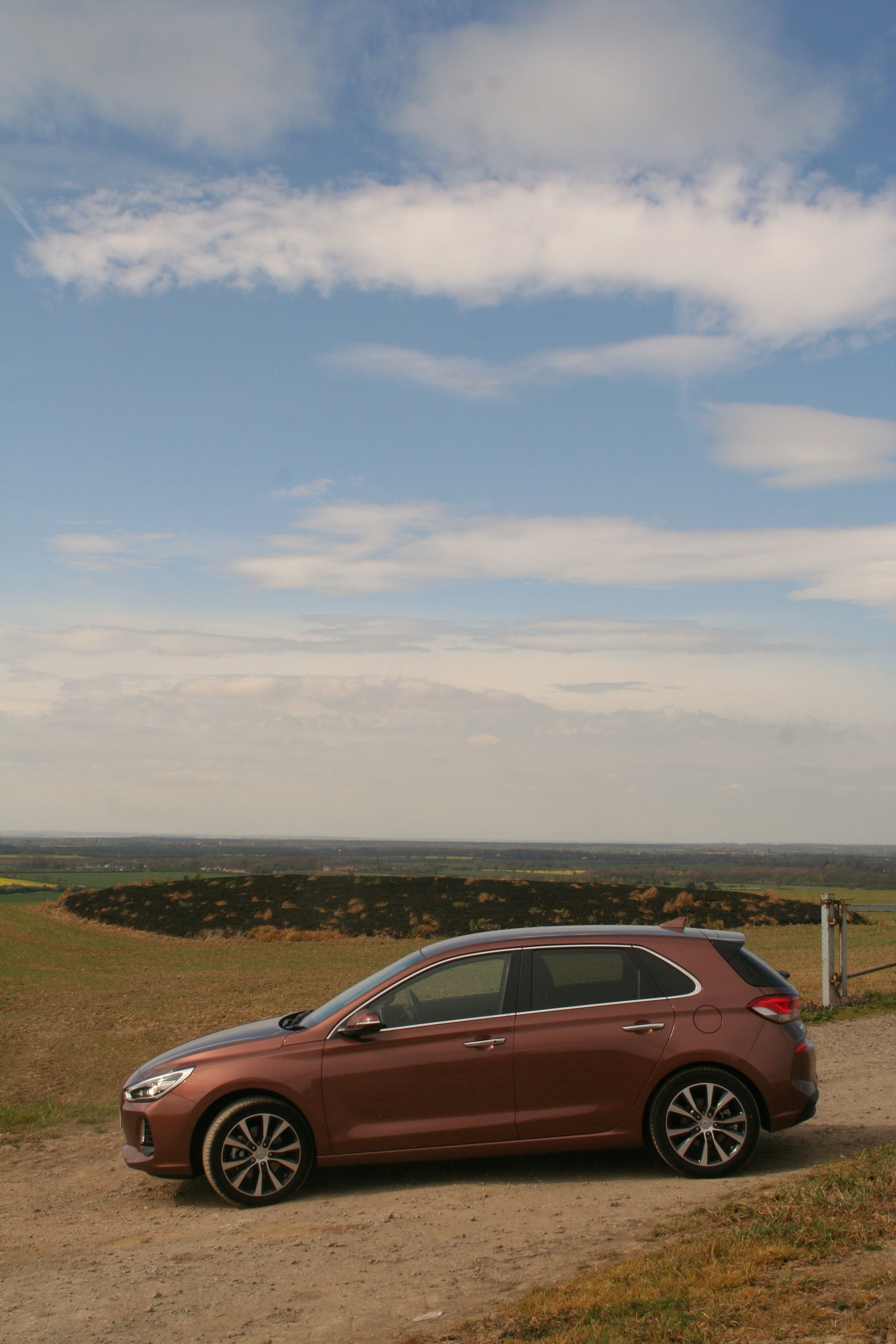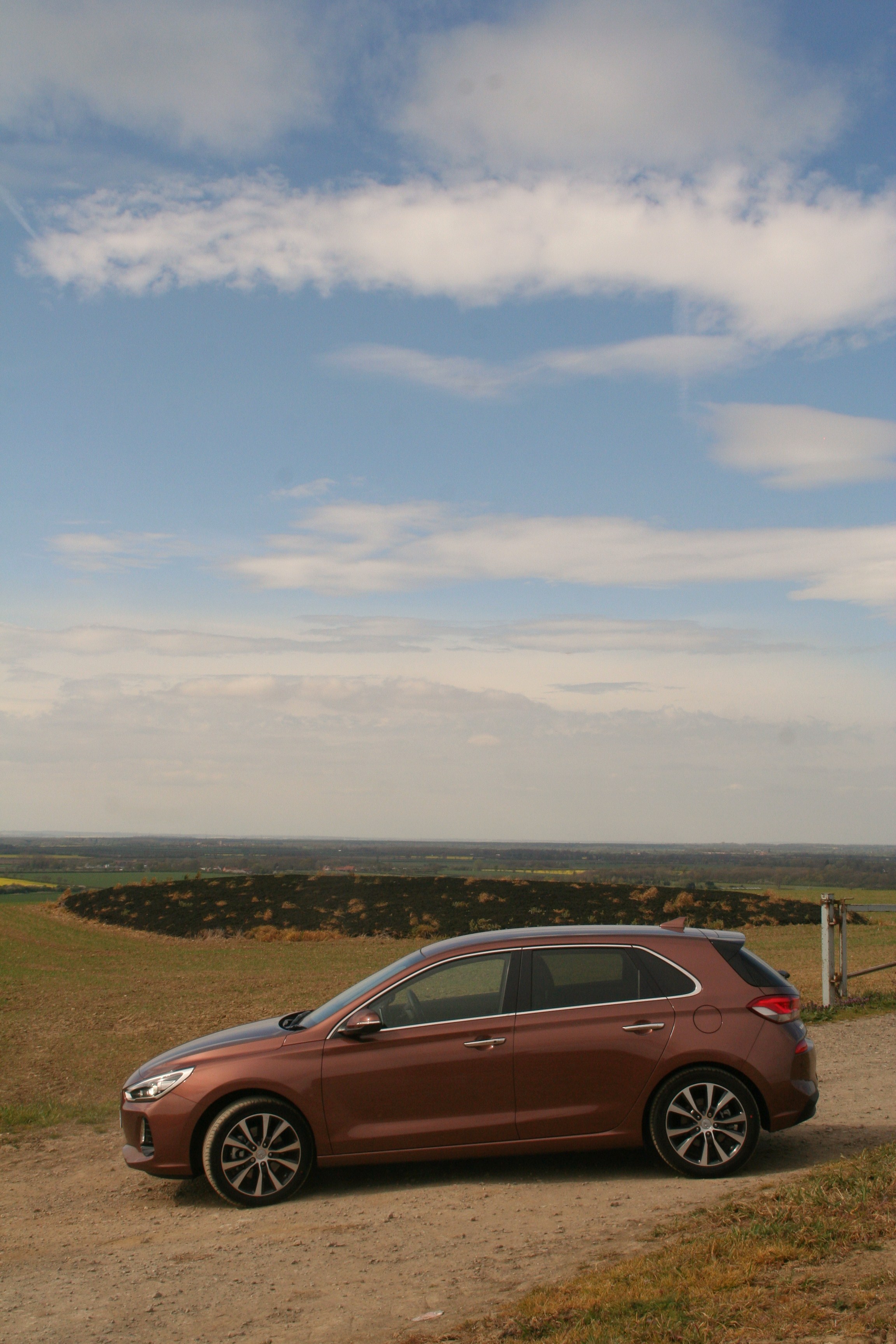 Mainstream family cars are precisely that. Naturally, they have been made progressively better over the years, featuring more 'toys', comfort aspects and detail elements that make a 1960's Ford Anglia 105E look like a cramped and ugly tin box alongside the latest svelte, stylish and spacious Ford Focus. Negotiating bends in an 'Anglebox' was an event, whereas the Focus, armed with more electronic gubbins than the first manned space flight, wafts serenely and fuss-free around obstacles to progress.
It is not so long ago that Hyundai washed up on our shores to provide us with the Pony; the Ford Anglia of its era, albeit an entire decade later. It provided basic, budget-priced transport for a generation (from 1975 to 1990). The brand progressed through Excel and Accent models, eventually transforming into the German-designed and Czech-built i30 of 2007, which passed into its second generation and has just been replaced by the New Generation version.
However, I want to just reflect a little on the second generation version of the i30, the outgoing model, as it was something of a landmark product for Hyundai, in that its arrival heralded a distinct move up a few gears, to the point at which it worried the other mainstreamers from Peugeot, Skoda (itself a former budget brand), VW, Alfa Romeo, Fiat, Citroen and also Ford and Vauxhall, snapping at their heels like an insistently annoying Shih Tzu. Hyundai's list prices also vied for equivalence with its rivals.
The latest replacement demonstrates in the most finite manner that Hyundai's up-escalator is showing no signs of either slowing down, or any intentions of remaining in the mainstream, as we know it. In fact, displaying a high level of confidence but not arrogance, I can perceive that Audi, BMW and Mercedes-Benz, let alone Volvo, Infiniti and Lexus, will be forced to endure similar upset to their lesser rivals, none of which is displaying anything above its notional, mainstream station, as Hyundai continues its relentless march into the stratosphere.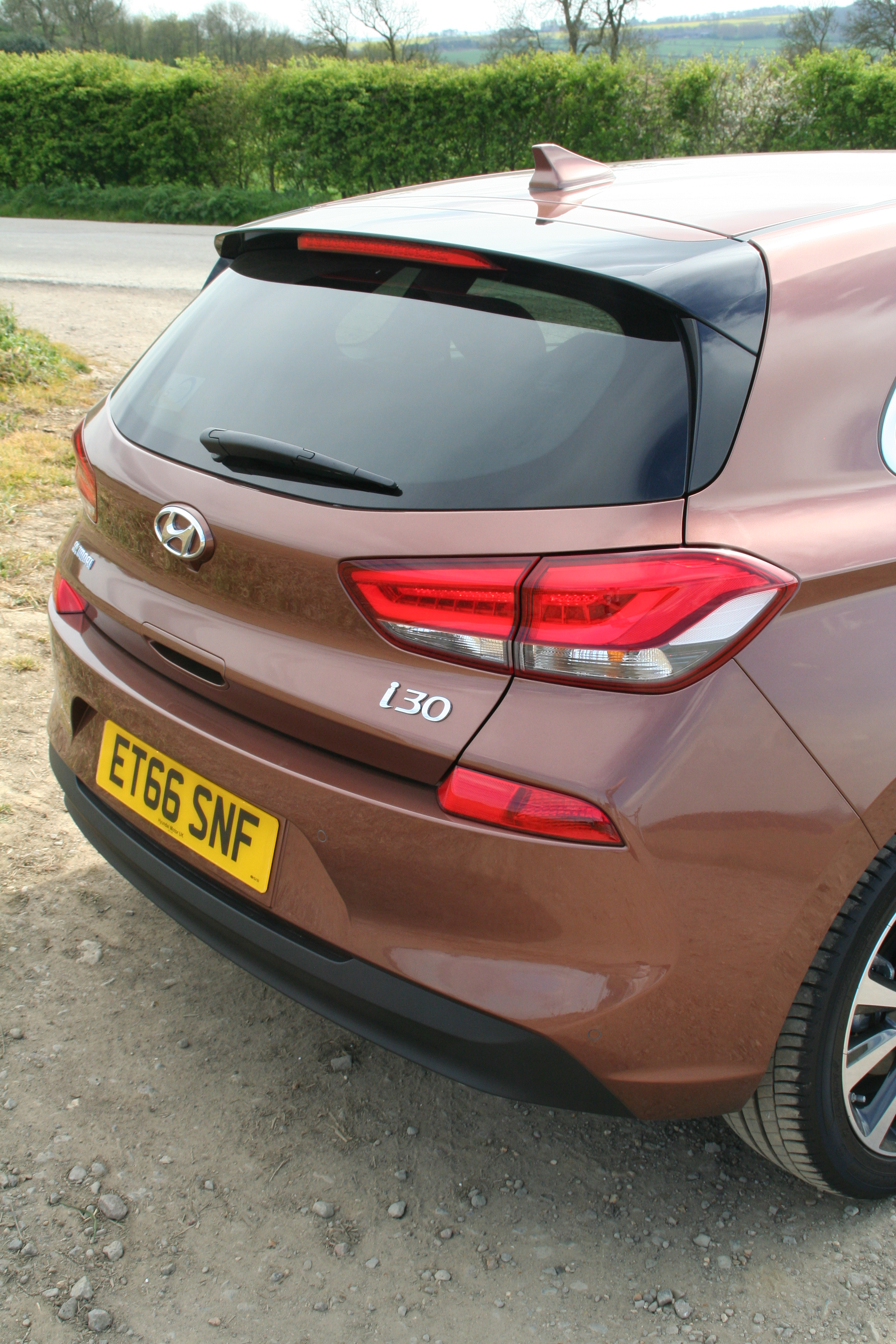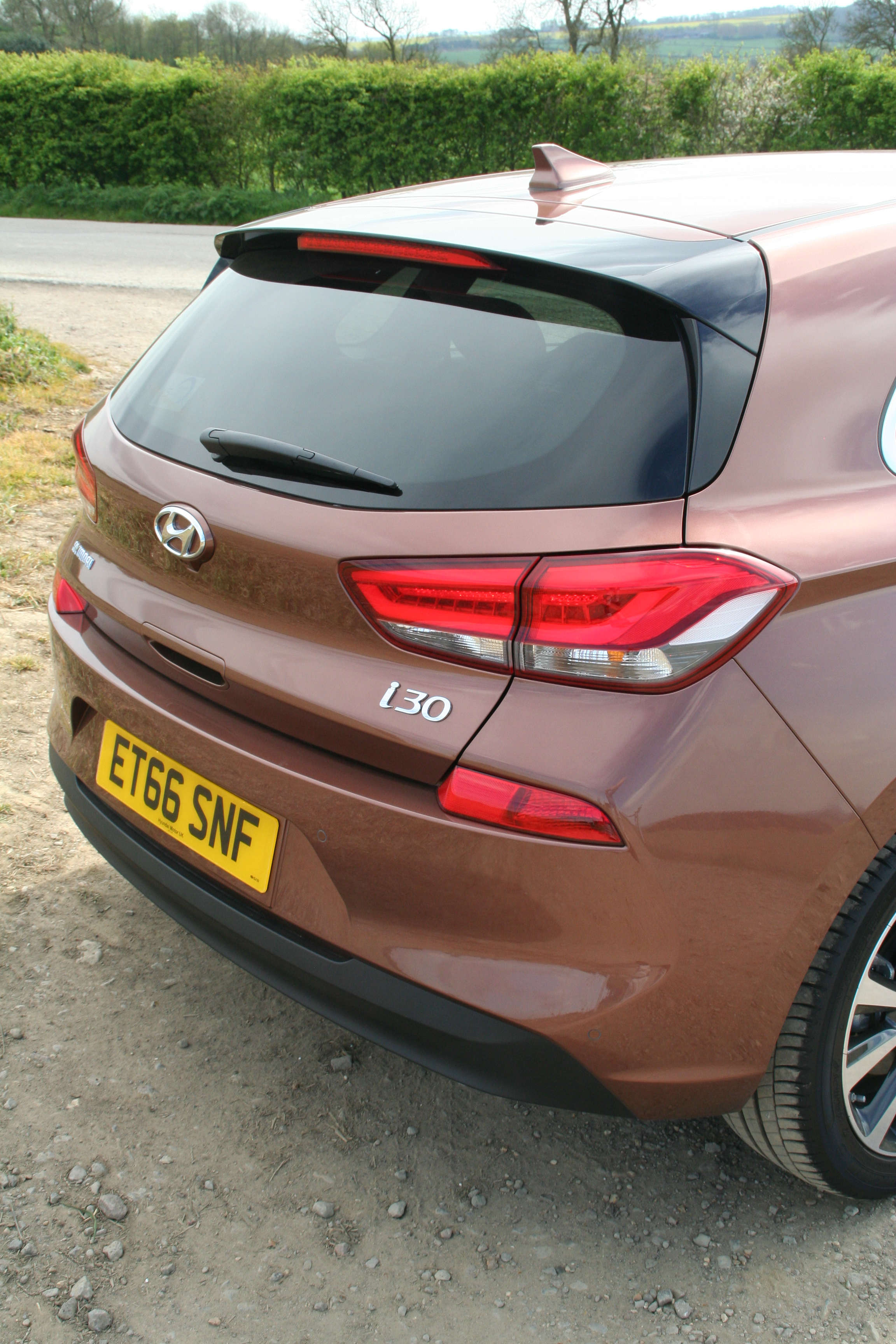 Apart from the fact that the company's design boss, Herr Peter Schreyer, has introduced myriad teensy styling nuances that turn a car that was merely handsome into one that is enrichingly attractive, matched by a fabulous interior, every dynamic aspect has been enhanced to show a clean pair of (w)heels to the model's former mainstream competitors. Hyundai, by intention, has gone premium!
Is it right? Is it fair? How on earth can a motorcar that originated from a bowl-of-rice mindset find itself sitting comfortably with the landed gentry of the automotive scene? Surely it is not feasible?
Yet, remarkably, the latest i30 IS that immense stride into territory unknown to mainstreamers. It could be said that they know their places. They are respecting the consumer's wishes. How dare an upstart brand think of itself as being better than it used to be. However, hang onto your beanie hats, Hyundai is better and it is making this transition painlessly and courteously. Its base 117bhp 1.0S model starts in mainstream territory, priced from £16,995, a figure that I used to think was not representative of good value but, in Hyundai's case, actually is good value.
Slip behind the rake and reach adjustable steering column, after having lowered, reclined and adjusted the fabric and hide combination, electric seat settings of the test example and, by heavens and any other comparative means at your disposal, the i30 is instantly impressive. At this £22,195 level, Hyundai has even deigned to specify it as Premium Nav and it is not the top Premium SE version (at £23,495). Clearly, it is by name and not merely intention.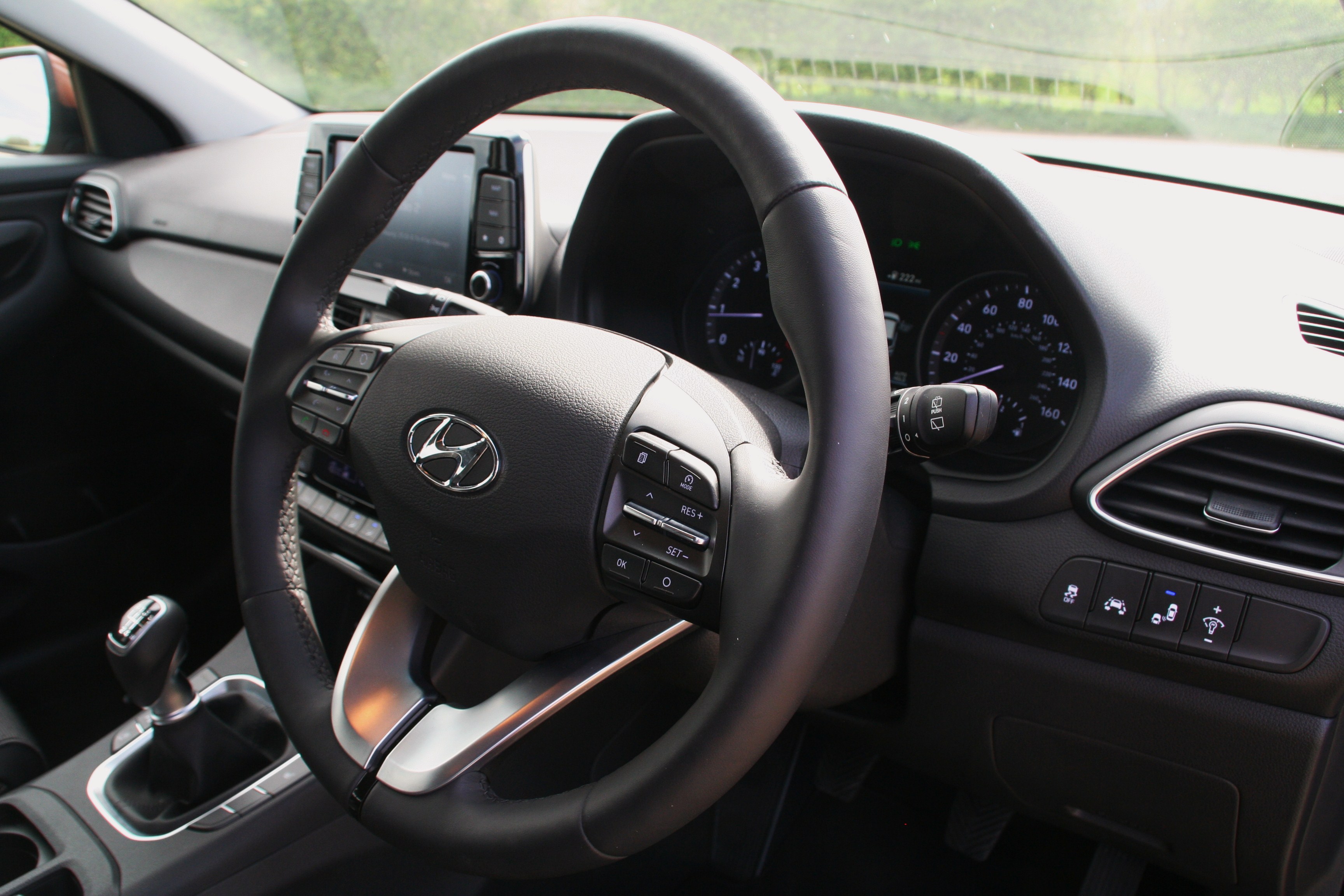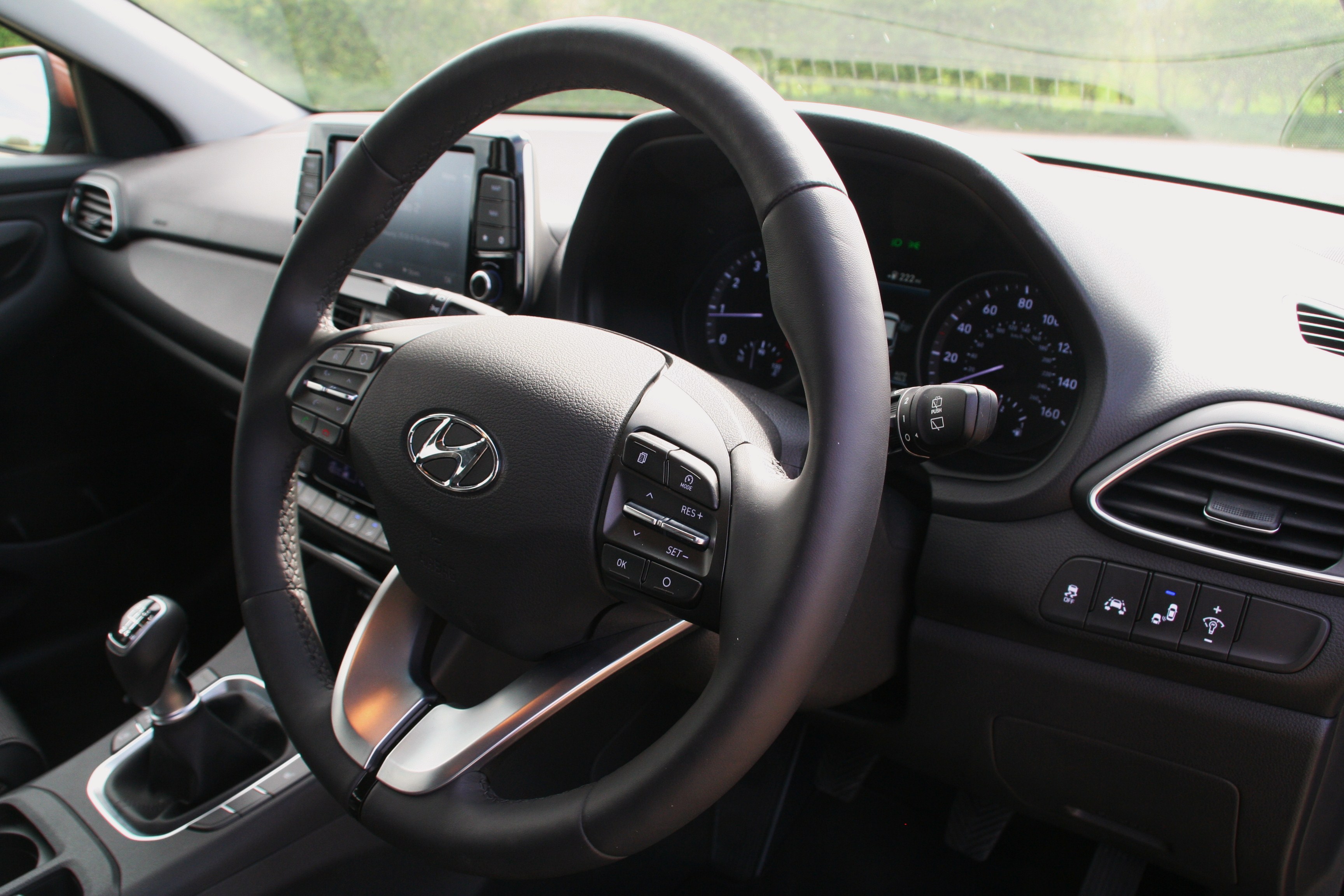 Sitting in the middle of the expensively moulded dashboard, to which your eyes are drawn immediately, is a now typical 'i-Pad' type touch-screen that controls most in-car functions and allows the dashboard to remain uncluttered. Below it are the heating and ventilation controls for the climate control system. Ahead of the driver is a beautifully crafted nacelle containing the main speedometer and rev-counter dials, with a useful 4.2-inch graphics display screen between them. The truth is, none of this is particularly surprising but its quality and high-end tactility is outstanding. The same applies to the stalk controls and even the minor switches on the steering wheel spokes, all of which operate fluently and with a premium quality sensitivity.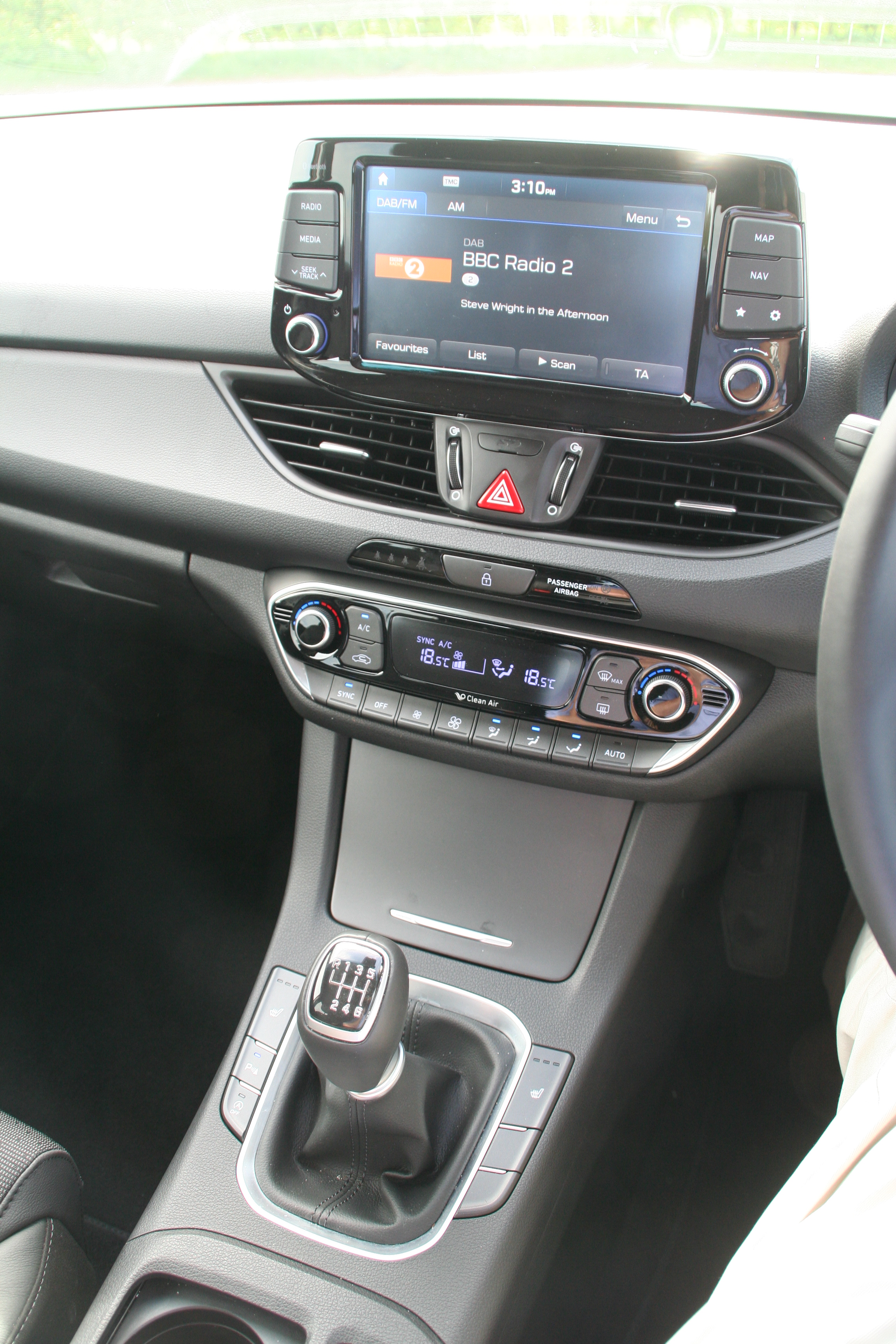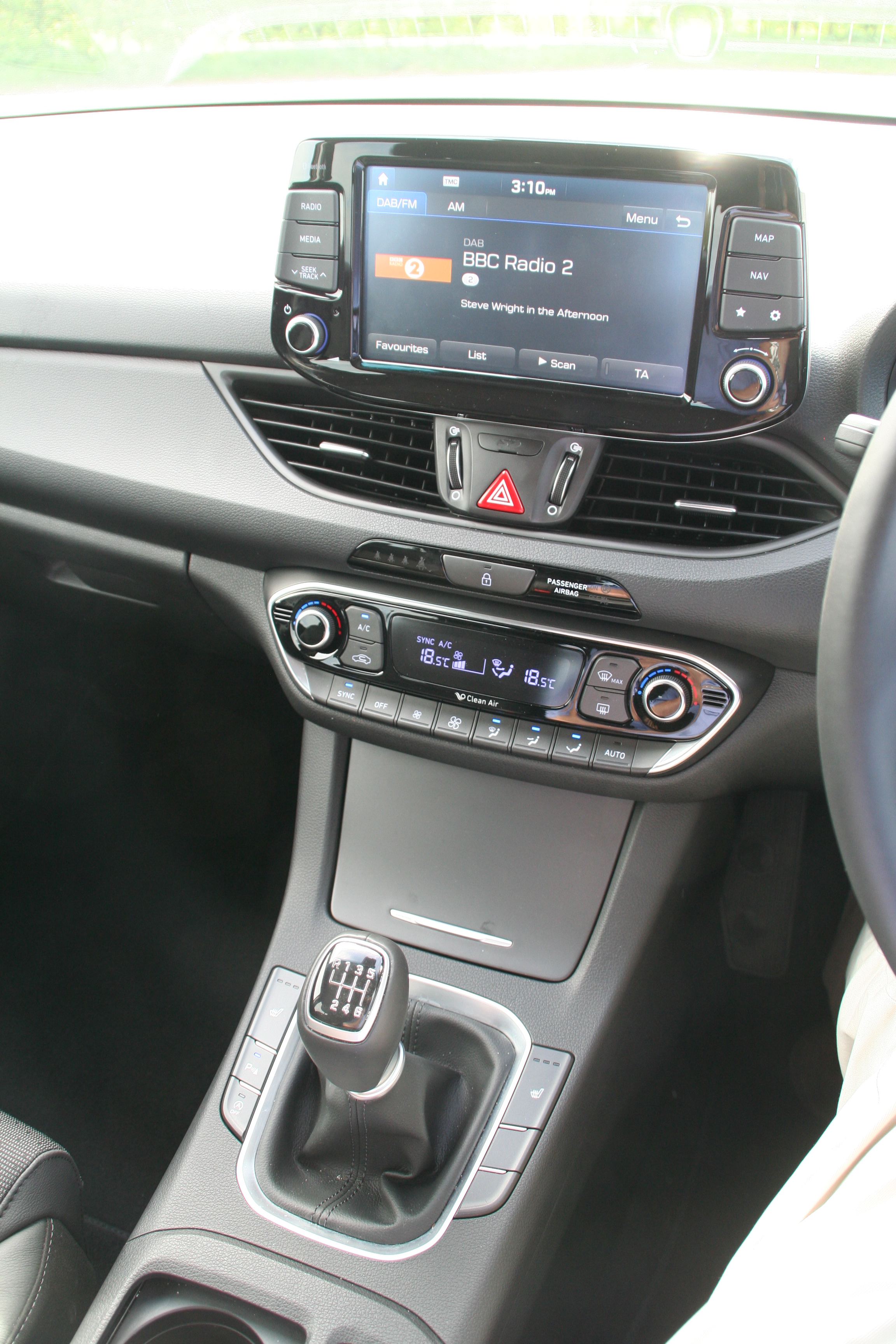 Having begged for it for years but only been allowed it by the German brands, the driver's seat adjusts through an immense range that allows someone of my two metres' enormity to obtain a truly comfortable and supportive driving position that I reckon has to be among the very best in the world. While not making the back seats cramped (as I could move the driver's seat forwards and still be comfortable), there is plenty of space for three-abreast seating and the boot, although a little bit shallower than I anticipated, is still size class competitive.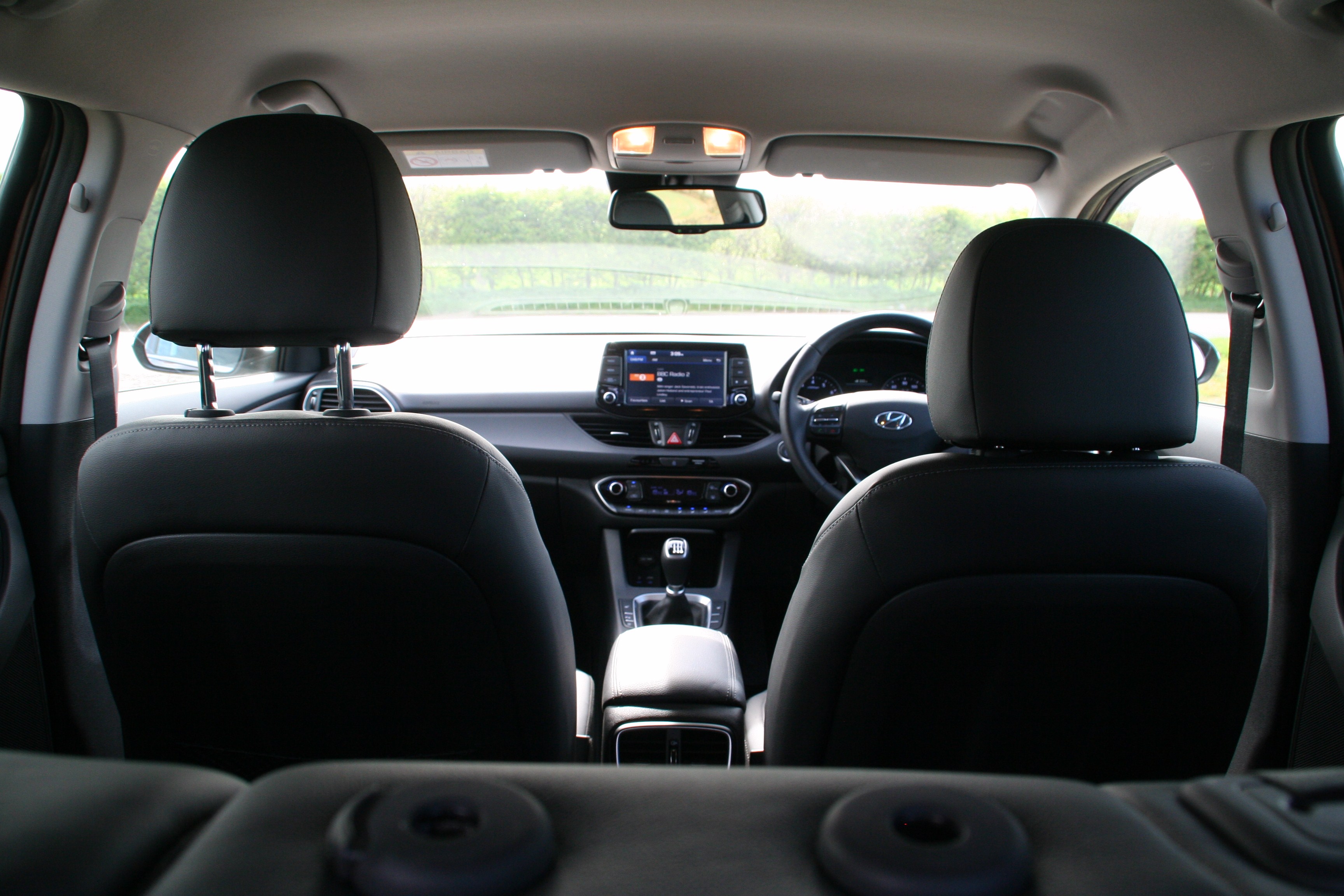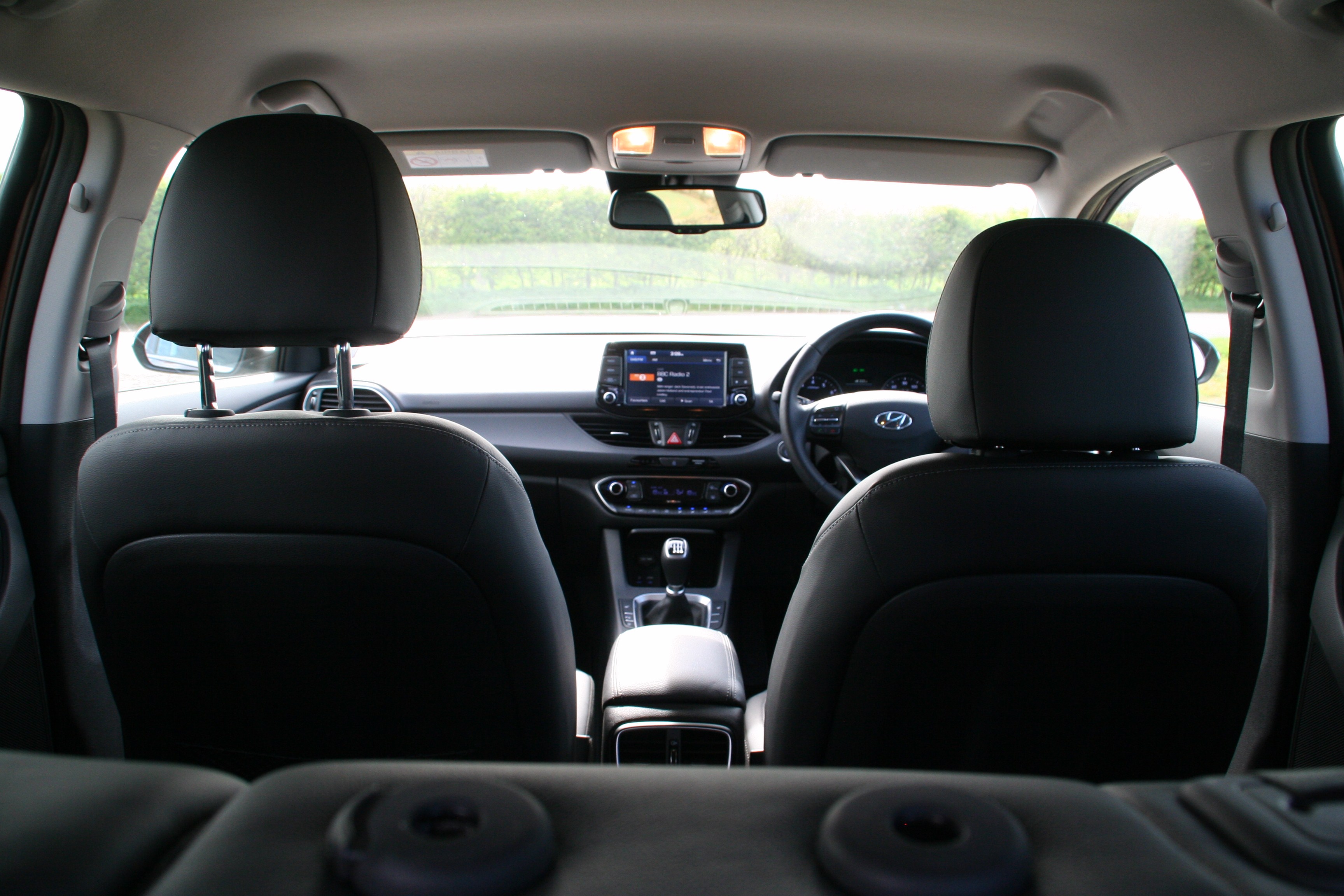 Another fresh addition to the i30 line-up is what powers this head-shakingly sound hatchback. Mated to a six-speed manual gearbox that provides the slickest and quickest of shifts is a new 1.4-litre, turbo-petrol engine that delivers a satisfying 137bhp, 179lbs ft of torque from as low as 1,500rpm, emits a modest 124g/km of CO2 and is liable for 21% Benefit-in-Kind taxation for the business community, to which it will have tremendous appeal.
Its refined performance spread is eminently satisfying, the i30 logging the 0-60mph sprint in a zesty 8.6 seconds, before topping out at 130mph, figures that it can replicate consistently and seemingly without expending any effort at all. Despite tipping the scales at 1.35 tonnes, its Official Combined fuel return is given as 52.3mpg, although most owners will be contented with around 45mpg in a customary mix of driving conditions.
Its on-road behaviour is equally fluent. The ride quality on its 17-inch alloys and Michelin tyres is a little firm, in a Germanic vein, but compliant enough to avoid jarring occupants on our far from smooth road surfaces. The handling envelope is biased towards comfort and the i30 displays a sinewy muscularity to maintaining body control. Its steering is linear and direct in its responses. Overall, it is confident and well-measured.
To say that I fell instantly in love with the new Hyundai i30 would be almost an understatement. It is impeccably well-built. Its doors close with assured, high-quality thunks and its seats are exceptionally comfortable. Overall, it is such a dramatic improvement on the outgoing i30 that it might have been worth calling it by a new model name altogether. It is impressive. It is no pretender to the medium sector crown and is most definitely a prince in its class.