US designed and built motorcars tend not to have much longevity in the European new car scene, writes Iain Robertson, although the latest Ford Edge makes the former Explorer 4×4 look positively antediluvian! 
Thanks to relatively low-cost trans-Atlantic travel, British and European holidaymakers and business-people think little these days about trekking out to The States. In many ways, it is a perfect destination, largely because its people speak in a broadly similar manner, which means that we no longer have to bark instructions loudly at hotel, or restaurant, staff. In addition, we can be understood, even if they believe us to be 'Australians', and innumerable 'Americanisms' have entered our language (some less tastefully than others).
The very term 'SUV' (Sports Utility Vehicle) was coined in North America and corrupted by Antipodeans to 'Ute'. The long-held adage about experiencing and enjoying 'The Great Outdoors' is also an example of apposite Americanism. Naturally, we have neither the wide open expanses, nor the terrain challenges of North America, which are considerably different to the typical off-road sites in the UK and our lack of pioneer trails that epitomise the US off-road scene places somewhat different demands on the vehicles, let alone the drivers of them.
As the pioneering spirit still exists in North America and there are far fewer barriers to land access, designing an SUV assumes a number of other requirements and the end products need to meet alternative, sometimes less technically advanced, parameters. When I resided in northern Canada, as a young man, my ownership of a 4×4 Chevrolet Blazer (a cut-down version of the ubiquitous Chevy pick-up truck) was for practical reasons. Its separate chassis construction and soft-ish but unsophisticated suspension meant that it was as tough as old boots and thus perfect for driving on roads that were made predominantly of graded gravel, while a 7.0-litre V8 petrol engine took advantage of inexpensive fuel costs, even at around 12-15mpg. Such a vehicle would be a bloody nonsense in the UK, not least for its overall dimensions that would dwarf the largest family estate car of the period.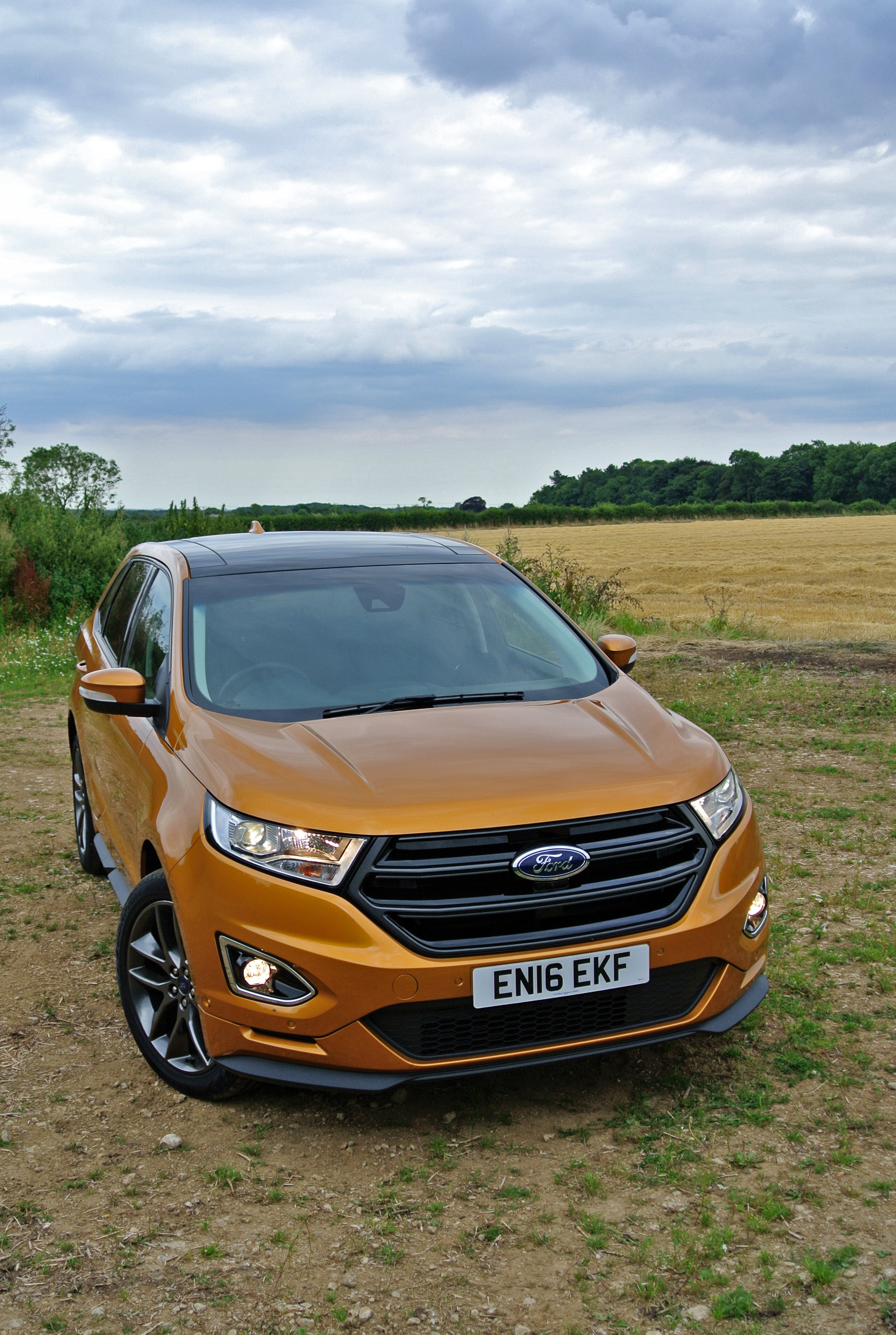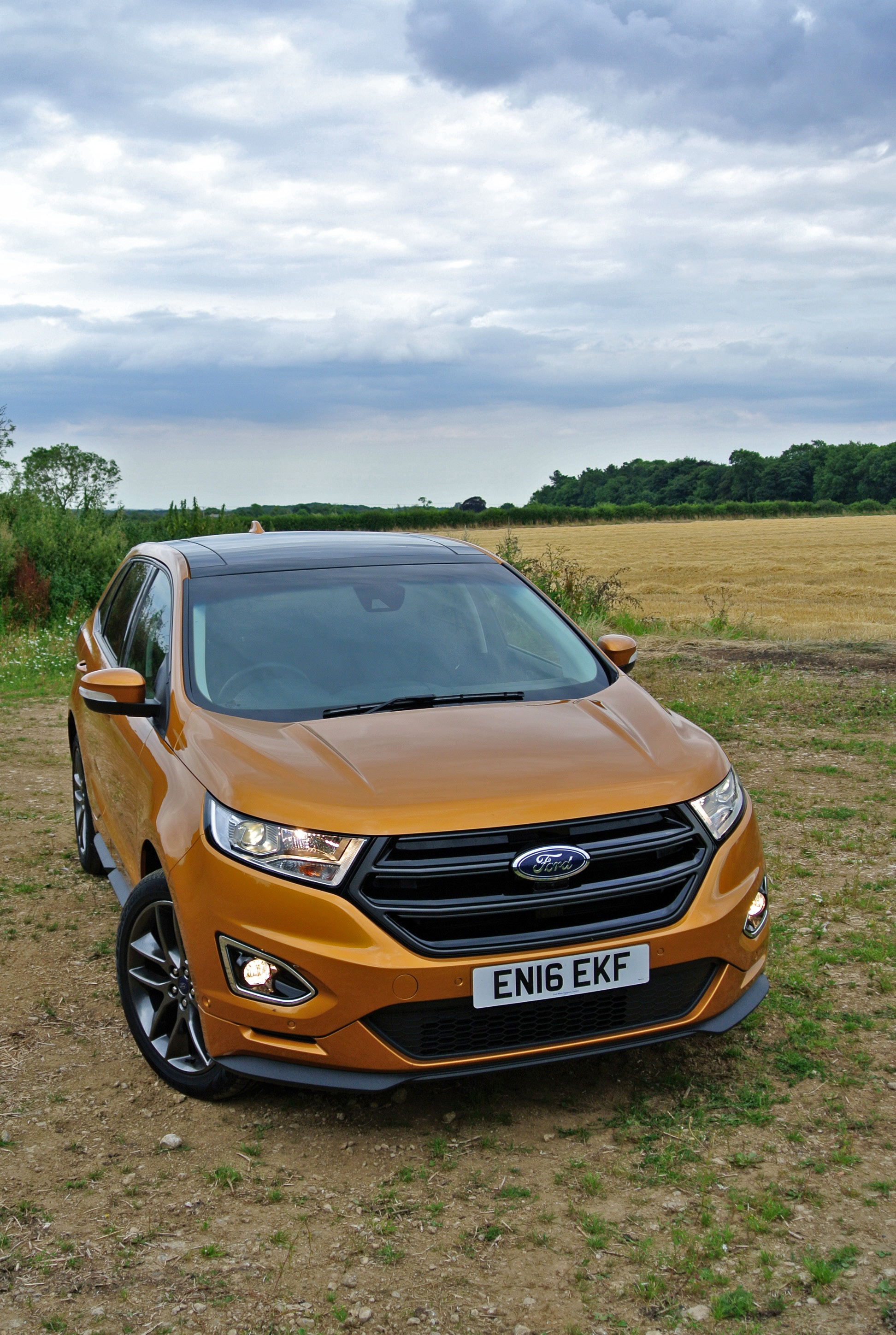 When I tackled the Jeep Jamboree around fifteen years ago, it took place on The Rubicon Trail, across the High Sierras, above Lake Tahoe. My wheels for that exercise was a Jeep Renegade CJ-7, the US progenitor of the UK's Land Rover Defender. Once again, its rufty-tufty stance, while perfect for being winched up rock faces as steep as The Eiger, makes its modern alternative a badge-led oddity on our roads. If you want to thrill to off-road driving like you will never experience anywhere in Europe, you must travel to North America and, yes, it is the better for it.
However, American-designed and built motorcars are not popular on our roads, because, in the main, they are not engineered for the tight-and-twisties. Launching into the undergrowth here demands long-travel, compliant suspension, allied to sand, water, rock and mud resilience that most Americans seldom experience. Of course, the obverse side of the coin is the onwards and upwards progress of the SUV market sector, which is now intrinsic to vehicle operators on either side of the Atlantic. Some SUVs are outselling mainstream models from their own family ranges these days, which means that ignorance of the market is no longer an excuse.
Although I still regard the archetypal 4×4 as being a vehicle designed for purpose and, therefore, not really my type of vehicle, market forces are such that the two-wheel-drive alternatives are proliferating, which afford the appearance, if not the capabilities, of their notional SUV stablemates. They also sell like hotcakes.
Ford Motor Company already has the EcoSport and Kuga, both selling well and serving the needs of small and medium sector requirements. However, the firm has been missing out on the larger segment offering, until the Edge arrived. My first fears about this car being 'unsuitable' for our roads are now allayed. In size terms, apart from feeling (from the driver's seat) like a full-size SUV, in dimensional terms the Edge is closer to some of the Orient's larger SUV offerings, like the Lexus RX, while possessing that slightly lumbering impression of a vehicle the size of a Land Rover Discovery, the driver needs to be aware of the greater width and bulk, when coursing along typical British country lanes.
Of course, the usual operators of such vehicles generally do not, which demands that you, in your family runabout, will still be forced onto the verge to avoid the marauding Edge driver. However, conducted with courtesy and due diligence, the Edge feels no different to any other large SUV presently on sale in the UK, which is actually a compliment, even though it does not necessarily read like one.
Thanks to its 'coupe-like' styling, while it possesses a distinctive 'family-look' and slots very easily into Ford's present European line-up, it is inevitable that 'market pricing' weighs into play and the car, as tested, tips the scales at a serious £37,845 (including £3,345's worth of extras), for which you can expect a more imperious stance. In some respects, it is a game-changer for Ford and is many times better than its mid-1990s Explorer iteration/abomination, which was a huge, world-wide seller for the company, it needs to be remembered.
Priced at a similar level to Kia Sorento, Ford is able to dip into its international parts bins to ensure that it is equipped to counter any competitive impetus and, rest assured, its rivals in this fairly warm sector are watching how it performs very closely. The issue is, do they have anything to be worried about?
In some respects, yes. It is a big car. It is a spacious car. It incorporates all of Ford's latest technology and, on the surface at least, it looks the part, which means that most UK adopters will feel an affinity for it. However, like most things American, it lacks a lot in the detail. While the build quality is generally fine, my virtually new test car was already suffering from an annoying back-seat rattle that would have it whisked off to the dealer to remedy quick-sharp! While the overall quality of the interior trim was up to the usual Ford standard, peer a little deeper and some aspects smacked of volume production cheapness, like the fit of the various dashboard components. Not even Land Rover allows its latest models into the consumer's hands until they have passed stringent quality controls, of which appearance and operation of even the smallest items are critical.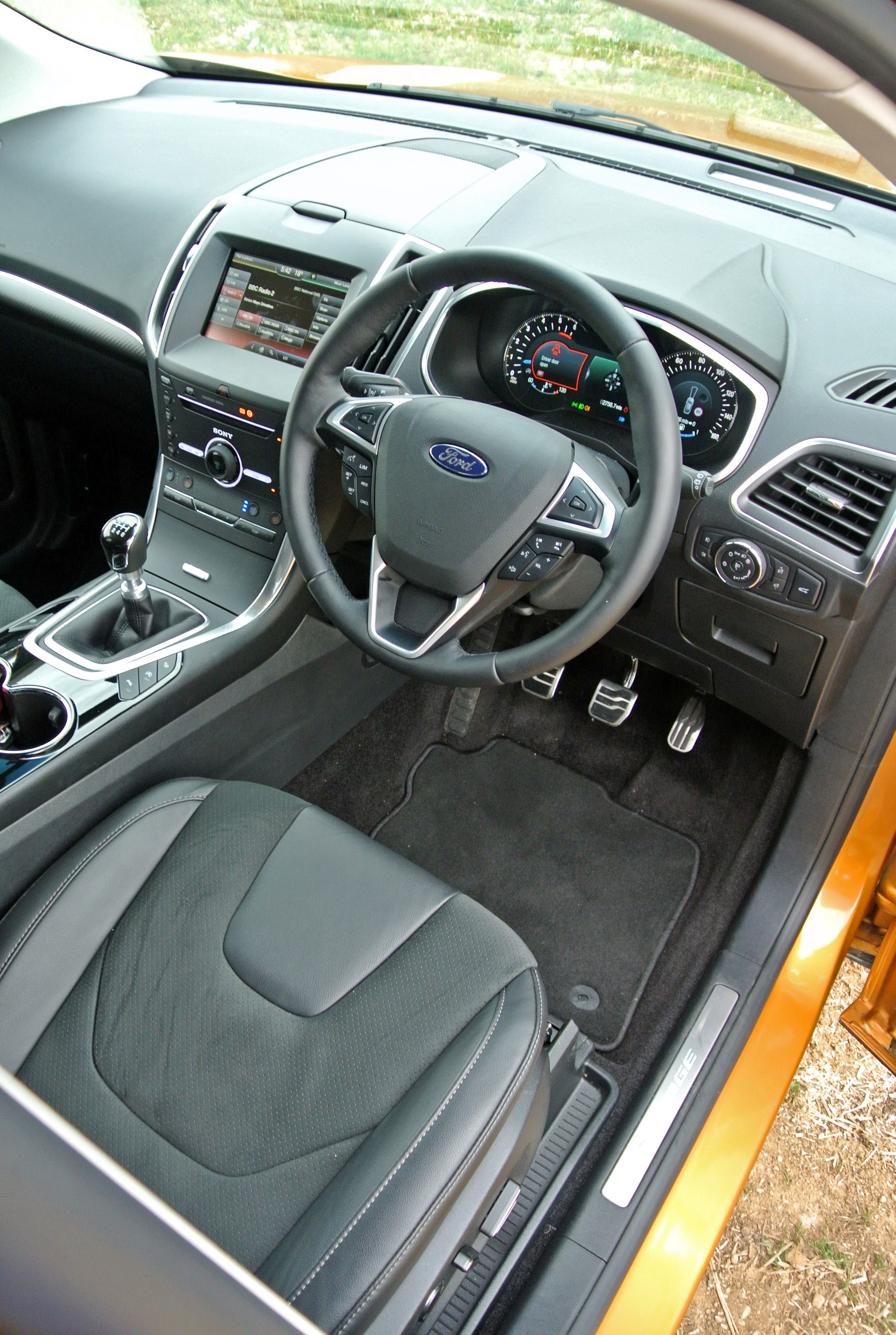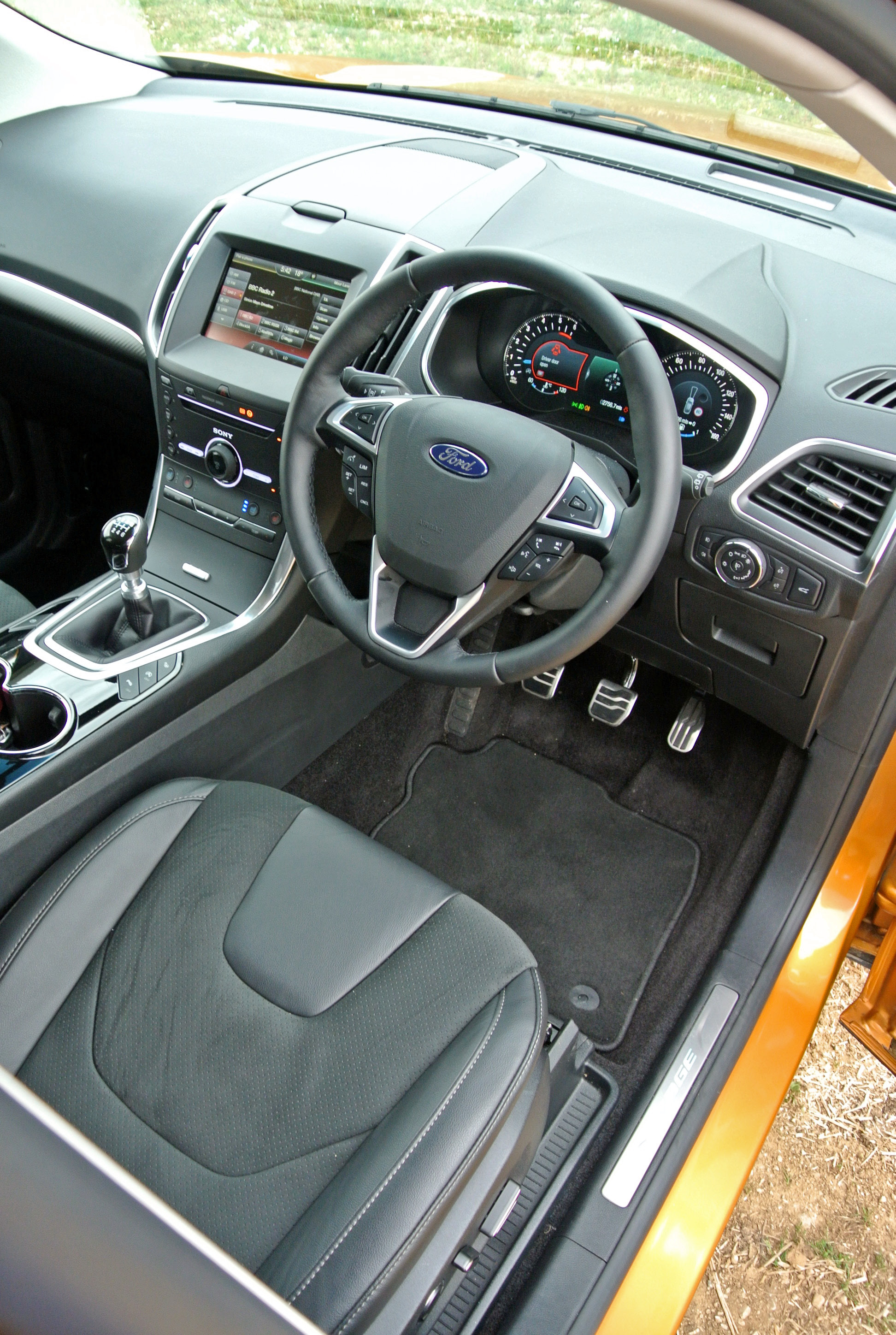 The model line-up consists of just two power units and two gearboxes. While the 206bhp version features the same basic 2.0-litre turbo-diesel engine, it is boosted by twin turbochargers. The Sport designated 177bhp alternative I have sampled features just a single turbo and drives through a six-speed manual transmission. Having to transport over two tonnes of car with occupants (1,913kgs kerb weight) places the less potent unit under a bit of strain that is difficult for it to disguise, despite access to 295lbs ft of torque (331lbs ft for the alternative).
Its on-paper 0-60mph acceleration time of 9.6 seconds truly never feels as swift as that. Its top speed of 124mph was impossible for me to corroborate, although the car's overall gearing suggests that it is feasible. The same applies to its stated fuel economy (47.9mpg Official Combined), which I struggled to get much over 34.5mpg over the course of a week's fairly gentle motoring. Its CO2 rating (152g/km) equates to £185 annual VED.
Although I am unable to confirm the suspension differences between US and UK models, it is clear that a firmer set-up has been devised for cars destined for our shores, because most North Americans would not tolerate the sometimes nuggety ride quality of this Edge. Yet, the steering effort is pleasant and dynamic responses are positive. The Edge handles with a satisfying balance between sporty and comfortable. Its active-4WD system apportions torque to whichever axle needs it, without driver intervention, which means that it satisfies 99% of soft-road and difficult conditions duties to perfection.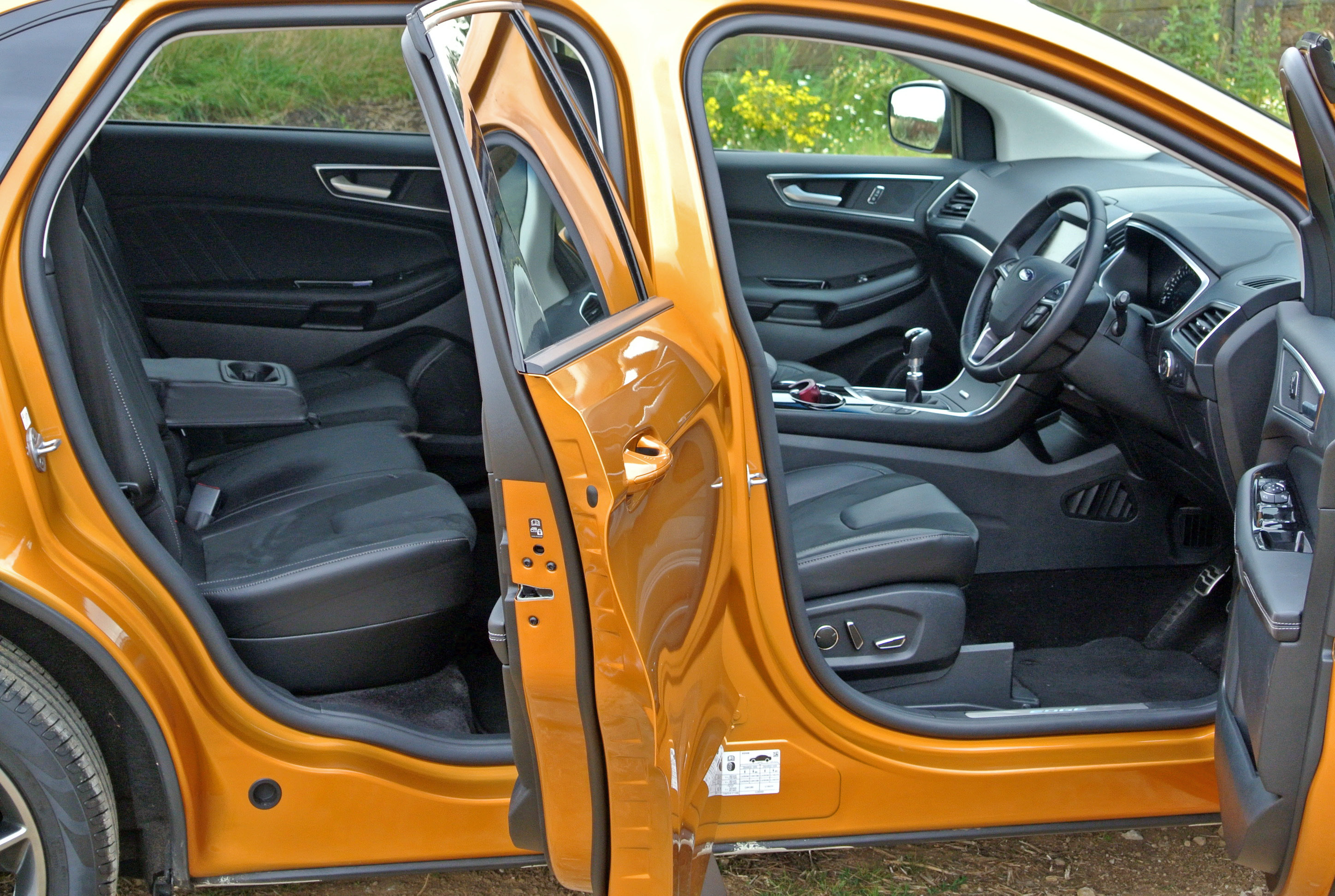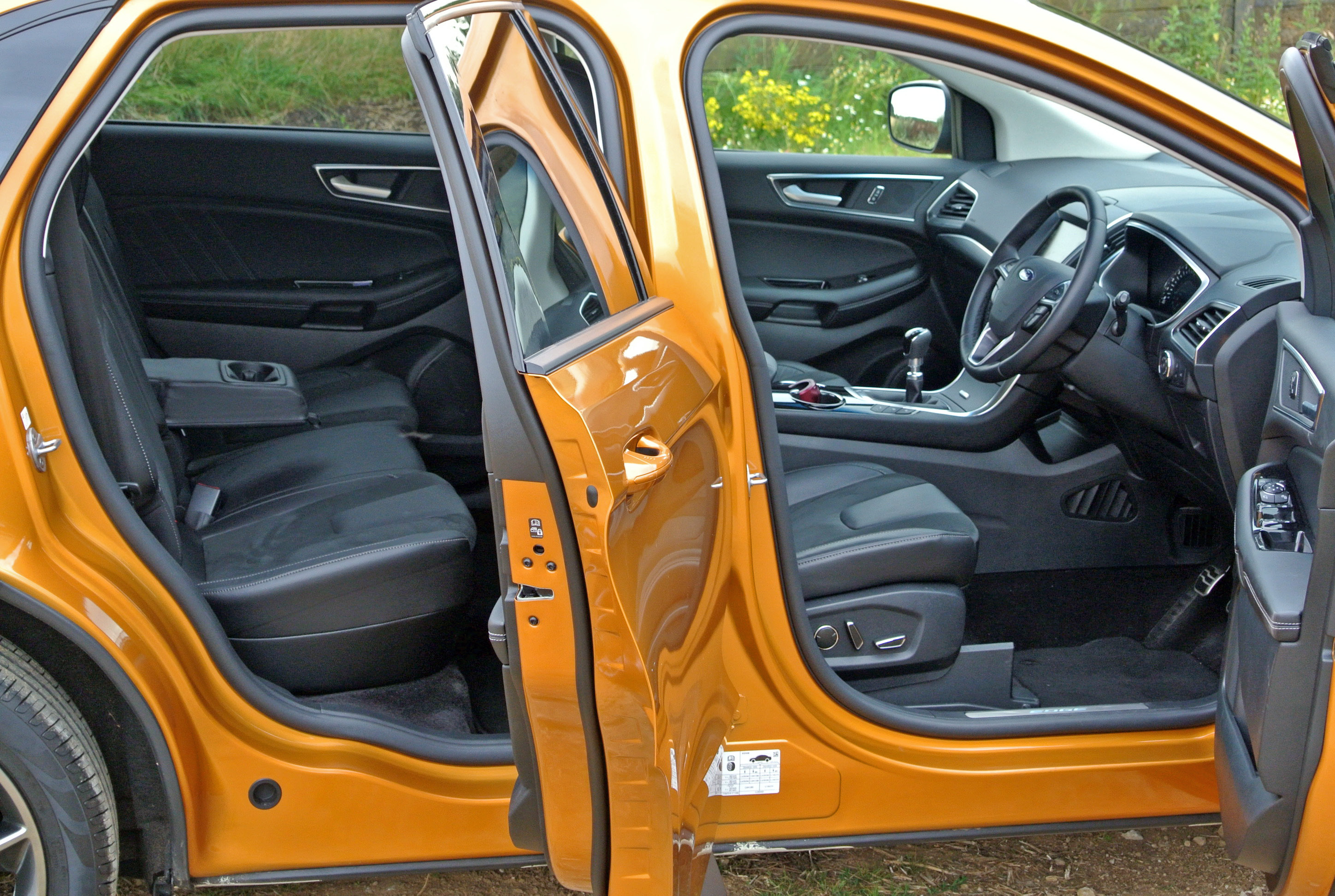 The cabin is comfortable and, as already outlined, roomy and there are plenty of toys for boys and girls to play with, from the touch-screen, to the adaptive steering and plenty of safety addenda, including Active City Stop with pedestrian protection. Most intriguingly, during my tenure with the Edge, I was not expecting to see so many other examples on the road, therefore, I would presume that Ford is enjoying a bit of a sales bonanza with its latest full-size SUV.
While not really my 'bag', I can see the attraction of the Ford Edge. It is a handsome machine that complies fully with consumer demands in the full-size 4×4 market sector. Judging by early observations, Ford has judged the demand for this model to perfection. Purely from a personal standpoint, I prefer the build quality and attention to detail of the latest Kia Sorento, which is available for similar money (or less). However, it is a buyer's market and, for the moment, this is a class of car that boasts consistent performance in most respects.