Badged originally as a Citroen, PSA Group's decision to remarket it as a 'DS' may be considered either on-the-money, or foolhardy, but Iain Robertson suggests that, when Gallic style is the precursor, the DS3 has it in spades!
If there is one signature vehicle in the automotive firmament that advanced so many aspects of personal mobility for groups of people it must be the Citroen DS (pronounced: 'Dei-esse', hence 'goddess'). Emerging from a period during which Michelin Tyre owned the troubled French vehicle manufacturer, the need to satisfy a technological showcase for its evolving owner was prescient.
The first iteration, which grew from the Traction Avant (front wheel drive) that had been built in the UK (in Slough), as well as its domestic market, was also another play on words. The ID (or 'idea') was conceptually so radically different to any other car sold at the time that it was inevitable it would attract attention. You have to remember that this was the mid-1950s and, had the world known more about recreational drugs, they would surely have been blamed for the ultra-streamlined, oil/gas suspended trip into the space age that Citroen was projecting.
While Gallic aeronautical engineer, Andre Lefebvre, and Italian designer, Flaminio Bertoni, engineered and styled the car, Paul Mages developed the hydropneumatic, height-adjustable, self-levelling suspension (to which were linked the gearshift, pushbutton brakes and even the central-locking). The resultant ride epitomised the 'magic carpet' expression, as the fluid lines propelled an ostensibly under-powered machine into three-figure territory. It was and remains a masterpiece, sadly, of overstatement. The engine was clattery and lacked refinement, yet the DS was anything but lacking in character and charisma.
Rush forwards, which seems odd, as very few carmakers have managed to make such an impact as Citroen did since that model's introduction, and you might even question the whole point of today's DS, which so quantifiably lacks innovation that it almost shames the reapplication of the name. Honda got close, with its original Insight model of 2000, which also employed lightweight and revolutionary materials, as the original DS did, in its construction. Despite its hybrid drive-train, which remains largely unbeaten by rival brands, it owed a lot of its detail aspects to the DS.
Therefore, while the latest DS range might seem mildly disrespectful of its nominal past, it is a disease of the New Millennium that means we tend to lean on the past but never seem to have the wherewithal to progress beyond it. Whether it is fear, simple economics, or a lack of creative 'nouse', that lie behind my personal detestation of design today, is open to question. However, when PSA Group, which owns both Peugeot and Citroen, determined that DS was worthy of its own brand status, I recoiled slightly.
Three Citroen models, DSs 3, 4 and 5, had appeared in fairly close succession, all bearing the 'Double Chevron' grille badge. Yet, in late-2014, Citroen confirmed that DS would be formed into an Audi-like premium brand. The new DS logo gave designers a fresh style perspective, which is reflected in the Monogram pattern of the fabric top of the latest DS3 'Decapotable', or, more correctly, Cabriolet…abbreviated to Cabrio. Its wavy style is also carried into the backing plates for the car's lamps front and rear.
Removing my cynicism for the moment, there is no denial of the DS3's mildly avant-garde stance. It both looks and feels every centimetre the style-centric machine that it is intended to be. In fact, it is not in the least unattractive, from its refocused frontal aspect, complete with LED headlamps and cross-hatched grille, flanked by flashings of chrome, to its 3-D tail-lamps and bobcat tail. I would venture to suggest that it is a pretty design that uses innumerable visual tricks to hide its model size-dictated brevity and podgy-ness. Regardless, they all work mostly in harmony, aided by an alloy wheel style that is in dynamic keeping with the car's performance aspirations.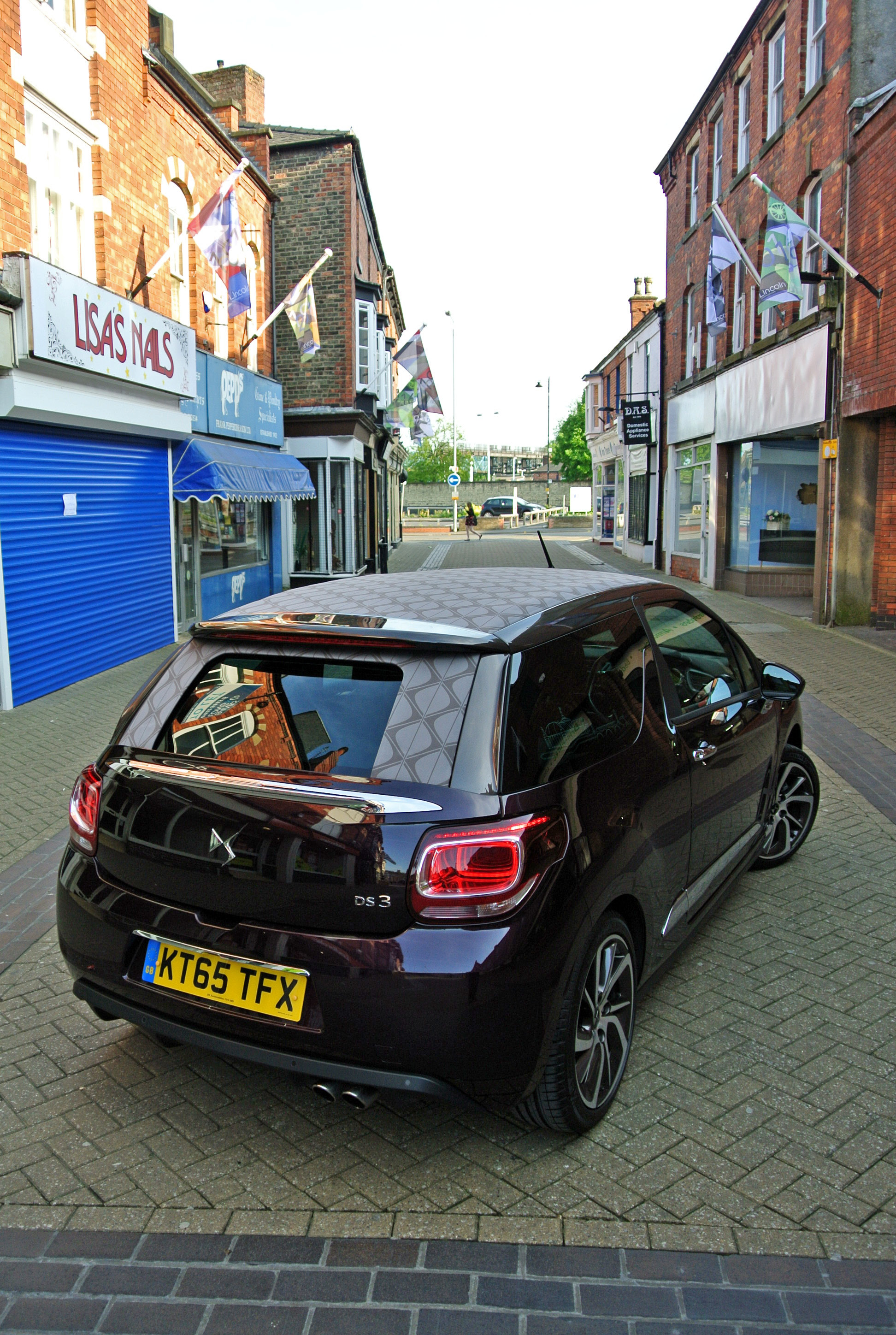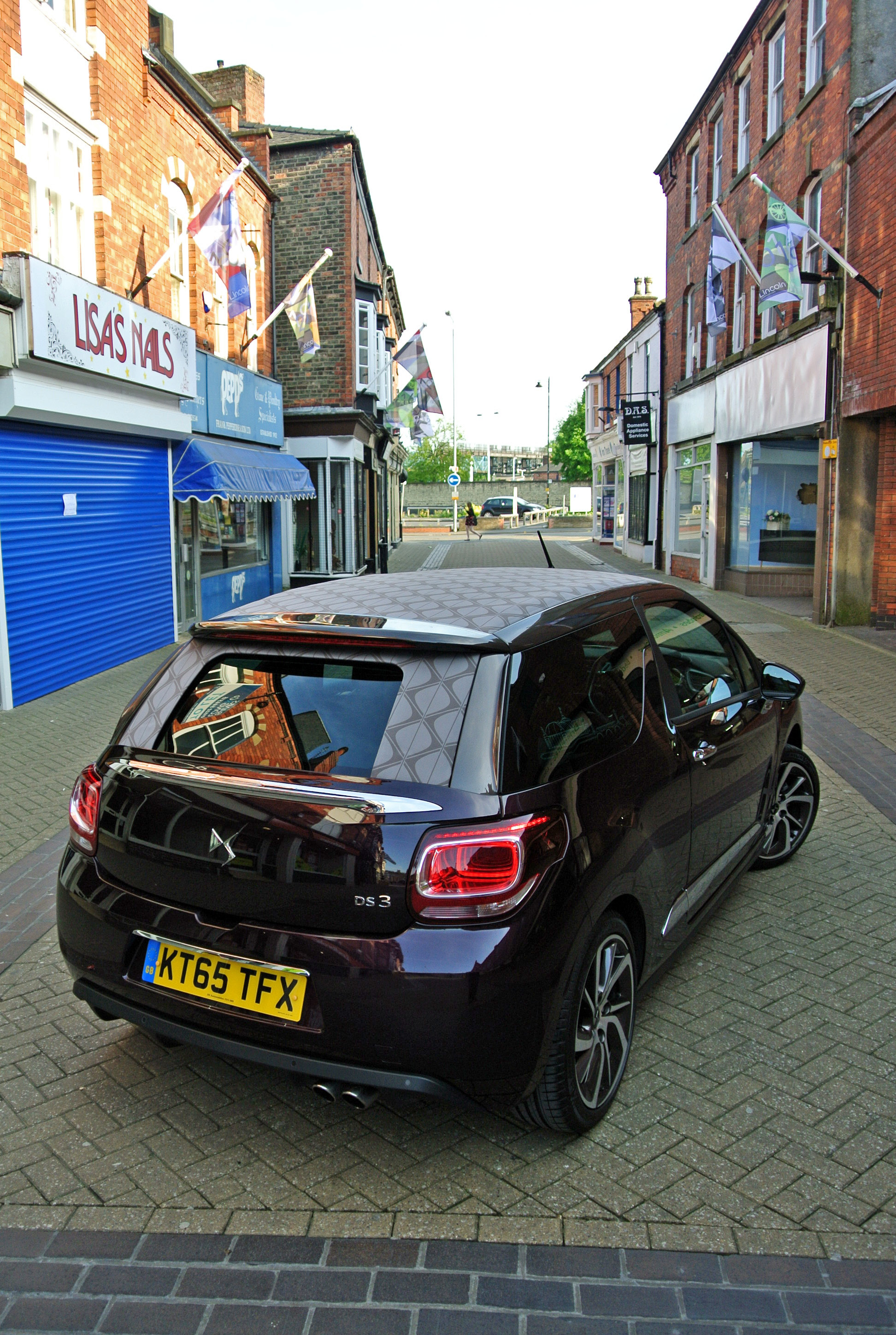 It is no slouch, despite its 1.2-litre petrol engine displacement, spread across just three cylinders, of which I am an unashamed fan. Boosted by a turbocharger, the punchy off-beat unit develops a meaty 127bhp, matched by a healthy 170lbs ft of torque. The result is a performance graph that shows a top speed of 126mph, while the 0-60mph sprint is carried out in a respectable 8.7 seconds, accompanied by a generous slug of mid-range verve. It is more than zippy enough, in a lukewarm hatchback manner, emitting a modest 105g/km of CO2 (zero first year VED costs, £20 annually thereafter) and driving through an occasionally recalcitrant 6-speed manual gearbox (that I hope might become smoother with age and familiarity). Its Official Combined fuel return is given as 62.8mpg undoubtedly aided by 'stop:start' technology and, while I recognise that this power unit can be exceedingly frugal, I obtained around 51mpg over the course of a week's motoring experiences.
Its suspension is typical of the class, featuring a twisting beam rear axle and MacPherson strut-type front-end, mounted on coil springs. In league with its sporting image, the ride quality is very firm, which is not only un-Citroen-like but also significantly more Teutonic. The former Citroen-badged variant felt a touch softer, although it is clear that DS is targeting broader market perceptions, after all, the company's international rally programme is based on the DS3 model.
The non-linear power steering (it is a variable system) is not so bad at low speed responses and provides a decent amount of higher speed stability, although the car does suffer slightly from a combination of both torque and bump-steer, which can unsettle the car, when exploiting its performance on the very back roads at which it might excel. A marginally softer set-up would make it more suitable but no less involving for British and French roads, which makes me worry a little about the French firm's insistence of serving Germanic dynamic requirements.
The brakes are excellent, providing sterling stopping power, without any loss of efficiency, regardless of approach speeds to obstacles and changes of direction. In fact, apart from the 'suddenness' of the damper reactions, the DS3 can be immense fun to pedal very quickly.
However, style is the key issue with DS. While its exterior is blinged-up quite successfully in the modern idiom, its interior is a haven of pleasant touch sensations, featuring some unusual textures, including that of the shagreen (sharkskin-like) plastic on the dashboard's upper surface, as well as regular hide on the door cards and Alcantara (a costly faux-suede) on the seat facings.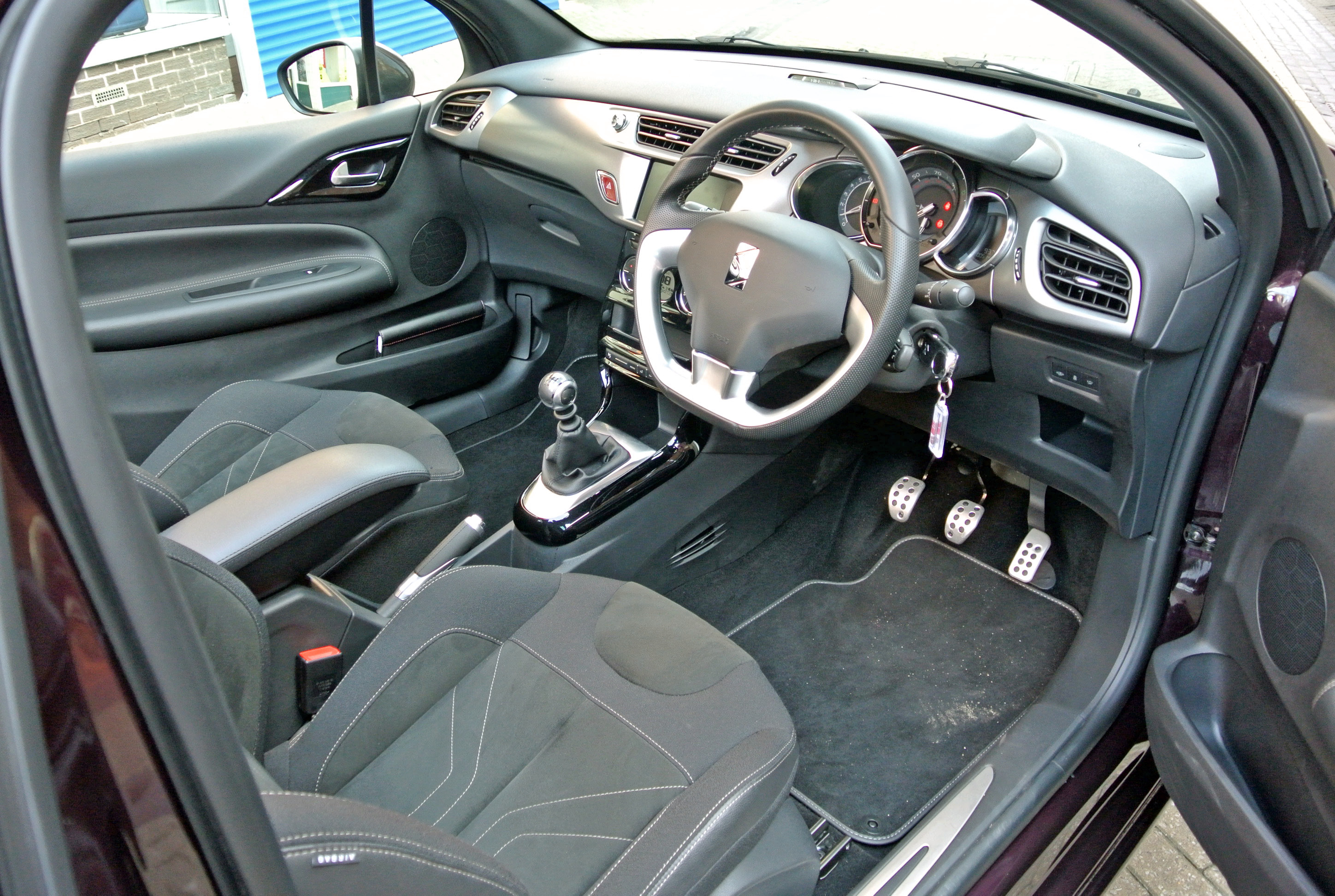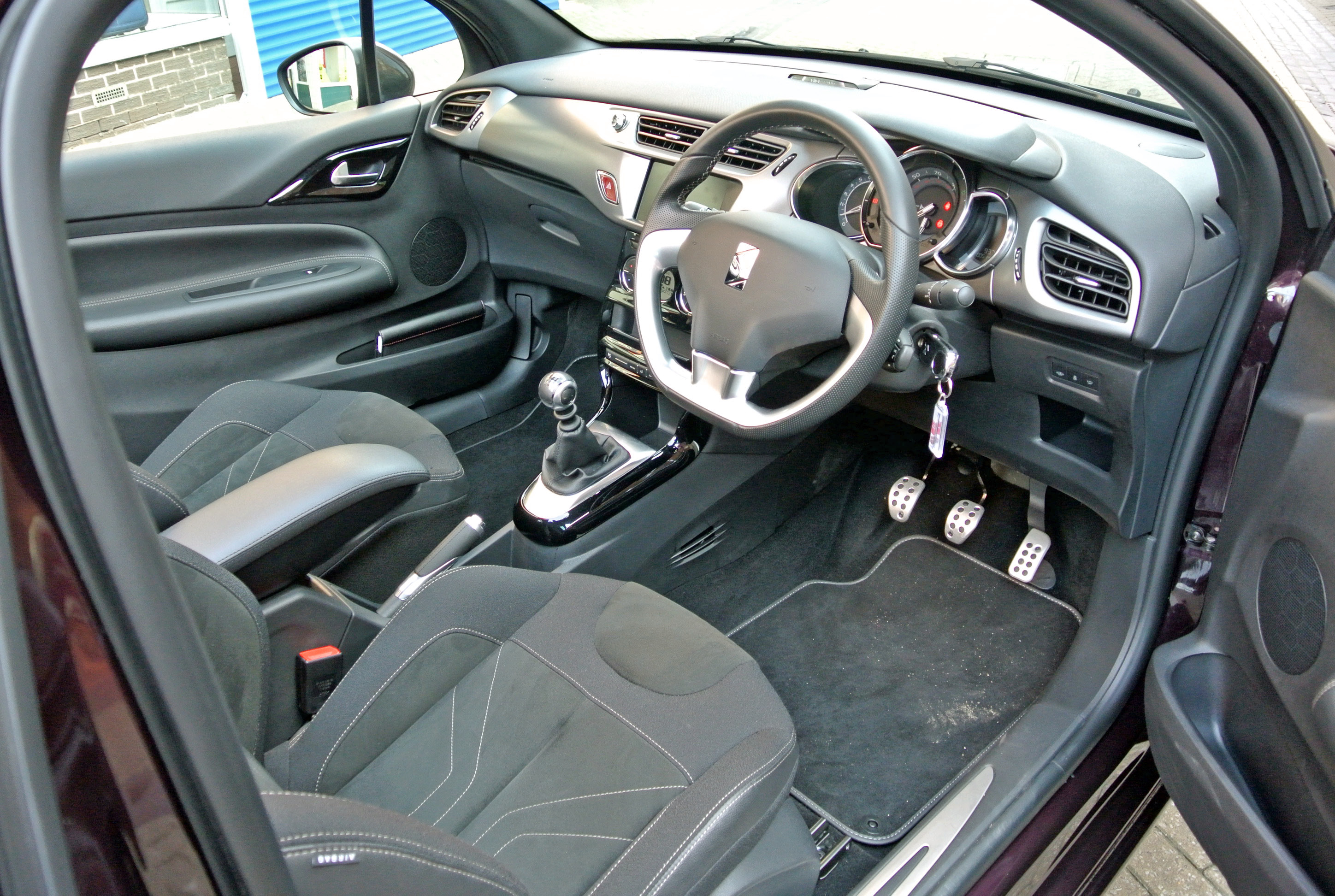 There is some nice metallic detailing on dashboard, steering wheel and foot-pedals, while piano-black is carried across both centre console and the door control areas. A good range of adjustability of both driver's seat and steering column ensures that a wide range of statures will find a comfortable personal setting. The view out is great, when the fabric roof remains closed. Unfurl it electrically (it stops at certain points, to allow partial, or fully-open settings) and it will obstruct the rear view, although large door mirrors (that fold inwards electrically, when parked) provide a modicum of extra rearward vision.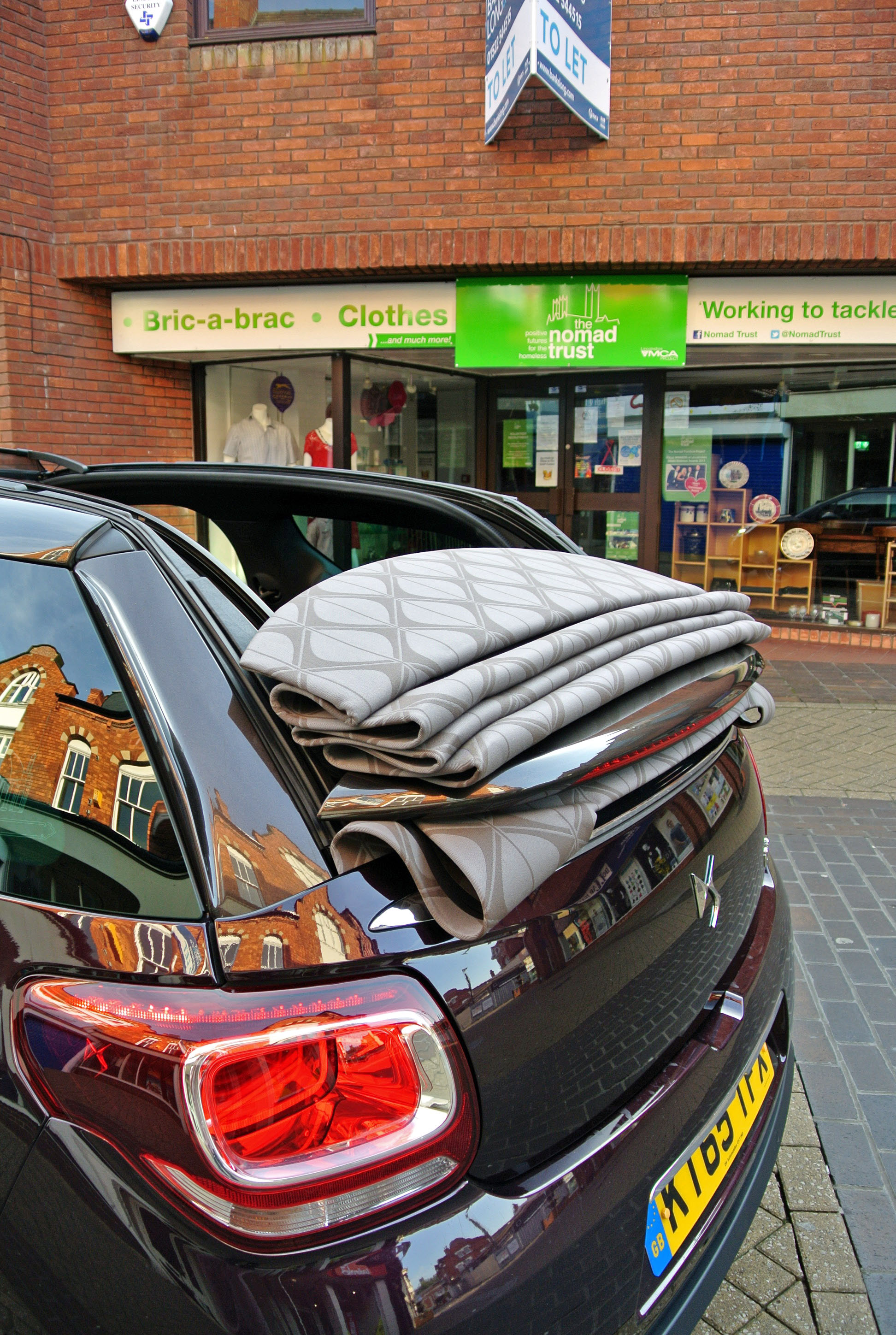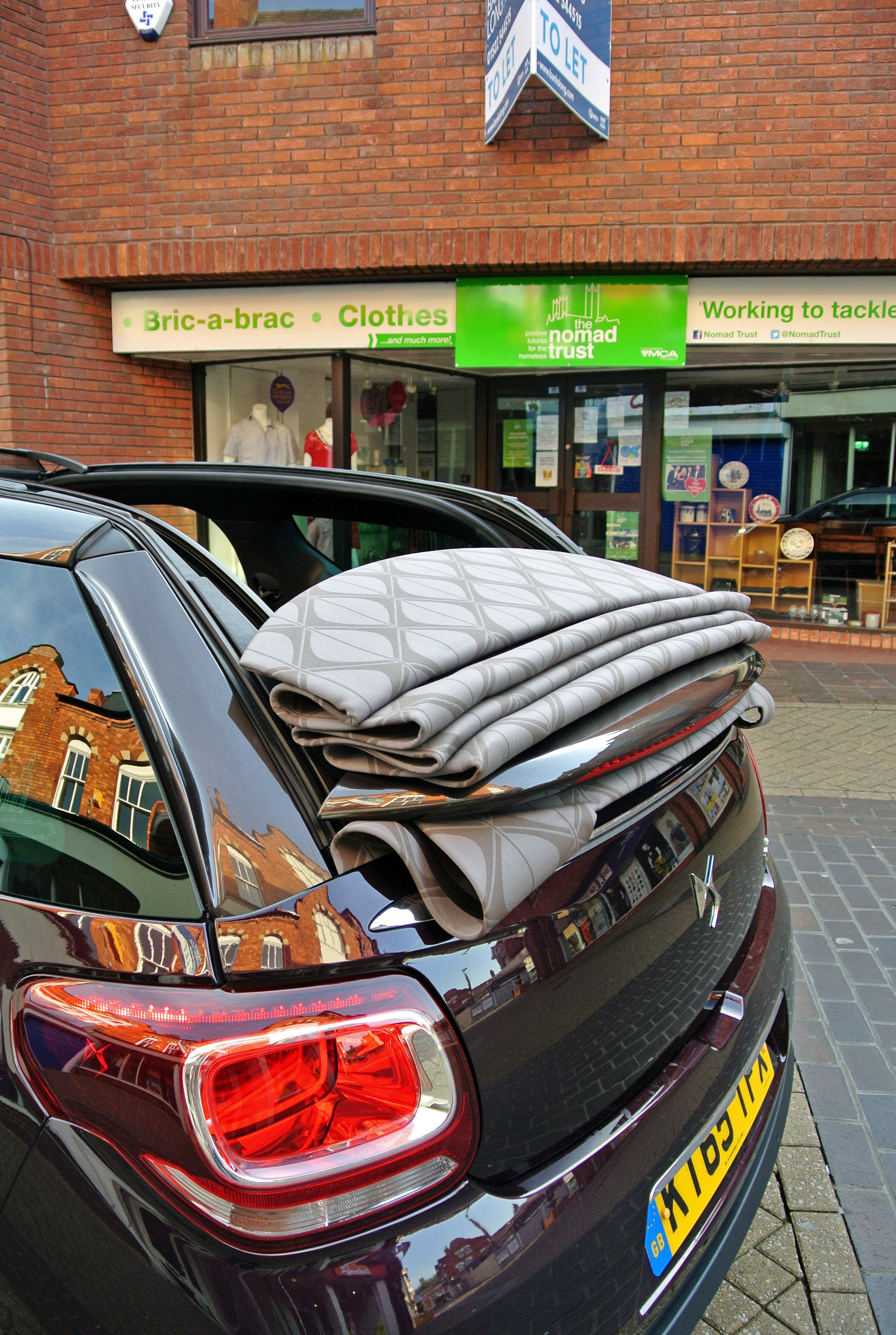 While the bootlid opens upwards on elegant cantilever hinges, it reveals a tiny boot area (245-litres capacity), through a restricted access slot that is awkward to load. Unless you are prepared to drop the rear seats, you can forget any intentions about showing off at the local golf club. To be fair, this is a style-centric motorcar and the draught-free open-air mode is plentifully posey enough.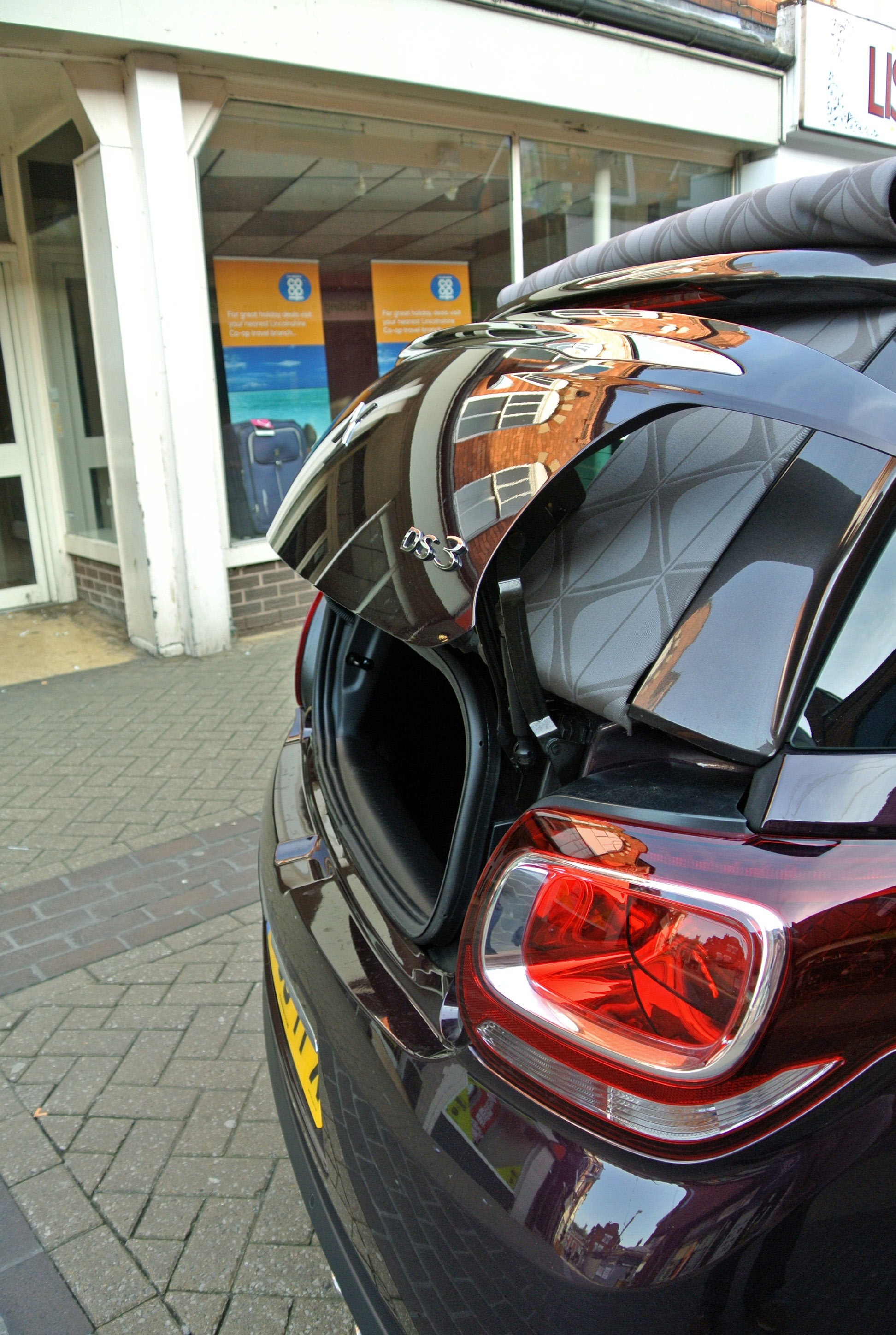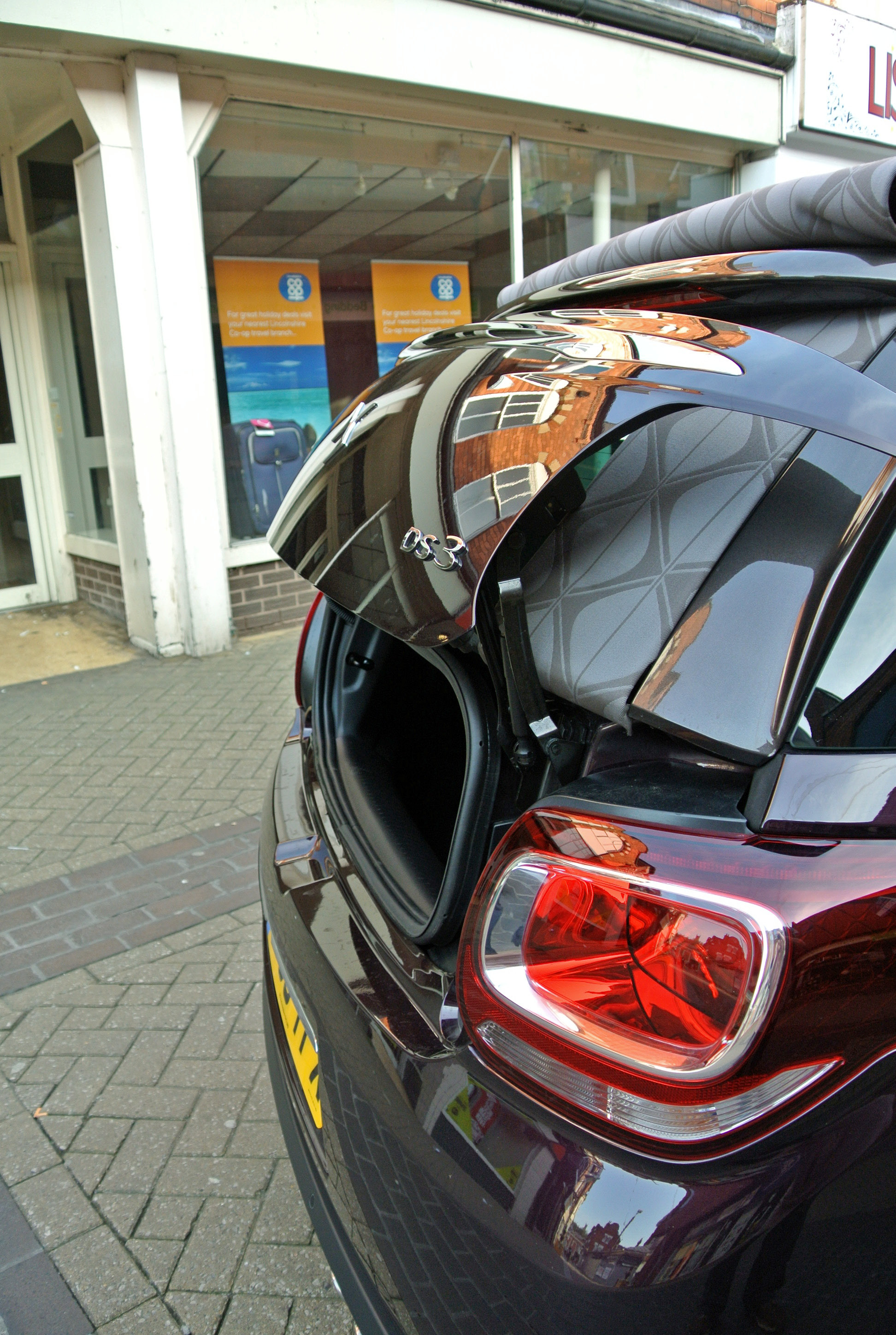 Premium-priced in the modern style at a list of £21,095, you need to add £695 for the Monogram fabric roof finish, £150 for the window and dashboard 'Irresistible Paris' etchings, £100 for the annoying front centre armrest (that restricts access to the seatbelt receptacles), £100 for the 'mirror-windscreen' and £200 for the reversing camera, which totals £22,340 on the road. DS3 is a painfully self-conscious small 'hatchback', with 2+2 seating. While there is a lot to like about the car and I do see its fairly strong place in the new car scene, it is emphatically NOT a DS and just hiking up the price tag to appeal to fashionistas is little more than gross profiteering and not paying an ounce of attention towards customer satisfaction in the areas that matter. Perhaps DS's stated intention of 'electrifying' its future models will add that missing ingredient of innovation that made DS what it used to be but, in the meantime, I remain unconvinced and I know that a lot of potential customers feel similarly.